How should a motorhome be equipped for long journeys?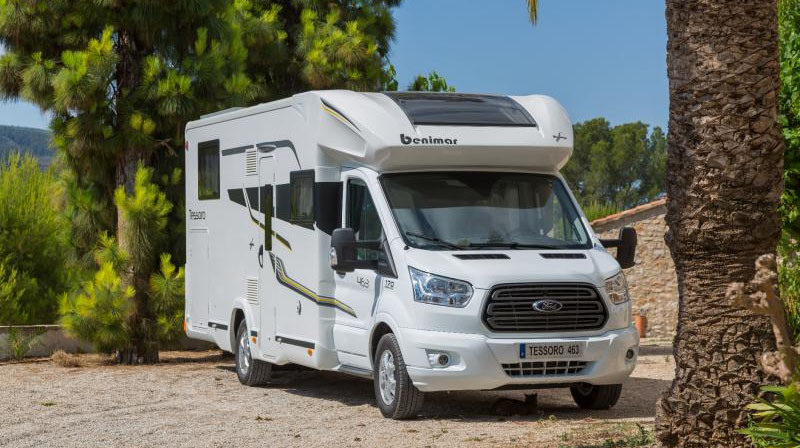 The motorhome is perfect for exploring Europe. Currently, the network of highways and expressways is so rich that we can easily travel even long distances. The only problem is the motorhome and its equipment.
Traveling in a motorhome ensures independence. If the weather deteriorates in one place, we can often move to a place with better conditions. In addition, we can go camping, to the city, to the spa center, and to the restaurant - we go wherever we want.
Not too warm, not too cold
The first question that arises during longer journeys is whether we can endure so much time in a motorhome. There is also a question about temperatures - in summer it can be too warm, and in autumn, winter and early spring - too cold.
That is why it is very important to choose a motorhome adapted to weather conditions - one that will not bother us with either cold, damp or hot. If you travel in the colder months, the car should be equipped with heating, a boiler, double glazing and thermal insulation (including insulated tanks for water and sewage). In summer - we should take care of good ventilation, openable windows (including roof windows), and preferably also air conditioning.
A very important element of the equipment is also ... a refrigerator . It's good when there is a kitchen in the motorhome, but in practice not everyone wants to spend their vacation cooking. On the other hand, the refrigerator is used by everyone, even for storing the most important food products.
Ventilated wardrobes with warm air are also useful. In winter, they will allow wet clothes to dry, and in summer they will provide our clothes with adequate ventilation.
In sunny weather, various types of awnings, roller blinds, mosquito nets and vestibules are very useful. Thanks to them, we can relax outside, enjoy the sun, but at the same time avoid burns. They can also protect against the wind. And since we go outside, light furniture will also be useful - fold-out armchairs and a table.
A windshield mat can be a valuable detail - in winter it will protect the motorhome from excessive cooling. It can also be useful in hot weather, limiting excess sun, although a thin mosquito net will work better in summer.
What is worth remembering before the onward journey is also the supply of chemicals necessary for the disposal of waste in the on-board sanitary installation. It is also good to have water and electricity connections that will be useful in the campground.
An advantage will also be a spacious trunk in the rear of the car, thanks to which we will not run out of space, for example, for sports equipment.
A very important element of each trip is the appropriate kemper insurance, which can be purchased from the British insurer at: www.insurancefactory.co.uk
Which car to choose?
If we do not have our own motorhome, we can rent it, e.g. from the Four Side of the World company. Interestingly, in this case, we can rent a camping vehicle both in Poland and in Spain, specifically in Barcelona!
In the case of the fleet of this rental company, we can choose campers of the brands Benimar and Dethleffs . We can choose, for example, a full integrated in the form of the Benimar Aristeo 660 or Dethleffs I 7051 model, a vehicle with an alcove - such as the Benimar Sports S346 or Dethleffs A 6997, as well as a camper van - Benimar Benivan B118.
When renting a car in the Four Corners of the World, we will receive a filled gas cylinder, a filled water tank, refilled operating fluids, necessary water and electricity connections, and agents for keeping a chemical toilet clean. On board you will also find full kitchen equipment (pots, cutlery, tableware). The availability of camping chairs and a folding table will help you relax comfortably.
In addition, there is one more advantage - there is no kilometer limit in this customer rental company. According to the price list on the company's website, the day of renting a motorhome in Barcelona is from 300 to 375 PLN gross (depending on the motorhome model). Admittedly, these are very competitive prices.
What else?
When we know what equipment we need, and the selected model from the rental company has all this on board, it remains to take care of good company. Remember to travel either with family or with friends - i.e. with people we already know well. Thanks to this, we will be almost sure that, apart from a great motorhome, we also take a great atmosphere on our journey. However, there is no such thing without a well-chosen camper crew.
Sometimes it is better to get lost than to ask for directions too much. Aldous Huxley
Enjoyed reading this article? Share it!