Dreamer Camper Five and Living Van - original campervans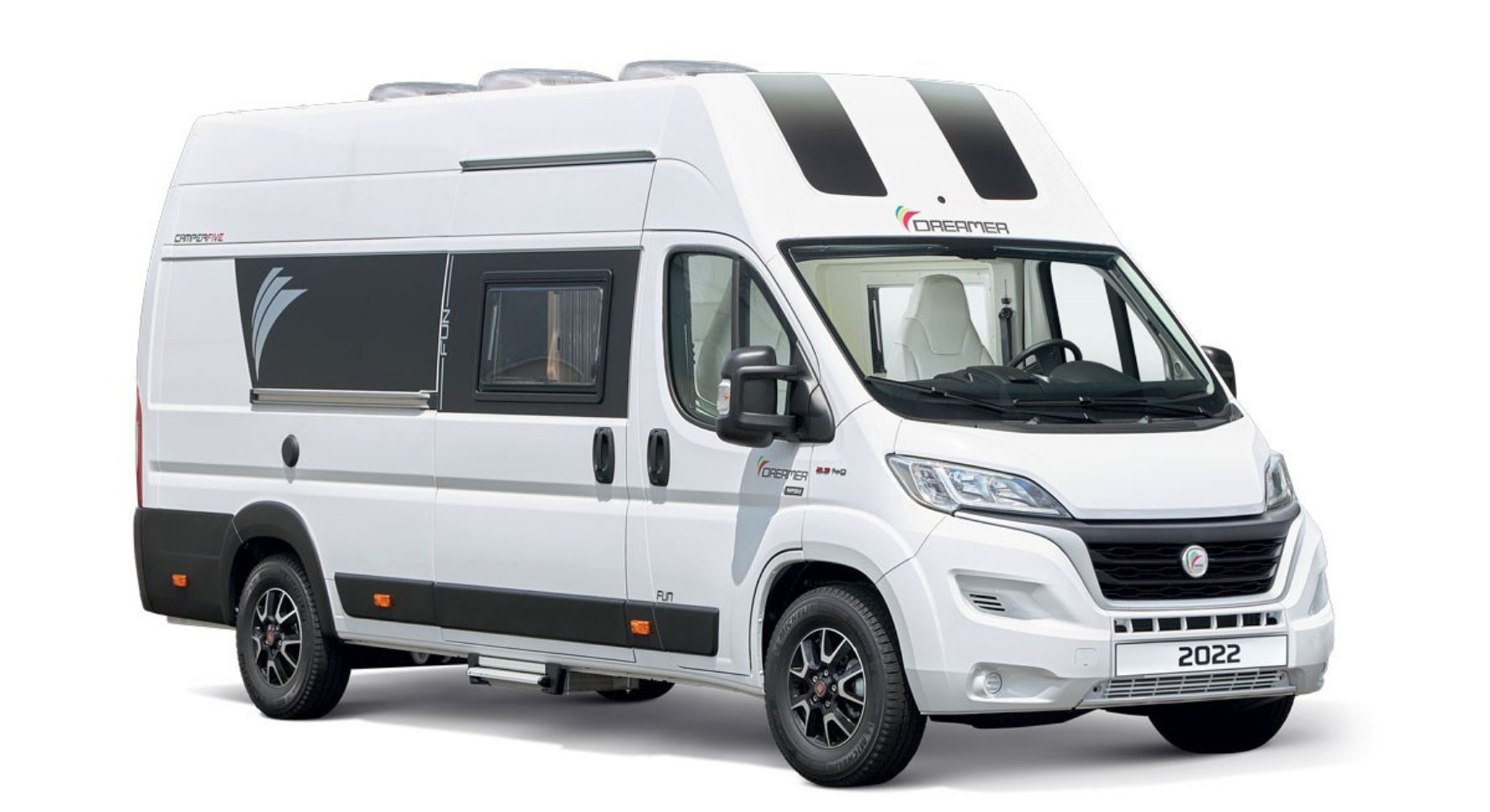 The French brand Dreamer is a specialist in campervans. From the shortest ones based on small Fords to the largest ones based on Fiat Ducato, everyone will find something for themselves. More than a dozen possible layouts and a wide range of personalization will suit most tastes of potential customers.
While analyzing the manufacturer's offer, we came across 2 large and practical vans for families . Today we will show you what Camper Five and Living Van hide. Both are 636 cm long, 205 cm wide and 288 cm high. The roof in both models is made of a well-insulated laminate, which translates into tightness, but also thermal and acoustic comfort.
Dreamer Camper Five - a holiday base for five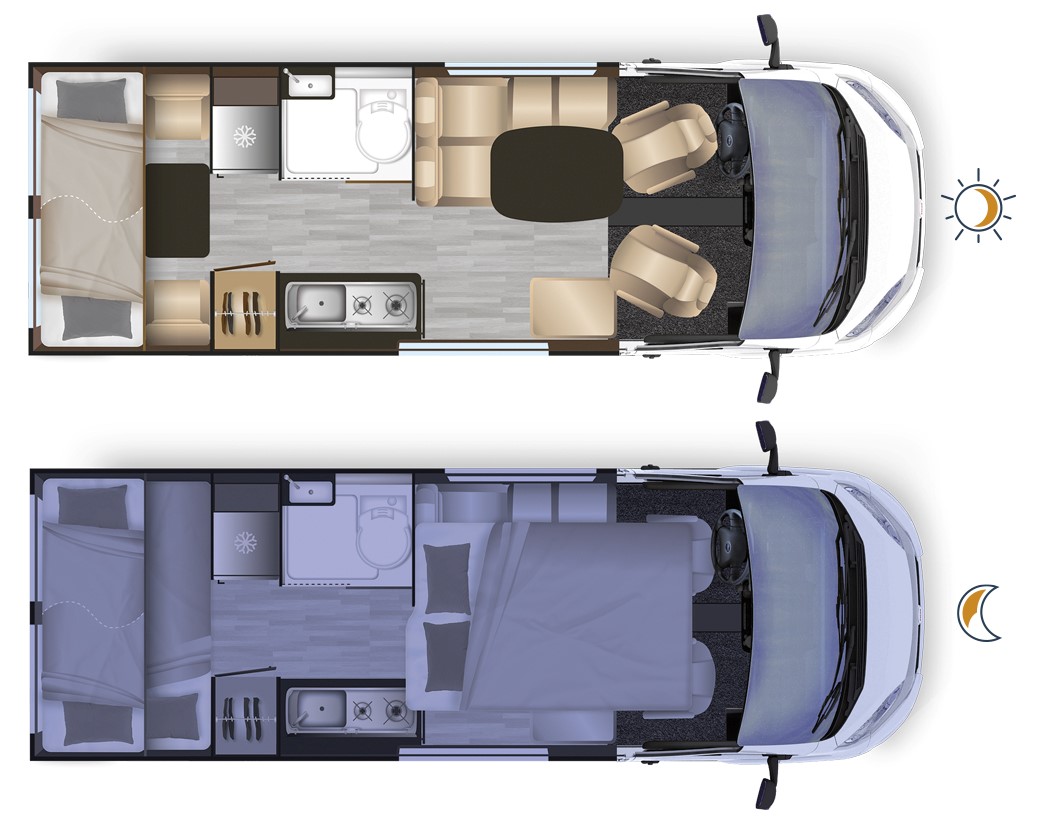 The curb weight of the model is 2,995 kg, and the GVM reaches 3,500 kg. In the version with the 140 HP engine, we have 5 homologated seats (4 places for 160/180 HP engines) and the same number of sleeping places.
At the front, the layout seems "proven" - a cab with 2 air-type seats, behind them a table and an "L" -shaped couch, and on the right from the entrance, an additional seat that can be converted into a 5th seat. Behind the double sofa bed there is an integrated bathroom with shower, toilet and sink. Opposite the bathroom is a wide kitchen worktop with a two-burner stove and sink. The worktop can be widened with a dedicated "additional" towards the entrance. Going back, a refrigerator (149 l) and a wardrobe were placed directly opposite each other.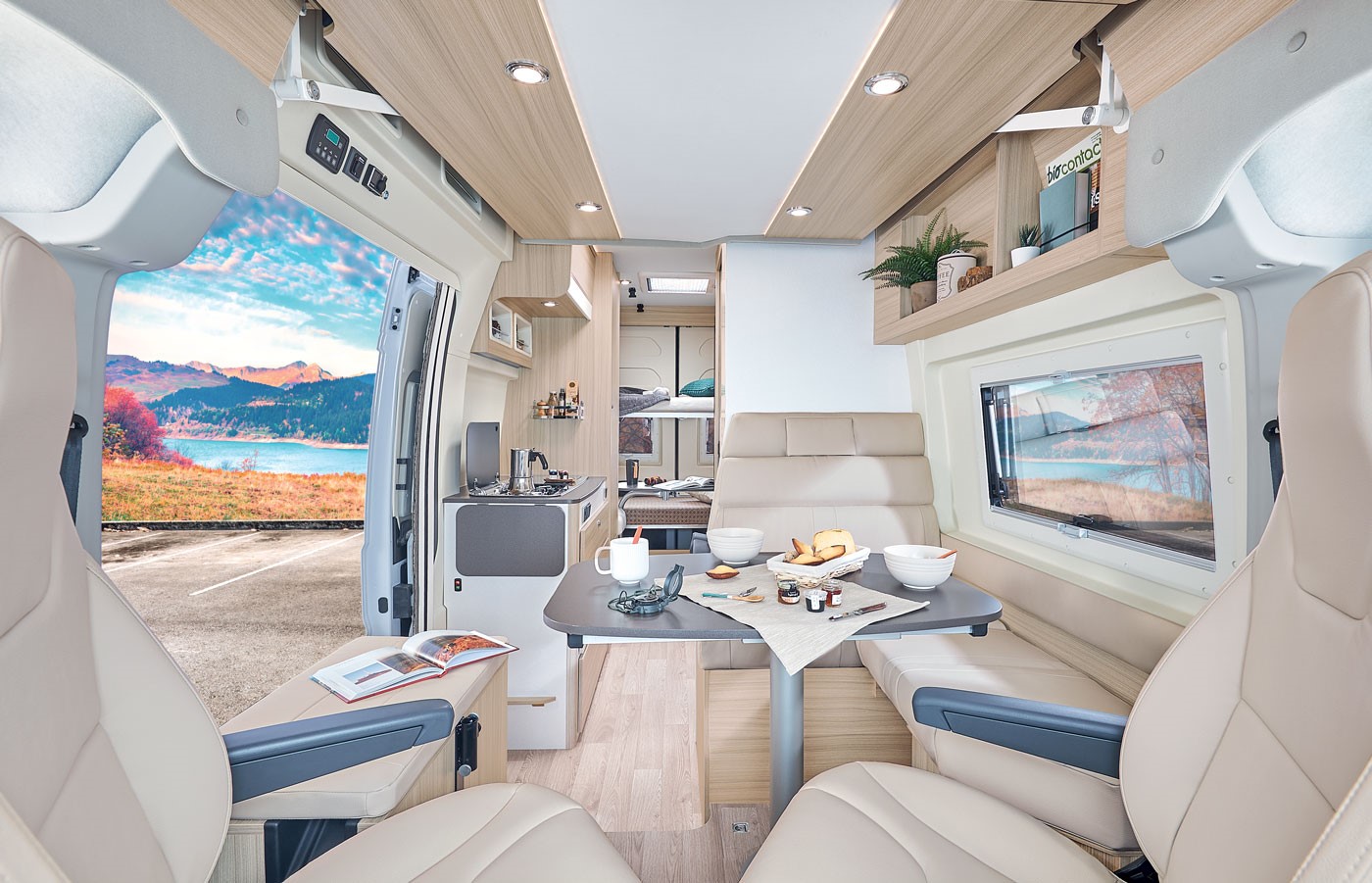 The proverbial "devil", however, is in the detail that distinguishes this model from most others on the market. Well, at the end we have a children's room - single seats with a table, and behind them a bunk bed. It is an ideal asylum for two teenagers or children. If necessary, the above-mentioned corner with the table is turned into a bed, thanks to which the lower part of the bunk grows to dimensions that comfortably fit 2 people (top 175x70 cm / bottom 185x117 cm). In the front, 2 adults will sleep on a pull-down bed measuring 190 / 180x130 cm. The thermal comfort will be ensured by Webasto diesel heating (4 kW as standard, 5.5 kW as an option). The water is heated by a Whale gas thermostat (8l boiler). The vehicle has space for 2 full-size gas cylinders. The tanks are sufficient for this class of vehicle (95 l for clean water, 100 l for insulated gray water reservoir).
Dreamer Living Van - a family wonder of space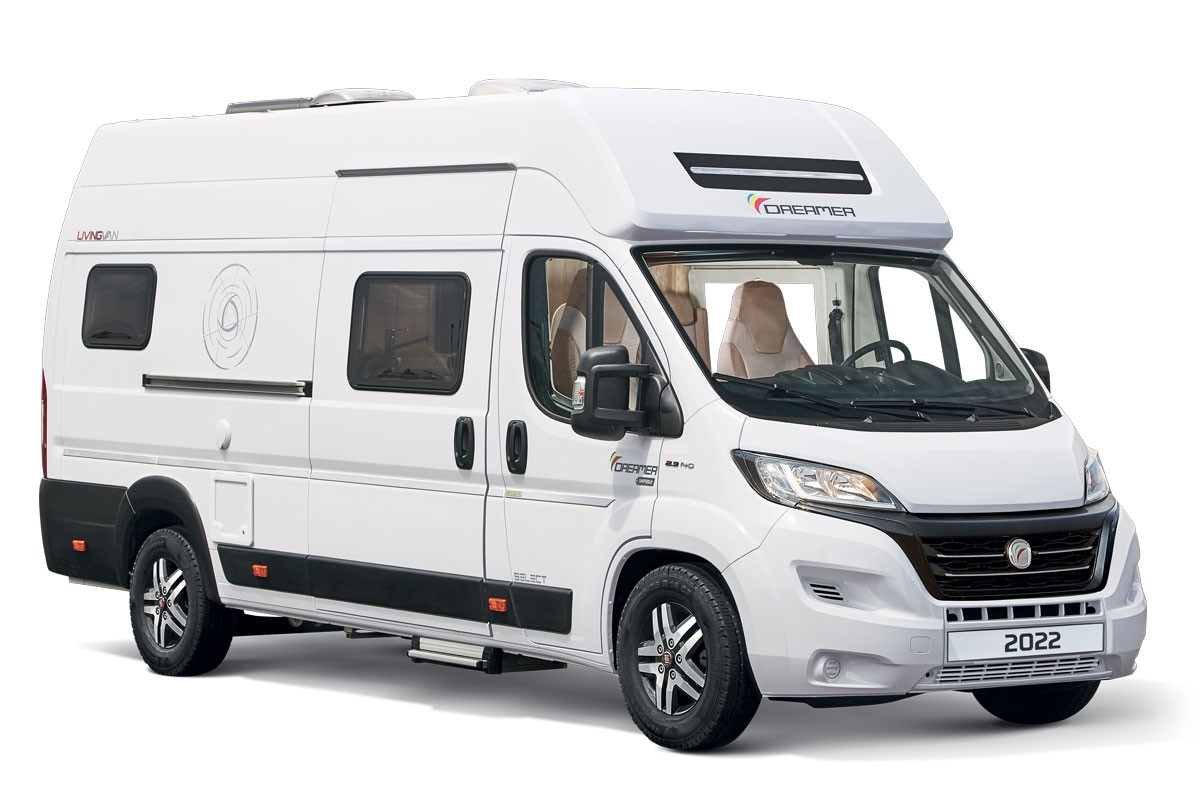 The layout used in this motorhome is extraordinary and cozy at the same time. Instead of bunk beds, French beds or single longitudinal beds, we have a comfortable living room with sofas around the table, which can be easily transformed into a sleeping area (186 x 166 cm).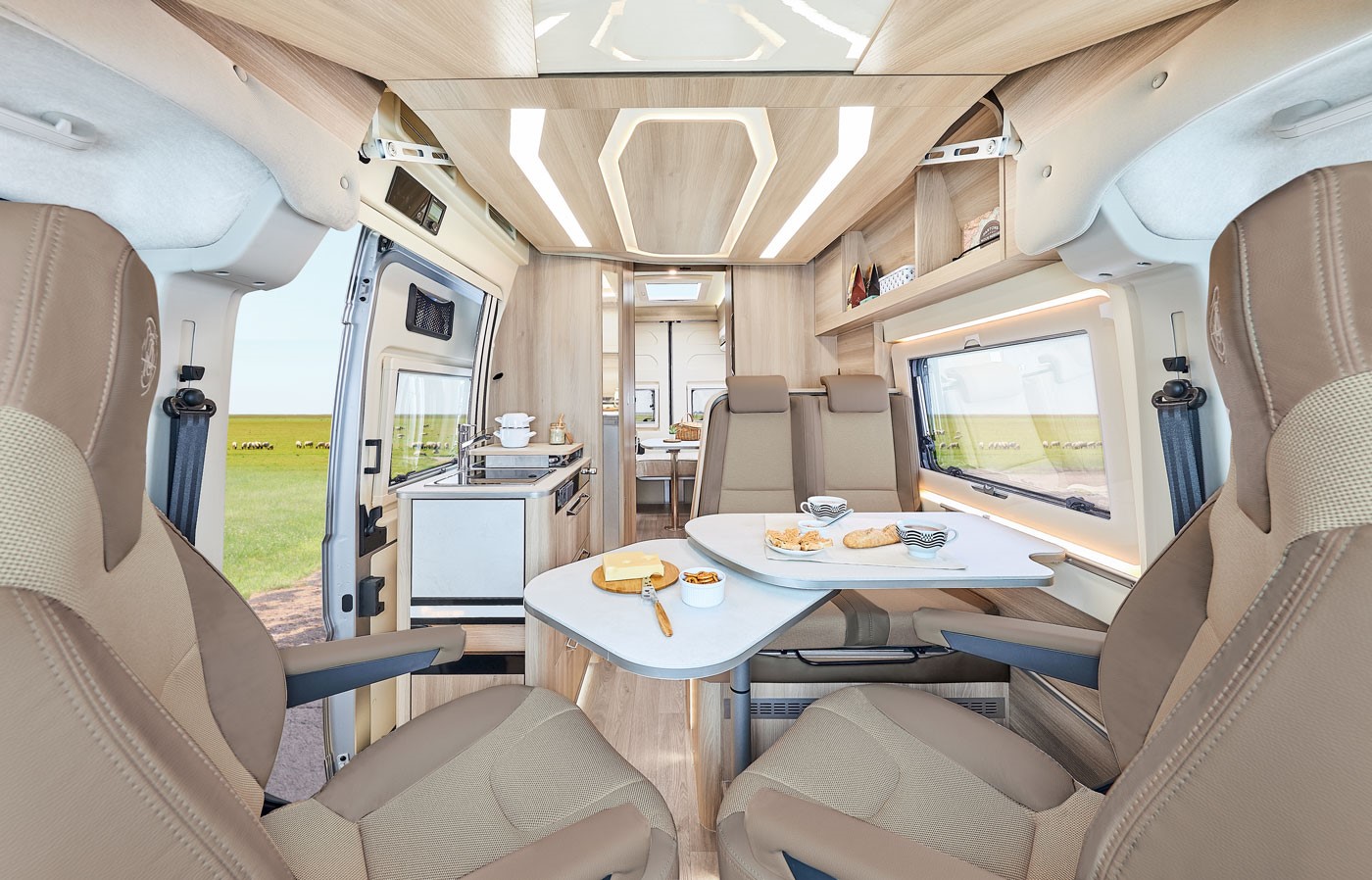 The patented Modul Space system allows you to "hide" the wardrobe in the space of the shower cubicle by means of a hinge. It is difficult to imagine a more practical bathroom layout in the "tinplate" - it is spacious and divided into 2 modules - a shower on one side and a toilet with a washbasin on the other. We can separate this entire space by creating a real bathing room - in this size of a vehicle it is a solution that is not often found.
Right next to the shower you will find a large refrigerator (149 l), and next to the toilet there is a compact kitchen. The spacious back and the large bathroom unfortunately translate into a small area. The worktop can be extended with an overlay mounted on the side. A 2-burner stove and sink, as well as drawers underneath them and upper cabinets make up a functional whole. As standard, the vehicle is equipped with 2 x 100 Ah batteries, a 95 l fresh water tank and an insulated 100 l gray water tank.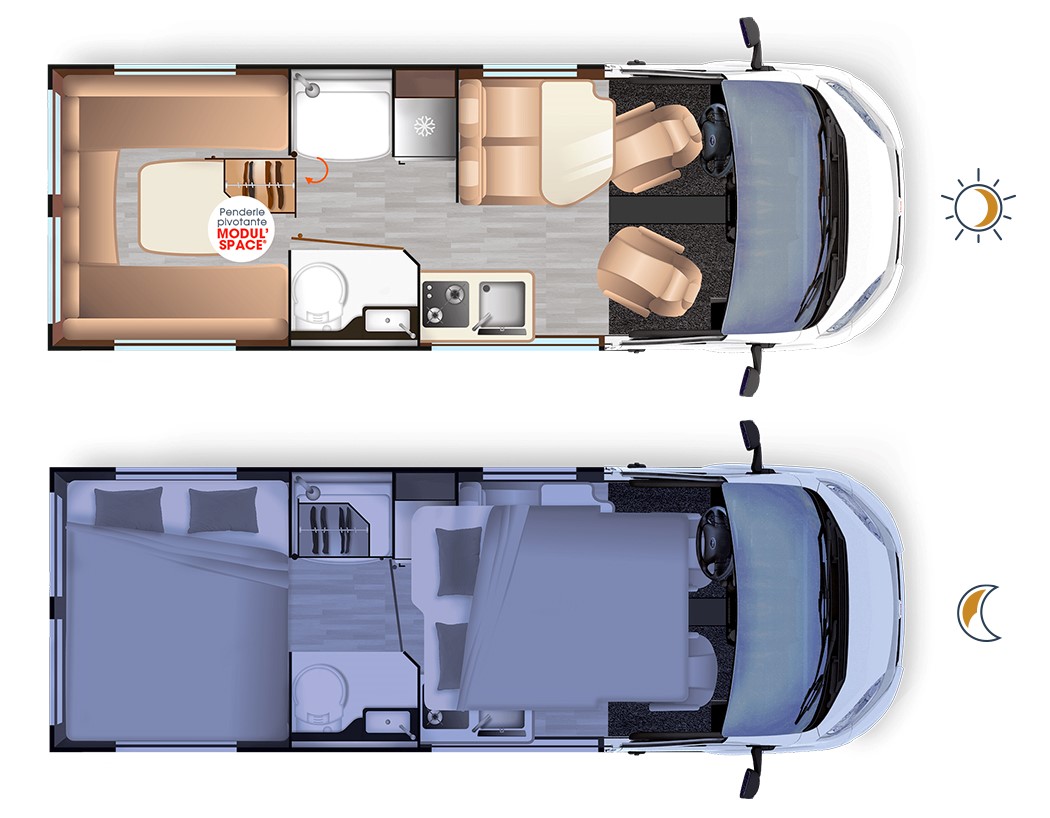 The heating used is Truma Combi Diesel , which reduces the need to transport large reserves of gas (as standard, there is a place for a 5.1-liter cylinder to power the stove / refrigerator). The front drop-down bed measures 190/175 x 130 cm and unfolds manually (scissor mechanism). The issue of lighting is nicely solved - it is subdued and well thought out. The car takes 4 people on board and offers the same number of places to sleep.
If you are looking for a family "tin plate" with a good value for money and well-made buildings, you've come to the right address. M-Camp from Dzierżoniów is a representative of the Rapido group brands, and thus also Dreamera. An authorized dealer and professional service are a guarantee of satisfaction.
www.m-camp.com.pl
Currently available vehicles: mcamp.otomoto.pl
I feel best in the form of trade fairs and meetings with enthusiasts. Technical freak. In my life I have dismantled many motorhomes for the first time. Fan of large vehicles, mountain biking and traveling without weight and financial restrictions. At CampRest, I am responsible for all publications on automotive topics.
Enjoyed reading this article? Share it!