Frankia I890 - luxurious motorhome with a bar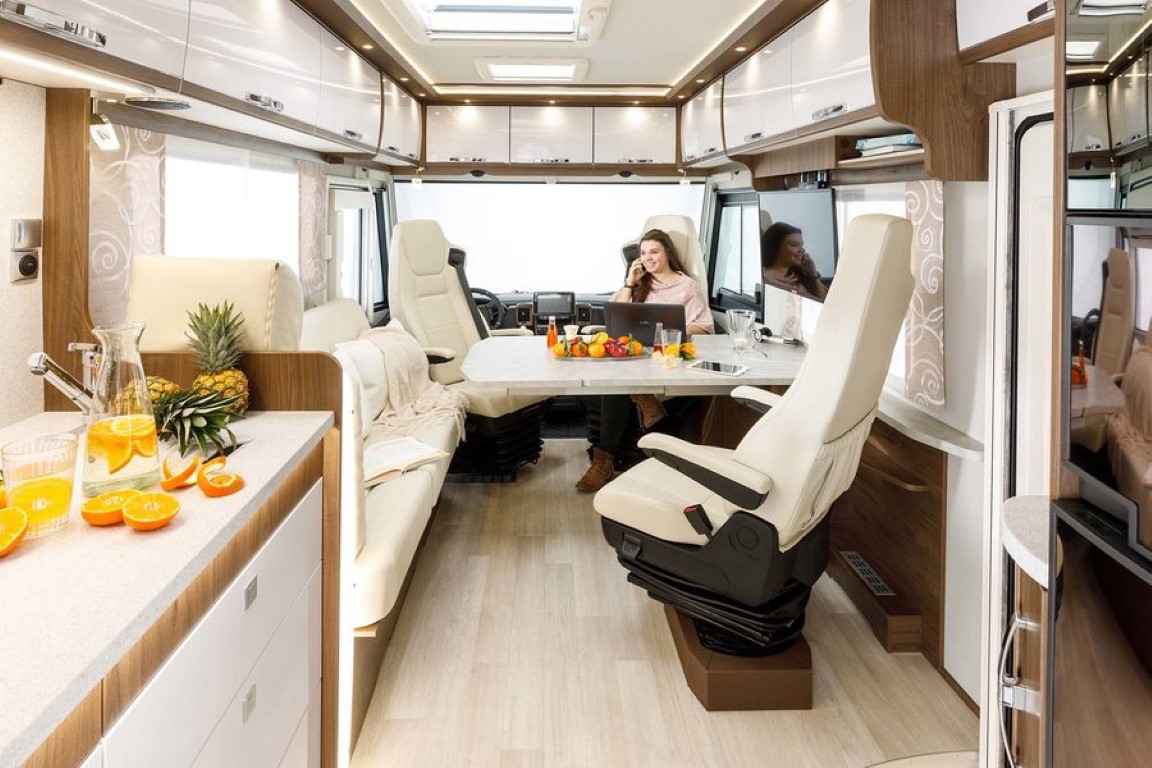 Frankia F-LINE is a proven series of large integrated motorhomes based on the Fiat Ducato, the subsequent editions of which are breaking popularity records throughout Europe. One of the best-selling models here is the long I890 in the GD / QD version (these abbreviations mean respectively separate beds at the back or a large double bed).
From 2019, the BAR version, which is what we focus on in this article, is available for the GD model. In 2021, customers choosing the QD model will also be able to order this version.
The "bar" is an option that is a replacement for the previously used set in the form of couches with a central table. Instead, a "bar" table has appeared, which can be easily unfolded so that all travelers can eat a meal at it. And if you only need a small space for remote work, you can work from the folded table.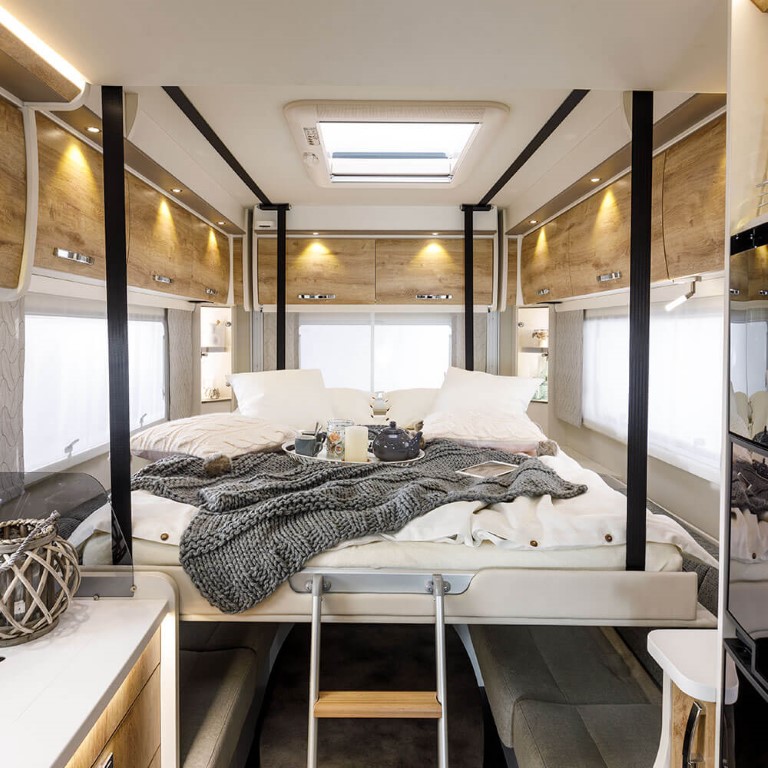 Tables such as "bars" are definitely one of the most interesting amenities in recent years. Thanks to them, the living space has become multifunctional - it is easier to reorganize it into a dining room or an office depending on the current needs. All seats available on these Frankii models are equipped with turntables. Thanks to this, you can rotate them freely to create a larger circle around the table. And if you don't need a dining space while working, you can quickly turn a large table into a small office space.
The table itself has dimensions of 75x105 cm, and with one hand movement you can extend it up to 143 centimeters! And behind the table, you'll find integrated sockets and mounts for laptops, tablets and mobile phones.
Space "by capital P" and comfort without measure

The I890GD model is equipped with 4 driving seats as standard, as well as a drop-down bed in the front of the vehicle. The nearly 9-meter colossus also houses a large, practical kitchen and a bathroom segment.
The rear beds are 205 cm long and the living space is 203 cm high. The double bed at the back of the vehicle is equipped with electric adjustment and is perfectly lit - during the day thanks to the side and roof windows, and at night we have modern lighting in LED technology, which is Franka's strength.
The GVM of the vehicle is 5.5 tons, which does not even force you to compromise in terms of additional loading - we simply have considerable possibilities and reserves. When it comes to choosing the engine version, we can choose even 180 HP, which seems to be an extremely reasonable option.
The standard equipment includes LUXURY equipment, including ALDE heating. In combination with a heated, double floor, we get a solid companion for winter journeys.
Titan - a technological masterpiece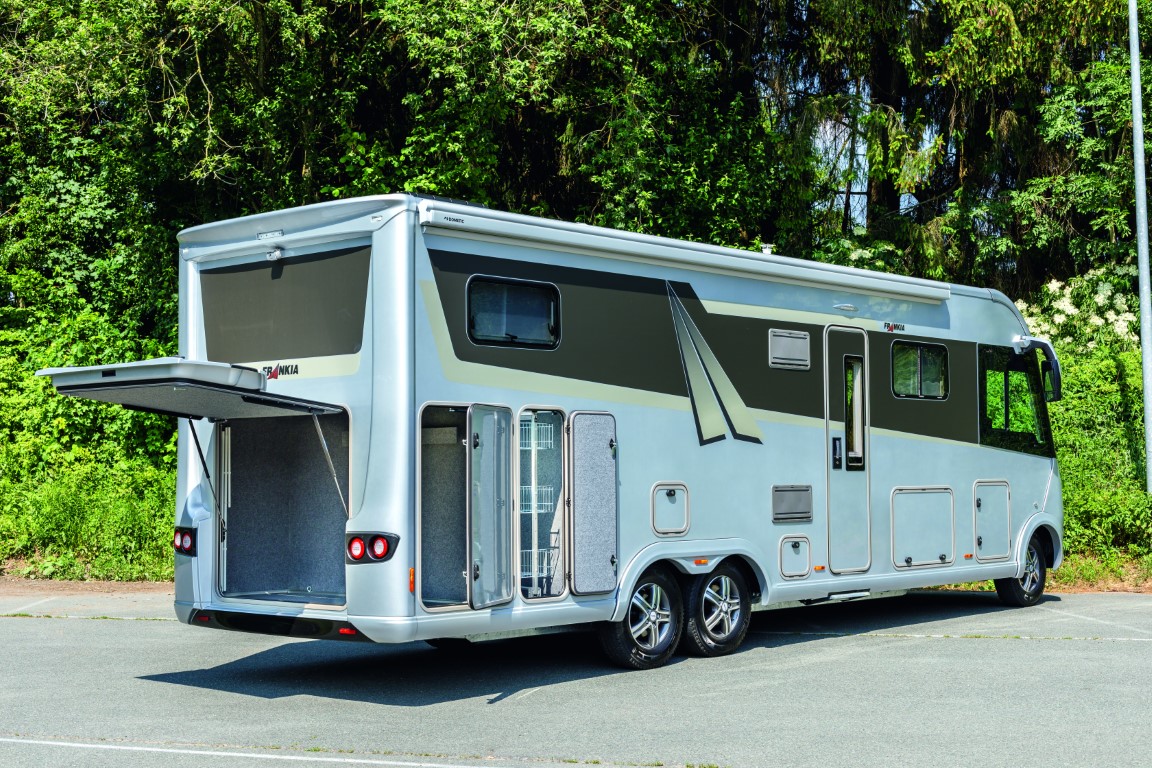 The I890GD model is also available as a Titan version - the most "fancy" option in terms of equipment includes Life-PO4 batteries, a powerful booster that quickly charges the batteries while driving, intelligent power and solar management - here we can fully enjoy the effect of long-term cooperation between Frankia and the renowned , the specialist brand of Büttner - electric and power specialists in the premium segment. A perfectly constructed installation and switchgear are a role model for many manufacturers in this segment.
Frankia Platin - Test CampRest
In the video below you can see how it looks and what we felt from a few weeks of test drive with the top model Frankia Platin 7900GD.
If, after this short article, you felt that you would like to get to know the Frankia brand better, we have good news. You will find an authorized dealer of this brand in Poland. Of course, we are talking about CarGO! Rent a Camp, a group that sells and rents motorhomes and caravans of prestigious brands. The addresses of the branches in Poznań, Warsaw and Wejherowo can be found at: www.cargo-group.pl
gallery
I feel best in the form of trade fairs and meetings with enthusiasts. Technical freak. In my life I have dismantled many motorhomes for the first time. Fan of large vehicles, mountain biking and traveling without weight and financial restrictions. At CampRest, I am responsible for all publications on automotive topics.
Enjoyed reading this article? Share it!