Camping Čikat - a family paradise on a Croatian island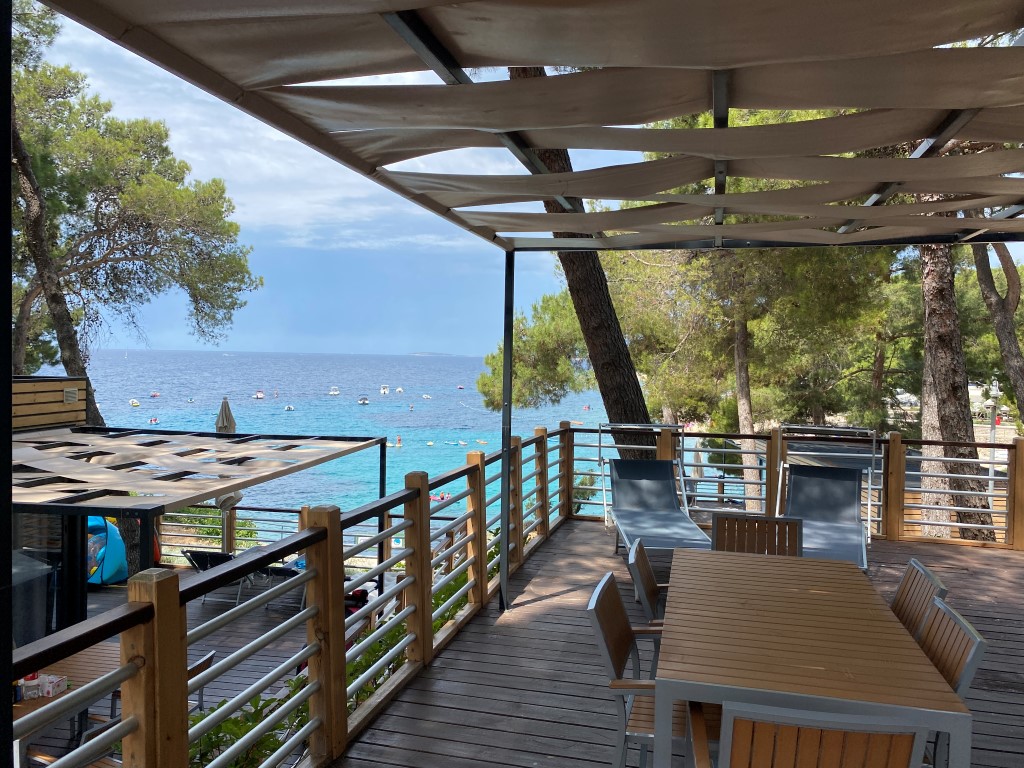 Our editorial holiday trip this year was a trip to several countries, with the final in Croatia, to which we are always happy to return. With a few teams with countless children, we felt (and how!) That the most appropriate choice would be a family campground with attractions and amenities for everyone. Since the true climate and charm of Croatia, according to many, can be experienced especially on the islands, the goal of our exploration was the island - specifically Lošinj, on whose promontory, in the town of Mali Lošinj, we visited the famous camp Čikat .
Čikat - what's new?
Čikat celebrates its 40th anniversary this year. Therefore, it is a center with traditions, and such traditions can often be considered old and unattractive. Nothing could be more wrong.
I returned to camping Čikat after a 4-year break and I was positively surprised by the development and scope of changes. According to the campsite manager, the last two years, despite a difficult period for the entire tourist industry, have been a period of intense investments. Brand new sanitary facilities, including tastefully finished, dedicated bathrooms for children, can be seen with the naked eye. Many alleys in the sectors have been modernized and paved - including removal
Accommodation for every budget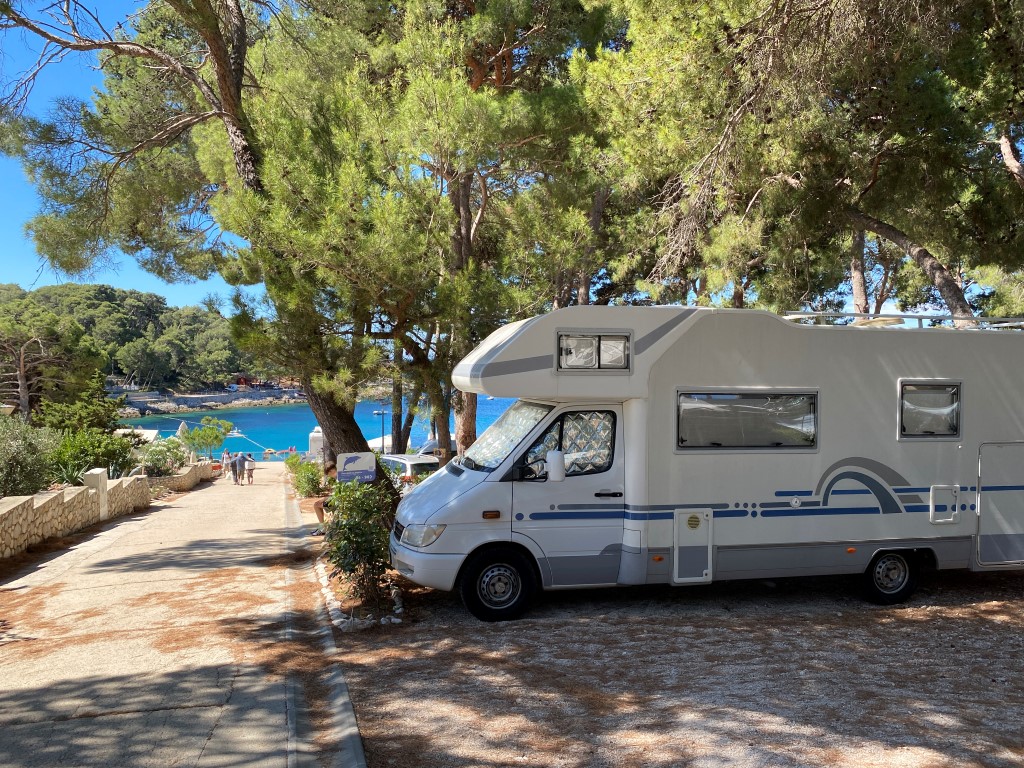 Of course, apart from the pitches for motorhomes and caravans, the resort has accommodation facilities of different standard and capacity. In total, we have 186 cottages and accommodation here, as well as 10 new, recently put into use "glamping" tents (by the way, making an electrifying impression). Coming back to camping plots - there are about 700 of them (this number is constantly changing due to the ongoing works). The guests have at their disposal Standard pitches with electricity, Premium, Premium Mare, i.e. with a sea view (both with water and electricity at the pitches), to the spacious Superior and Superior Mare (with all amenities, and some even with a TV connection).
Dog-friendly camping
Already 15 years ago, Camp Čikat joined the program "Camping cum cane®" ("Camping with dogs"). In short, the idea is to create ideal conditions for relaxation for pet owners, pets, but also for families traveling without a dog. And so, in many places on the campsite, we can find drinkers, bags for excrement, special baskets, marking walking routes, the length of the leash recommended in a given place, and - a dedicated beach for pets. The tiled quay with a wooden platform docked at the entrance to the sea create ideal conditions to avoid damage and burns to the paws. In addition, there are dedicated freshwater showers right next to it - in short, everything your heart desires.
Pleasant shade and a healthy microclimate
Anyone who knows Croatia and the specifics of its islands knows how difficult it is to find shade and a little cool in these places - especially in high season. The island of Lošinj is known for its old tree stand and ubiquitous pine forests. In the nineteenth century, this place was visited by Duchess Sissi (Elizabeth of Bavaria), and the Austrian doctor Konrad Klar came here with her son. The offspring suffered from serious respiratory diseases, and the specific microclimate of pine forests on the island contributed to a significant improvement in his health condition. Soon after, the value of the island was also appreciated by Archduke Karol Stefan Habsburg, who built his summer and winter residence here (villa Elisabeth). In total, at the turn of the nineteenth and twentieth centuries, an additional 70,000 trees were planted here, some of which, of course, densely cover the camping area, giving shade and a unique microclimate. Interestingly, all the trees in the complex are cataloged and their condition is regularly checked.
Attractions for everyone
What to do on Čikat ? The resort is huge and we have everything here - the Aquapark (with salt water) opened 5 years ago is equipped with a huge swimming pool, a toddler zone, slides and a snack bar, as well as ultra-modern changing rooms and sanitary facilities with an indoor and air-conditioned gym. Of course, admission is free for campsite guests. It is also here that a team of animators is stationed, who not only organize games for children and parents during the day, but also provide entertainment in the evenings. Near the water complex, there is a Multisport zone, where you can play team games or tennis. Within the campground we will find an outdoor gym, playgrounds for children and a club house for children - this year the facility has decided to offer babysitting services to tired parents.
The basic activities, however, naturally focus around two beaches, one of which is made of stones, and the other is located on a rocky ledge. The transparency of the water and easy access to it (e.g. thanks to ladders) make this place ideal for snorkeling and sweet laziness on a floating mattress. Right behind the separated beach, boats, fish and pedal boats are moored, partly belonging to the rental shop located right next to the Silver Bay beach. Along the quay between the beaches there are areas with sun loungers for rent. Of course, the entire coastline is equipped with freshwater showers.
There are 2 restaurants on the campsite (the one by the water is open all day, the other one from 6 p.m.), a well-equipped market (there is also an ATM), a separate booth-bakery and an ice cream parlor by the beach. Importantly, we can easily pay with a payment card everywhere.
An unquestionable attraction is the promenade surrounding the campsite, which we can take on foot or by bike to the neighboring hotels and resorts and restaurants / shops and attractions located next to them (left) or to the charming center and port in Mali Lošinj. Numbering just over 8 thousand. of souls, the town is teeming with life in the season, and palm trees, boulevards and a truly southern atmosphere combined with an exhibition of beautiful moored yachts make up the quintessence of Croatia.
Reservation indicated
In addition to designated plots, the center has a non-sectoral zone. The site is mainly occupied by tents and is far from the beach and the main attractions. However, it allows you to find a place on the campground even in high season, despite the lack of reservation. Hoping for a great vacation and wanting to take full advantage of the potential of the place and infrastructure, we strongly recommend booking in advance, especially if you want a sea view or travel with several teams, just like us.

A very interesting option is the possibility of a virtual walk on the map and seeing each plot up close. In this way, we can choose and reserve, e.g. for the next season or any date, a plot that perfectly suits our needs. We recommend such a virtual walk around the campground - apart from the visualization, each place has a description indicating the area and equipment. Link to the interactive map:
https://www.camp-cikat.com/pitches-map.aspx

Price list:
https://www.camp-cikat.com/pl/cennik.aspx
If you are interested in the current and forecast weather situation along with the live camera view, it is worth taking a look here:
https://www.camp-cikat.com/weather-forecast.aspx
I feel best in the form of trade fairs and meetings with enthusiasts. Technical freak. In my life I have dismantled many motorhomes for the first time. Fan of large vehicles, mountain biking and traveling without weight and financial restrictions. At CampRest, I am responsible for all publications on automotive topics.
Enjoyed reading this article? Share it!