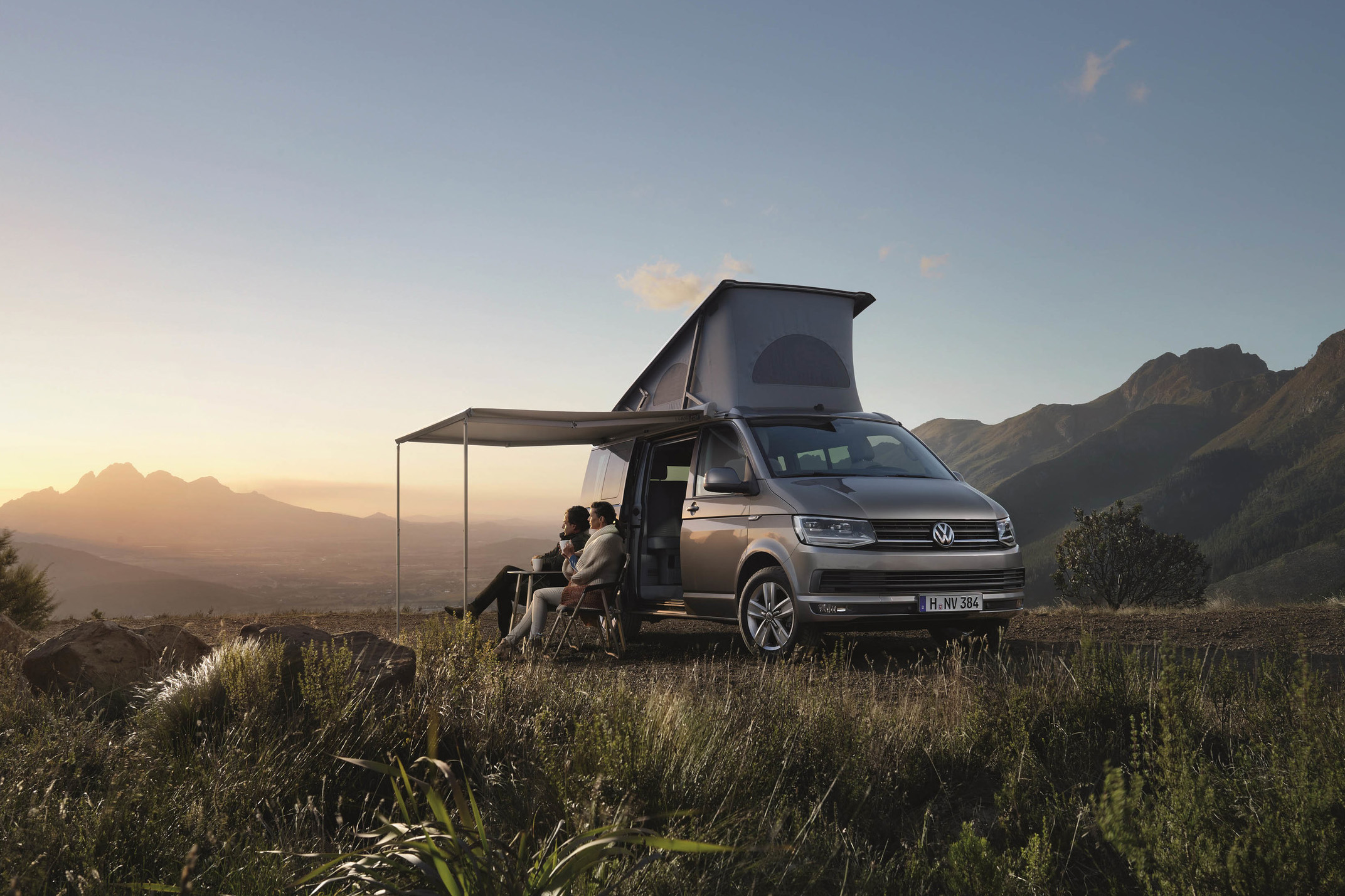 During the premiere, Volkswagen T6 was presented in white and red colors. However, it was not a tribute to Polish customers, but a reference to the color of the first generation Volkswagen delivery truck.
When presenting the new Transporter, the manufacturer emphasized the historical continuity that already connects six generations of this model. In terms of appearance, the sharpest lines of the T6 stand out from its predecessors. Its front is reminiscent of Volkswagen passenger cars, including the newest Golf and Passat. Of course, this bodes well for commercial success, as it evokes associations with refined and valued cars intended for comfortable travel.
Delivery Golf
Apparently, as much as 75% of parts have been changed in the new generation of the Transporter. However, visually, the differences are most visible in the interior, where more modern styling and better quality materials have been used. The 6.6-inch screen draws attention. The navigation and multimedia system comes from the Golf VII.
Compared to the predecessor, the suspension comfort has been significantly improved, and the shock absorbers can have an adjustable damping force for an additional fee. Journalists testing the T6 also indicate quieter operation of some engines and better soundproofing of the cabin . The new, much more comfortable armchairs are also an advantage.
The list of additional equipment is long, so the car can include, among others cameras presenting the image in 360-degree mode, or adaptive cruise control (adjusting the speed of the car to the vehicle in front of us), emergency parking function, parking assistant, and even a system that recognizes driver fatigue . Climatronic air conditioning or electrically operated seats and steering wheel are no attractions in such a combination.
To the beach and camping
For us, however, the most important is the California model, i.e. the tourist version of the T6. The car will be available in three variants.
Beach is the staple version of California. Its special advantage is a maximum of 5 beds, which can be considered an exceptional thing in such a small vehicle. Obtaining such a large number of sleeping places was possible thanks to a manually extendable tent on the roof. There is a double sleeping place (2x1.2 m). Inside you will find a folding table, to which you can add folding chairs (also included in the vehicle's equipment).
The Coast is a more camping model. This version has not only a retractable roof, but also a steel sink, a two-burner gas cooker and a 42-liter fridge. The interior can be finished with a wooden or aluminum motif.
California's richest variant is called Ocean . The car is equipped with double glazing, electric roof with LED lighting, Climatronic air conditioning and additional parking heater.
California will initially be offered with 2.0 TDI engines ranging from 84 to 204hp. Gasoline units are due to join later. These are to be engines with a power of 150 and 204 HP.
In Germany, Volkswagen California prices start at 41.5 thousand. euro. If such a price is also valid in Poland (approx. PLN 164 thousand), it will be comparable to the amount that needs to be spent on a Mercedes Marco Polo Activity, which is available from PLN 167 160.
Sometimes it is better to get lost than to ask for directions too much. Aldous Huxley
Enjoyed reading this article? Share it!