Globe-Traveler Explorer 2XS - a motorhome for a demanding couple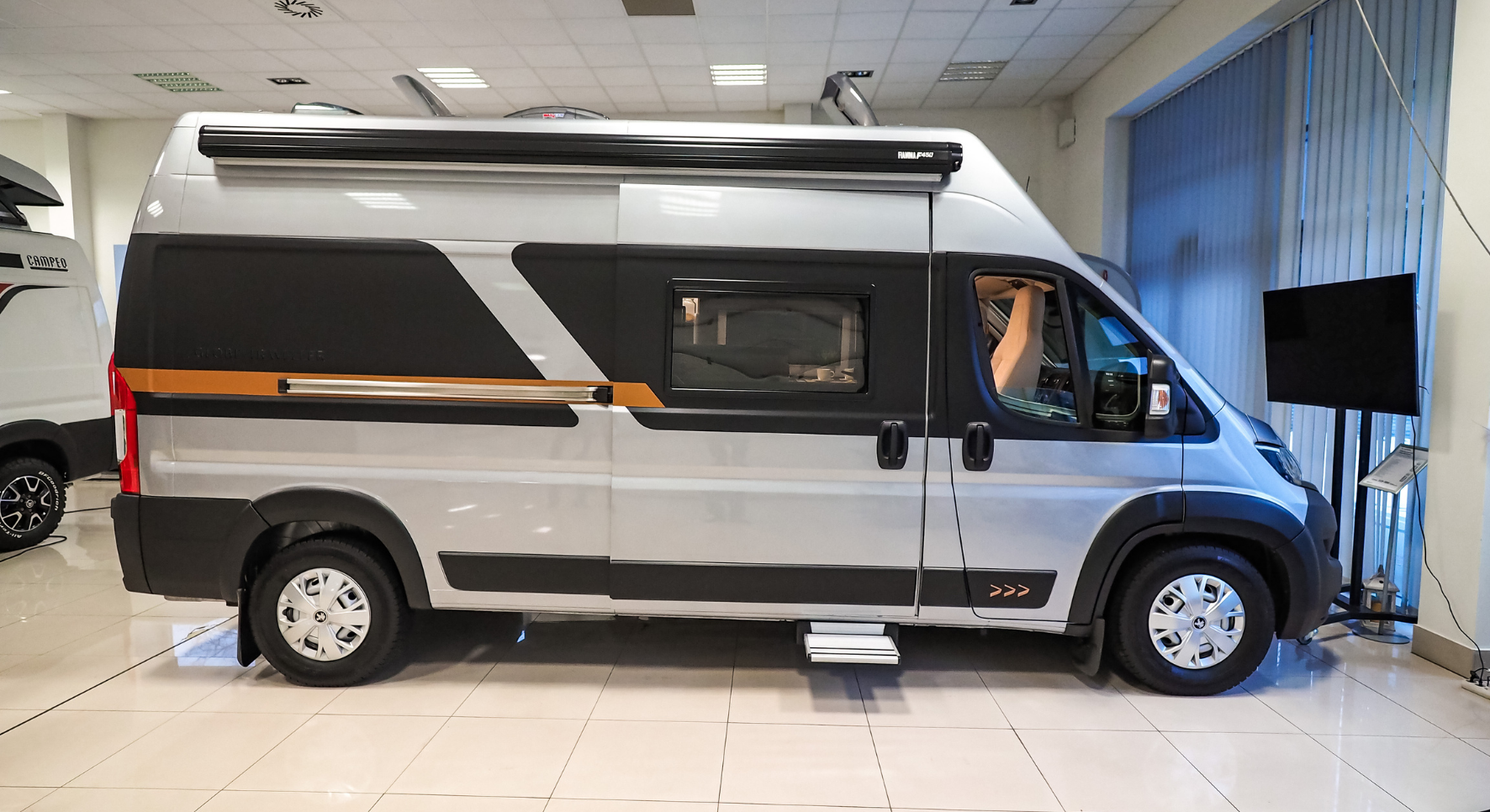 There are few Polish manufacturers of recreational vehicles who would achieve such spectacular successes in the demanding markets of Western Europe as Globe-Traveler. Perfect design, effective use of space and quality of workmanship are appreciated not only by experts in the industry, but also (and perhaps above all) by customers. Dumped prices are by no means a factor of success - our native company plays in the highest league and easily conquers the hearts of caravanning fans in Germany or Scandinavia.
The brand, belonging to the ELCAMP RV group, is known for its characteristic designer "flavors" - vehicles can be recognized from a distance, for example, due to the characteristic structure of the superstructure, body colors and company veneers.
Space at less than 6 meters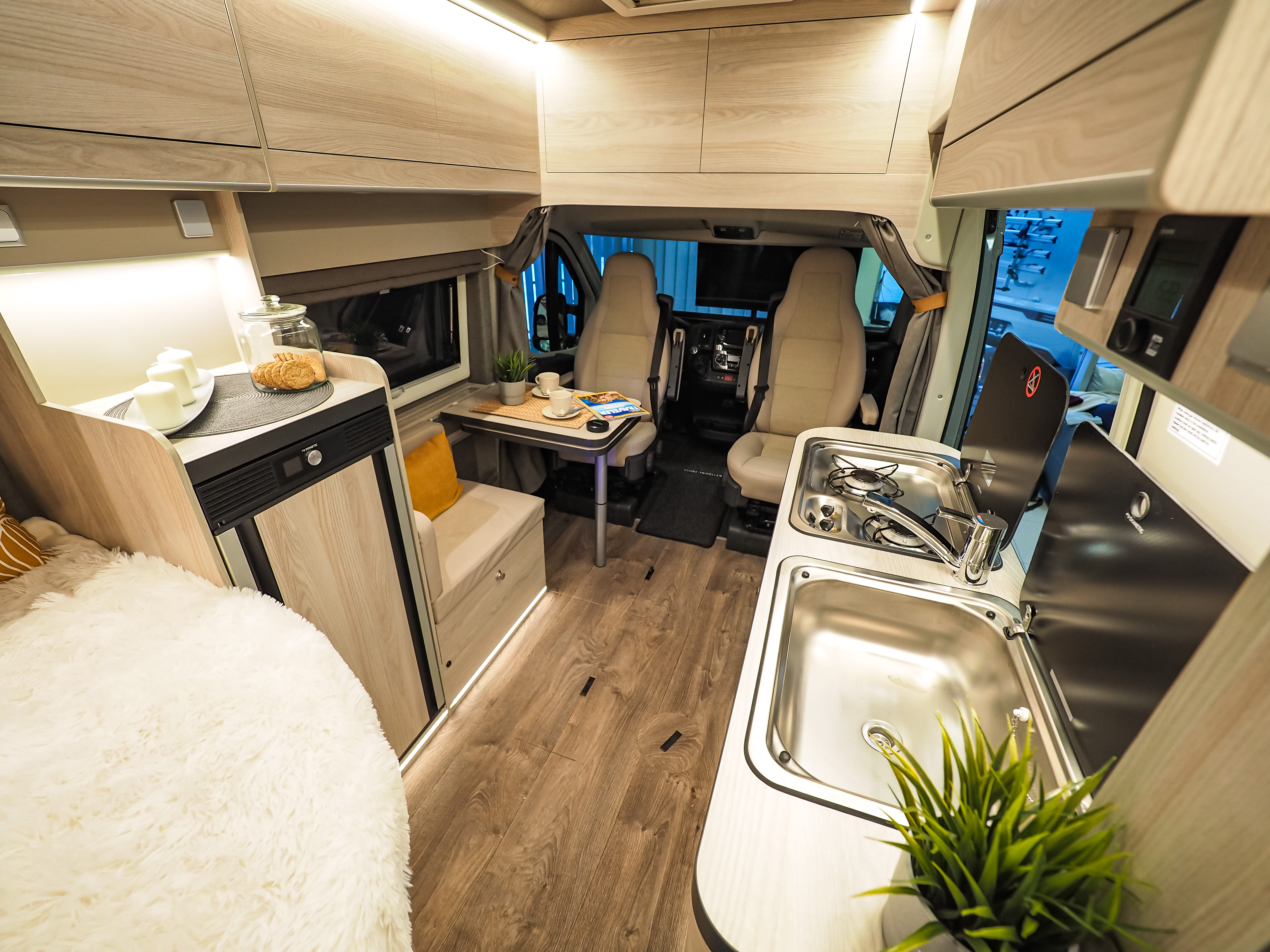 A novelty in the manufacturer's model range is the Explorer 2XS model designed for traveling couples. Measuring just 599 cm in length and 280 cm in height, the vehicle offers surprisingly ample interior space.
All elements of equipment and interior arrangement indicate that it is a car for 2 people. A French bed with a raised and adjustable backrest is located on the rear left. In the garage underneath it, we have a lot of space for luggage and camping equipment. At the head of the bed, there is an optional wine and drinks cooler - it is quite an unconventional solution in this segment. Right next to it, there is an integrated sanitary module with shower, toilet and washbasin. In the central part we have a full-size kitchen and a spacious living room. The lack of a couch for additional passengers makes it difficult to complain about the lack of space here. The fold-out table can be hidden in ... the floor at any time.
Everything in place - room for everything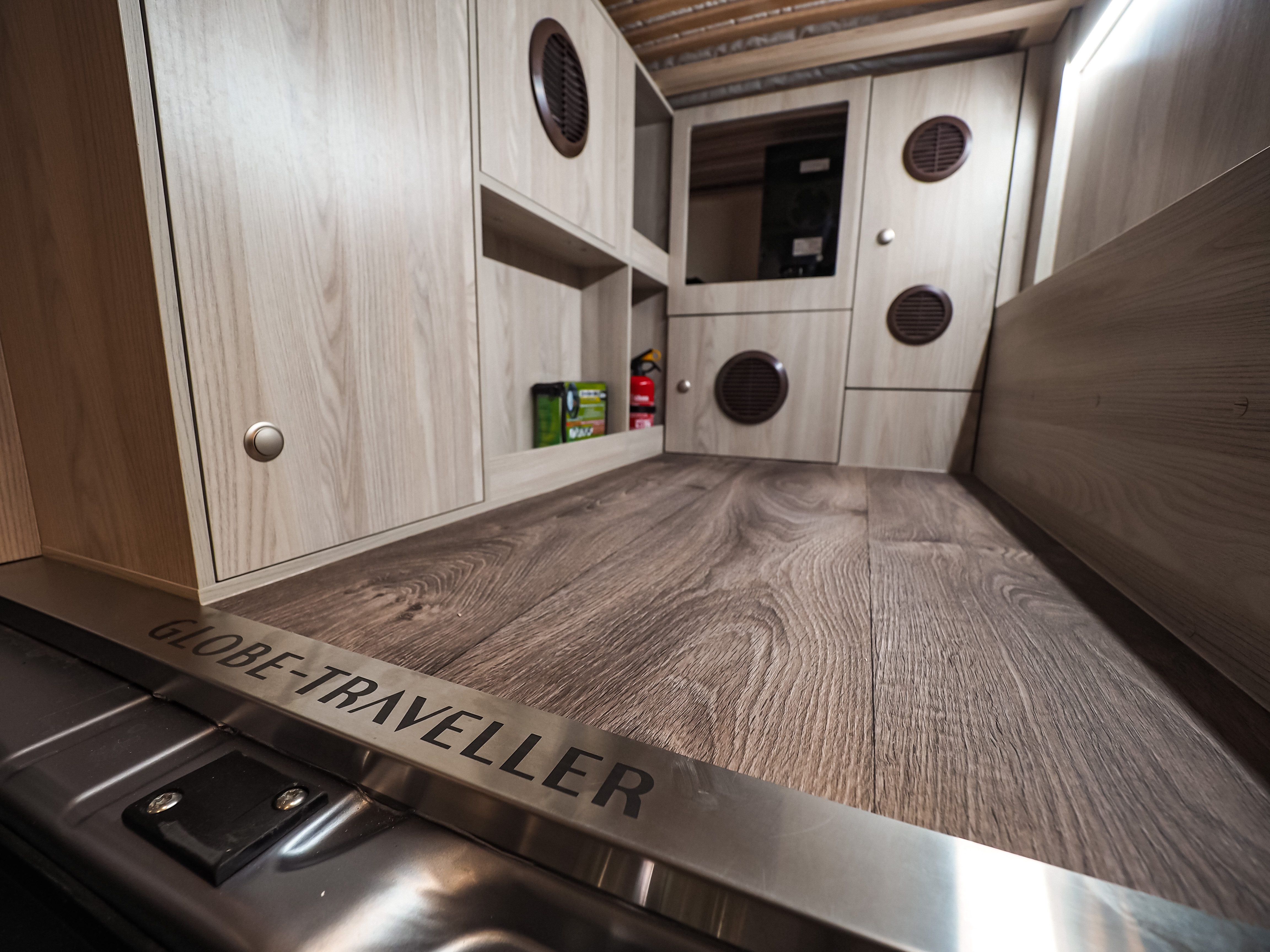 There is a lot of space for luggage, provisions and accessories - we have the aforementioned garage, suspended cabinets around the vehicle, cabinets in the kitchen, a narrow wardrobe next to the bed, storage compartments in the floor, and even a storage under the driver's seat.
The proven Truma Combi 6 will take care of thermal comfort. The full-size Dometic fridge-freezer is elegantly integrated into the interior and is not built upwards with a "post". Firstly, it does not disturb the impression of an open space, and secondly, it gives us the opportunity to use the space above it as a shelf, which we often miss in a motorhome.
Fiat or Peugeot as a base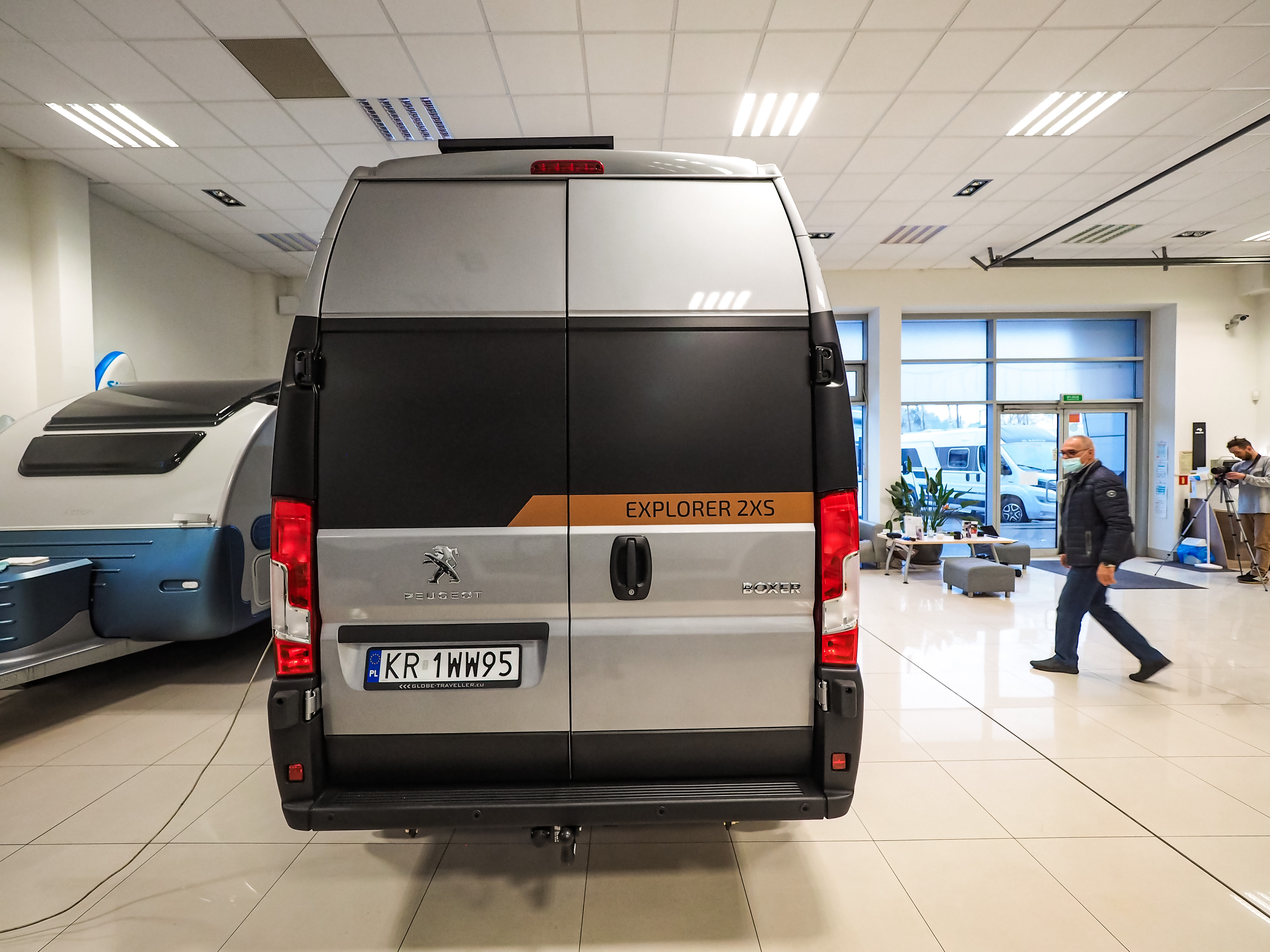 Choosing the Explorer 2XS model, we can choose the base vehicle. Both the Ducato and the Boxer are powered by 2.2-liter 160 HP units as standard. On request, it is possible to order a more powerful version of the Ducato with 180 HP. Additionally, we can equip Fiat with an automatic gearbox. Even the performance of the standard versions, however, ensures decent comfort.
The weight of the road-ready vehicle is 2,950 kg in standard equipment (safe tolerance indicated by the manufacturer is +/- 5%). The standard gross vehicle weight is 3,500 kg. If we decide on a Fiat Ducato with a chassis in the Heavy version, we can order a vehicle with approval for 3820 kg, and this will give us quite substantial loading reserves.
A pioneer of a new segment?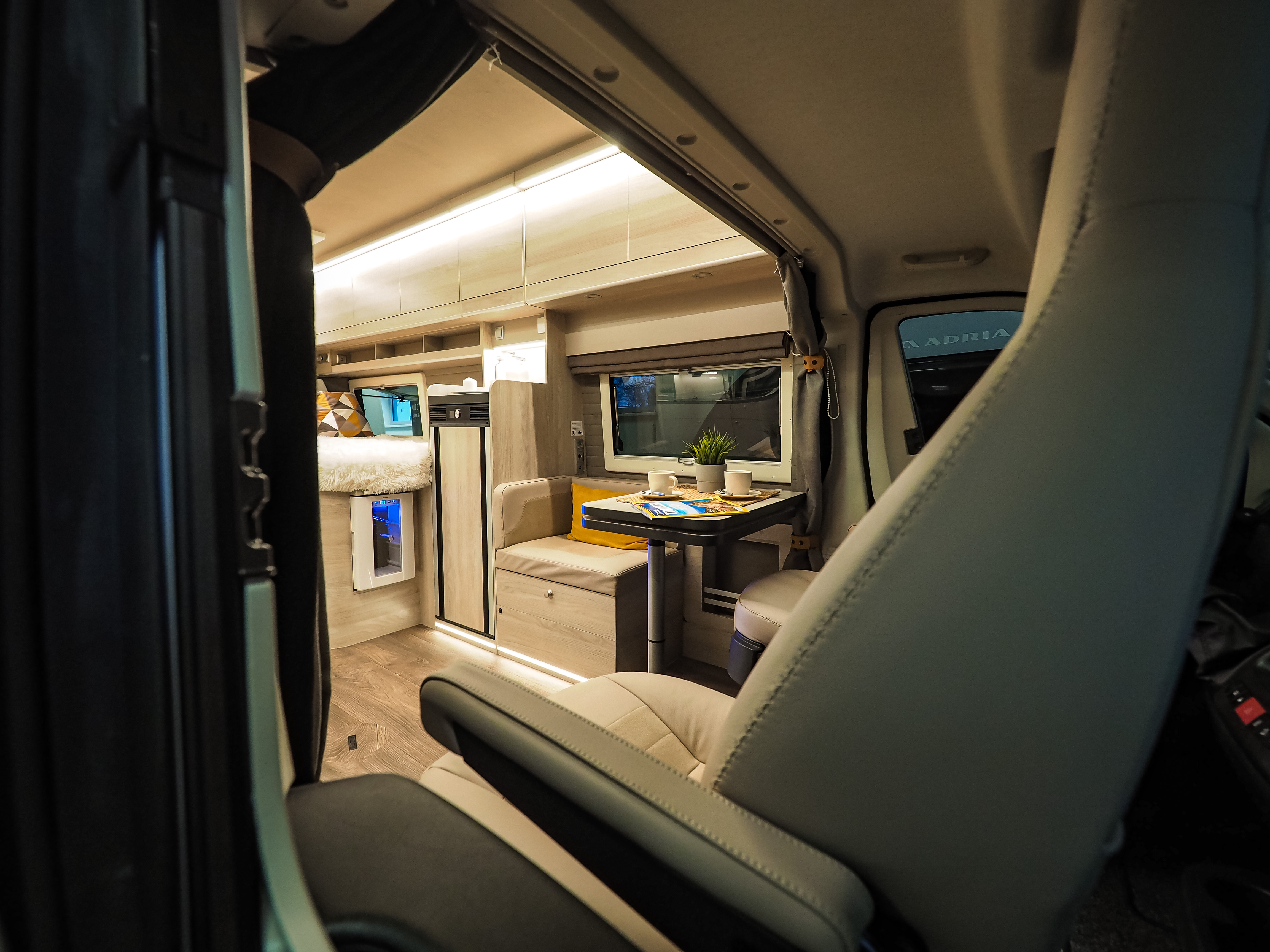 Major portals and trade magazines in Europe showed the novelty on their pages almost immediately after the presentation. The first comments of customers from across our western border were very positive and the model for two will certainly cause confusion on many markets.
The offer of "made to measure" tin plates for couples is currently very limited. One thing is certain - by creating Explorer 2XS, the Globe-Traveler brand has created something pioneering, interesting and sophisticated. She did not duplicate any clichéd project by serving us a reheated cutlet under the guise of novelty.
Bright interior, a sense of space and technically sophisticated, top-quality equipment will appeal to the most demanding tastes. Taking into account the excellent thermal and acoustic insulation, each active couple will find a year-round, proven companion in this model.
I feel best in the form of trade fairs and meetings with enthusiasts. Technical freak. In my life I have dismantled many motorhomes for the first time. Fan of large vehicles, mountain biking and traveling without weight and financial restrictions. At CampRest, I am responsible for all publications on automotive topics.
Enjoyed reading this article? Share it!