Hobby Siesta Alkoven - functionality for holidays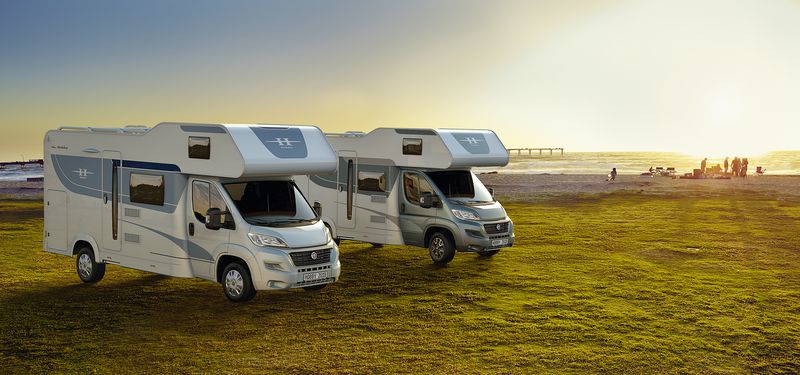 The offer of producers of tourist equipment changes with each subsequent season. Companies introduce more and more interesting models, configurations and equipment options to their price lists. This does not mean, however, that the proposals that have been known for years go by the wayside. When browsing the catalog of one of the most popular German manufacturers - Hobby - the Siesta Alkoven model attracts attention, which is quite a reasonable proposition on the market.
Not every caravanner has the same needs and expectations for a motorhome. Some of us are fine with a budget, fully integrated motorhome. Others need something more spacious. From the outside, Hobby Siesta Alkoven looks like any other motorhome of its class - the bodywork based on the Fiat Ducato chassis is enriched with interesting stickers . Powerful rear-view mirrors turn out to be very useful while driving, and the reversing sensors have also found a significant use. When choosing a motorhome with an extensive alcove, we must take into account the huge air resistance it generates, because they translate into diesel fuel consumption . Therefore, it is worth considering ordering one of the more powerful engines from the offer, because it will make driving much more pleasant.
Functionality across the Oder
The driver's cabin has been taken alive from Fiat Ducato - a solidly fitted dashboard will remain unmoved even after years of intensive use. The position behind the wheel guarantees high comfort , even after a few hours of driving, we will get off refreshed. In terms of additional equipment, we can count on automatic air conditioning, radio, on-board computer and full electrics . As in most similar constructions - the front seats can be turned to create a holiday living room with a small table in the middle - of course, we can unfold it (behind it, of course, there is a double sofa with seat belts ). Above the driver's cabin and the lounge there is an alcove, which is a comfortable resting place for two people. Hinged windows were installed in the roof and side walls to brighten the interior.
Opposite the table you will find a kitchenette . A two-burner gas stove, sink, fridge and plenty of cabinets and drawers will be perfect for relaxation. Moving on, we come to a huge built-in wardrobe and a closed bathroom equipped with a chemical toilet and a shower cubicle . In the rear part of the vehicle, the manufacturer has provided space for two bunk beds - not only for children.
Hobby Siesta Alkoven can also receive Truma heating , it provides simultaneously hot water - taken from the tank or directly from the network. Under the bunk beds, there is a spacious storage space for all kinds of tourist equipment - car seats and the like. It is accessed by a door on the right side of the vehicle.
I follow the latest trends in the automotive industry, not only in caravanning
Enjoyed reading this article? Share it!