Poznań trends in equipment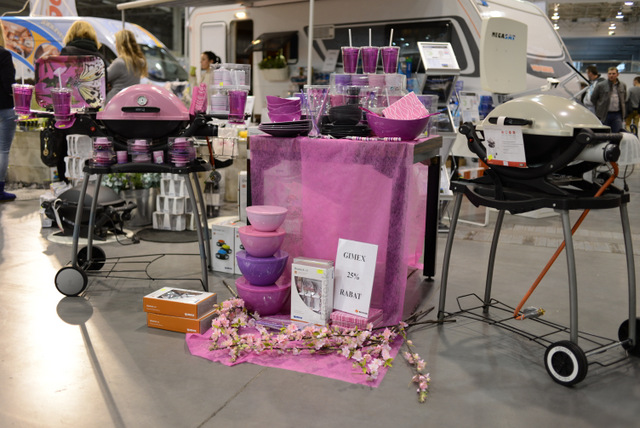 During the Motor Show 2013, as part of the accompanying caravanning event, not only motorhomes were shown (we write about them in separate articles), but also accessories that are worth remembering when getting ready for a camping.
Among the stands there was also the representation of the Dometic Group. The company presented both devices necessary for caravanning and practical gadgets.
Dometic and Waeco
The first one can certainly include a pressure flushing toilet. The Model 972 has a tank full indicator. The tank has a capacity of 8.7 liters, which means that one filling is enough for 27 flushes. The device costs PLN 437.
Among the novelties there is a portable compressor refrigerator by Waeco - CoolFreeze CFX 35. The refrigerator has a capacity of 43 liters and can not only cool, but also freeze down to -22 degrees C. What distinguishes it is the A ++ energy efficiency class, thanks to which it is able to save up to 30% of electricity. The device is equipped with an electronic thermostat with a digital temperature display and a 3-stage battery monitoring system. The refrigerator even has a USB charger with which you can charge small devices. Inside there is LED lighting. The suggested retail price is PLN 3,082.
Among the curiosities, there is a thermoelectric cooling bag. It looks like an ordinary fabric bag, but has circular plastic vents on the sides. The bag can keep the temperature lower by 15 degrees Celsius than the ambient temperature. Its capacity is approx. 35 liters. The price is about PLN 300.
Among the more technically advanced devices, the Waeco RVS 794 reversing system should be mentioned. The set includes the world's smallest color shutter camera with two lenses. For this, a 7-inch monitor is attached. The device costs PLN 4,400.
A small coffee machine with two cups in the set can be considered a practical gadget. Apparently, it is perfect for making coffee from pods. It takes 3 minutes to prepare the drink. The coffee machine costs PLN 873.
Truma
The distributor of the Truma brand, known primarily for heating systems, also had its own stand. The VeGa fuel cell system (not present at the fair) was the most important novelty in this year's offer by the exhibitor's representative. This system converts liquefied gas into electricity.
Another important novelty is the Combi D 6 heating. The system enables efficient heating of the motorhome in a similar way to the known gas systems, but it runs on diesel fuel. The Combi D 6 provides a heat output of 6,000 W. With an average heating capacity of 1,000 W, the system uses 110 ml of oil per hour.
Sometimes it is better to get lost than to ask for directions too much. Aldous Huxley
Enjoyed reading this article? Share it!