Coffee machine in the car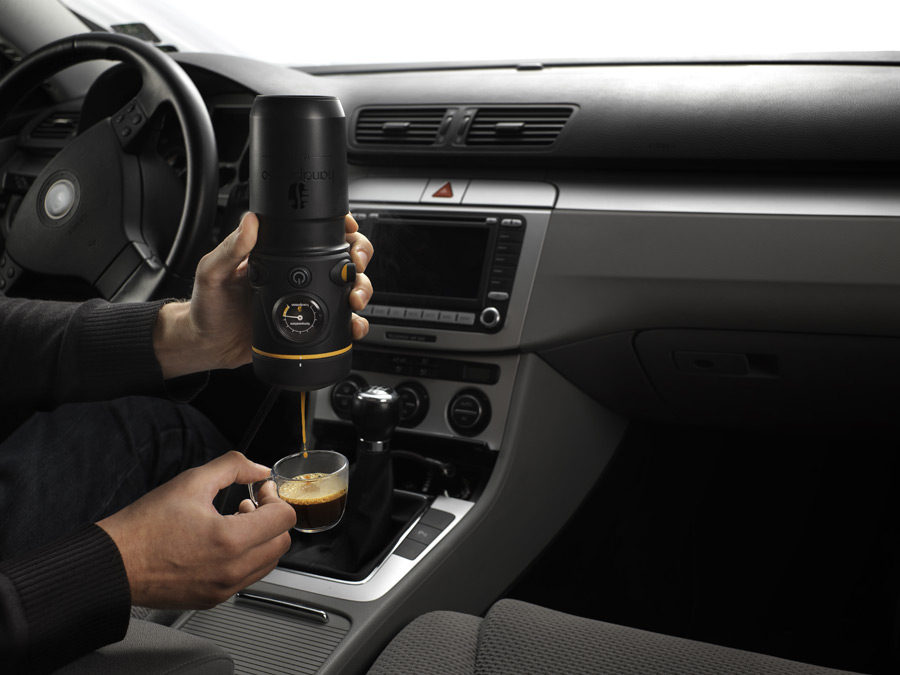 Coffee from an espresso machine while traveling in a motorhome or a regular car? Manufacturers compete in interesting solutions - the Handpresso brand offer has recently stood out among them. As you can guess from the name, she proposes handy espresso machines.
If you want to drink strong coffee from your own coffee machine on the go, there are several options to choose from. The cheapest is a coffee maker , i.e. a teapot in which we can brew coffee. The taste effects can be nice, but brewing coffee requires access to a gas or electric stove. Even when traveling in a motorhome or caravan, using such a solution while driving or a short stop will be inconvenient.
Strong coffee when camping
A very interesting and effective-looking coffee machine is the Esbit device. The camping coffee machine allows you to make a strong brew in almost all conditions, even away from civilization!
This device requires neither electricity nor an external gas source. This pressure coffee maker consists of a teapot and a lockable base that acts as a fireplace to heat the drink. The fuel is S Esbit tablets.
Any ground coffee that is simply poured into the upper container can be used to prepare the infusion. The coffee machine costs about PLN 200 in Poland.
For caravans and motorhomes
We can buy a Waeco car coffee machine for less than PLN 70. The MC 01 model allows you to prepare a drink for one cup (150 ml), which can be found immediately in the set.
To prepare a brew, just add water, add any ground coffee and connect the plug to the car socket (12V or 24V). In terms of dimensions, the coffee machine resembles a standard electric kettle - it can also be used to boil water.
There are also other machines on sale that allow you to prepare coffee for one or two cups. Usually, these are filter coffee machines that look similar to those for home use.
Coffee machine like a thermos
It is hard to resist the impression that in terms of convenience, the above-mentioned coffee machines are superior to the Handpresso Auto model. This device could be mistaken for a small thermos, if not for the indicator, which turns out to be a barometer. The maximum pressure that can be reached in the device is 16 bar - which is more than in some domestic coffee machines!
In order to prepare a strong coffee with a delicate foam in this device, we need 50 ml of water, an ESE coffee pod and a 12V car socket. And that's all. Coffee brewing takes 2 minutes . After this time, we can enjoy a cup of strong, aromatic coffee.
The disadvantage of Handpresso may be the price - higher than in the case of the aforementioned machines. In Poland, a car espresso machine costs over PLN 600 .
There are also sets, which include a coffee machine, two espresso cups, a towel, and the whole thing is closed in a light suitcase. This makes it easier to store the coffee machine with accessories. The suitcase will also fit coffee sachets, sugar and a stirrer. The whole thing costs 700 PLN .
Sometimes it is better to get lost than to ask for directions too much. Aldous Huxley
Enjoyed reading this article? Share it!