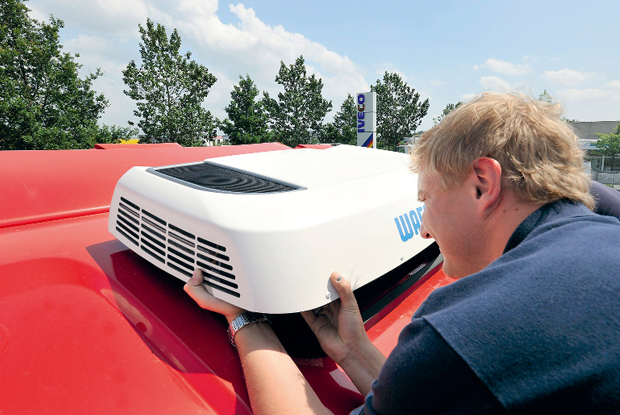 Sunny, hot summer ... When we wait for it, it seems like a dream come true. But when it comes, we often want nothing more than a little cool. If you don't want caravanning to feel like a sauna on wheels, think about air conditioning in advance.
When choosing the right air conditioner, you should consider the length of your motorhome or caravan. A longer vehicle will require a more efficient device. If you opt for a rooftop air conditioner, you can choose a unit that is integrated with the sunroof.
Overlooking the sky
A window integrated with the body of the device can be an aesthetically successful and practical solution. During the day, natural light will flow through the sunroof. In addition, some air conditioners not only have a cooling function, but also heating . If allergy sufferers are to stay in the vehicle, it is very important that the device has a pollen filter .
Modern roof air conditioning systems are easy to use. With the help of the switches, you can freely adjust the airflow, you can also use the automatic settings. If the device is integrated with a window, it may have a built-in roller shutter , thanks to which you can easily isolate yourself from too strong sunlight. The air conditioner can also be equipped with LED lighting (even versions with adjustable light intensity are available).
Thanks to so many possibilities, the air conditioner becomes not only a cooling equipment, but a multifunctional comfort control center (both thermal and light). And in that case, a remote control for the entire system may come in handy.
Cool in the glove box
Another solution is floor or under-bench air conditioning. It can be installed, for example, in a free luggage compartment. The advantage is that such a device does not burden the roof . Placing heavy equipment in the floor can even increase the stability of the caravan or motorhome while driving.
Floor air conditioners usually have a heating function. The air (warm or cold) is distributed through the exhaust openings, which may be several. By connecting the appropriate pipes to them, you can distribute cold or heat throughout the cabin.
We are going shopping
A good air conditioner, both ceiling and floor, not only keeps the air at the right temperature, but also removes excess moisture .
In the case of long vehicles, it is worth considering the installation of two air conditioners, which will allow you to achieve the effect of two-zone air conditioning .
When buying, it is worth paying attention to both the power of the device, as well as its functionality (e.g. presence and options of the control panel, airflow regulation) and the level of noise it emits. It is also good to compare the current consumption of individual devices.
If you intend to use the air conditioning also outside the campsite with 230V electricity, it may be a good idea to buy a suitable generator for gas, diesel or petrol.
Generally, camping air conditioners are adapted to work while parked, but some models can be extended to be connected to a 12V installation . This allows the caravan to stay cool even while driving. This is especially important if you take, for example, a dog with you on the road, which will stay in the camping part throughout the trip.
A branded air conditioner can cost from 5-6 thousand. PLN (floor or roof version without window) up to approx. 9 thousand. PLN (in the version with a window).
Sometimes it is better to get lost than to ask for directions too much. Aldous Huxley
Enjoyed reading this article? Share it!