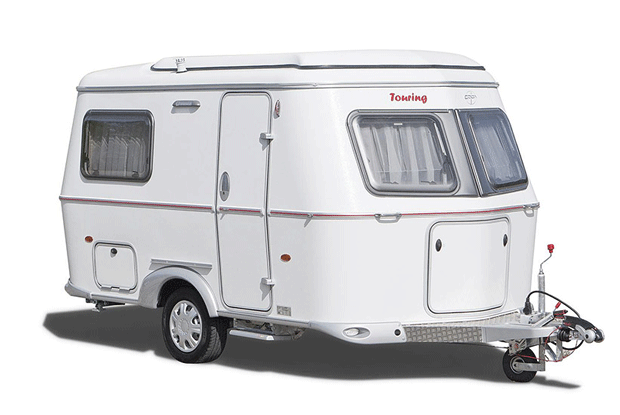 There are those who assume in advance that in terms of equipment, the caravan will always lose to the motorhome. Does a small Eriba-Touring give grounds to challenge this opinion?
Well, even the greatest skeptic will probably be able to convince you that a 7-8 meter caravan can be equipped no worse than a luxury motorhome. But what can be said about the trailer, which measures 483 cm in its shortest version and 576 cm in the longest? Touring is the shortest model offered under the Eriba brand (its owner is the German Hymer, known for the production of motorhomes).
From the outside, the caravan does not seem large, and its slightly rounded shapes and the slanted part of the front wall suggest that the space has not been used optimally. When we go inside, the impression will not be so bad, although it is really difficult to talk about spaciousness. Only a longer look at the interior will convince us that relatively rich furnishings have been placed on a modest surface.
The whole looks good thanks to nice upholstery, PVC floor and furniture - the interior is made in colors imitating wood. A large number of storage compartments deserve praise - they were placed both right under the ceiling and, for example, under the kitchen counter. There is LED lighting next to the cabinets, and additional lamps can be useful in the evening, e.g. while reading.
Next to the single-chamber stainless steel sink there is a two-burner stove covered with a glass top. When it is raised to a vertical position, it becomes a fire protection. In the kitchen part there is also a place for a 70-liter fridge with a freezer.
A characteristic feature of Eriba-Touring is the lifting roof. When you raise the place over your head, it gets more, and its canvas walls provide adequate ventilation of the interior. One can only wonder if this solution can also be used in winter ... Additionally, ventilation of the trailer is possible thanks to unsealed windows.
A quite large table may surprise you, and in the more expensive versions of equipment also a modest bathroom part with an additional washbasin, paddling pool, bathroom cabinets and a mirror that can be adjusted vertically after lifting the roof.
Comfortable spring mattresses ensure a good night's sleep. Depending on the version, the trailer can sleep 2, 3 or 4 people.
Trauma S 3004 heating can be used in the trailer. Water can be heated with an electric heater or a gas boiler. Eriba-Touring can be equipped with a 30-liter fresh water tank and a 40-liter waste water tank. It is also worth mentioning that there are as many as 3 electric sockets in the caravan.

To sum up, Eriba-Touring proves that even in a small caravan you can fit most of the equipment typical for a camping car. Unfortunately, this is at the expense of free space. Besides, the price of a new caravan of this class is not particularly attractive. You have to spend about 15-20 thousand on Eriba-Touring, depending on the version. euro. However, if someone dreams of a small and well-equipped trailer, this model allows you to combine water with fire.
Sometimes it is better to get lost than to ask for directions too much. Aldous Huxley
Enjoyed reading this article? Share it!