Lunar Roadstar - a French Brit in Germany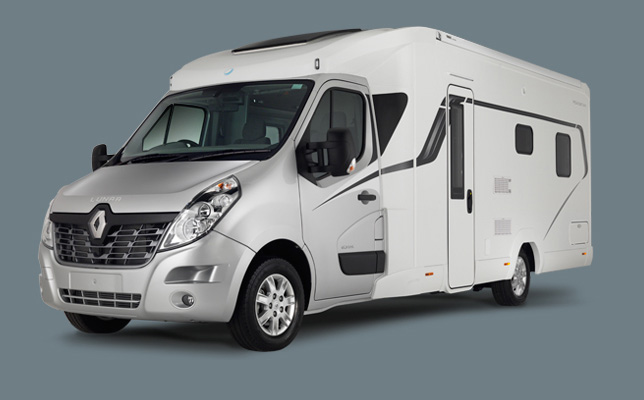 A motorhome based on the French Renault Master, produced in Great Britain, is soon to be sold in Germany. It sounds at least original! Let's check out what the Lunar Roadstar has to offer.
The advantage of the first semi-integrated Lunar on the German market will certainly be its price, which may seem quite attractive compared to local competitors. The Roadstar model will be available at a price from 60 to 75 thousand. euro for versions with standard equipment, and it should be noted that it is very rich.
The worse news for us is that only the shortest Lunar variant will be offered with a gross vehicle weight of 3.5 tonnes. This applies to the EL version, 640 cm long , 230 cm wide and 268.5 cm high. In the center, the height is 2 meters.
A kingdom for two
The maximum load capacity of the shortest vehicle is 600 kg , and a maximum of two people can be taken on board, who can sleep apart or combine two beds into one, which will certainly prove to be a more convenient solution. The enlarged bed has the dimensions of 211 x 182 cm .
Taking into account the dimensions of the vehicle, the shower cubicle with a toilet looks not bad, although the shower seems to dominate in this small room, while the washbasin is very modest.
Those who like to cook in their motorhome will be happy. It seems that the British put a lot of emphasis on the kitchen, as they already included a 4-burner stove, oven, microwave oven, extractor hood and a 120-liter refrigerator as standard.
Elegant and without additional payments
What else can we find in the standard equipment? Against the background of the British, producers from the continent may appear miserable!
In Lunar - without subsidies - we can find, among others air conditioning, cruise control, rear view camera, several USB sockets, five 230V sockets, fire alarm, carbon monoxide alarm, TV antenna, rear speakers, dimmable LED lighting and even solar panels (100W). As standard, we will also get several roof windows and tanks - 90 liters for fresh water and 65 liters for sewage. There is also a Truma Combi heater on board.
When looking at the Roadstar, you will not miss the elegant interior design - beige upholstery and brown wood in combination with LED lighting that creates a pleasant atmosphere, make you want to go on a journey.
The choice is greater, but ...
Unfortunately, the fact that even the weakest, 130 hp engine has a capacity of 2.3 liters , may be an obstacle. This means that the customer from Poland will have to pay a high excise tax.
Variants with a length of 7.69 m are also available for sale, but their permissible total weight is at least 3.8 tons, so in Poland it requires a category C driving license. Only in these versions the accommodation is provided for four people. In addition to the rear bed, there is also a ceiling bed in the front part of the cabin.
Both the chassis and the body are secured with GRP . Another advantage will be the four-year unlimited warranty and roadside assistance included in the package, but these benefits will be available primarily to German customers.
Sometimes it is better to get lost than to ask for directions too much. Aldous Huxley
Enjoyed reading this article? Share it!