Marco Polo - a motorhome from the Mercedes showroom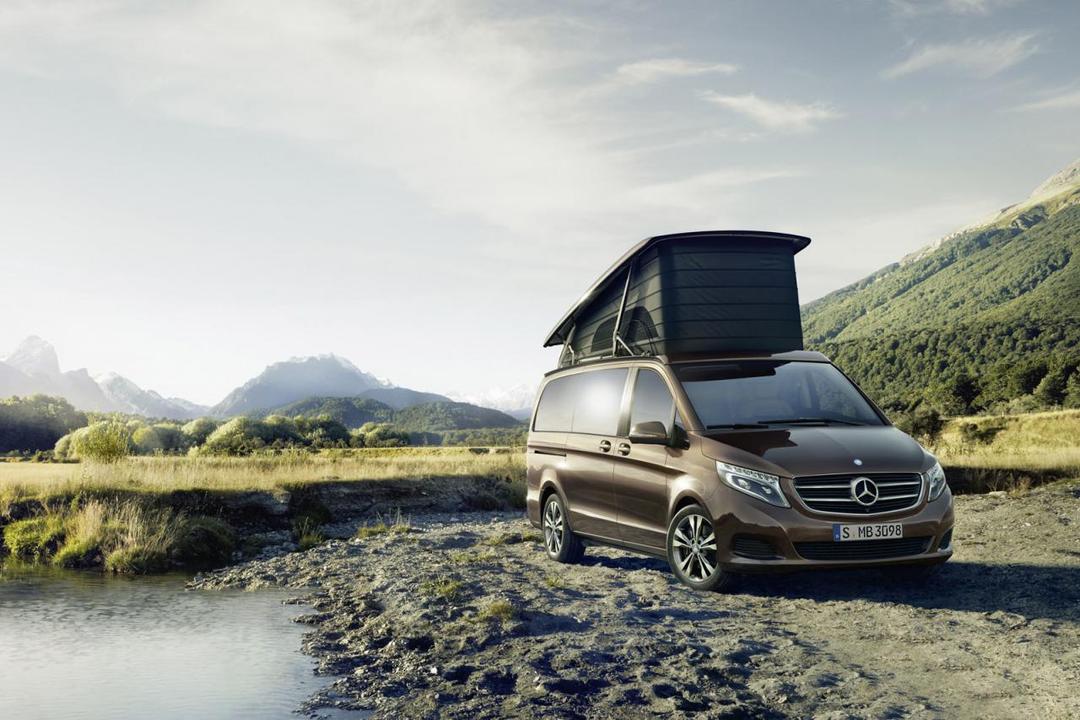 Mercedes-Benz and a motorhome? Yes, this noble manufacturer has also introduced two variants of its camping vehicle named after the great traveler - Marco Polo to the Polish sales network.
In the past, desktop computers assembled from various components of many companies were very popular. The purchase was such that individual "guts" were selected in the computer store, which were later put together. The problem is that quite randomly connected elements did not always work together perfectly. This is probably one of the reasons why desktops have been replaced by laptops - also made of components from different brands, but assembled together and tested by a specific manufacturer. Okay, but what does this have to do with motorhomes?
Quite a lot. A typical motorhome is built by a company that places its bodywork on the chassis of a given car model, and then puts various elements of equipment inside and combines them into one whole. Usually everything fits together, but I must admit that I have more confidence in models that were designed as motorhomes almost from scratch, with the participation of a car manufacturer. This solution gives us confidence that we will get a coherent whole.
Double decker van
This is exactly the case with the Mercedes Marco Polo and Marco Polo Activity . I am intentionally listing these two names separately, as both models are clearly different from each other. First things first.
If you are interested in a full-fledged camper van, which you can take away from the manufacturer's showroom, you may be interested in the Marco Polo model. Mercedes did not create this version alone - it decided to cooperate with the company Westfalia, well-known in the caravanning industry, which had already become famous for tourist versions of Volkswagen.
Outwardly, the Marco Polo is actually no different from a Mercedes V-Class. The only difference is the roof looks double . The matter becomes clearer when the users raise the floor. The roof is raised (depending on the version - electrically or mechanically), thanks to which the height of the interior can be 2.35 m .
As befits a modern motorhome, the roof is made of glass-fiber reinforced plastic (GRP) . It was also equipped (here a quote from the manufacturer's materials) "with a folded bellows made of breathable, opaque and waterproof fabric (...). Thanks to an innovative system of joints, the rear part of the roof rises much higher, thus providing more legroom. "
If necessary, the upper floor can be converted into a double bed equipped with a foam mattress with spring elements.
The bed is also downstairs. The two-seater sofa is electrically unfolded, and when it is unfolded, air is released from the bulged seats and backrests. This creates a completely flat surface . The bed has two independent, adjustable backrests .
Mercedes with kitchen
However, if we want to treat Marco Polo as a real motorhome, we will not be satisfied even with the most comfortable mattress. Fortunately, Mercedes has also thought of a kitchenette . In the car we will find a sink with an elegant faucet and a gas stove. There is also a thin table which, when pulled out, adjoins the kitchen counter.
Tanks for water and sewage are not large, but they are. The capacity of the first is 38 liters, the second - 40 liters. The Marco Polo also has a 40-liter compressor refrigerator (freezes to -20 degrees Celsius), a kitchen cabinet with drawers, a wardrobe with an illuminated mirror, LED lighting, 230V socket and USB output .
For an additional fee, you can get, among others additional air heating with auxiliary heating function. The windows can be covered with well-fitting blinds and curtains. The list of equipment is long and even includes a wooden yacht floor . The quality of the materials used seems to be worthy of the name of a Mercedes.
Active people have fewer needs
I mentioned that the offer also includes an Activity version. However, it is not, as you might think, an extensive variant of the Marco Polo. The Activity standard does not include a kitchen part (furniture, sink or stove).
This is a more modest model, which in the basic version can hardly be called a motorhome. However, it has one advantage over the "full" Marco Polo - thanks to the lack of furniture, there is more space, and thus up to three people can sleep on the lower level.
There is also a comfortable table hidden in the floor , which thanks to a simple movement can be lifted up and then unfolded.
Three engine versions
Marco Polo customers can choose from three versions of the 2.0-liter CDI engine with 136 hp, 163 hp and 190 hp. There are also reports of version 3.0, which reaches 224 hp. According to "Auto motor i sport", the base price of the Viano Marco Polo is PLN 217,305 .
Sometimes it is better to get lost than to ask for directions too much. Aldous Huxley
Enjoyed reading this article? Share it!