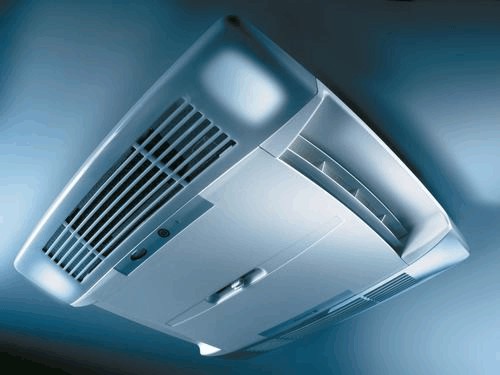 While at the campsite, you don't have to plunge into darkness. At the same time, you don't have to worry that electricity consumption will ruin your budget. The solution is LED lighting.
LED bulbs consume up to 90% less energy than halogen lighting. They are long-lasting, do not heat up and can run on batteries for a long time. These advantages make LED lighting ideal for motorhomes and caravans. They can be placed in various places, illuminating almost every corner of the vehicle without fear that electricity bills will be a threat to our wallets or that the electricity supplies on board will run out quickly.
Lighting integrated with ...
A smart way to enrich the vehicle with the so-called "LEDs" is the purchase of equipment that already has the appropriate bulbs built in. This can be, for example, a cooker hood or a roof-mounted air conditioner with built-in lighting.

Main lamp
Nothing prevents LED lamps from being the basic interior lighting for a motorhome or caravan. There are several solutions. We can choose a single lamp recessed into the ceiling, a rotating lamp and a lamp tilted at a selected angle, but we can also choose a type of "chandelier", in which there will be several points of light (each pointing in a different direction).
Reading lamps
New motorhomes usually offer reading lamps as standard. They are located above the sleeping places. They are often attached to cabinets above the beds. However, everyone can enrich their tourist vehicle with appropriate lighting. Reading lamps should be adjustable in order to fulfill their functions well. The bulbs themselves are equally important - it is worth choosing those that give white, but at the same time "warm" light. And one more important thing - the reading lamp should have a built-in switch.

LED strips
The slats are usually self-adhesive. They can be placed alongside the vehicle, on the underside or on the top of the hanging furniture, and also, for example, in a glass bar, if you want to decorate it. Such lighting will have a decorative function, as well as help to orientate in the dark, when other light sources are turned off.
Lighting the floor
The strip used to illuminate the floor at the entrance to the vehicle operates on a similar principle. In the Dometic TL 470 model, the strip is seated between two handles and can be turned to direct the light in the desired direction.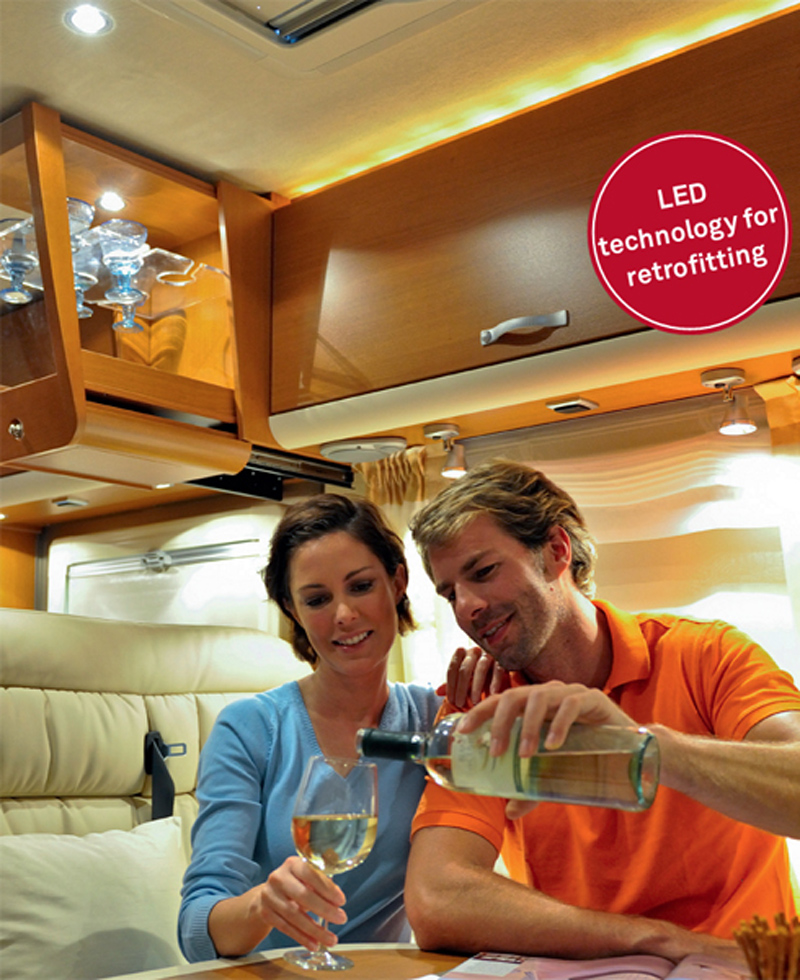 Recessed lights
A convenient solution is to install lighting for cabinets and recesses with a magnetic switch. Such a lamp will work just like a light in a refrigerator. When opening the wardrobe door, the lamp will light up automatically. Self-adhesive, battery powered models are available.
Illuminated awnings
An interesting solution is a set of LED lighting for awnings attached to the outer wall of the caravan. A flexible adhesive tape with tiny LED diodes is attached under the awning. The set also includes a remote control with which you can dim or brighten the light. The remote control can also be purchased for interior lighting systems.
Hand lamp
Although it was designed to be used in a garage or workshop, it will also come in handy at the campsite. When you need to find something in your bag, hiding place or wardrobe in the dark, the hand lamp will be perfect. On the Dometic L37TM, the LED indicator shows the battery charge status. One charge should last for 5 hours of light.
Sometimes it is better to get lost than to ask for directions too much. Aldous Huxley
Enjoyed reading this article? Share it!