Motorhomes for every trip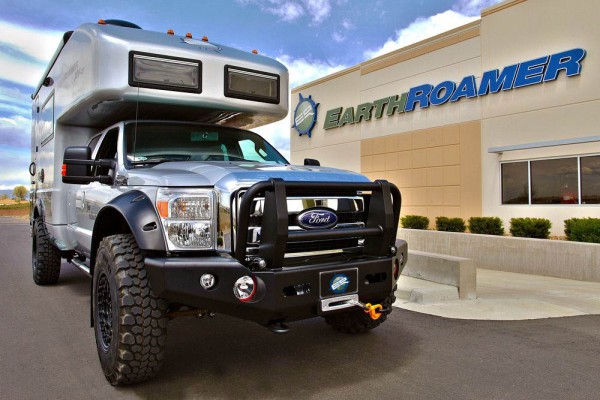 These cars were created with the adventurous people in mind. Highways and convenient campsites are not for them. They need challenges and dangers, thanks to which they will test the limits of their own and vehicles that could hardly be called motorhomes.
Action Mobil Atacama Zetros 1 from Action Mobil is an expedition vehicle, which was created on the chassis of the military Mercedes-Benz Zetros . This heavyweight vehicle was equipped with a powerful 326 HP turbodiesel. The car is available with a 9-speed manual gearbox or a 6-speed fully automatic gearbox.
Not only for the war
The fact that the Zetros is based on a vehicle intended for the military can be seen at every step. Depending on the version, it can handle loads of 10 or 16 tons . A water tank with a depth of up to 80 cm (and after modification - even 110 cm!) Will not be a problem for him.
Thanks to the body made of glass fibers, polyurethane foam insulation and double thermal insulation of windows, this vehicle will provide participants with comfortable conditions even during a winter trip to Siberia. But also in the Sahara desert , 6 cm thick walls will effectively protect against unbearable, unfavorable temperatures (both during cold nights and during the day).
Action Mobil also creates expedition vehicles based on MAN and Scania cars. All of them are distinguished by good off-road driving properties. Although they look scary from the outside, you can feel at home on the inside. They are, of course, fully equipped with all necessary everyday appliances.
Simplicity matters
The Man Kat 1 version prepared by Enfatec is also impressive. For the designers of this version, not only the resistance to extreme weather conditions was important, but above all the simplicity of the structure. The idea was for a car to be easily repairable whether it breaks down in the desert or in Alaska. As a result, electronics have been kept to a minimum.
The car has an 8-cylinder engine with a capacity of 400 HP . Its displacement is 12,793 cc. The vehicle is equipped with a 6-speed manual gearbox. The tires are also impressive - the 14R / 20 Michelin XTL. The maximum speed of the car is 120 km / h.
American-style expeditions
The American EarthRoamer XV-LT looks a bit less threatening, but certainly attractive. The vehicle is based on the Ford F-550 chassis. Its permissible total weight is almost 9 tons . Depending on the version, this car can travel by two to eight people. The vehicle is available in three lengths, the largest of which is over 8 meters .
- We were not interested in traveling from parking lot to parking lot. We wanted to see the distant lakes in the mountains and the exotic landscapes of the desert - explain the creators of this vehicle on the website. - We wanted to create a vehicle small enough to move efficiently, but large enough to be comfortable in it. And we also wanted it to look good!
This car is to be a response to these contradictory expectations - it will be perfect both when traveling on the motorway and on hard-to-reach, bumpy roads. It was also important that it had large water tanks and capacious batteries , so that it could be dealt with away from civilization.
It is a car made without compromise - using carbon fiber composites and other components used in the construction of boats and ships. There are now more than 120 EarthRoamer XV-LT vehicles on the road, making them the most popular overland vehicle in the world.
Bigger can do more!
However, if such a car is too small for someone, there is also a version of the EarthRoamer XV-HD . It is simply a giant, which is best seen in the photo where both vehicles are standing next to each other.
This truck is based on the Ford F-650 and drives 46 cm wide tires ! The longest version of the XV-HD measures approx. 10 m, although it is only one of ... 24 available lengths. All configurations are 52 possibilities .
According to the manufacturer, EarthRoamer XV-HD is ready to face the greatest challenges on our planet. Even if there is a bit of exaggeration in it, it is ... not much.
Sometimes it is better to get lost than to ask for directions too much. Aldous Huxley
Enjoyed reading this article? Share it!