Off Road with adventures in a friendly interior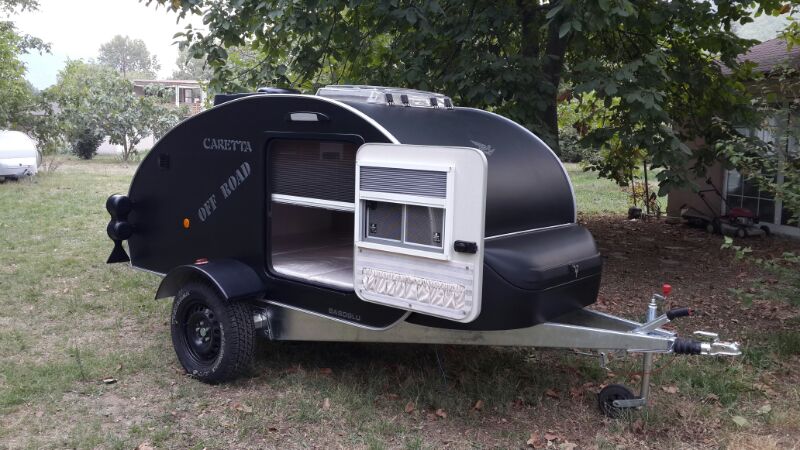 Caretta 1500 Off Road may not be a novelty on the caravan market, as it went on sale in October last year, but it is undoubtedly a caravan that deserves our attention.
This special type of trailer is due to the Turkish manufacturer of teardrop trailers. The so-called The teardrop caravan is certainly not the largest and most comfortable, but it definitely impresses with its ease of use when traveling. First of all, it can be attached to any type of off-road car, because it is light (580 kg). Thanks to its small dimensions (4.2 m long x 2.14 m wide), it does not pose any major problems when steering, which is extremely important for fans of light off road. In addition, this type of carriage, also known as turtle (turtlle), in combination with a very elegant design has an in-built aerodynamic spoiler, which increases the excellent towing performance as well as the entire handling of the trailer.
What's inside?
In a small space of Caretty 1500 Off Road we will find a bed - perfect for a less demanding person. The tailgate, on the other hand, reveals a fully equipped kitchen with a small stove, refrigerator, water tank and a table top for preparing or eating meals. There are also cabinets above the table top, in which you can hide the accessories needed during the camping. The basic standard does not include a wash basin or shower, but there is an optional designated place for it. The interior design also provides space for a TV or DVD. The trailer boasts built-in speakers and a roof vent. It is also possible to install a solar panel.
Five-star peace in the bosom of nature
The Caretta 1500 Off Road caravan has many advantages that will help you enjoy the freedom and beauty of the surrounding nature. First of all, it is economical - the cost of a possible repair is low, and we do not need a high-performance car to carry it out. Secondly, it is ecological - it guarantees low fuel consumption and emission of exhaust gases, which significantly affects the protection of the environment. Due to its weight (approx. 500 kg), no special driving license is required, so every avid caravanner can enjoy the pleasure of using the trailer while traveling. In addition, the low weight of the trailer reduces travel costs, as there are no special tolls on the highway for driving this type of caravan. Caretta 1500 Off Road caravans are created with the customers in mind. Each customer can choose the color of the trailer, as well as equipment options tailored to their needs. However, an important feature, and in the case of off-road expeditions, the most important is the resistance of the trailer, e.g. to the harmful effects of weather conditions. The fiberglass trailer body is a guarantee of high-quality use for many years.
It is also worth getting acquainted with other caravans with similar interior architecture or technical specifications that we have already written about, e.g. trailers, TURTLE or Moby 1 Trailer .
Off-road lover. Only 4x4 motorhomes count
Enjoyed reading this article? Share it!