Extreme trailers from America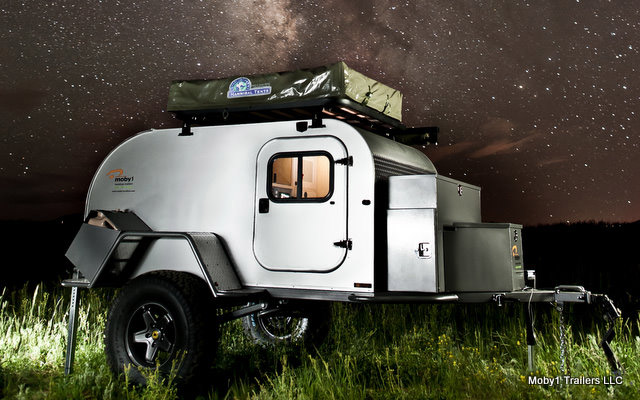 How to create an original product? Combine the two, not yet far apart. The American company Moby1 produces teardrop trailers with off-road properties.
Ashley Grimes, the founder of Moby1, has been a lover of beautiful design for years. He especially liked the teardrop trailers. So he began to study the construction of teardrop-shaped trailers and finally ventured out to implement his own project. He used the fact that he knew both carpentry and construction, as well as studied history of art and industrial design.
The idea was successful. Grimes and his wife tested their caravan on many trips. When it turned out that the vehicle was comfortable and practical, he decided to start producing improved versions of the trailer for sale.
Camping with a motorcycle
Currently, Moby1 offers four models of trailers. The cheapest ( from $ 6,500 ) is the C2 . It is a light trailer that can be traveled even without a car, because it can be pulled by a motorcycle or even a bicycle.
The trailer is approx. 2 meters long and its weight can vary from 127 to 145 kg . The width is 1 m or 1.2 m. The C2 is available with low profile tires mounted on 12 or 15 inch rims.
This size is enough to fit a double mattress inside. There are also lockers - some of them have been placed in the cabin, and others can be accessed from the outside. The opening compartment can accommodate a kitchen worktop with a pull-out gas hob .
Off-road to the desert
At the opposite end of the offer, we find the Moby1 XTR model, an all-terrain trailer with powerful wheels and costing at least $ 16,500 . For this price, however, we get a vehicle ready even for extreme conditions.
Adjustable shock absorbers, off-road suspension, 10-inch electric brakes, all-terrain tires, size 31x10 / 50 / R15 - these are the basic features of this vehicle. The trailer's curb weight is 680 kg , length - 2.7 meters, and width - 1.3 meters.
As the manufacturer claims, the XTR has been built in such a way that you can connect it to a car and go straight to the desert without looking back. This means that everything you need has already been fitted as standard. Many elements were made especially for this particular caravan, to size.
In the foldable appliances you will find everything you need - a gas stove, a sink with running water , a water heater, an outdoor shower, a portable toilet ... Not enough? The trailer can also be equipped with solar collectors , air conditioning and a generator.
3 people can stay in the XTR, if we consider the cabin itself. However, it is also possible to arrange an overnight stay in a tent mounted on the roof ! Up to 4 people can fit on the upper deck.
Something for mother-in-law
The Moby1 offer also includes two other vehicles. The RT model (priced from $ 10,500) is a trailer somewhat similar to the XTR, but with no off-road qualities. According to the manufacturer, it is "an ideal solution for a couple of retirees who travel to visit their adult children". So if there is not enough space in the house, grandparents can spend the night in the caravan.
The XC Cross Country is an off-road trailer, but it is intended for less extreme expeditions than the XTR. Suitable for traveling on dirt roads. XC prices start at $ 12,500 .
All Moby1 trailers are handcrafted in the USA.
Sometimes it is better to get lost than to ask for directions too much. Aldous Huxley
Enjoyed reading this article? Share it!