Panda Camp - here you can rent an adventure!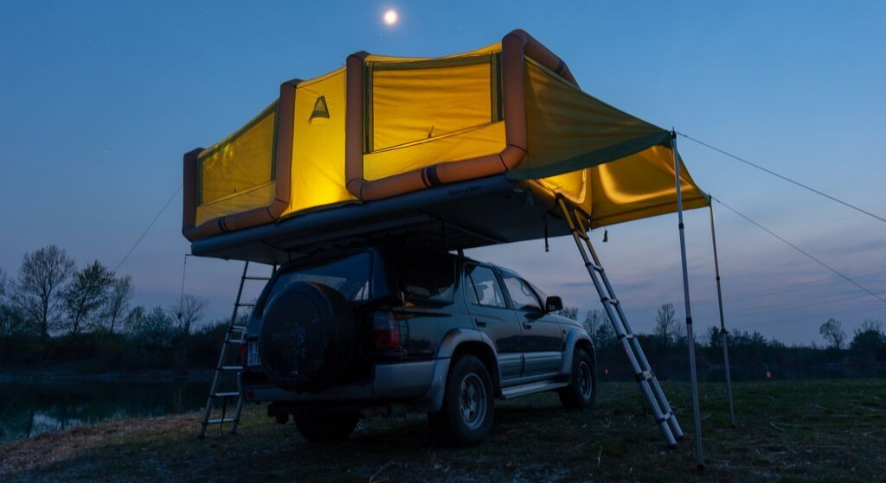 Do you dream of distant journeys, but do not compromise in terms of mobility and speed? For some reasons you "can't see you" in a motorhome or in a trailer with a trailer? If you do not want to give up the comfort of a passenger car and you do not want to part with it during the holidays, it is definitely worth considering the option of renting or buying a roof tent.
PandaCamp is the first rental of unique Renault campervans with a Wavecamper body and Austrian inflatable roof tents and equipment from Gentletent . At first glance, you can see that the structures are not accidental, and customer feedback confirms that it is an excellent alternative to traditional tents and other forms of active recreation. Polish distributor of GentleTent products will tell us more about the products and the brand.
Interview with Krzysztof Pawlarczyk from PANDA CAMP.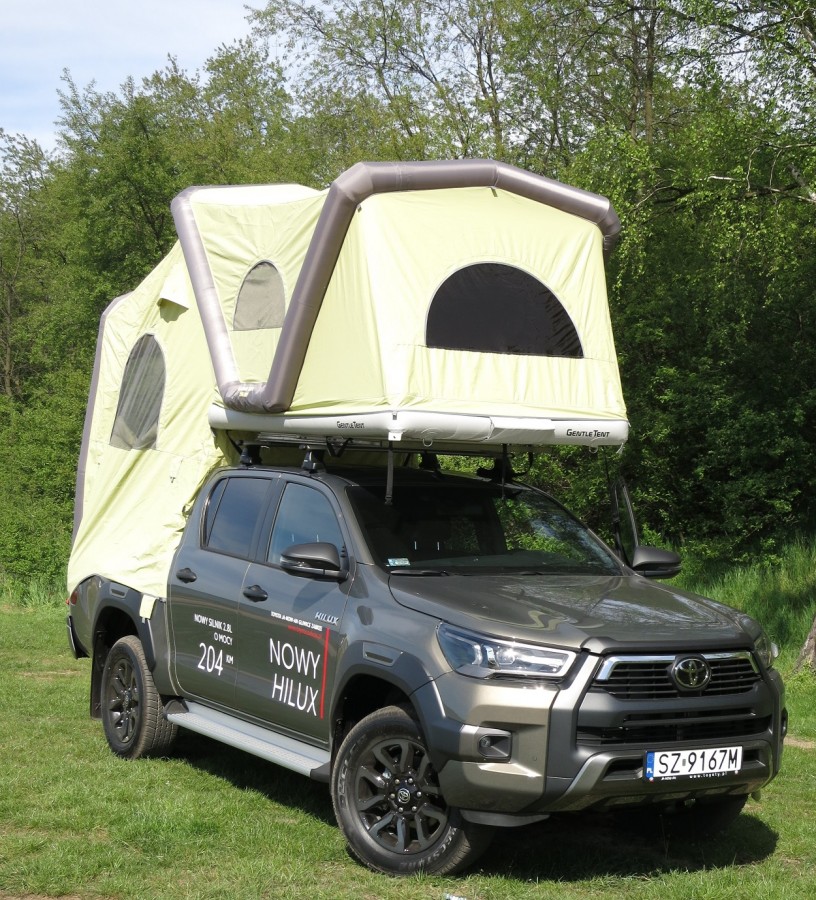 Where did the idea for a campervan fleet come from?
When we were choosing a camper for the rental company, we had a terrible dilemma. Beautiful but specific, excursion, festival, hipster and even Spartan Trafic, the "California" of the Renault team or the classic semi-integrated / integra. We were already decided on the classics, but the invitation to the fair in Jastarnia changed our decision. Trafic completely captivated us. Buildings beautifully made - so much space in such a "small" bus. Wavecamper, the company that produces the approved Renault campervan bodywork, made a beautiful and functional development with great care. Thanks Wavecamper !
What distinguishes your offer of roof tents among such products on the market?
We are aware of the high prices of motorhomes as well as many other things (often used once a year or less often), therefore we promote rental! We also promote glamping inflatable roof tents of the Austrian company Gentltent through rental. The gem is the largest GT Sky Loft , GT Pick Up dedicated and perfect for 2/2 + 1 GT Roof.
GT tents have large dimensions but are ultra light, small when folded and easy to use. They are perfect for camping and in the wild. The Austrian manufacturer appreciates good materials and quality. Hence the price. That is why we offer our clients a rental ! Little-used, years-cushioned items left in the garage cost us too much! The rented items only cost us as much as we use them. They do not fall behind and wait for this one trip every now and then.
The main advantage of inflatable tents compared to the competition, as I mentioned earlier, is the weight - because they are very light. GT roof weighs only 25 kg, which is only 1/3 of the weight of the tent of competing brands. An advantage that convinces many customers is also a large sleeping area. The largest GT Sky Loft is 340x200x140 cm and is the largest among roof tents currently available on the market. Finally, it is worth mentioning that our solution is child's play to assemble and disassemble.
Many people are not aware of the load-bearing capacity of the roofs in their vehicles and the possibility of using roof tents. Is there something a potential customer should pay attention to, or do you have products for each vehicle?
Our tents are very light and weigh from 25 to 50 kg. Considering the dynamic roof load capacity of most vehicles of more than 60 kg, there is no need to worry. The static load capacity, on the other hand, is much higher (each roof must withstand at least twice the weight of the vehicle).
What is the waterproofness of the material and the resistance of the structure itself to wind and weather conditions?
Each tent is equipped with a flysheet . The material itself withstands average rainfall without any problems. The wind will also be harmless to us, as the structure is extremely stable, and if necessary, our roof tent can be additionally tightened with lines like any "traditional" tent.
Does the vehicle need to be specially prepared for the installation of a roof tent?
It is enough to mount the base rack on the roof of the vehicle - be it to the railings or to the mounting points provided for this purpose.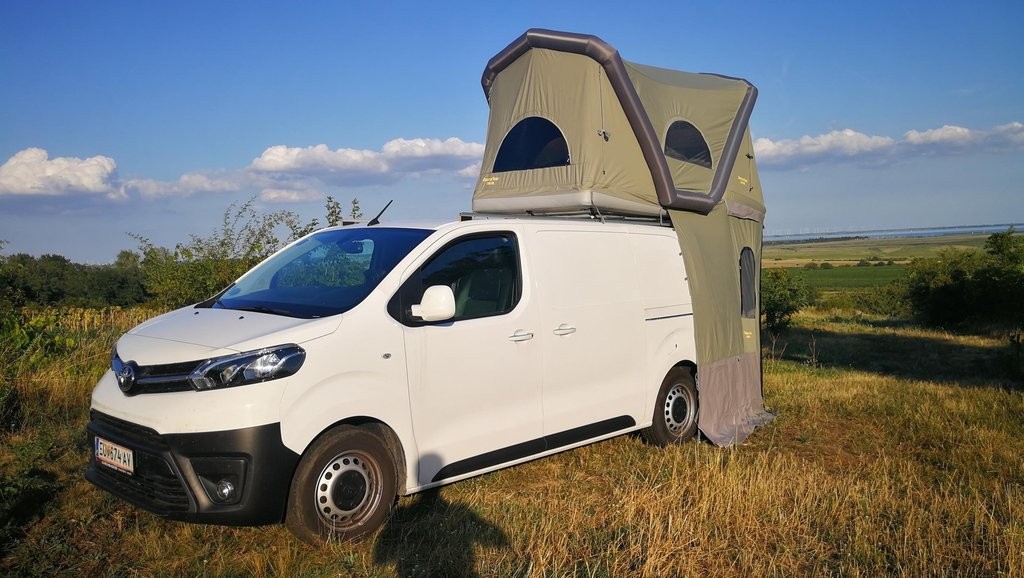 Does the structure of the roof tent cause discomfort in terms of aerodynamics or noise while driving?
We must be aware of the fact that we will feel all the "additional" accessories traveling on the roof of our vehicle. At speeds of 110-120 km, a slight hum will be heard into the cabin, but it does not cause discomfort disqualifying this solution. Our customers are convinced and do not complain.
What novelties promise for the next season or what innovations are the manufacturer currently working on?
For now, we offer the following roof tents for rent and sale:
GT Roof - a classic 2-3 person roof tent for each car
GT pick-up - a model dedicated to pickup cars
GT Sky loft - the largest, 5-6 person roof tent
In the near future, a small 2-seat model called GT mini is to be added to the offer
It is also possible that in our rental shop next season, a tent with a trailer dedicated to bikes aptly named B-Turtle will appear.
If you are interested in the above models of tents, we definitely recommend you to visit the Panda Camp company. The company not only rents and distributes roof tents, but also provides a rental service for 8-9 passenger campervans and vans - www.pandacamp.pl
Panda Camp is not a traditional rental shop - you rent an adventure there!
I feel best in the form of trade fairs and meetings with enthusiasts. Technical freak. In my life I have dismantled many motorhomes for the first time. Fan of large vehicles, mountain biking and traveling without weight and financial restrictions. At CampRest, I am responsible for all publications on automotive topics.
Enjoyed reading this article? Share it!