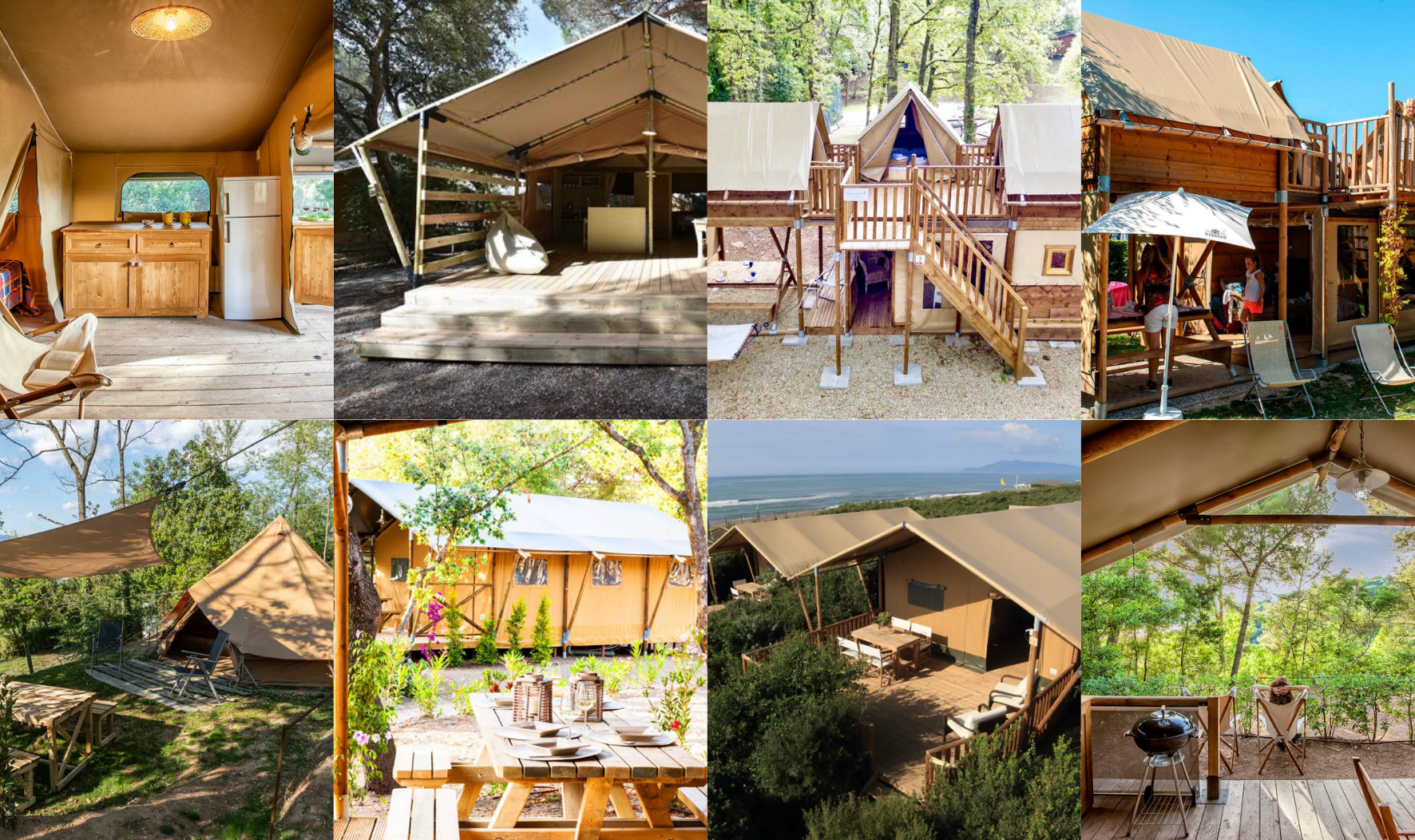 Italy is an everyday spectacle in which nature plays the main role. So it's no wonder that many campsites offer glamping accommodation in addition to motorhome and tent pitches. Today we would like to take you to some interesting places in sunny Italy, thus encouraging you to relax in this form. If you have already met this type of tourism and have your favorite place , be sure to add it in the commentary.
We invite you to glamping in Italy .
After clicking on the name of the campsite in the header or its photo, a page will open (in our campsite search engine or in Google) with all the details. Address, website, telephone number and price examples. There will also be opinions that will surely help you choose the perfect place for an unforgettable holiday by the sea or inland.
If you have been to a campsite from our list and want to share your comments about the campsites, click! Opinions can be added without logging in.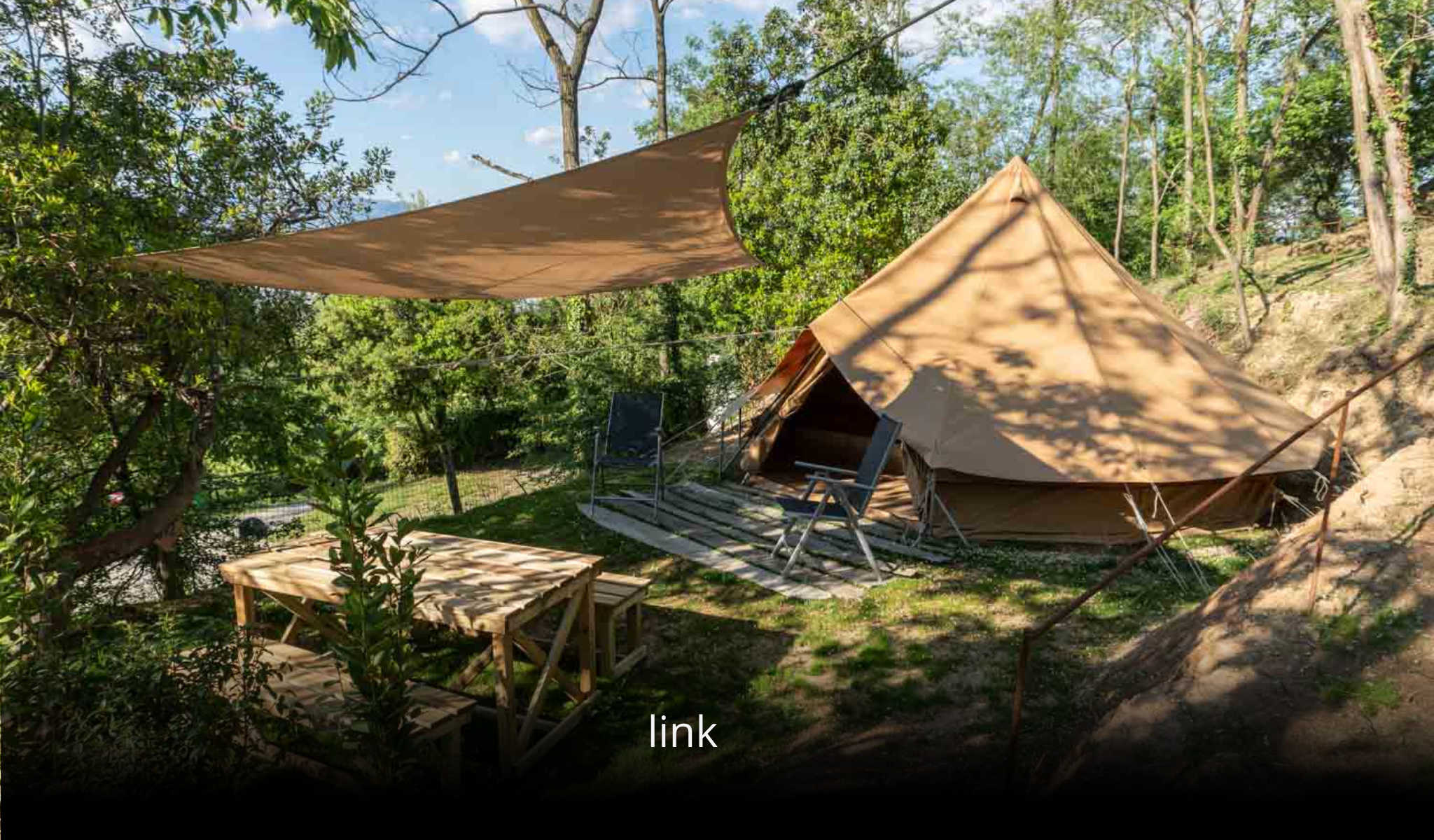 A place in the heart of Tuscany , beloved by tourists, located in the Montalbano hills and surrounded by forest. Such a place invites you to commune with nature and take advantage of glamping. The campsite offers comfortable Safari tents with a bedroom, own kitchen and bathroom. Beautiful, wooden equipment perfectly harmonizes with the surrounding forest.
Living in tents in the heart of nature, you can also enjoy a restaurant, shop at a mini market, rent mountain bikes and go on a sightseeing trip.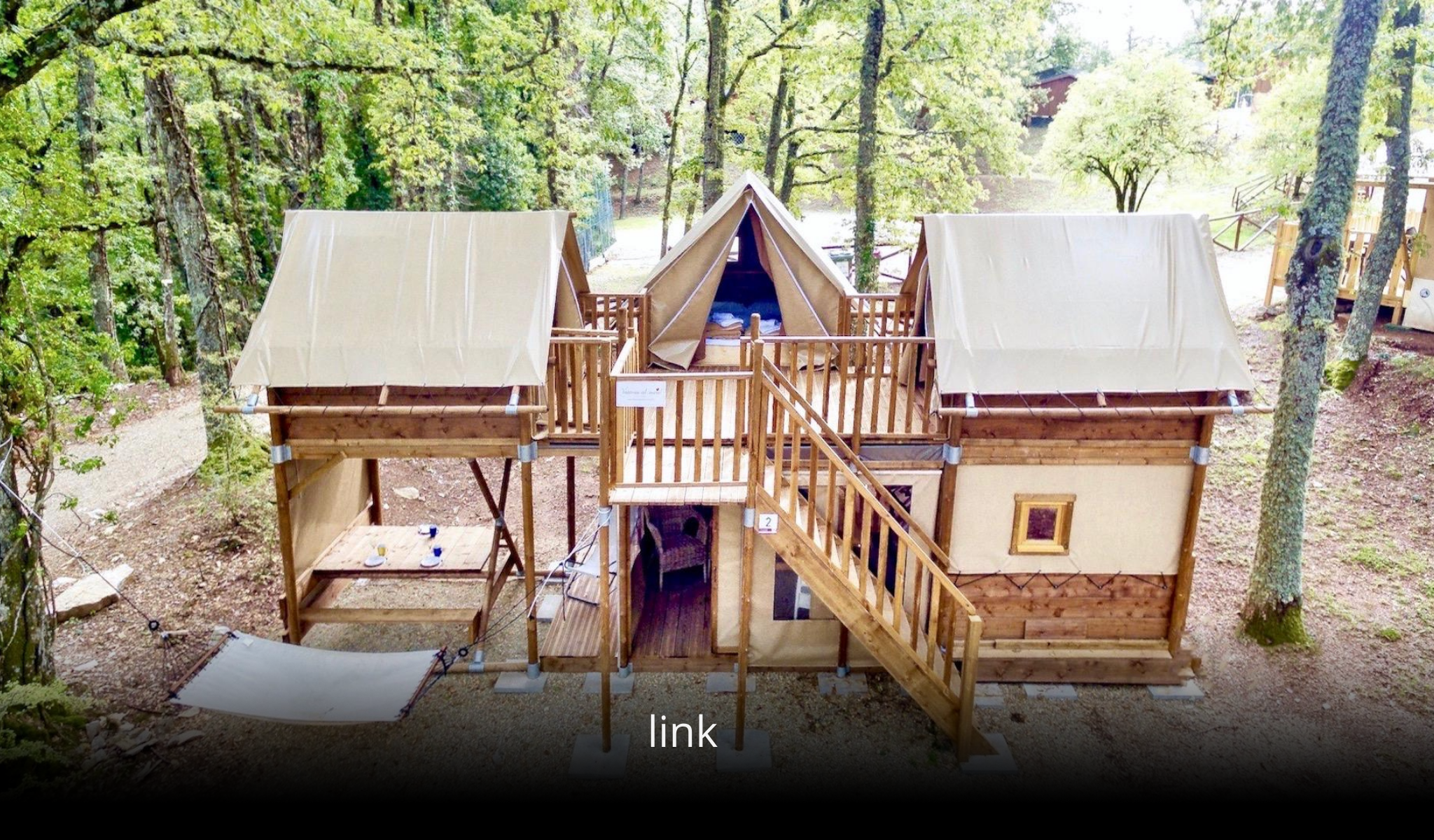 The camping offers interesting glamping accommodation . Small, multi-storey tents only for couples or multi-storey tents for a family of 6. They all have a modern look and fittings. Elegant finish, own bathroom and kitchen are a luxury that is often missing in an ordinary tent.
Of course, Glamping Village Orlando offers additional attractions. Heated pools, hot tubs and a water lagoon with a soft non-slip bottom. Beach with sun loungers to enjoy the peace and beautiful sun while the children play with the animators. There will also be culinary experiences for the guests. Glamping will welcome you in the restaurant with excellent Italian food and ice cream. It also offers organized tours of the Chianti vineyards with wine and local food tasting.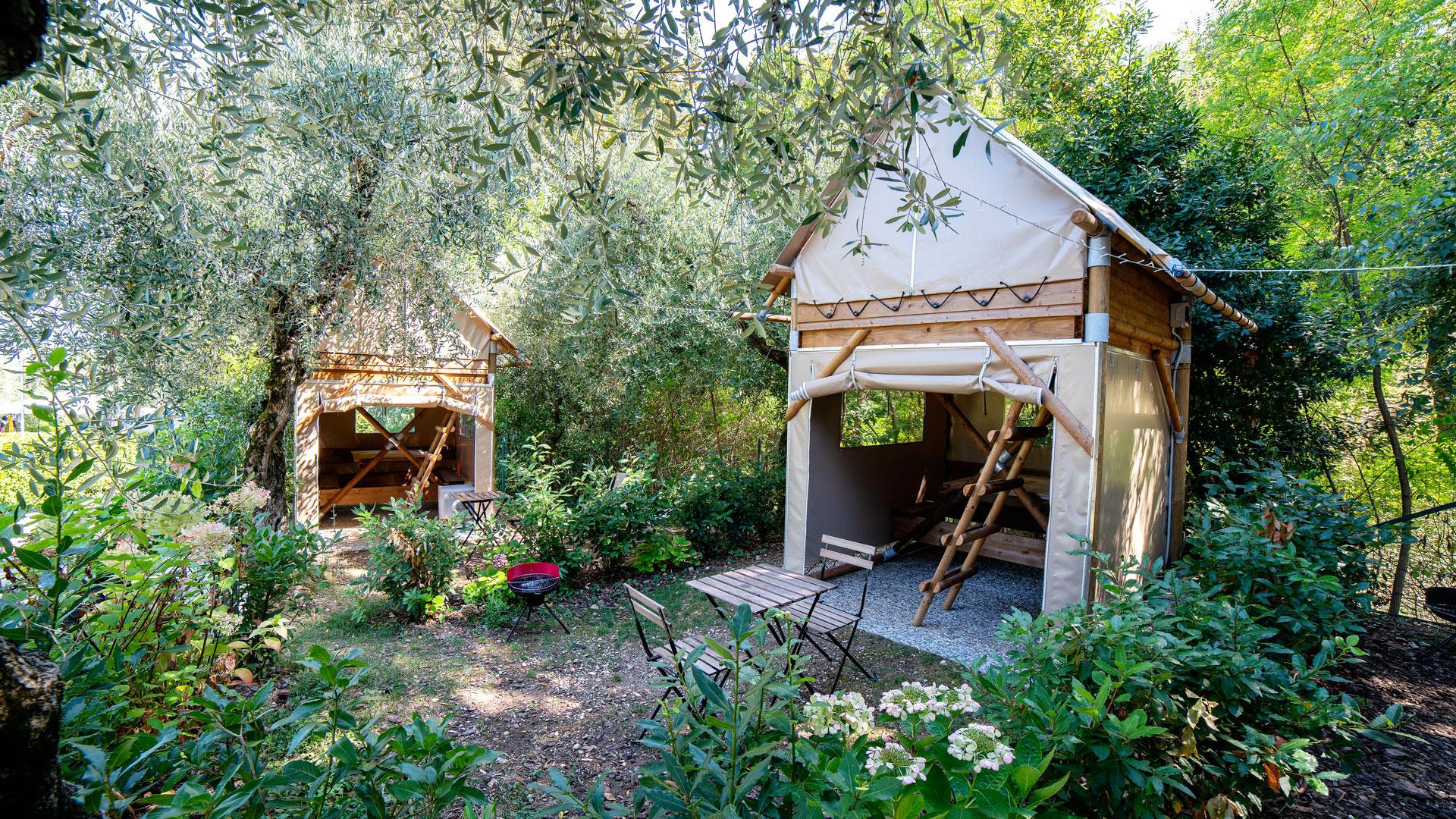 As the name suggests, this campground is located in the Chianti hills . It will certainly appeal to bird watching enthusiasts, but also those willing to go hiking and biking on the surrounding hills, as there is the famous bicycle route - Eroica nearby.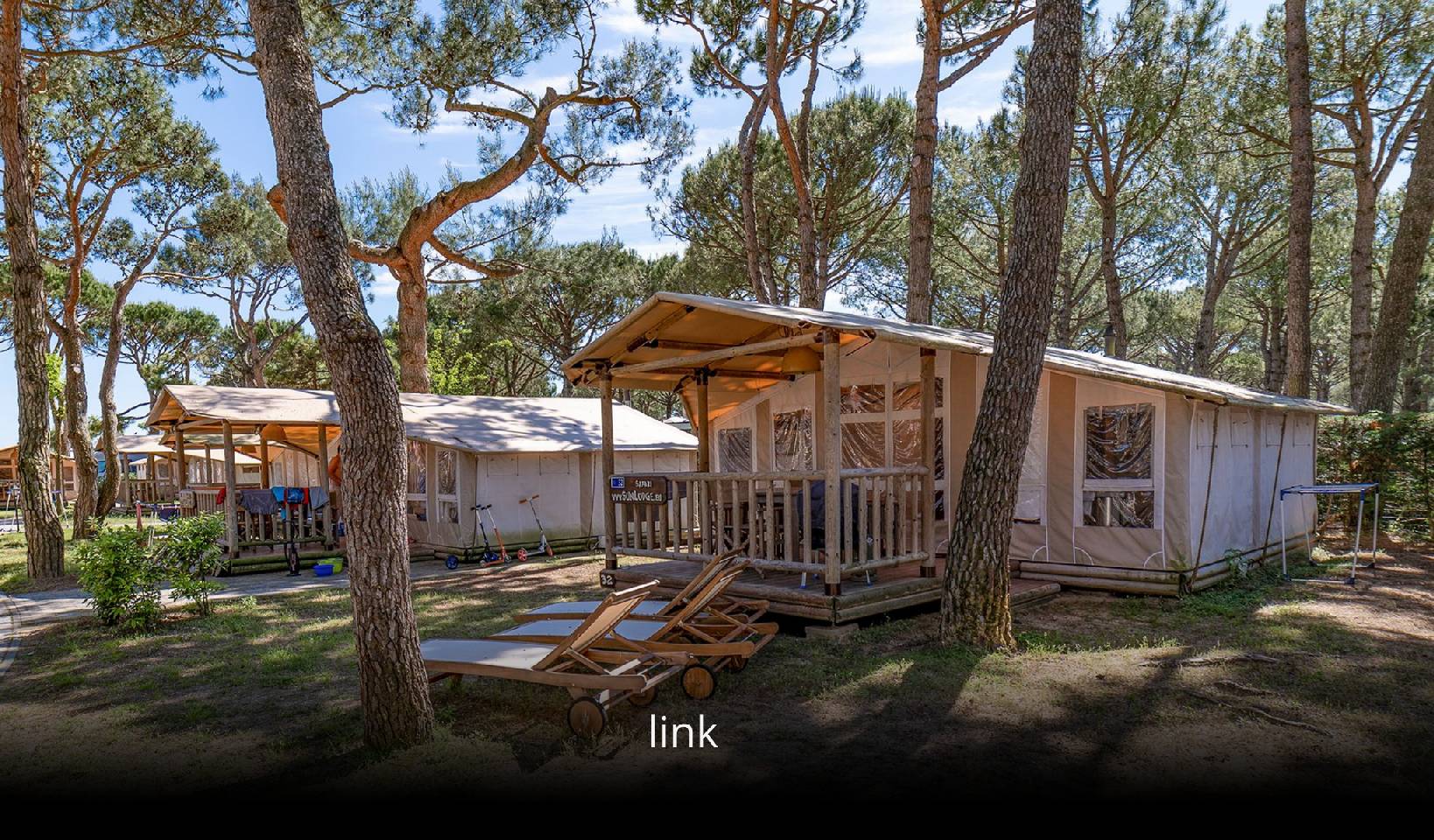 Another beautiful place in Italy just steps from Venice. Located on the coast of Cavallino and surrounded by pine trees. Here we have a choice of small cozy tents and larger ones with their own bathroom.
It is worth remembering that although not all tents have a private bathroom, you can use a shared bathroom available for guests of the Camping.
Camping Village Cavallino also offers a jacuzzi, swimming pool, gym and entertainment with animators or mini golf. An additional attraction is the sandy beach with sunbeds available for guests.
Holidays in Italy are also local cuisine, which is not lacking in this place.

At this campsite, we have a variety of tent equipment variations that can offer you an interesting experience of communing with nature. In addition, natural finishes, kitchen and bathroom will provide comfort and convenience. However, Glamping XXL - These are large 9-person tents and one of the few glamping sites that offer tents with bathrooms, porches and jacuzzis. In addition, two bedrooms that can accommodate 5 people and a mezzanine with 4 beds.
An attraction that is worth using at the campsite is the swimming pool and a real paradise for children - Pianacce Spray Park. It is a lively place with great humor.
Camping Village Le Pianacce is also the taste of Tuscan cuisine, the smell of fresh bread and long conversations with pizza in the lead role. It is a place surrounded by beauty, fresh air and clean beaches that pamper all the senses.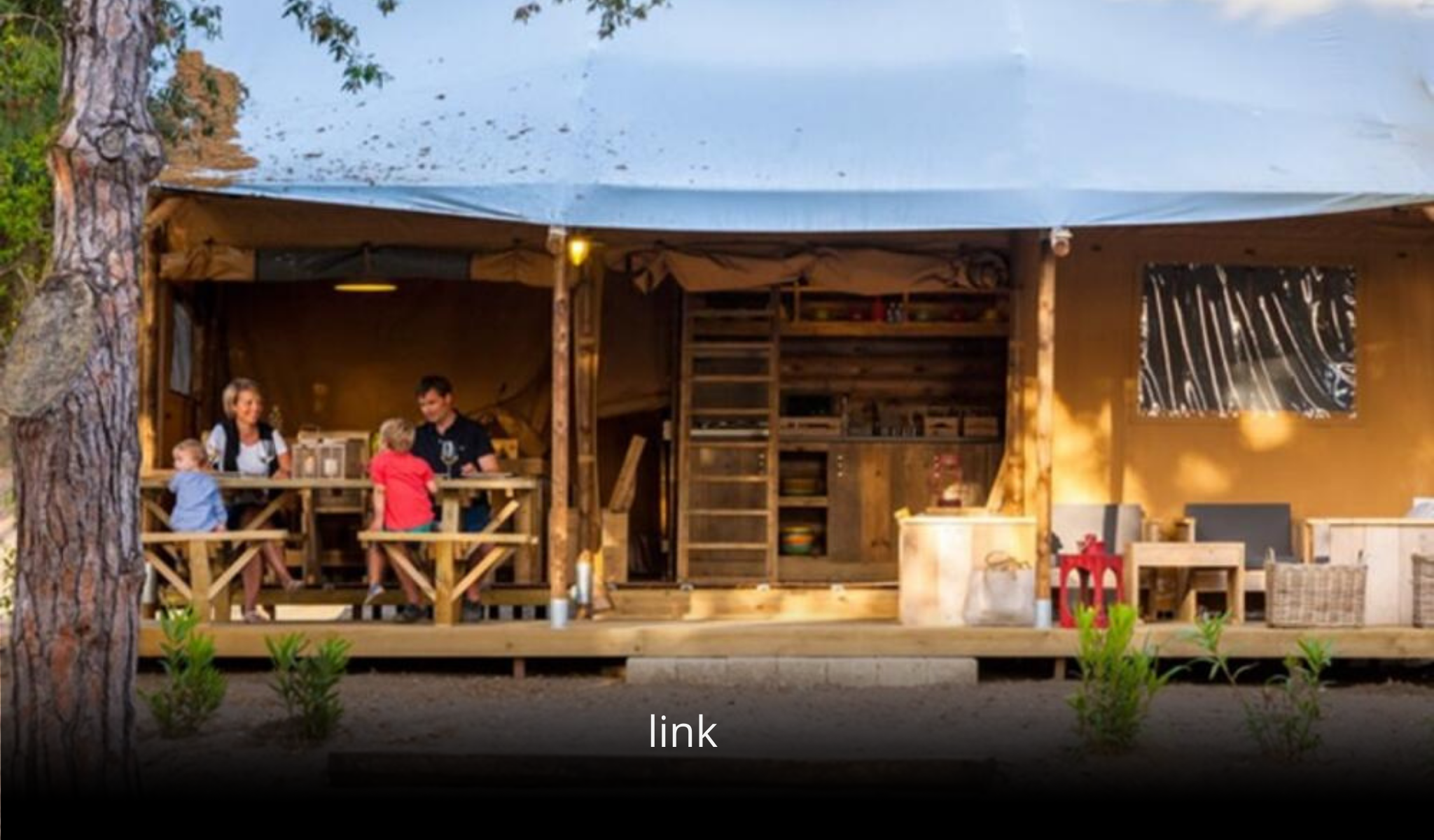 Another amazing glamping located in the dense Tuscan forest.
9 different tents for 2 to 9 people. Some tents do not have bathrooms (Kenya, Adventure and Atomo) but that's okay. You cannot take your pet everywhere. Only the Kenya tent can accommodate your dog.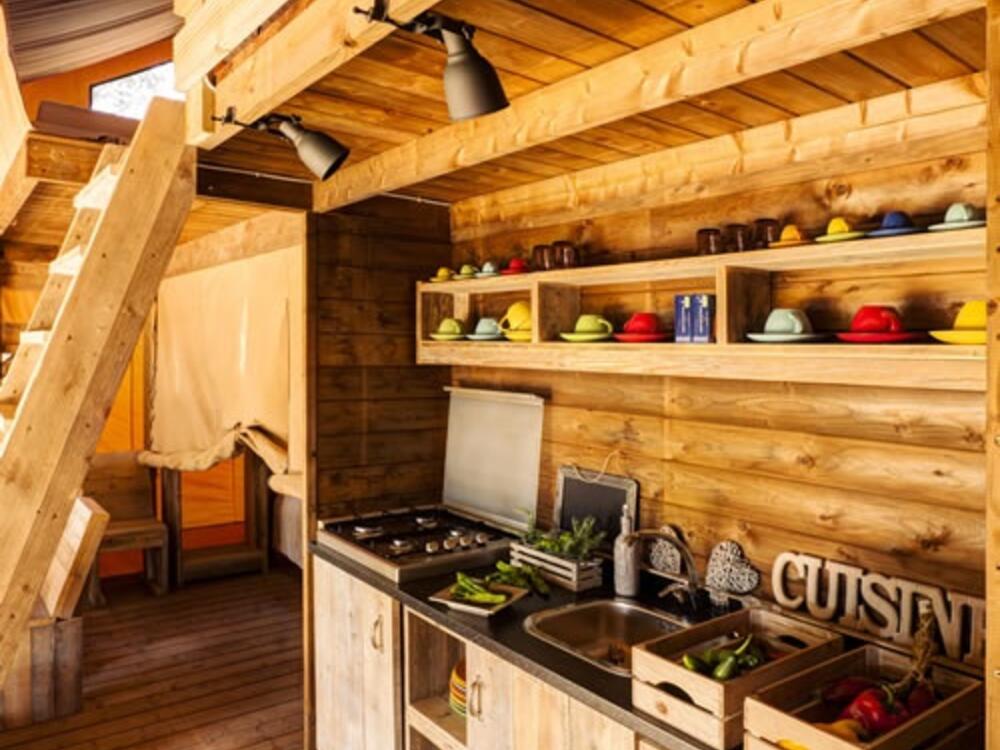 This vacation can be special. You can also rent a hanging tent (Atomo Tent) on the campground. Even if you live in a motorhome, it will be great fun for children to rent such a tent for at least one night.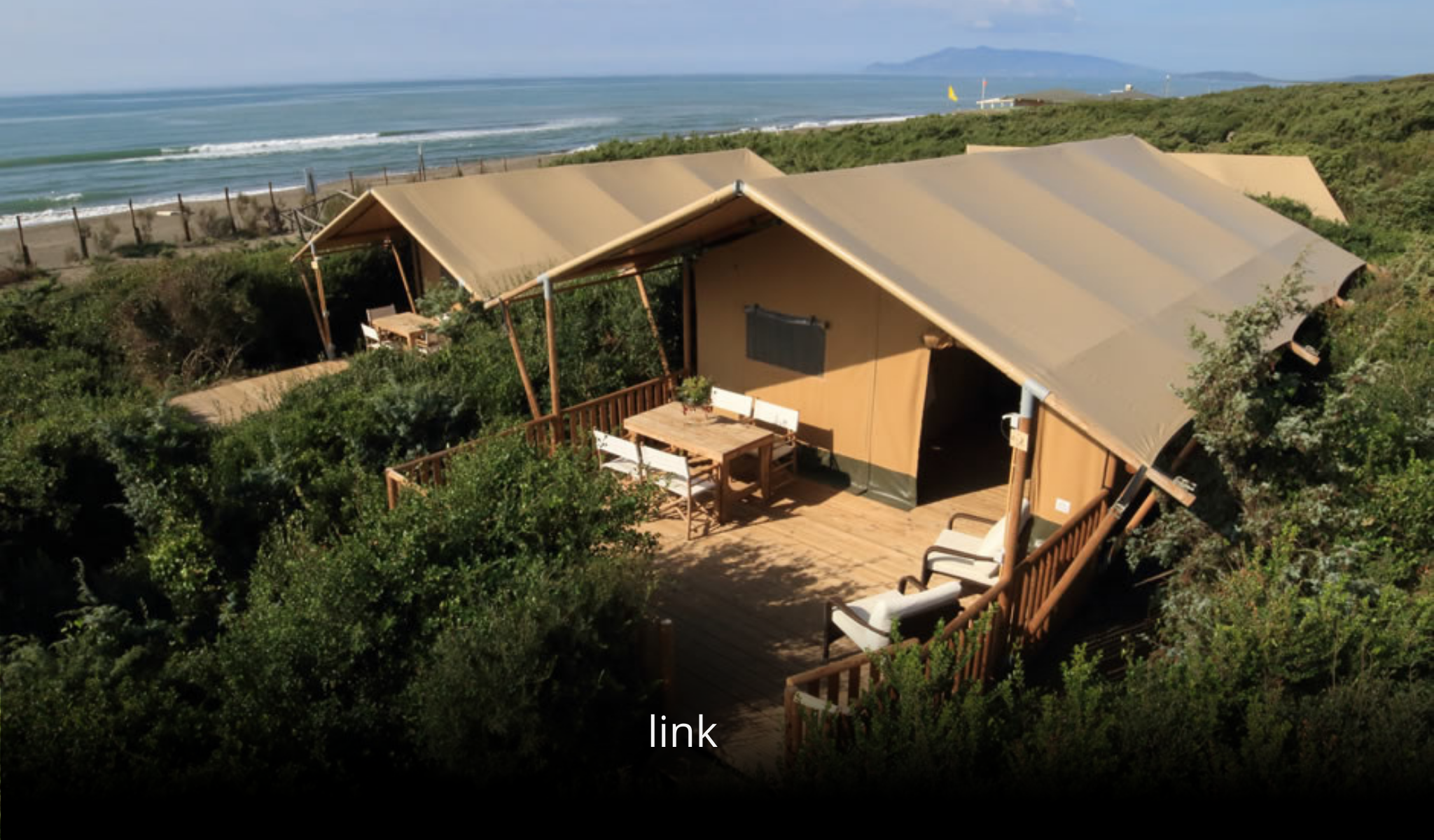 This is high-level camping. The tents are set up just a few meters from the beach and the sea. They have a kitchen and bathroom, single and double bedrooms. The tents at Campeggio di Capalbio also have their own terraces equipped with comfortable garden furniture and a mini bar. You cannot deny yourself such holidays .
In addition, the surrounding nature, greenery accompanied by the beach and the sound of the waves.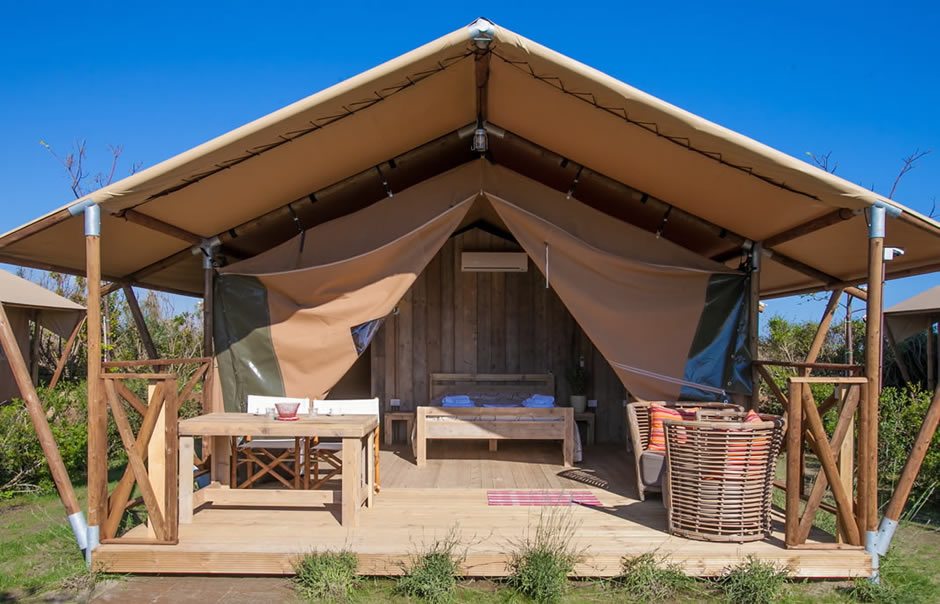 Of course, guests of the campsite can enjoy all the benefits, including tennis courts, beach volleyball courts , playgrounds and ping-pong tables.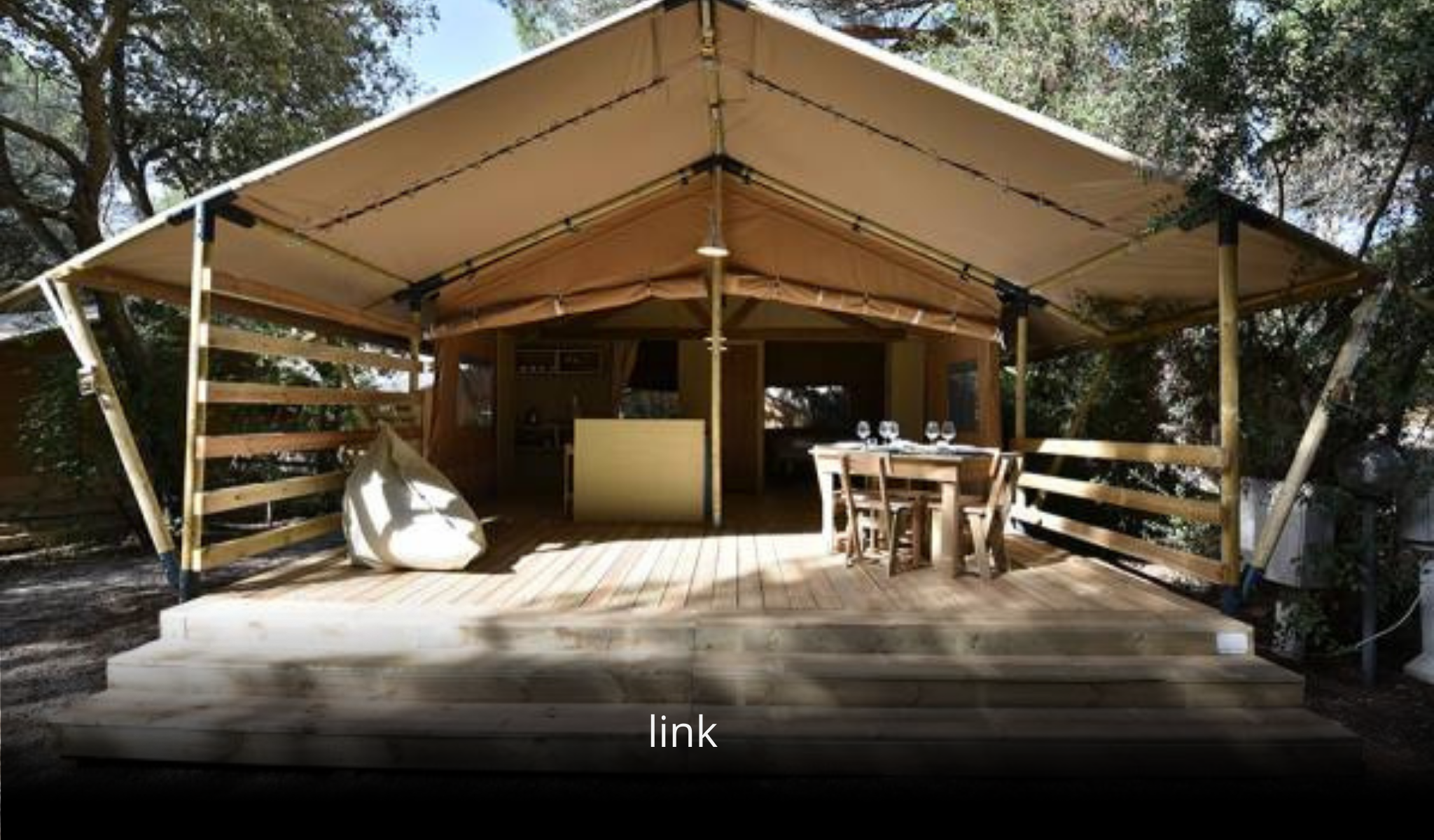 Tuscany is a magical place and glamping spots allow you to be a part of it. The camping offers exclusive, cozy tents, for example for two people, where you will find a functional room with a view of the sky. For larger families, Big Country Lodge offers a comfortable double bedroom and rooms with single beds. In addition, a bathroom with shower, an equipped kitchenette and a beautiful terrace.
The glamor tents are placed among the trees near the beach and in the vicinity of Parco della Maremma, a protected area where you can meet wild animals and fascinating vegetation.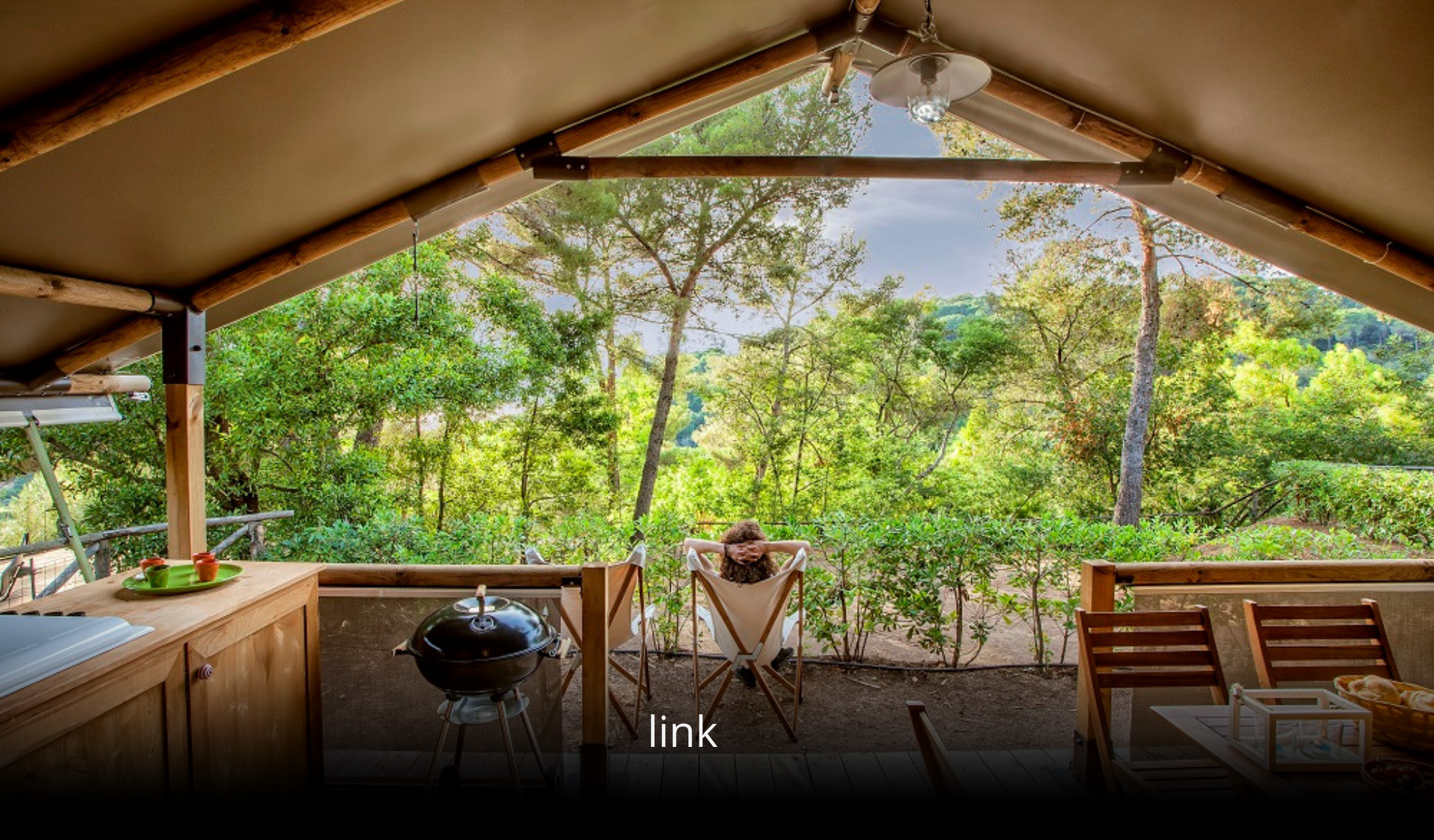 Who wouldn't like to spend their holidays on an island? Every nature lover will find something for themselves there. The magic of tropical trees in the nearby botanical garden, trails for young explorers, nights under the stars, all surrounded by the blue of the sea.
Glam tents are great fun for the whole family or a group of friends. The campsite also has Adventure tents for couples, where a comfortable double bed, an additional fridge and an outside table will ensure a romantic adventure.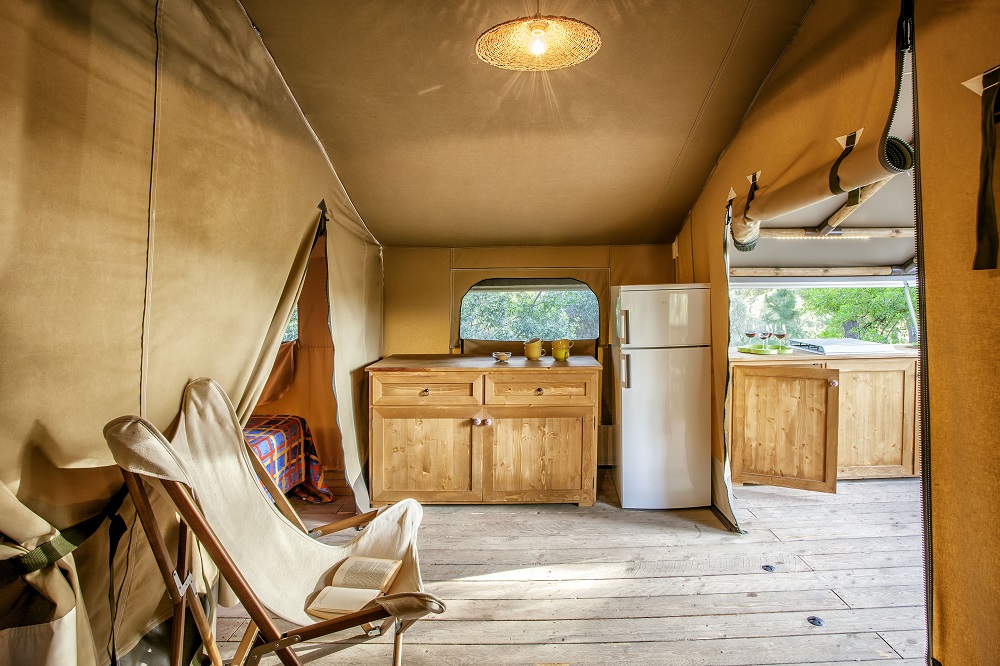 On the other hand, large tents, with two rooms, will welcome the most demanding families. A bathroom, an equipped kitchen with a cooking stove is a luxury that is certainly missing in a classic camping.
In addition, glamping guests can enjoy all the attractions that Camping Village Rosselba le Palme has to offer. Animations for children, swimming pools with lanes, water playgrounds for children are just a drop in the ocean of good entertainment.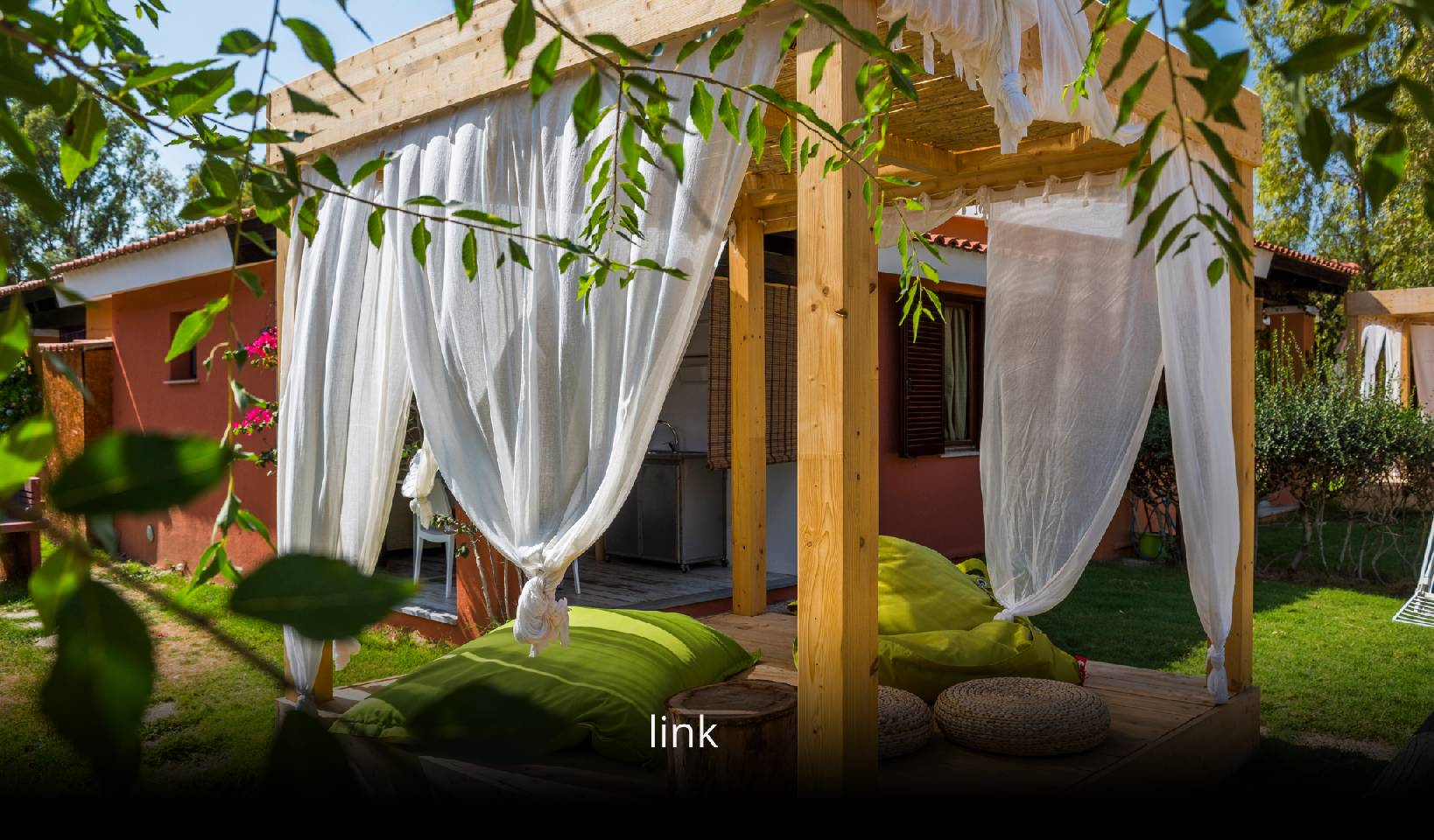 Sardinia , a rocky island, hiding a lot of secrets. A beautiful place in the Mediterranean Sea that invites you to adventure. In the small town of Muravera in the south-eastern part, Tuliguerta Camping Village spoils its guests with many attractions, offering plenty of active activities and lots of pleasures for the body and soul, such as Ayurvedic treatments and yoga.
There is also a pizzeria, restaurant, bar and supermarket on the campsite, which serves regional cuisine to the beautiful glamping guests.
It is a huge area, filled with nature, attractions and full of adventures. There are no typical glamping tents on offer, but it definitely has a glamping vibe, and that's what it's all about!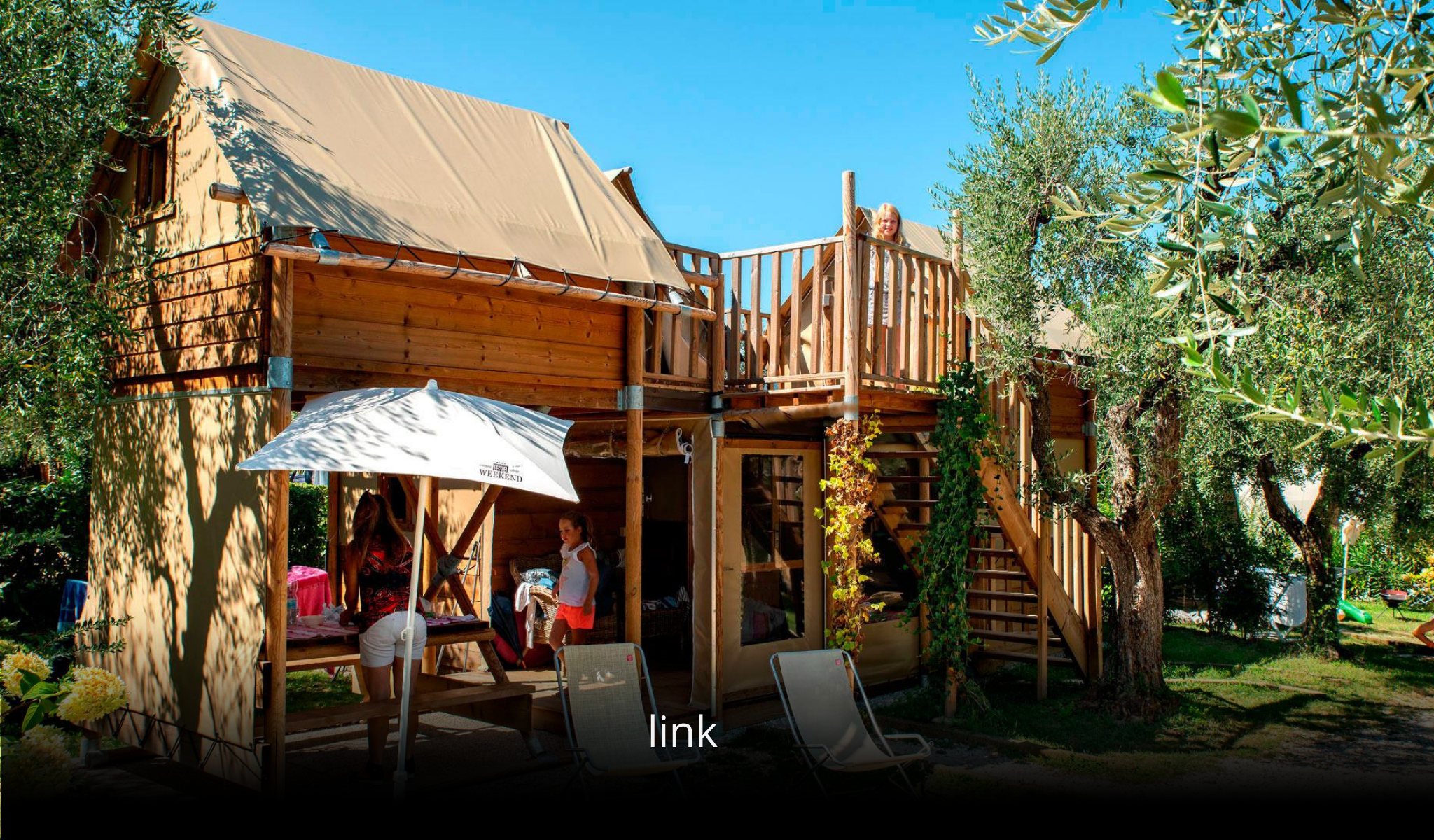 Lombardy, a beautiful land with Lake Garda , loved by tourists. The campsite offers glamping tents surrounded by olive trees and palm trees, which make them exotic. The furnished tents are just waiting for the guests of holidays in Italy , offering them many attractions for children and adults.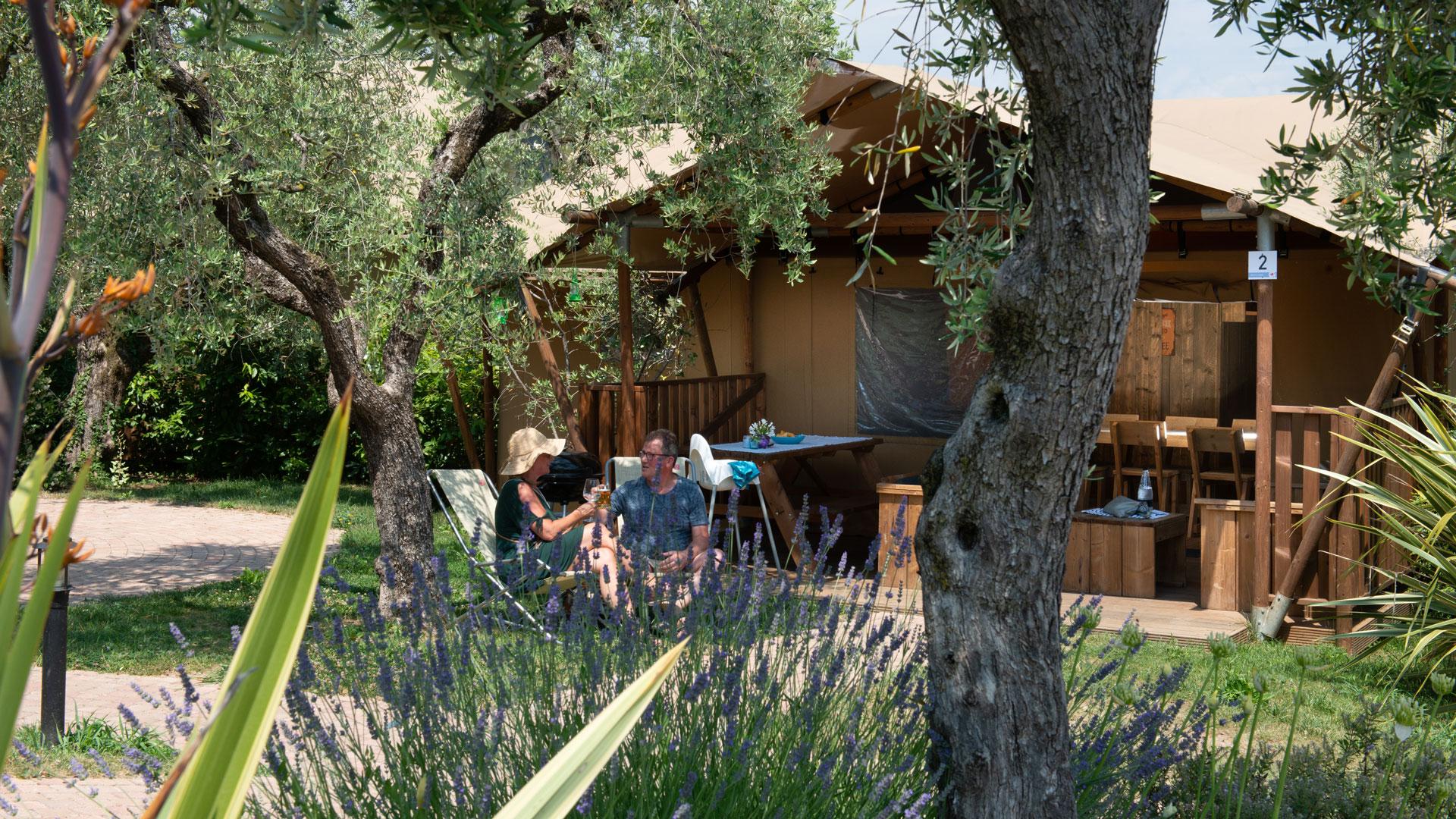 On site, you can stock up on a grocery store, prepare a picnic in the bosom of nature, and those who like regional delicacies, the camping will be hosted in a restaurant, bar or pizzeria.
Lovers of long walks will surely be delighted with the beautiful views of the lake surrounded by mountains.
Villaggio La Pescaccia - Calabria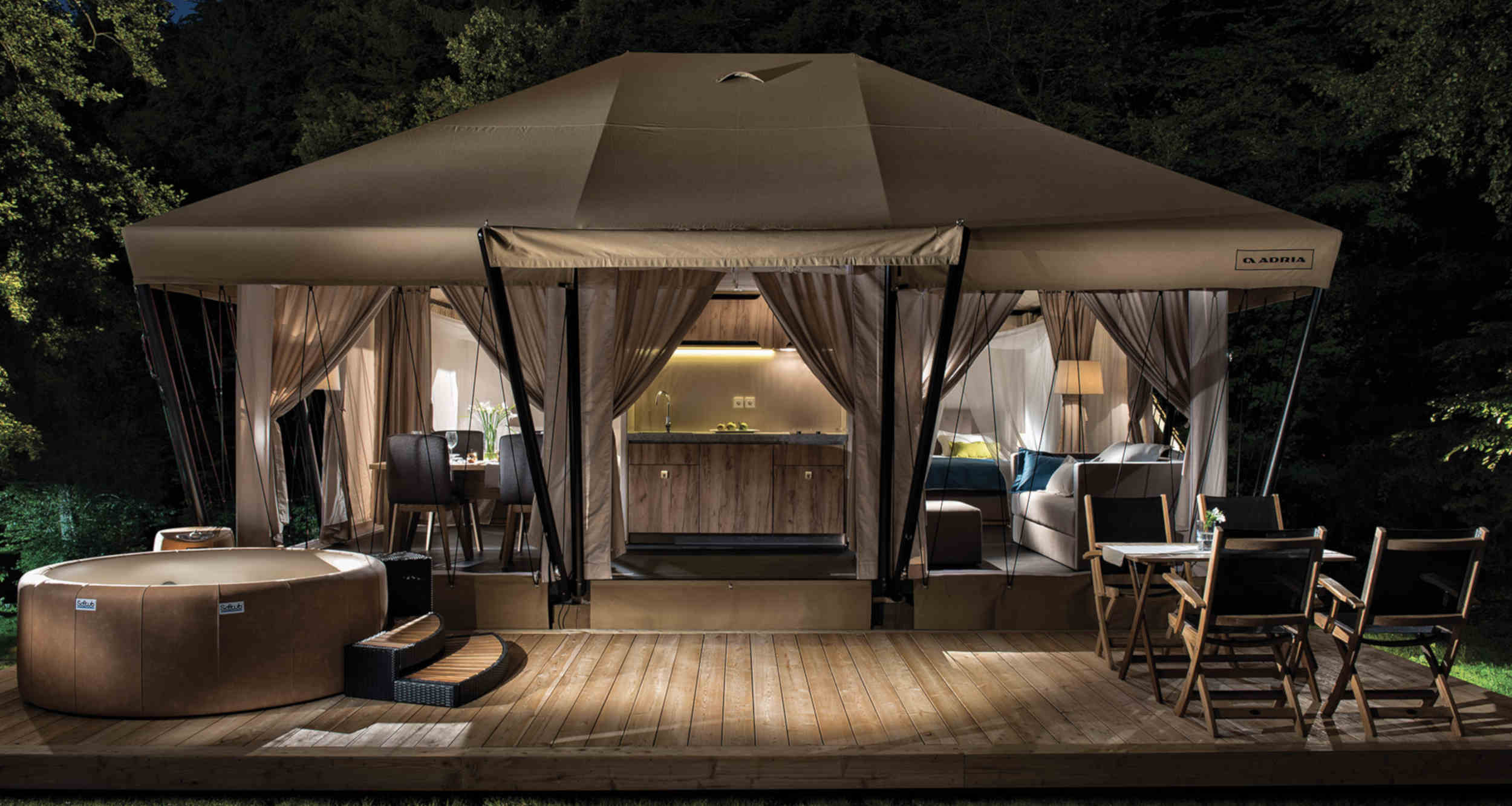 60 m2, huge patio and hot tub. Such a luxury tent is waiting in another amazing place in Italy. It is the perfect balance between comfort, pleasure and nature that glamping enthusiasts are looking for.
Vaillaggio La Pescaccia offers many additional luxuries. Outdoor pools, jacuzzi area, heated water. Can you ask for more? Why not. A bar in an elegant version of modern interiors, offering excellent drinks in the company of local cuisine surrounded by nature.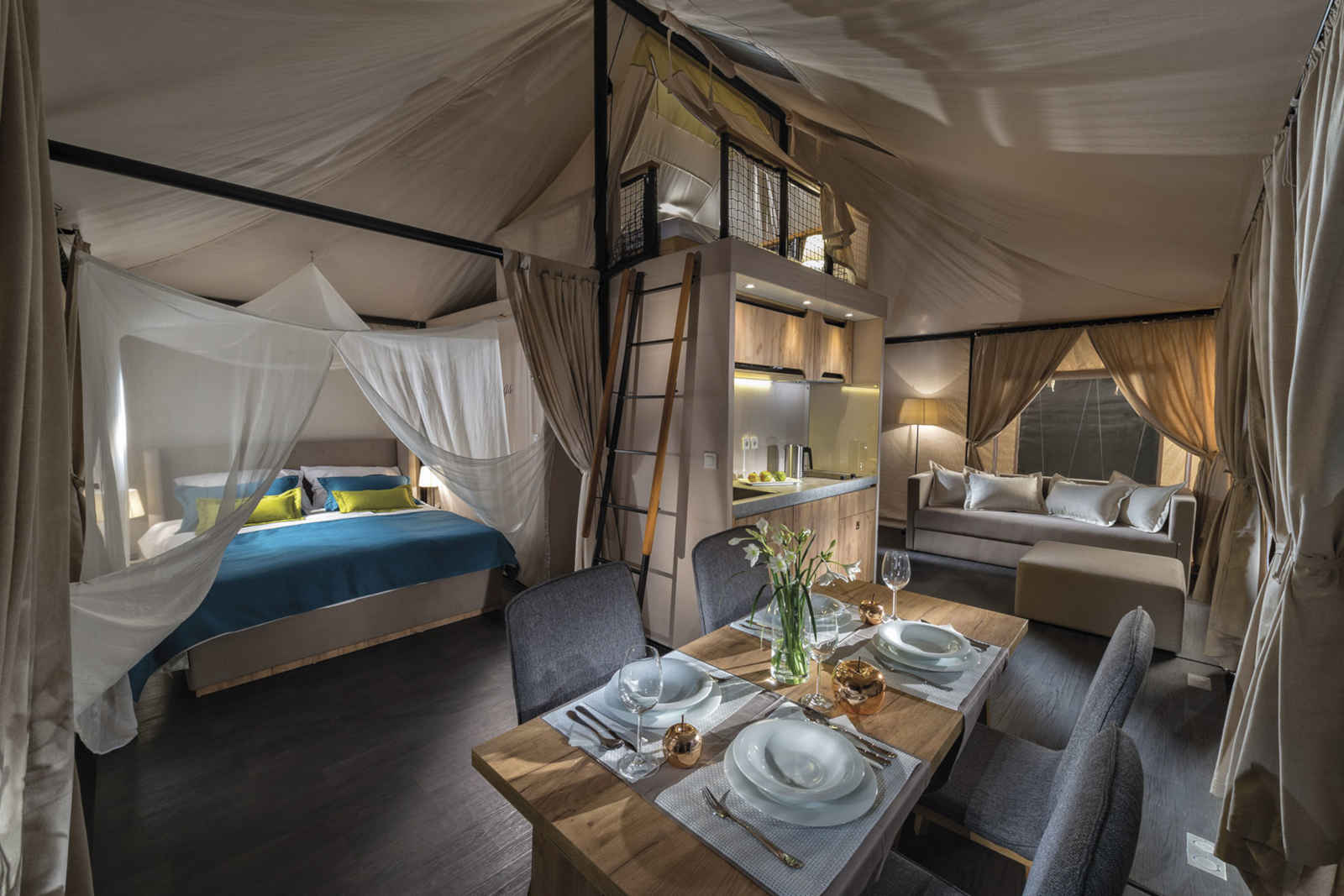 Those who like active rest can have a great time playing sports or tennis courts, and for dessert, walks in the beautiful areas of Italian Calabria.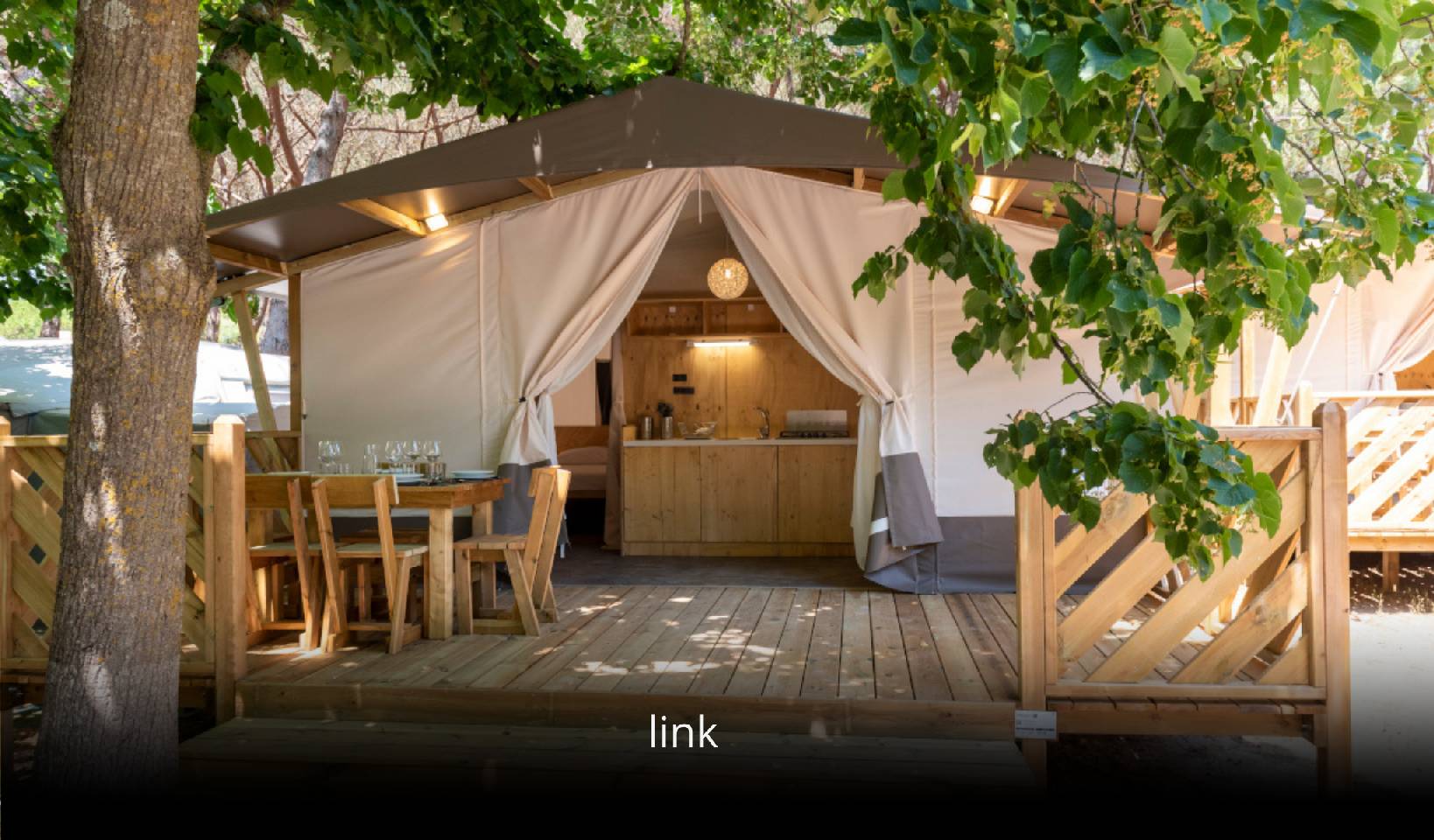 The enemy of Italian glamping must not miss tents off the coast of the Tyrrhenian Sea in the Tuscan town of Castiglione della Pescaia.
These elegant tents stand close to the sea and a private beach with sun loungers. They are comfortably equipped for families or small for couples.
The latter, unfortunately, does not have a toilet or shower, but this is not a problem, you can use the shared toilets on the campsite. The larger lodge tent , on the other hand, is equipped with a bathroom with shower and sink, a comfortable living room with a kitchenette. Warm days can be spent on the terrace surrounded by nature.
Valicella Glamping Resort - Tuscany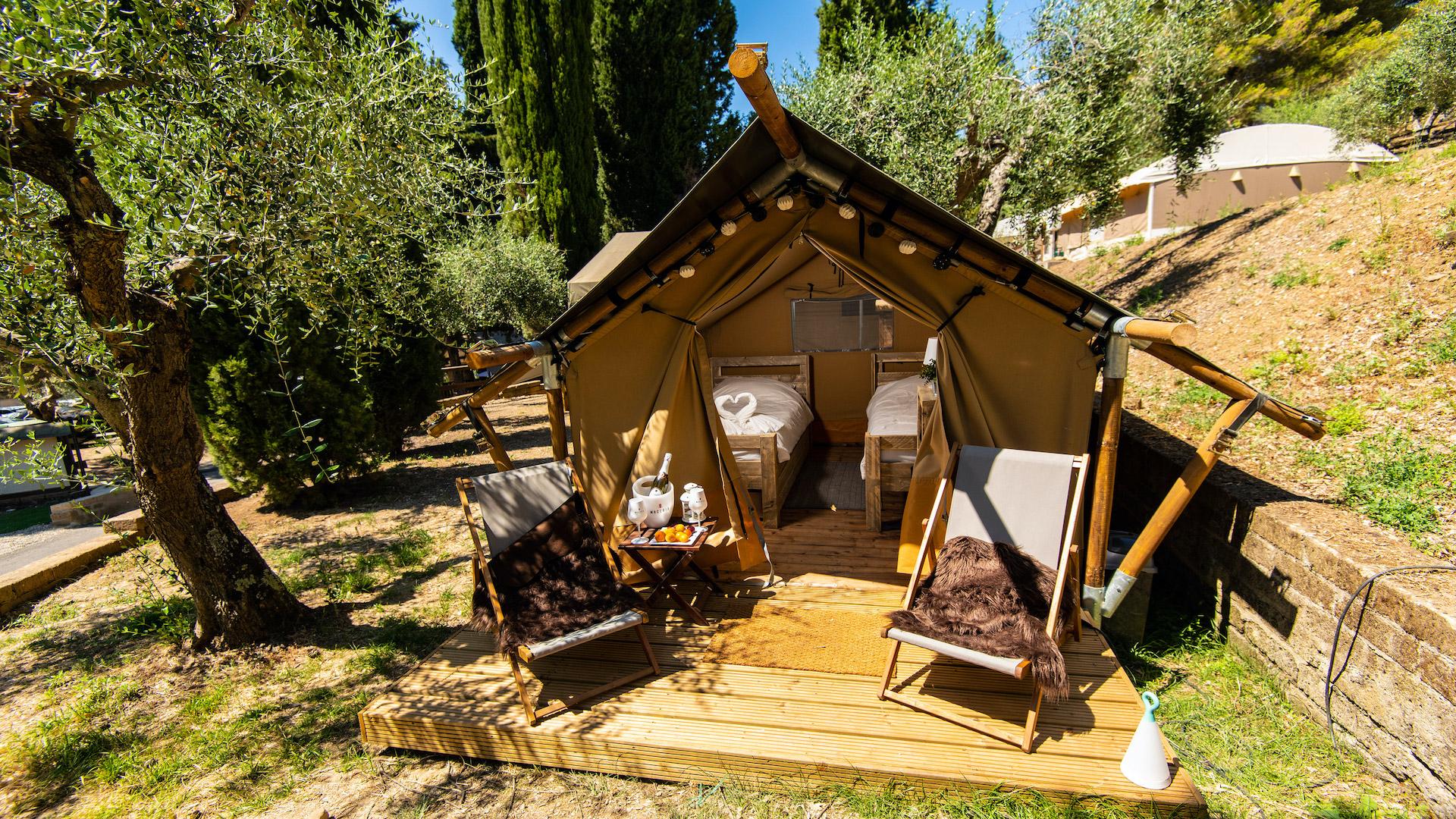 A beautiful place that offers a whole range of attractions. This resort offers tents in which you can experience true luxury worthy of several star hotels. Situated in the shade of olive groves, the place provides unforgettable moments.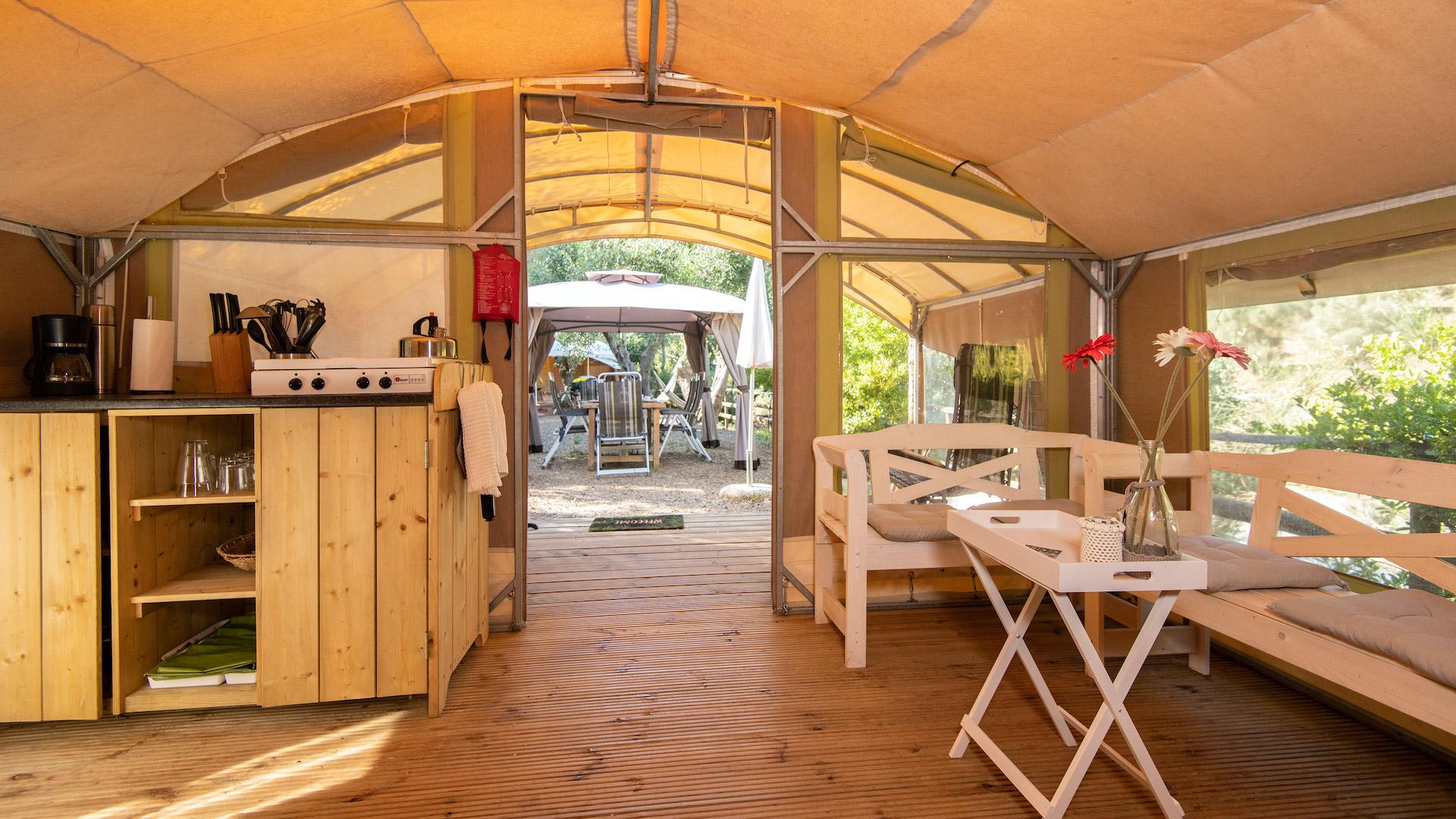 Such houses with a swimming pool in the vicinity, a restaurant and active activities such as tennis or football are a real glam vacation without leaving the resort.
However, for the interesting surroundings, Tuscany has prepared unforgettable memories.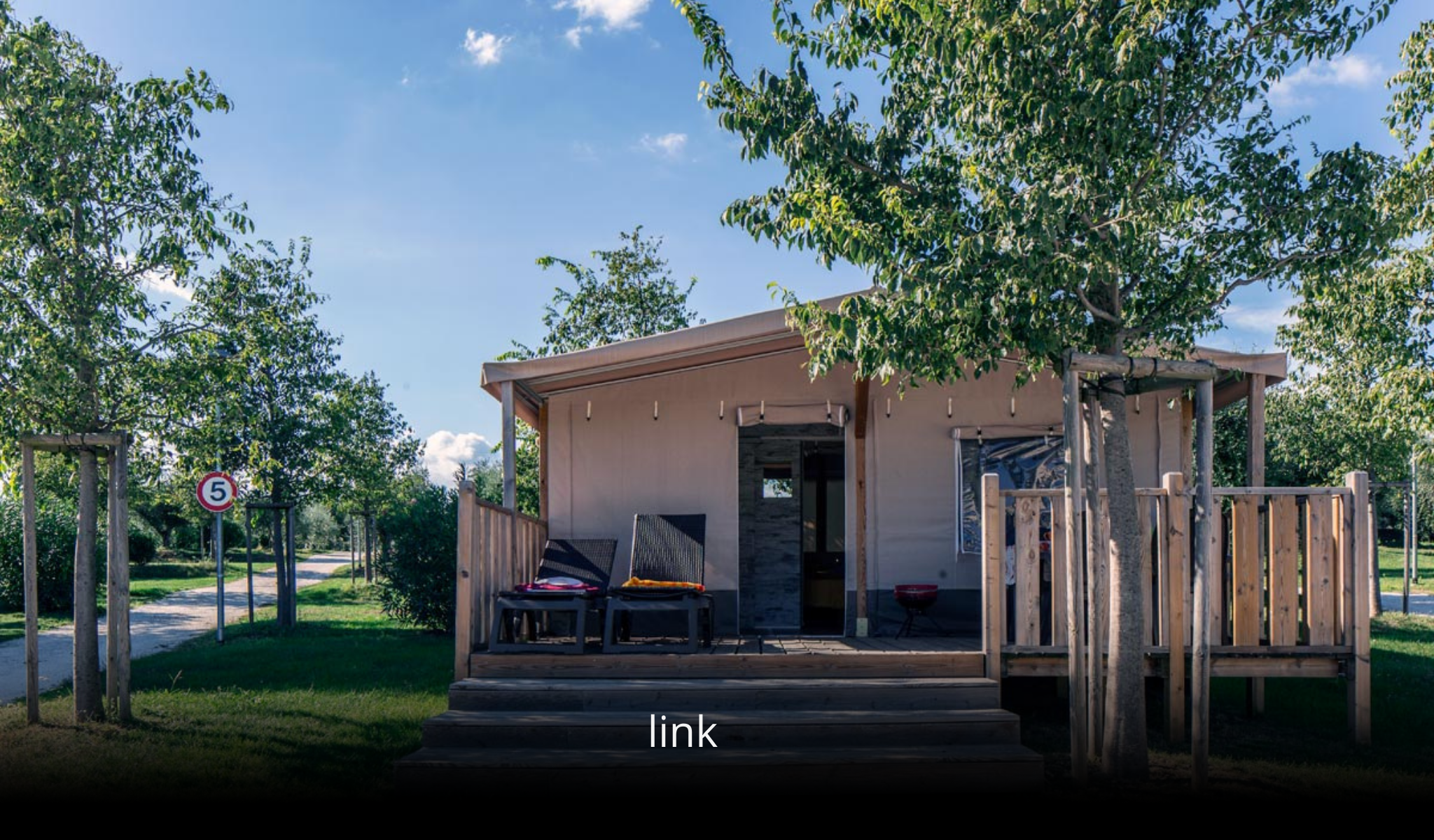 Italy, Lombardy, Lake Garda and the nearby olive grove. This place is created by the family and makes sure that glamping guests are pampered not only by mother nature. Beautiful tents with a bedroom, a kitchenette, a bathroom with a shower and a beautiful terrace await new camping enthusiasts in a luxurious version.
In addition to luxurious tents, the camping also offers many attractions. The cafe, fast food bar, grocery store and pizzeria tempt with Italian aromas, and the spa area will relieve stress and allow you to relax. Such a vacation is a real exclusive leisure in the open air.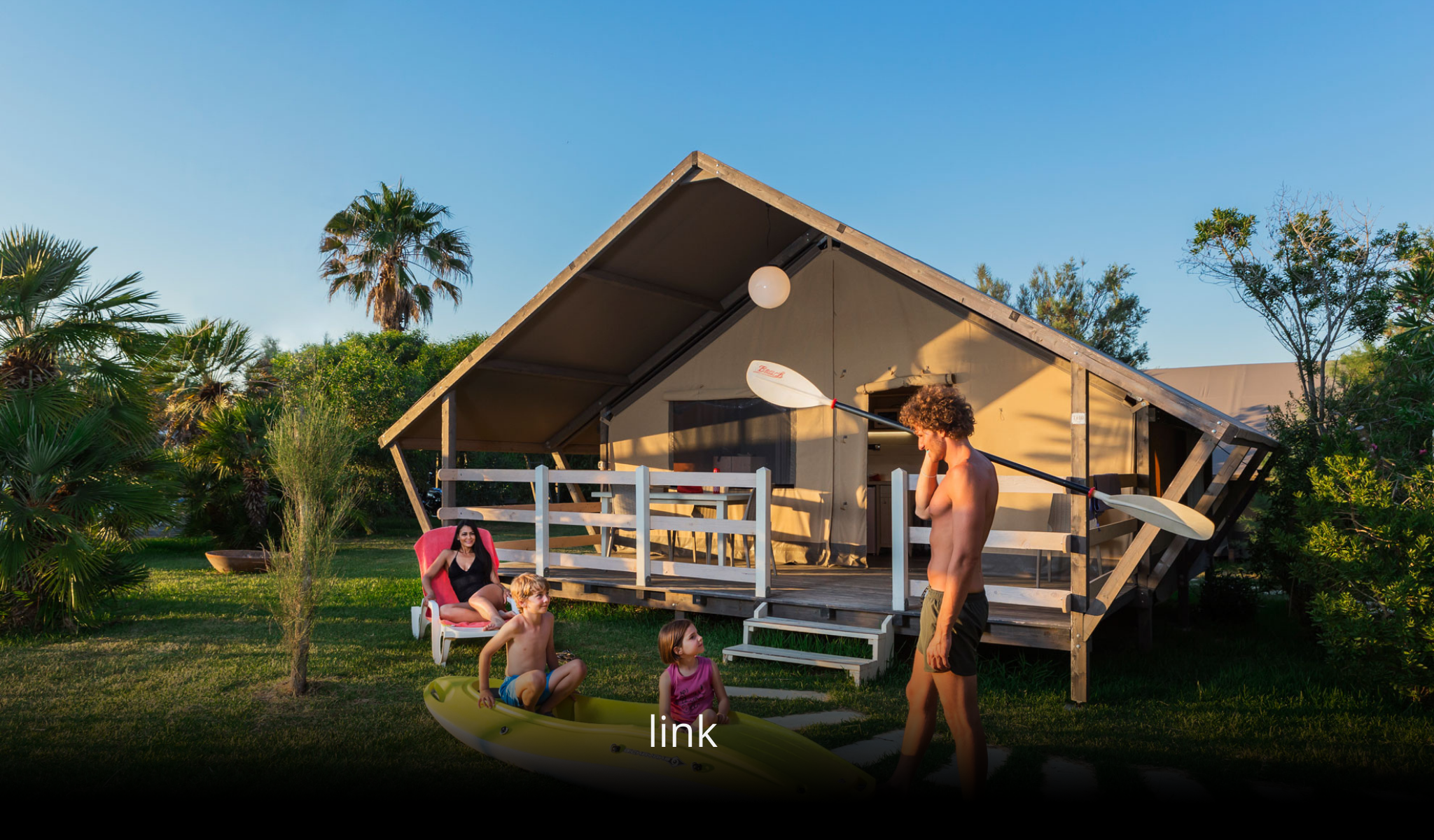 The south of Italy and Lecce have been recognized as one of the most beautiful cities in Apulia. A place with attractive monuments of baroque buildings. This is where you should look for glamping off the shores of the crystalline Salento Sea. Exclusive tents are located just a dozen kilometers from this city, and are in close contact with nature, which is undoubtedly a great attraction of this place. Guests of these unique chalets can enjoy all the attractions of the campsite. You can rent, among other things, a 32 m2 tent with rooms for the whole family , a living room, an equipped kitchen and a bathroom.
Such a holiday by the sea will certainly be made more attractive by the Italian cuisine with food, which with its perfection pampers the most demanding palates.
Shauri Glamping - Noto, Sicily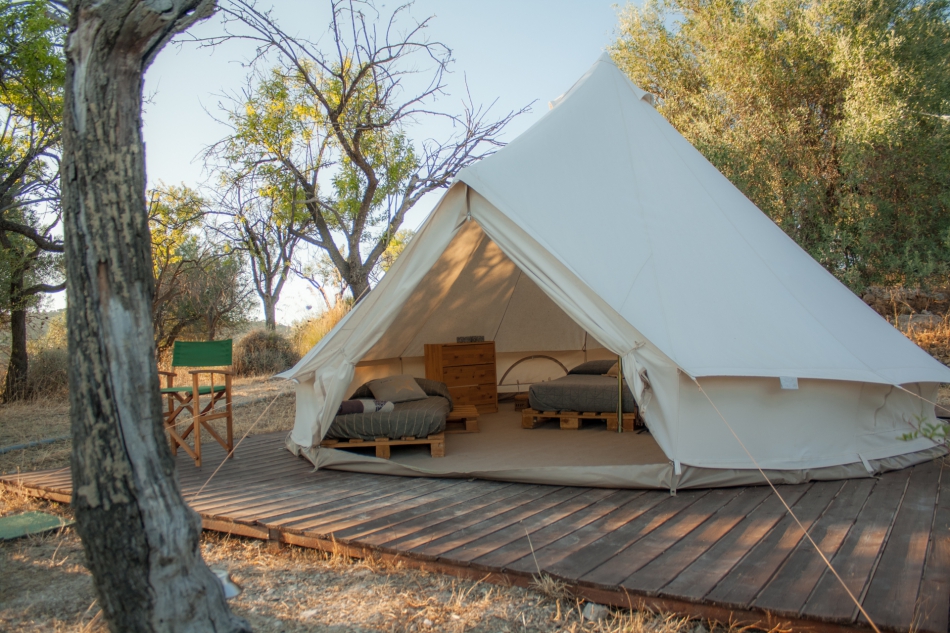 While this glamping is the last one on our list today, it is certainly not worse than the previous ones. In Sicily , which attracts many tourists and lovers of Italian culture, there are beautiful tents in quite unusual scenery. Why in atypical? Because they are not located at the campsite, they are not located by the sea or a lake. They are situated on a hill close to the town of Noto , famous for its flower festival. A small wooden building with a bathroom was erected next to the tents.
You can fall in love with glamping . Those who experience the perfect combination of luxury and the beauty of nature once, immediately after leaving the fairytale tent - will miss it.
Glamping map from the article:
---
Do you want to know even more?



• Join our Facebook group -

Cool Camping


• Follow our profile on Facebook -

CampRestowy Facebook


• See how we travel as a family on Instagram. During our trips, it is here that we put the most reports from everyday life on the campground or in the camper -

CampRestowy Instagram


• See our YouTube videos, subscribe to our channel and give a thumbs up to the videos you like -

CampRestowy Youtube
I travel with my family in a micro house named Ulek, practicing van life part time and collecting memories in the aquarium. I am fascinated by slowlife, the flavors of different regions and I have a great weakness for England and Italian cuisine. My dream is a great campervan trip, the points on the map come with every book or article I read.
Enjoyed reading this article? Share it!