Pilote will satisfy your hunger for camper vans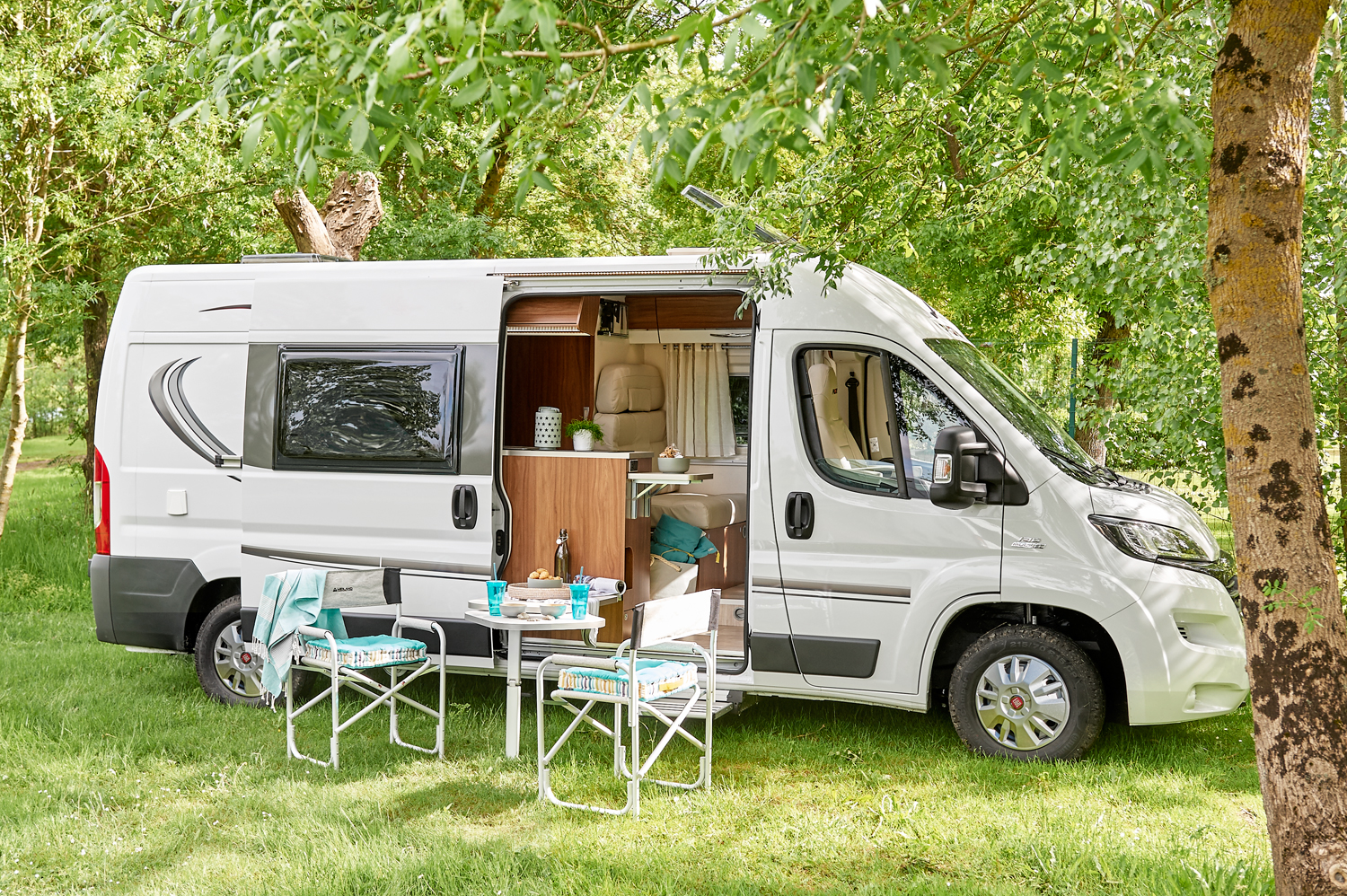 People who have caught the travel bug eagerly choose camper vans. The advantage of such vehicles is not only lower fuel consumption, or the possibility of more dynamic driving. There are many more advantages, which the Pilote brand is well aware of.
Camper vans allow for more flexible travel. We will use such a vehicle to enter places where large campers cannot be reached. In addition, a smaller vehicle will usually not be a problem also in public parking lots - even those where ordinary motorhomes are not allowed to park.
There is a lot to choose from
The French brand Pilote has been known on the tourist car market since 1962. For many years it has also been successfully producing camper vans. The offer currently includes 16 models of agile cars based on the Fiat Ducato chassis, with a length of 5.41 m to 6.3 m . The company addresses its offer to couples, families, sportsmen and - as it claims - also to adventurers;).
Small campers
The smallest car - marked with the symbol V540G2 , is a small car, designed for 4 people, but with only 2 beds (optionally up to 4).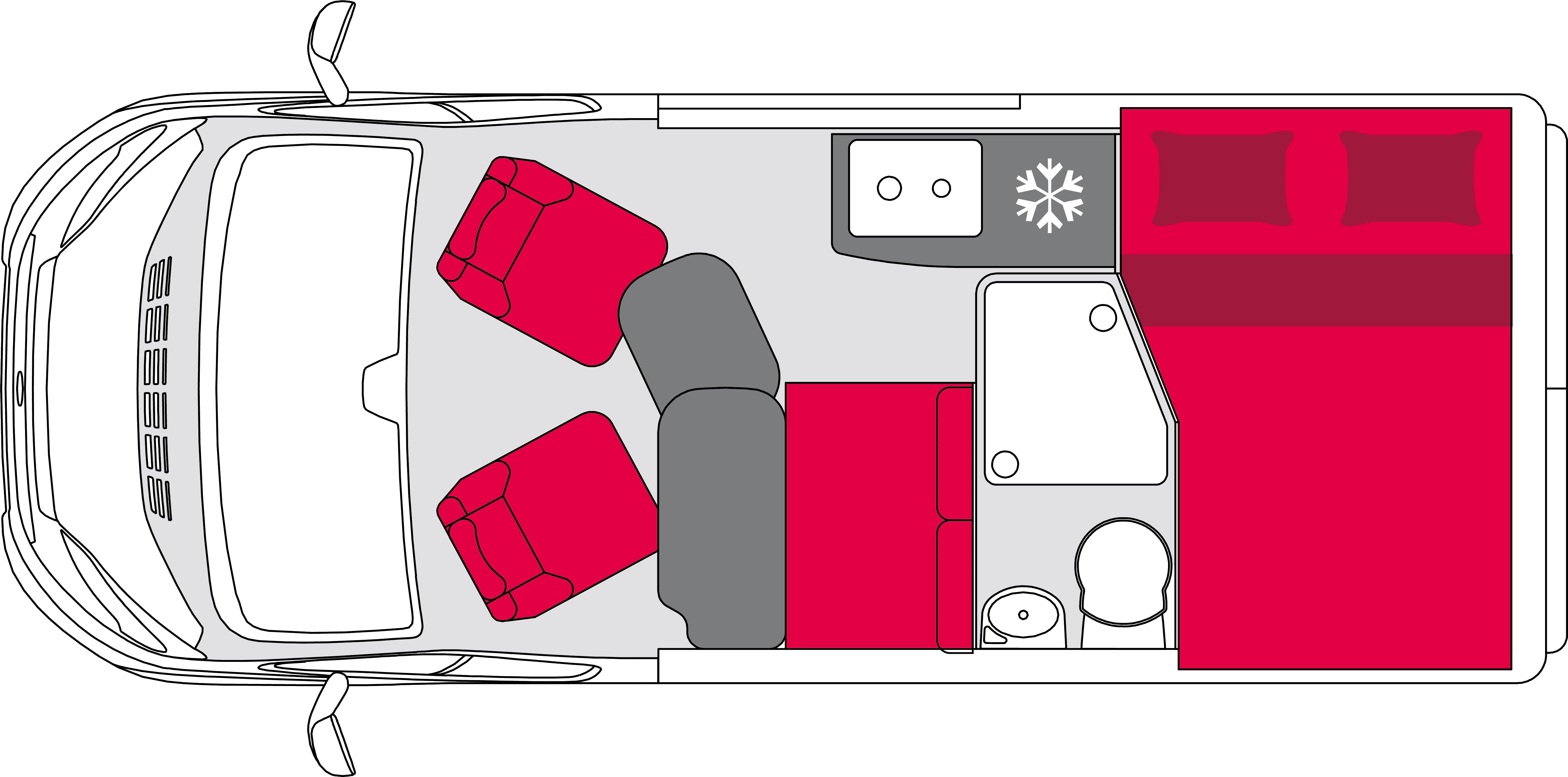 The dining room will accommodate a full set of passengers, and the fold-out table will provide a comfortable place to eat meals. The kitchen is small, with an 85 liter compressor refrigerator and a two-burner hob. A small worktop slides out to the side.
Opposite you will find a transverse bathroom with a pull-out washbasin and a floor shower. Behind it is a double bed with a skylight above it.
The car is suitable for a couple, possibly with one small child, who spends most of the time outside. The advantage, however, is the possibility of using the car in everyday life (e.g. for shopping), and not only during the holidays.
Larger campers
The Pilote also offers 7 5.99 m long V600 models , 3 of which have two double beds placed on top of each other.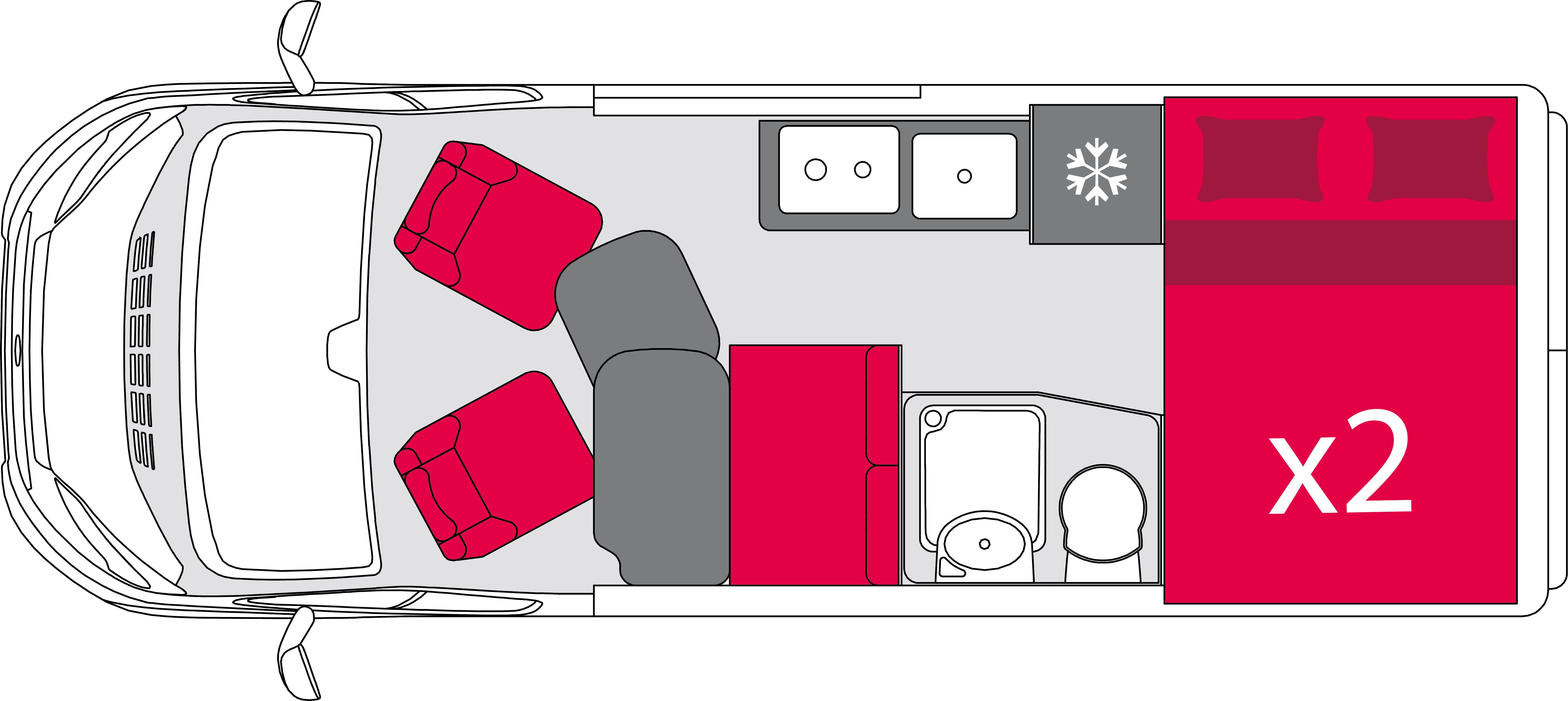 The cars are available in Standard and Premium versions. Take the V600S4 model as an example. In addition to more places to sleep, the manufacturer also offers a larger, 141-liter fridge , a longer kitchen and a bathroom with sliding doors with a slightly changed layout.
Some models also have a wardrobe . Lockers are located under the beds and above the heads of passengers.
The largest campers
As many as 8 models are the largest cars, i.e. 6.36 m long . These, however, lack double bunk beds, which may be a bit surprising. 4 people can travel in them, but only two will sleep in (similarly to other models, two additional seats are optional).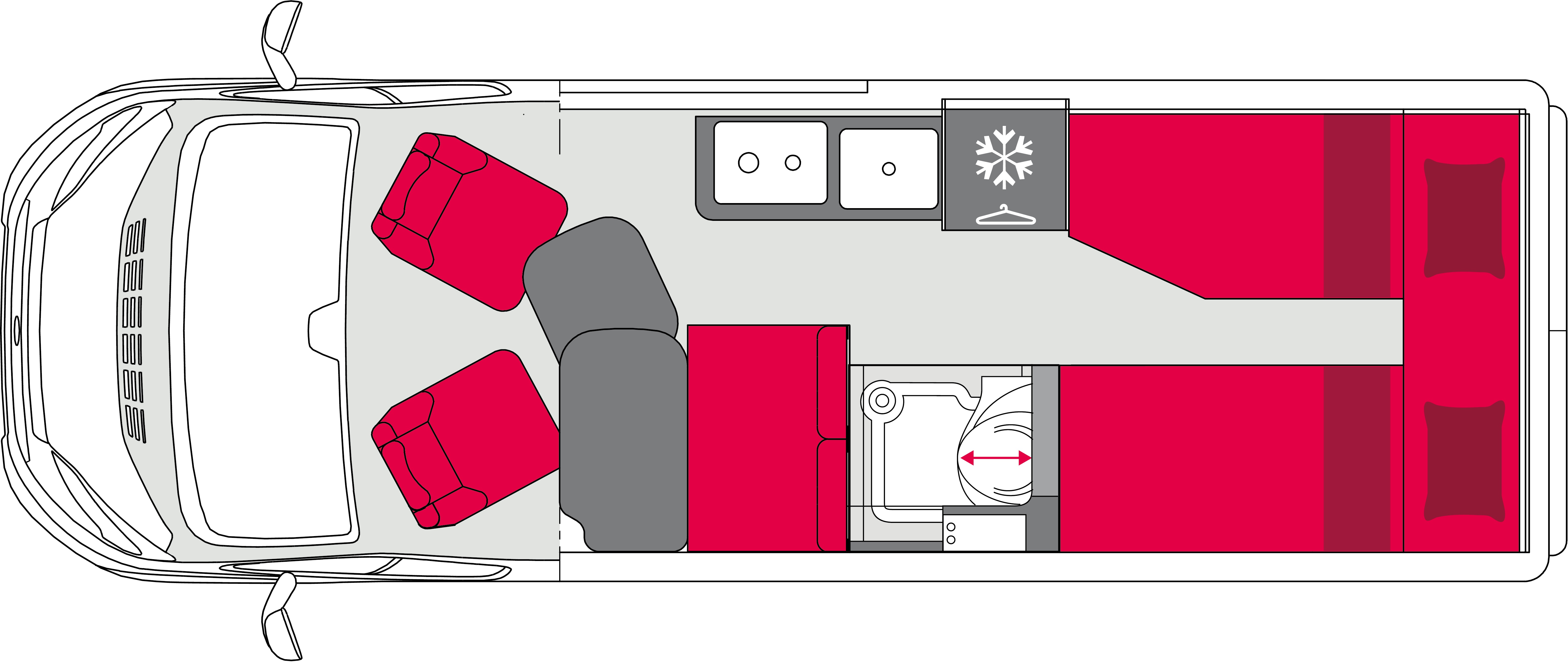 The V6030J1, V630J2, V6030J3 and V630J4 models have two single beds at the back, and the living area does not have such a large L-shaped sofa. These cars are distinguished by a significantly larger dining room, kitchen and wardrobe behind the sofa. The refrigerator, however, is smaller, 90 liters . The layout of the bathroom is also slightly different.
Much good in each model
Inside all the models you will find a lot of storage space . The manufacturer also thought about compartments for such small things as sunglasses or a mobile phone. Bultex mattresses made of high-density foam are also praised. The bathroom has an "oilcloth" separating the shower from the rest of the cabin. The aeration and lighting system also provides a skylight.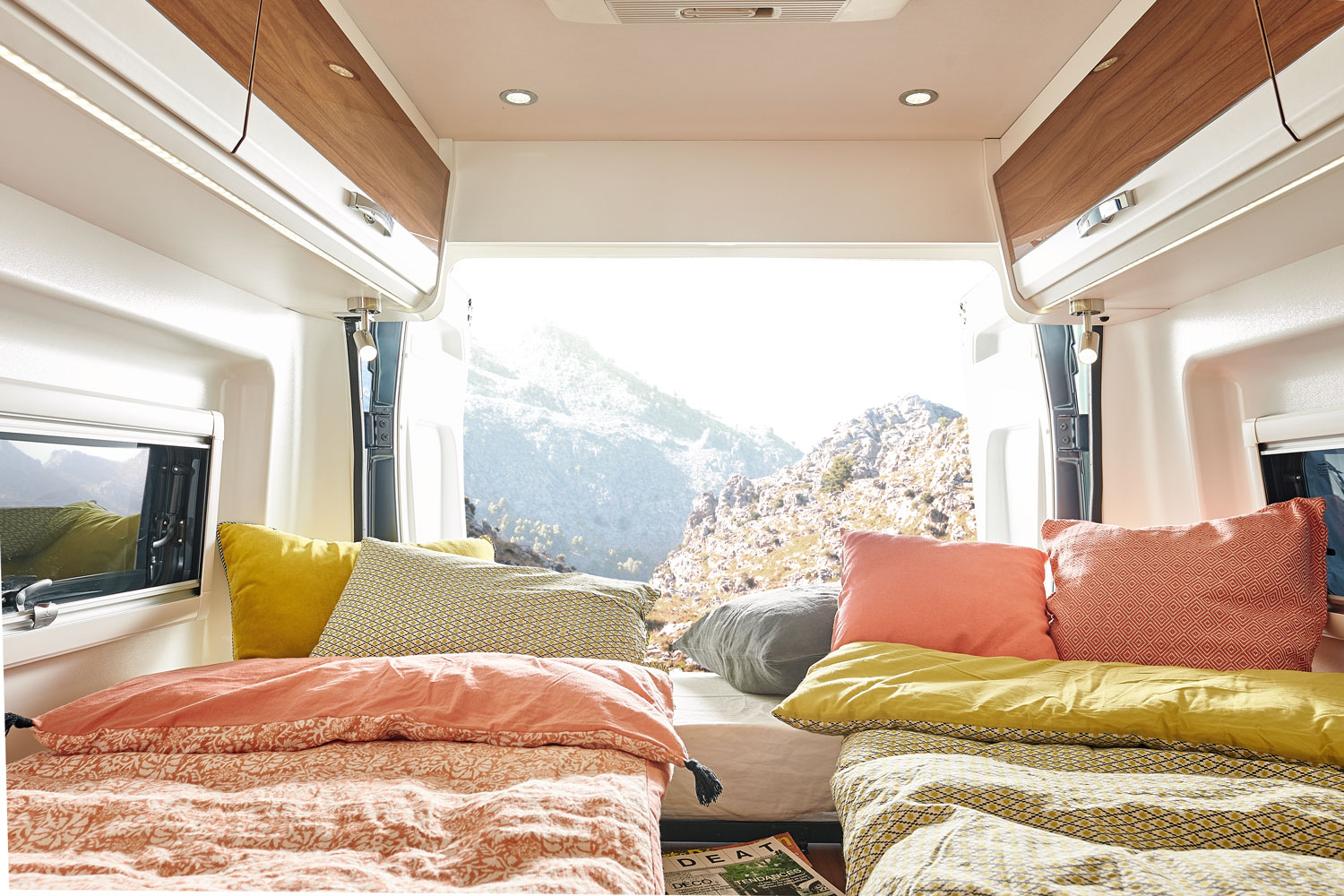 The cars are insulated with 20 mm fibreboard covered with thermal insulation foil, they also have a two-layer floor with a polystyrene board. The windows are made of Seitz double glazing in an aluminum frame. Truma heating was also installed, so even winter will not be terrible for us.
In addition to standard solutions, we also have the Premium option to choose from. It consists of, among others LED lighting, laminated furniture cover with two available themes (graphite and cherry wood), pull-out kitchen. In addition, there are quiet kitchen drawers and more storage space in the bedroom (thanks to the transverse cabinet). In fact, little things, but often they are what make us feel treated exceptionally.
A novelty is the touch control system using a tablet . In this way, we can set the thermostat, control the lighting, monitor the batteries, clean water and sewage levels, and check the charge level of the solar batteries.
With my own eyes
If you would like to get to know Pilote motorhomes "live" and see if they meet your expectations, CarGO offers such an opportunity! - distributor of this brand in Poland. The company is based in Poznań, at ul. Wołczyńska 15. At this address we can find both new and slightly used vehicles from the Pilote offer.
A lawyer who loves traveling. Always with a book on the go. I collect memories of the color, taste and smell of every place I visit.
Enjoyed reading this article? Share it!