Semi-integrated motorhome by Chausson Welcome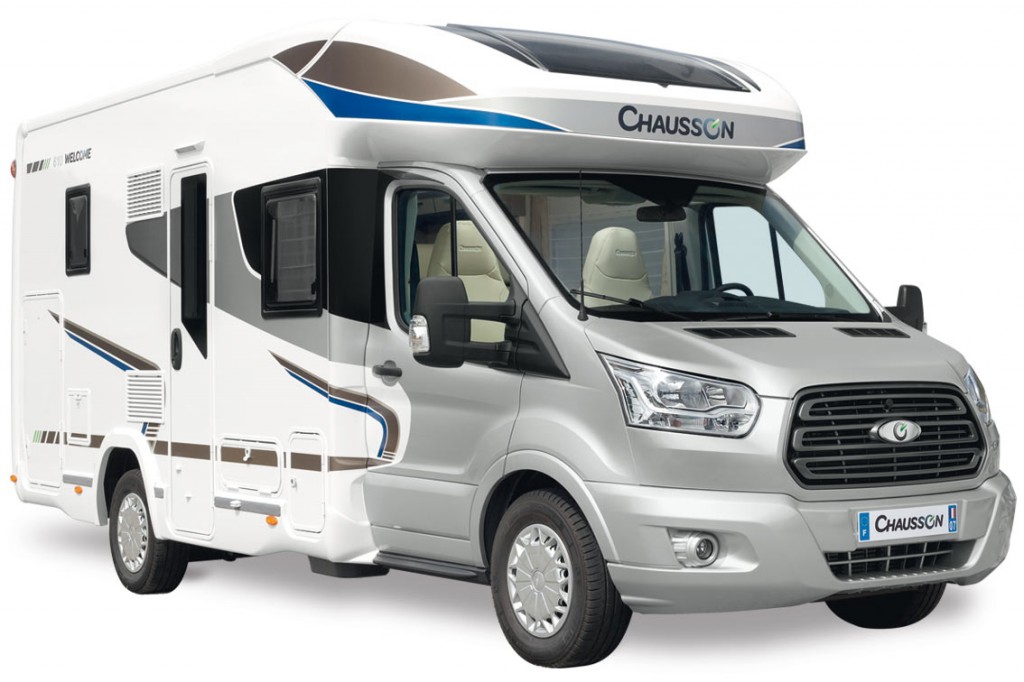 The Chausson motorhome can be built on a Fiat or Ford chassis. The French manufacturer offers two versions of equipment - Flash (standard) and Welcome (with additional options). It is worth taking a closer look at the second proposal, which seems to be an ideal solution for those traveling with a lot of luggage. Large storage options, low profile, rich accessories are just some of the advantages of this model.
French precision
The Welcome model looks very attractive visually. The gray-blue graphics on a white background and the color-coded cabin are eye-catching. The side walls are made of GRP sandwich panels with foam insulation, which provides adequate insulation. The roof is made of polyester with a thickness of 0.54 cm - a material resistant to e.g. to hail. The new fairings and thick cornices are ideas that Chausson introduced in 2014 to make the body structure even more durable. The residential part is set as low as possible, which made it possible to resign from additional entrance stairs. There are even more thoughtful solutions. Diesel engine with a capacity of 2.3 l and 150 horsepower gives a lot of driving force. Welcome is equipped with a 6-speed manual gearbox , which allows for driving comfort in various conditions. ABS , ASR , Traction Plus , reversing sensor, precise steering and airbags for the driver and passenger increase safety while traveling.
Dining room and kitchen in Chausson RV
The interior of the motorhome tempts with original aesthetics and effective use of space. There are two height-adjustable swivel seats in the cabin, which can be used as additional seats in the dining room (together we gain L-shaped space for 5 people ). There is no shortage of space to relax. At the back there are two fixed beds (which can be connected by removing the third mattress), in the living room you will find additional, electrically operated. Special curtains allow you to separate the bedroom from the rest of the space. The bathroom looks functional - a shower on the right, a toilet with an electronic flush in front of it, a window and cabinets above it, a round washbasin on the side. The kitchen is designed in the shape of the letter V, equipped with, among others Thetford 3-burner hob, oven / grill, large fridge freezer and microwave. There is no shortage of light in Welcome - Seitz windows (with double glazing) are placed on both sides of the motorhome, next to the beds, in the bathroom, and in the cabin there is a sunroof, additionally in many places LED lighting was installed. It is also worth paying attention to the exceptionally large storage options - 6 upper cabinets, 2 large and other additional storage areas (including a special place for bicycles) allow you to complete your luggage freely.
Campervan for couples
Chausson Welcome 717 costs about 52,000 pounds , it is a considerable expense, but if we treat it as an investment for years, we should not be disappointed. High quality of construction materials and equipment, 5- year warranty can convince the undecided. Although there is more space in the motorhome, it is the most comfortable traveling for two. This is a proposal that will also interest people who value the visual qualities of motorhomes. The interior in shades of brown and beige in combination with light wood, modern accessories and interesting design will surely enchant you.
Old fashioned travel is what I like the most. How about renovating your own vintage caravan and setting off on a journey through wild spots without a phone?
Enjoyed reading this article? Share it!