Toybox Tiny Home - a dream of independence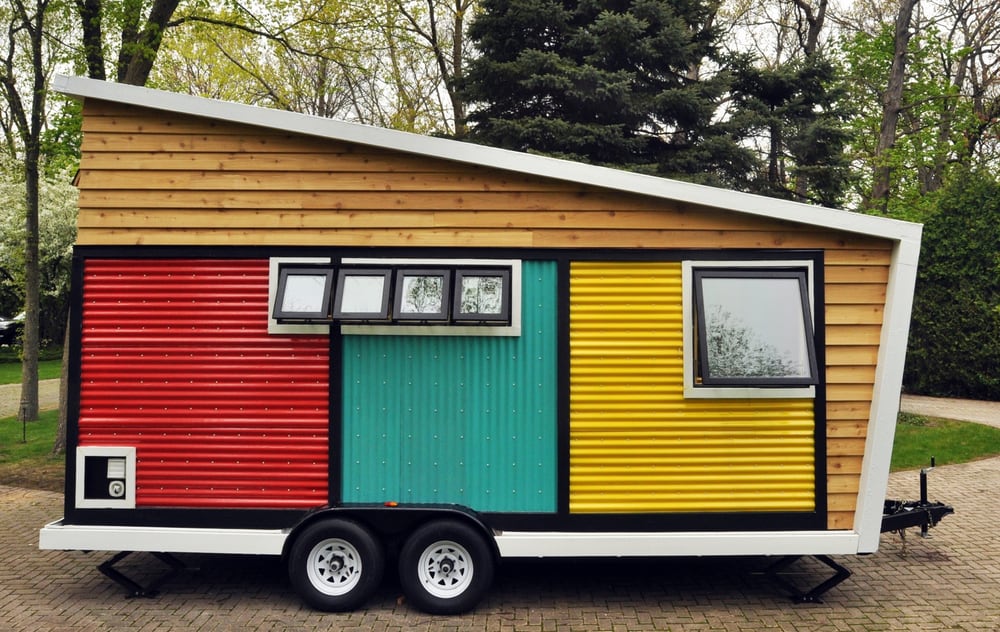 This vehicle is not actually a caravan. By design, it is a full-fledged house that can be transported from place to place. What's the difference? First of all, it is uncompromising - it is not a vehicle for a while, but a home for good.
When we travel for tourism, it is easier for us to endure the temporary inconvenience. We know that minor inconveniences will not last forever, and the opportunity to spend time in beautiful natural circumstances will reward us a lot. However, if we were to live permanently in a caravan, we would not be so understanding - especially if we had a small caravan at our disposal.
On the other hand, it is easier to imagine a change the other way around. A trailer designed to serve as a home can undoubtedly be of great use to our leisure. We perfectly imagine a vehicle such as the Toybox Tiny, e.g. on the Hel Peninsula, where, with the advent of summer, many trailers are towed just a few kilometers or even several hundred meters - from places where they stay all year round, to a campsite. In such a situation, the trailer does not need to be particularly manoeuvrable. What matters is that it is practical and comfortable inside.
Make yourself at home
In this respect, the interior can surprise us incredibly. Toybox Tiny does not look like a miniature apartment - it is a real house, as evidenced by large windows, and even a bed located ... in the attic (1.82 x 2.1 m).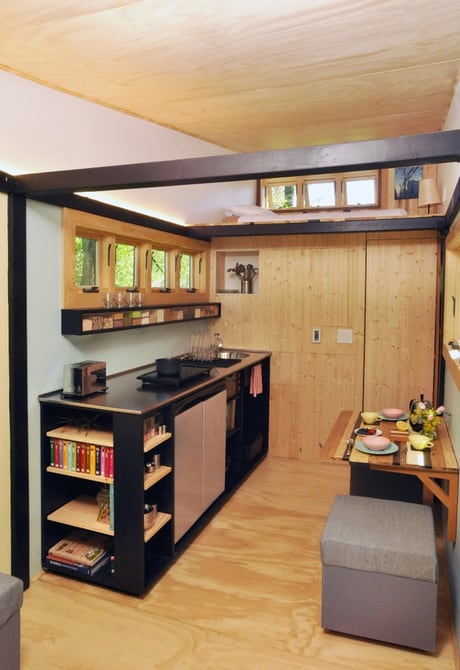 We get to the house through a sliding door - similar to balcony doors in houses. Thanks to the large amount of glazing, a lot of light enters the interior. We will also be surprised by the kitchen with plenty of storage space and full-size appliances.
Of course, the house on wheels must also have storage compartments. Here, the place for the household members' belongings was, among others in six pouffes placed in front of the entrance. A place to work? The foldable top will be perfect as a desk that can be enlarged to the size of the table. Do we want to feast together with guests? The table top can be unfolded on stacked pouffes!
Bathroom? It's not huge, but it's not miniature either. In a 1.2 x 1.5 m room, there is quite a lot of space for a toilet, shower and washbasin . Also in the kitchen you will find everything that should be in it (including a microwave oven and an induction hob).
What about the construction? The roof is made of a thermoplastic material TPO (thermoplastic olefins), which is a mixture of a hard thermoplastic material and rubber. The side walls are made of fiberglass and natural cedar. Colorful walls resembling a corrugated sheet certainly make this house on wheels very original.
Functional ecology
The trailer is 13 meters long and weighs approximately 3600 kg , and its full load is (estimated) approximately 4762 kg. The cottage is equipped with a plumbing , 20-liter boiler and LED lighting.
An interesting fact is the underfloor heating - the hot water bottles in the floor are made of recycled jeans and are said to be more effective than standard radiators. In general, there are many ecological elements in this house, because one of the constructors' assumptions was to make the house as compatible with nature as possible.
Unfortunately, at present the trailer is only a prototype. One copy was built, which was put up for sale some time ago for 48 thousand. dollars. The project website still exists, however, and the vehicle's creators - Paul Schultz and Frank Henderson - are still looking for investors on the crowdfunding platform.
If there are people who believe in the project and support it not only with words of appreciation, but also with "cash", who knows - perhaps one day this type of house on wheels will be mass-produced. For now, however, it remains a matter of dreams.
Project website: http://www.toyboxtinyhome.com/
Sometimes it is better to get lost than to ask for directions too much. Aldous Huxley
Enjoyed reading this article? Share it!