UNICAT crossing motorhome - with a Polish touch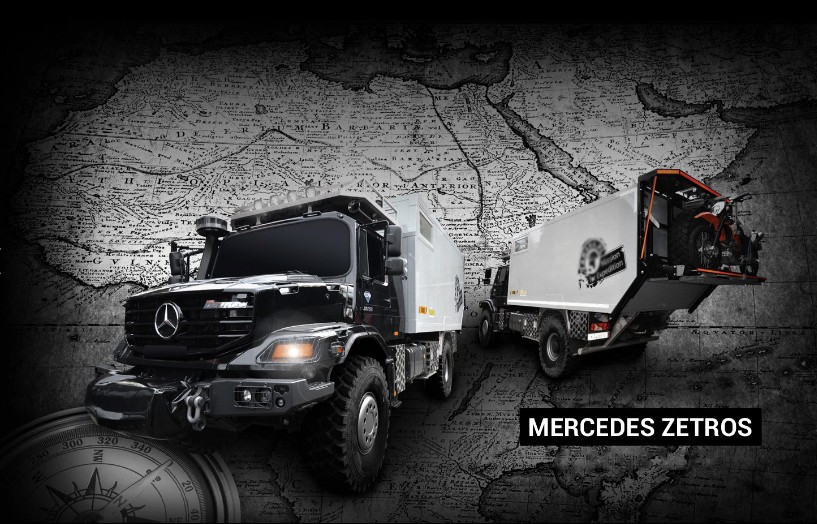 For the client it was a dream come true, while for the Polish company Carlex Design - another great challenge. The expedition motorhome, which was created on the basis of the Mercedes Zetros, is a delightful piece of work, each fragment of which can make your heart beat faster.
Clients - a Polish couple who love long journeys. This time the spouses decided that they would not agree to any compromises. That is why they decided to order a vehicle that no one else in the world has and that will meet their high requirements down to the smallest detail. They intend to go to Africa for their first journey in a new car.
Unicat - is a German, although operating on an international scale, manufacturer of expedition vehicles. It is hard to find a better expert in the field of preparing cars ready to cope with the most extreme conditions. It was Unicat that refined the off-road Mercedes technically.
But to fully satisfy the demanding customer, one more co-creator of this automotive masterpiece was needed ...
Carlex Design - an ambitious company from Bielsko-Biała, known mainly abroad. It was she who had a decisive influence on the final result. Without it, this multi-purpose car wouldn't look as great, especially inside. Interior design, well thought-out in every detail, high-quality leather and perfect workmanship are the merits of the Polish company, about which Western automotive portals and magazines are writing more and more often.
Male to the point of pain
From the outside, this vehicle looks fierce, aggressive. It seems strict, masculine - ready for the most extreme challenges. You can see that few obstacles can stop him. But what should the driver's cab look like so that those who look inside it would not feel disappointed? Is it even possible? This difficult task was undertaken by the Carlex Design company from Bielsko-Biała, and the way it dealt with it may be most admired.
The interior is dominated by brown and burgundy leather. However, if we were content with this statement, it would not give you any idea of what the driver and passenger compartment really looks like. In the case of this Unicat, there were no shortcuts. Look at the steering wheel! It was not trimmed with smooth leather of one type. The steering wheel with thick stitching is made of burgundy and brown Lamborghini leather, which gives the interior a rough, even brutal character.
The whole interior is like that. On the side doors there are compartments resembling old-fashioned satchels, and next to them barred loudspeakers. Overhead compartments, headlining and even Alcantara-covered sun visors. You can admire virtually every detail. I was particularly impressed by the map embossed on the leather, opposite the passenger seat. A similar pattern is also found in the center of the steering wheel.
Another, this time not only great-looking but also very practical patent, is a hiding place (a handle?) In the form of several rows of rubber bands attached to the cockpit, under which you can put, for example, a paper map. Similar compartments are located in the sun visors. And behind the back, passengers and the driver will find leather belts, which can also be put on many small items (there is a lot of space), as well as a black board on which you can write with chalk. Even cushions with a pattern reminiscent of old maps have been taken care of - they perfectly complement the whole.
For half of Europe without refueling
Unfortunately, we cannot show what the residential part looks like, because it is a completely private zone. However, we can be sure that it matches the appearance of the driver's cabin. The Unicat equipment includes, of course, everything necessary, and much more, such as a 27-inch iMac on the wall, an armored Panasonic laptop, as well as a full-size washing machine.
For the sake of formalities, we will add that the car burns 30 liters of diesel fuel per 100 km, but the fuel tank has a capacity of 670 liters. So if the lucky owner leaves Poland for Africa with a full tank of fuel and is headed across Europe towards Morocco, he should plan the next refueling only in Spain.
Sometimes it is better to get lost than to ask for directions too much. Aldous Huxley
Enjoyed reading this article? Share it!