What to ask before renting a motorhome?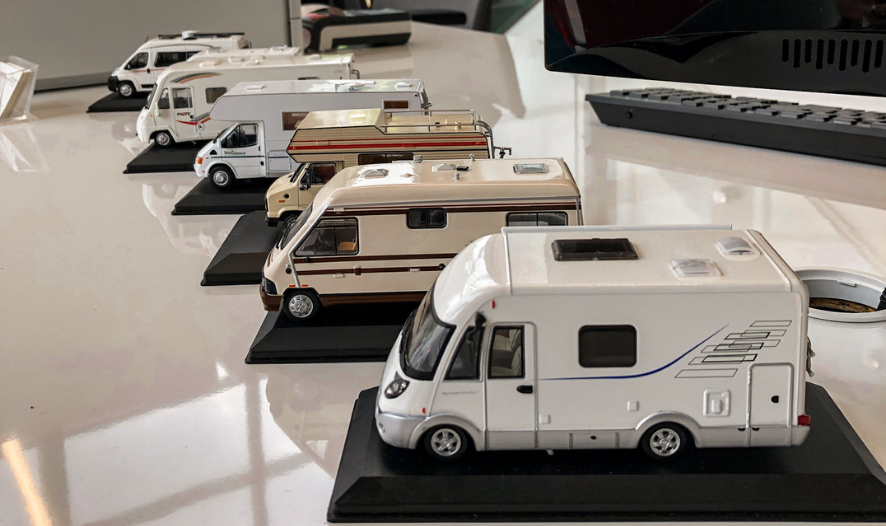 Are you confused already at the stage of browsing the rental offers? How much is it? Which camper should I choose? The offer of motorhomes, caravans and camper-vans is growing week by week, and the prices between the various rental companies vary greatly. So what do you have to pay attention to before signing a motorhome rental contract?
Basic camper equipment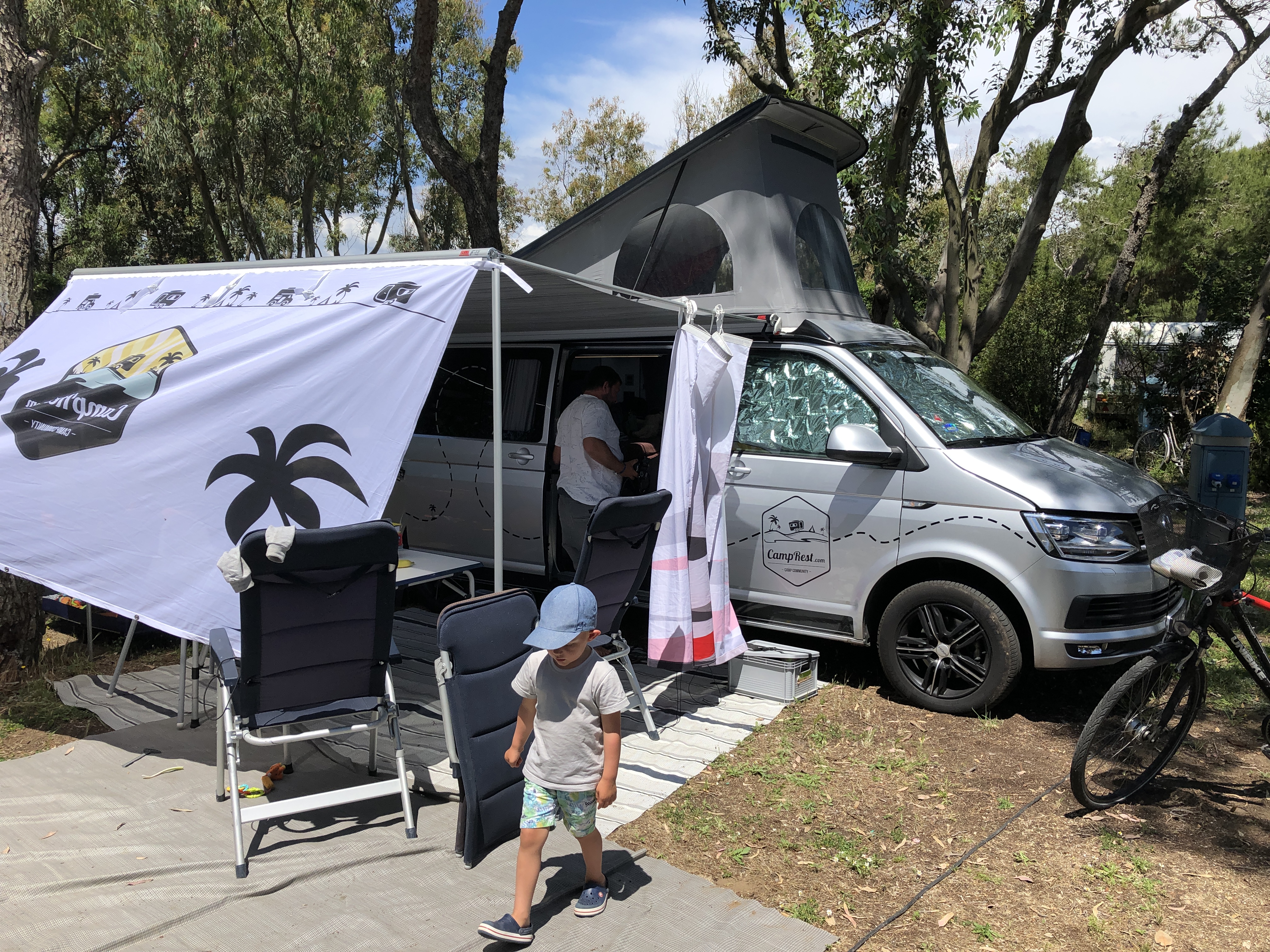 Different practices are used in different rental shops. The basic equipment for motorhomes will also differ. Some rentals provide complete equipment included in the rental price, in others you have to pay for all additional items.
Ask about these things before signing the lease:
Camping chairs (to be set up in front of the camper).
Camping table (outdoor).
If the camper has an awning , then a storm belt and a hammer to drive the anchor from the storm belt must be mandatory (I do not recommend unfolding the awning if you do not have a storm belt).
Water hose .
Electric cable with all adapters to connect the camper to electricity (we have a 30 m cable with the possibility of connecting to an ordinary 230 V socket and to the CEE socket , which is found on most campsites in Europe).
Dishes (pots, plates, cups, cutlery).
A bowl (or a bucket) that allows you to take the dishes out of the motorhome to wash them in the washing room at the campsite (the dishes can be washed in the campground, but sometimes it may run out of water and then you have to move these dishes somehow).
Mat (carpet) in front of the camper - thanks to this, so much dirt is not applied to the camper and it is simply nicer.
Leveling ramps .
See what else we are taking camping: RV holidays - what to take?
Camper service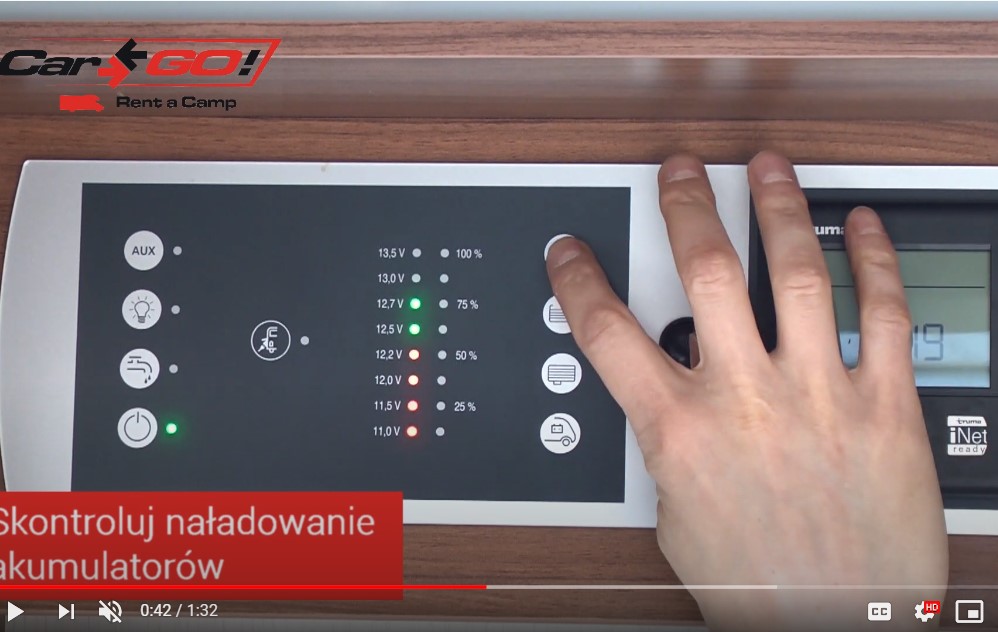 When renting a motorhome, you will be trained in all its operation. You will learn how to operate the control panel to control the water pump, heating and battery power, how to empty the dirty water tank, how to remove and empty the chemical toilet cassette, etc. But if you want to be sure that you did not miss anything, read the notes below and ask before signing the contract.
Type of motorhome heating . If the heating is gas-fired, ask how many gas cylinders will fit in the car and whether this number will be enough for your entire trip. If the heating is gas, is the camper equipped with a duo-control system that allows for automatic change of gas cylinders? If so, you will avoid a situation where in the middle of the night you will have to get out of the camper to manually reattach the cylinders.
How much does a camper weigh with a full tank of fuel and water and what is its permissible total weight (GVW)? This is very important, because thanks to this you will know how many kilograms you can still pack.
What is the capacity of the water tanks? Especially when you are going to spend the night in the wild, it is important to know how many days you have enough water.
How much does it cost to rent a motorhome ? In addition to the rental price per night, additional costs may be added, e.g. insurance or cleaning.
Is there a service fee (initial) and what exactly does it include.
How much is the advance payment and when do I have to pay the rest of the amount?
What happens if your camper crashes and breaks down before your rental?
When exactly will the camper be picked up? Remember that packing takes a long time. Plan for a minimum of half a day or even a full day for this.
How long does it take to release a camper ? Take your time with the pickup, let yourself be trained and familiarize yourself with the camper before departure.
Is there air conditioning in the camper?
Does the camper have " solar panels" (solar panels) and how long can electricity last?
Will the camper have a bicycle rack ? If so, for how many bikes?
Do you need to have a rental agreement with you throughout the trip?
What is the fuel consumption of the car ?
Can I take my dog on board?
See where exactly is the fuel filler and clean water filler. You won't believe how many times we've heard from camper rentals that their customers have poured fuel into the clean water tank.
Payment for service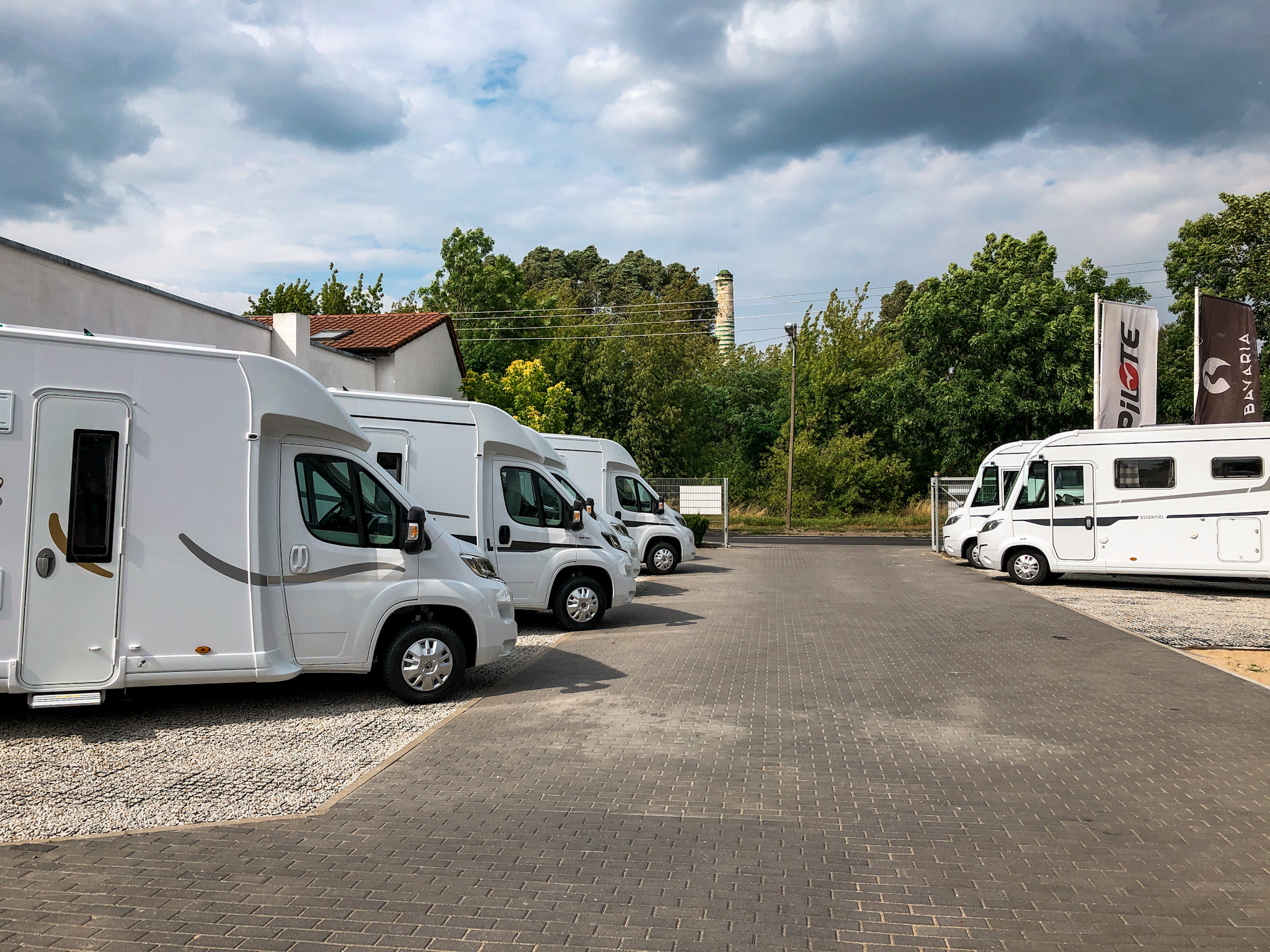 Most rental companies charge it when signing the contract. What is it about? Does anyone want to stretch you on something and why is this amount not simply included in the rental price? Well, no - nobody wants to cheat you and charge you for additional costs. It is simply difficult to include this amount in the rental price, because it is fixed and independent of the period for which we rent a motorhome. I'm already explaining what's going on. Let's assume that you rent a camper for the whole week and pay for it 3500 PLN. Let's assume that the rental company charges a service fee of PLN 350, which is about PLN 50 per day. If the same camper was rented for the weekend for PLN 1000 and would have to pay an additional PLN 50 per day, i.e. PLN 100 in total as part of the service fee, this amount would not cover the costs related to the service. You need to remember that the cleaning that needs to be done after renting is the same, regardless of whether the camper is rented for 2 days or for 2 weeks.
What is included in the camper service after renting?
Washing the vehicle from the outside.
Cleaning and washing agent.
Chemical toilet emptying.
Emptying the gray water tank.
Refilling the fresh water tank.
Gas cylinder filling.
Possible cleaning of upholstery and others.
Do you want to avoid or reduce the service fee? Just ask the rental company what solutions it offers.
Restrictions and Limits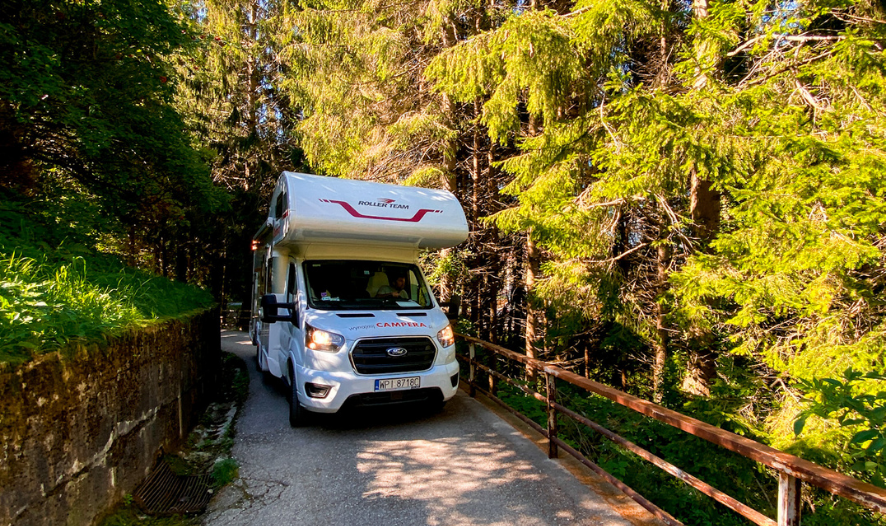 Ask if the rental company has age limits for the driver ? It happens that the rental company reserves that the motorhome may not be driven by a person under 25 years of age, and sometimes also by one who received the driving license less than 2 years before the rental date.
Ask if the rental company has a limit of kilometers that you can drive during, for example, a week. Sometimes it is, for example, 2000 km or 3000 km, so if you are traveling from the south of Poland, you will easily get to Croatia and back, but you will be charged an additional fee for the further journey according to the price list.
It is also important where you can go camper . If you want to travel within the European Union, the number of kilometers you can travel may be your only limitation. But some rental companies will prohibit you from going to Ukraine, Russia or Moldova. Not only the territories of different countries will be a limitation for you. Most companies will also prohibit you from entering mass events with a camper. All this is related to the insurance that the rental companies have for their vehicles and the safety of the vehicles.
A practical guide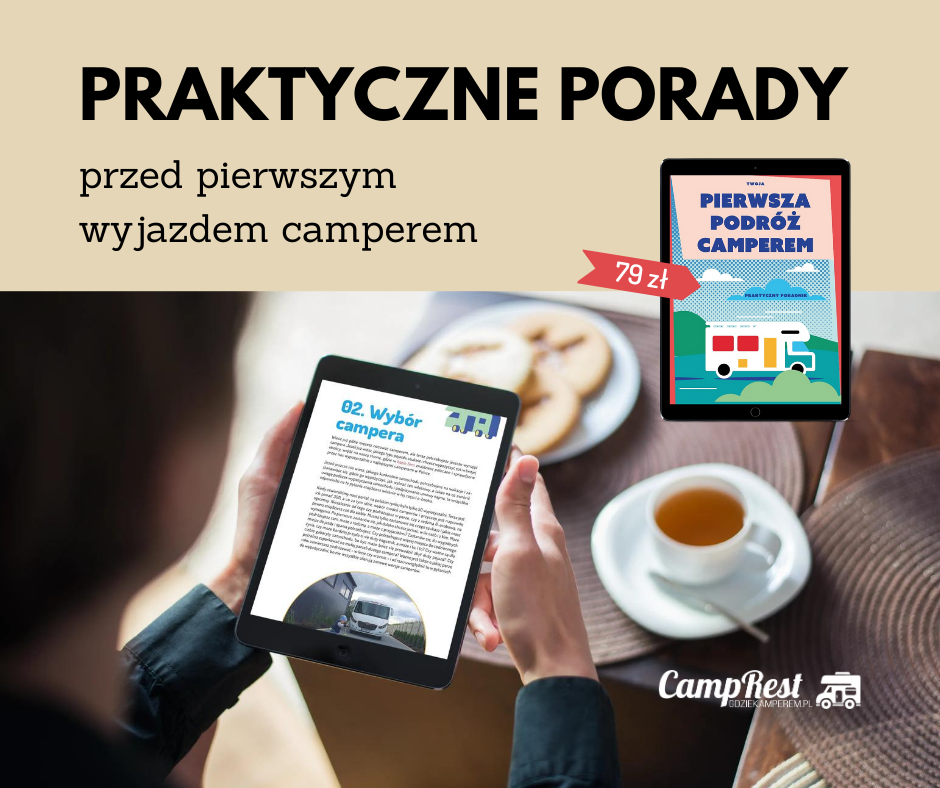 We've covered more of these practical tips in our e-book : Your First Camper Trip . Here you will find all the practical information you need to go on your first camper trip - even if you have never slept (or slept) on a campground before. The e-book also includes basic information on how to travel with a trailer. However, we focused mainly on traveling by motorhome, because it is camping cars that you most often choose as a means of transport for your first caravanning holidays.
We wrote this e-book to dispel all your doubts about caravanning . There you will find answers to all your questions, from how and where to rent a motorhome, how not to fall for cheap rental offers and what to ask before signing the contract, how to plan a trip, what accommodation to choose, to the most important, practical information on what to do in the camper after arriving at the campsite or other stopping place. I will teach you how to plan your trip on the example of a route that we have traveled ourselves. You will also find a whole chapter on how to travel cheaper.
The last two chapters of the e-book are the answers to the most common questions and concerns you may have before renting a camper for the first time. I answer all and debunk myths. The Q&A chapter (questions and answers) is our subjective ideas and tips for traveling.
Additionally, in the e-book you will find checklists thanks to which you will pack for your vacation and you will not forget anything, as well as timelines, thanks to which you will remember what and when you need to do before departure.
All information is the result of our own experience. It is not the only and right way of carvaning. Everyone likes to spend their holidays differently and I think it is exactly the same with camping holidays. However, we hope to help you at the beginning of this amazing adventure of traveling with a camper or a caravan.
We have created the CampRest portal for people who value freedom and travel on their own.
Enjoyed reading this article? Share it!