What's new at Rapido in 2023?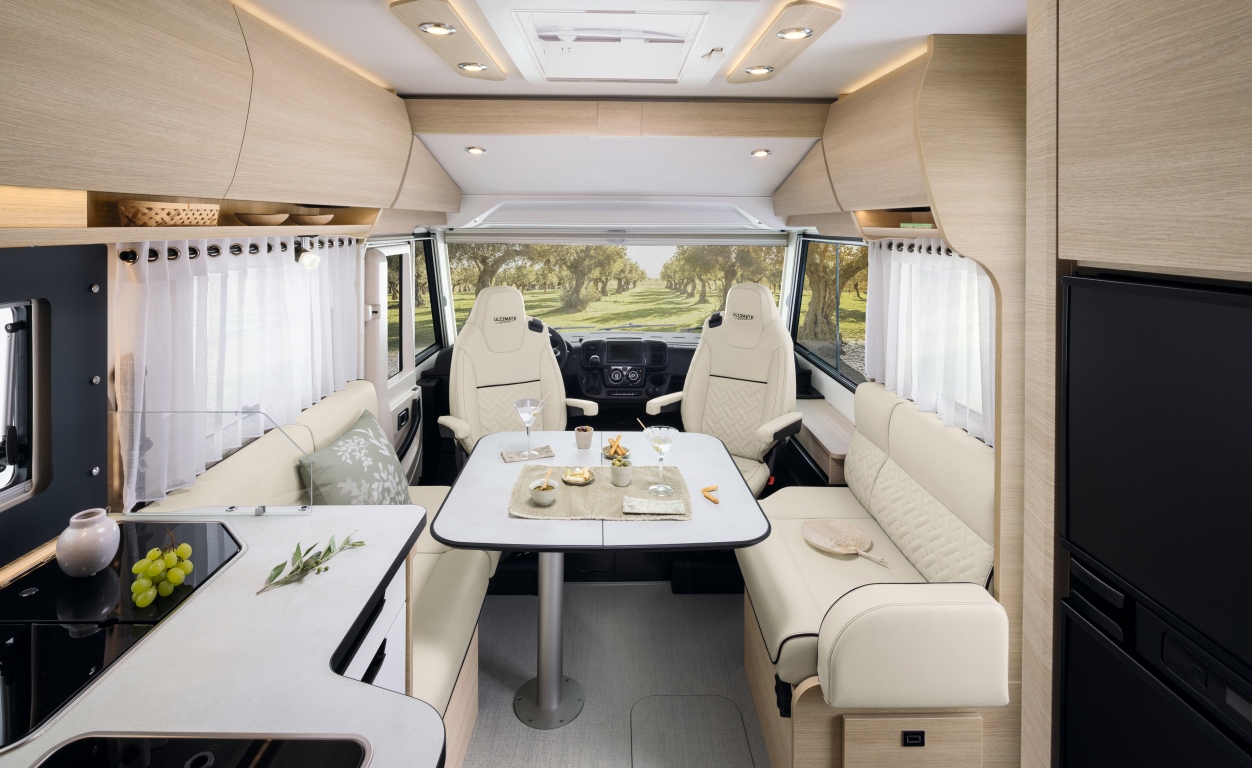 Changes and improvements to the French manufacturer's motorhome models do not have a revolutionary dimension in the upcoming season, but it is worth highlighting a few visual and functional modifications, as well as getting to know the limited series of vehicles with extremely rich equipment. We invite you to read!

Rapido, as a brand aspiring to become a premium manufacturer, has been delighting with its modern design, top-notch constructions and... refined furniture style for many years. The latter aspect is "cut" like a diamond in each subsequent collection. Minimalist, elegant and, despite the vehicles' South European origin, truly "Scandinavian" design and modernity are impressive. In the Luceo color combination, bright, matte fronts with a wood texture and contrasting elements in black (e.g. table edges, panels behind the cookers) combined with a well-thought-out play of lights clearly show that quality is not spared here. Of course, instead of the Luceo composition, customers (except the Distinction series) can choose the classic and unflaggingly popular Nacarat composition at no extra charge.
Rapido - news and changes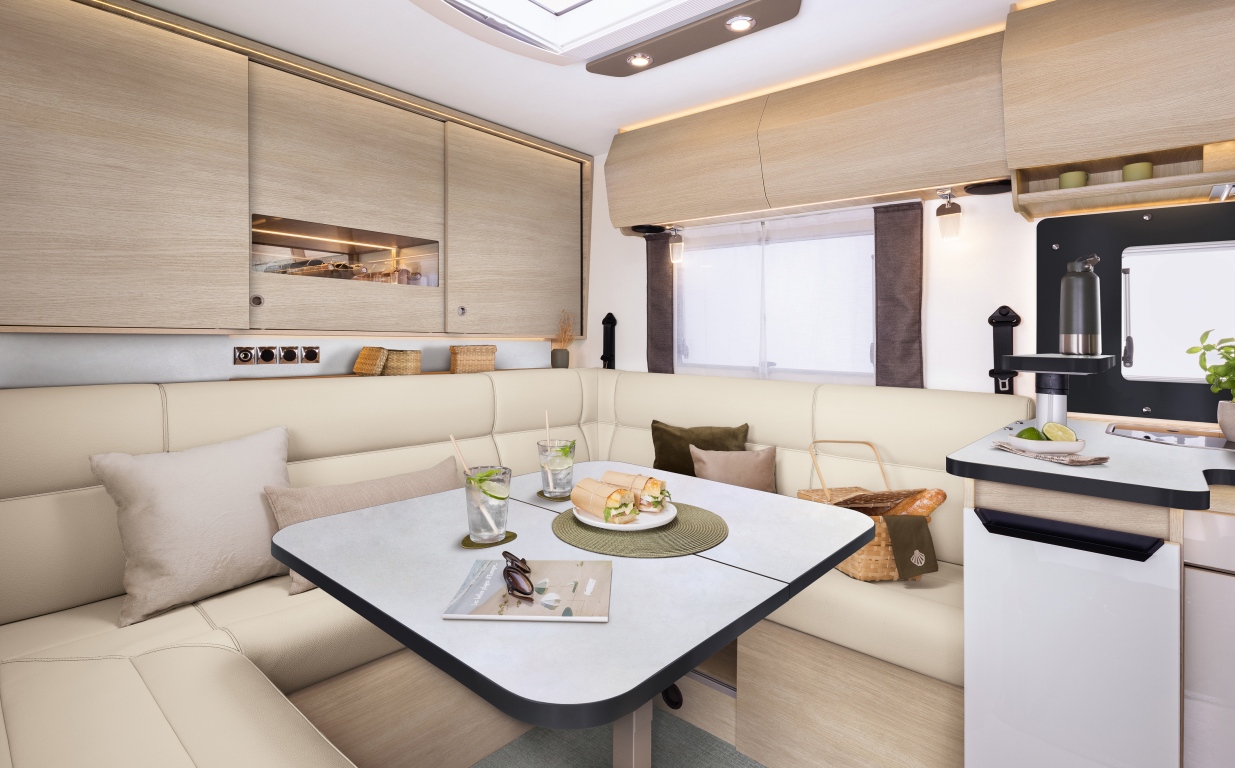 On the Rapido 8F and 80dF models, the matte black grille of the front bonnet adds a predatory character. In addition, black and matte color accents perfectly match the white exterior walls. The relatively recently introduced model 854F with a salon in the rear of the vehicle received a real U-shaped bench seat, an electrically lowered bed and a shelf with a passenger seat.
In the Rapido C50 model, i.e. the most compact semi-integrated bed with a centrally located French bed, an adjustable mattress grate is used - the raised headboard allows you to move the entire bed slightly more towards the rear wall - in such a compact vehicle, this translates into additional living space during the day - a solution definitely a plus. The C-series, 6F-series and campervans are "changing" to another base vehicle - it will be the Peugeot Boxer. Only customers ordering the variant with automatic transmission will have access to the Fiat Ducato.
Ultimate Line – an attractive package of benefits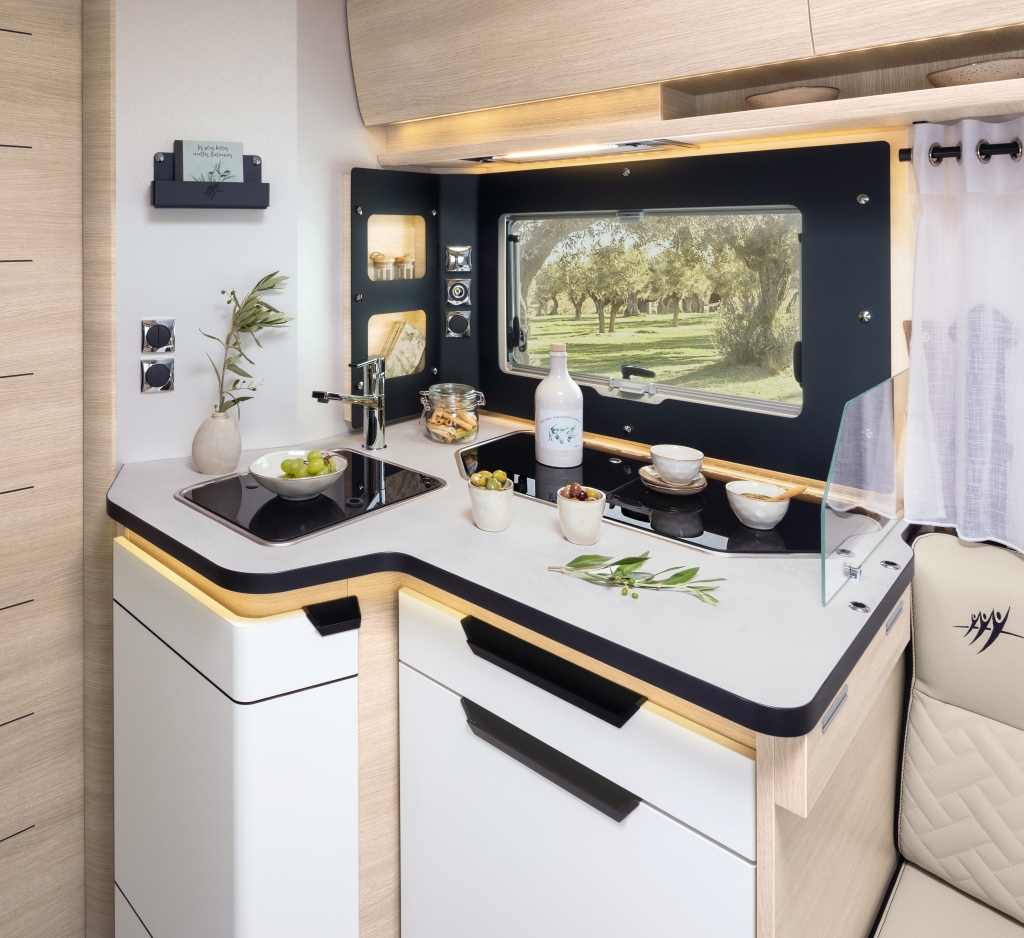 Traditionally, Rapido includes a series of models with the designation "Ultimate Line" (some systems will be available only in this version). In the upcoming season, the package of benefits will include, among others, a heated table leg (integrated, does not apply to height-adjustable tables), an integrated vacuum cleaner, a Truma 6EH heating system (electric and gas), an insulated and heated gray water tank, dimmers to obtain a wide spectrum of scenes lighting in the living room and bedroom, as well as numerous exterior and interior accents with the emblem of the series and 16-inch alloy wheels. Noteworthy is also the pleasant to the touch and easy to maintain TEP upholstery - a fabric with a layer of polyamide.
The bathroom looks elegant and almost magical - a wall decor made of wood in a yacht style, a white shower tray with a black, matte insert, a back-lit shower column in brushed aluminum colors, a magnetically closed shower cabin door with a black, matte frame. As part of the Ultimate Line, 2 semi-integrated vehicles will be available - 666F and 696F, as well as five integrated motorhomes (8066dF, 8096dF, i66, i96 and i190 respectively).
Summary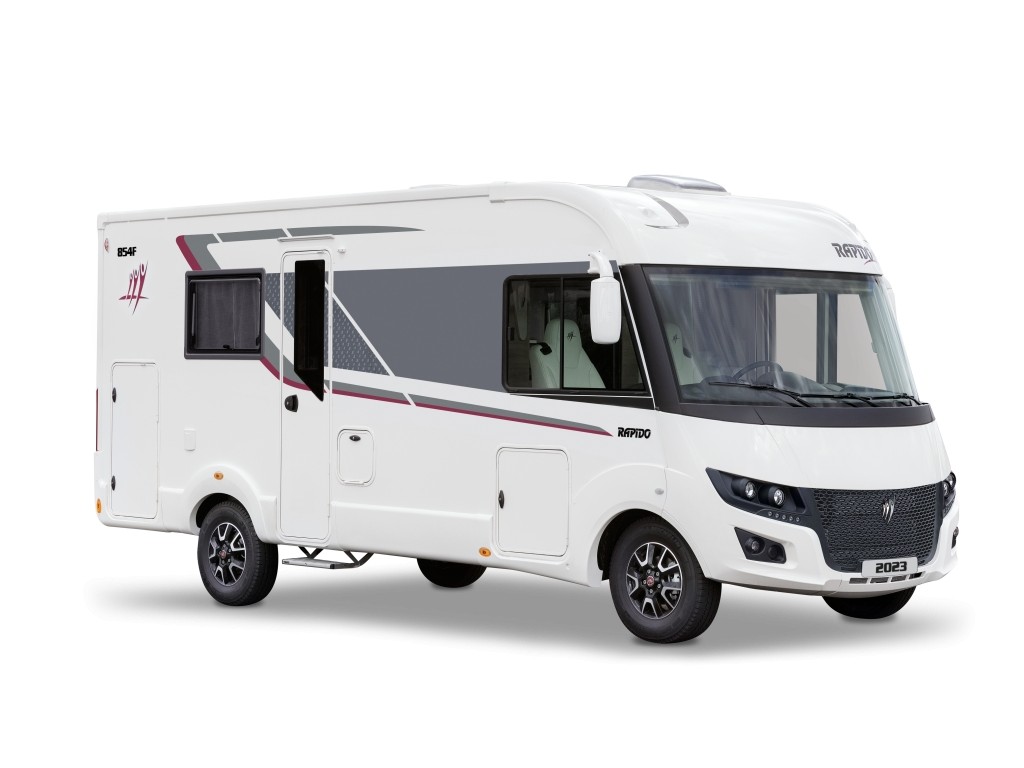 In the 2023 collection, Rapido focused on polishing existing models, resigning from revolutionary changes. It's hard to accuse the manufacturer of this - even campervans will benefit from the refined interiors and colors. Rapido revised the selection of models and layouts and gave up a few that were slightly less popular. Such changes will certainly help to optimize production processes. If you would like to learn more or see Rapido motorhomes live, the official representatives of the Rapido group invite you to contact:
CamelCamp - Camel Camp company from Poznań
m-Camp – the m-Camp company from Dzierżoniów
In addition to the sale of Rapido vehicles, both dealers also run authorized brand services.
gallery
I feel best in the form of trade fairs and meetings with enthusiasts. Technical freak. In my life I have dismantled many motorhomes for the first time. Fan of large vehicles, mountain biking and traveling without weight and financial restrictions. At CampRest, I am responsible for all publications on automotive topics.
Enjoyed reading this article? Share it!