Wide Path Camper - a trailer small but smart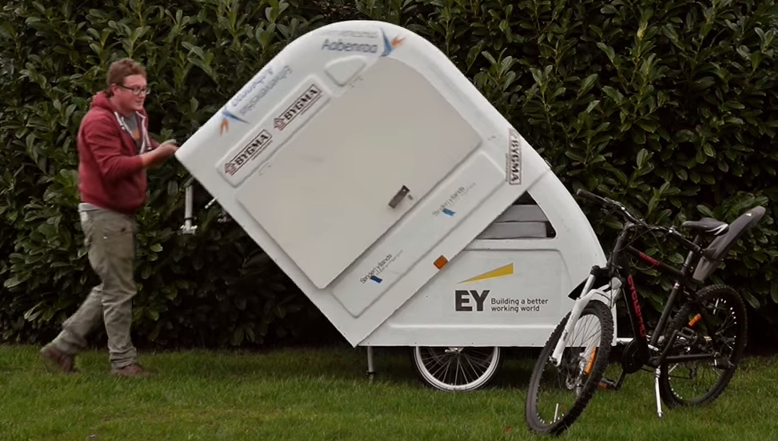 Can you take… a trailer with you for a bike ride? Yes, of course! The trailer by Wide Path Camper is small, light and can be easily pulled by a bicycle.
This caravan is so small that in terms of comfort and equipment it will not compete with any full-size caravan. However, it has other advantages, and those who like to take long bicycle trips will appreciate them.
A trailer instead of a tent
It is certainly more comfortable to travel without such ballast than with it, but how else can you take a place to sleep with you? If we are going to go camping by bike, then we also have to put the luggage and the tent somewhere, so still - even a small trailer could be useful.
In such a situation, choosing the Wide Path will prove to be very sensible. We can put all the necessary things into the trailer, and most importantly - we get a hard roof over our heads , which will protect us better than a tent against cold, rain and wind.
Connecting the trailer to the bicycle takes three minutes. While driving, it remains folded to a length of 1.5 m , so pulling it should not be too burdensome. We unfold it only at the stop and then we can use its equipment.
The most important element in the interior is, of course, the bed - not tiny at all. Dimensions of 90 x 200 cm should (usually) be sufficient for two adults. The overall dimensions of the trailer after unfolding are 280 x 99 cm . The height of the interior is 145 cm.
But not only the bed will fit in the trailer! There are about 300 liters of storage space under it, and there is also space for a table and seats for four people inside the vehicle. So you can sit comfortably with your meal and not worry about e.g. rain falling outside. What about cooking? Cooking something delicious is also possible, but the kitchen set should be placed outside the trailer.
The weight of the trailer should be about 45 kg , although we do not yet have data on a slightly modernized model for 2017. You should also find out about prices individually - when the vehicle was about to go into production (2015), its price was estimated at $ 2,170 (in USA) and 2,000 euros (in Europe).
Roo for the car
For those who prefer to tow a caravan, the manufacturer has also prepared another model - My Homie . In this case, also, do not expect a giant. The trailer weighs 200 kg and its load capacity is 300 kg .
The interior of the cabin is basically the same as in the bicycle trailer. The method of folding the trailer is slightly different, the chassis is also different - adapted not only to forest paths, but also to express roads.
MyHomie prices start at $ 7,245 (in the US) and EUR 6,500 (in Europe). We can buy, among others solar panels , a foam mattress (better than the standard one), or a kitchen set (including a refrigerator and an 8-liter water tank).
And a curiosity - although the Wild Path Camper is geared more towards the American market, it is a European brand. It is based in Denmark .
Sometimes it is better to get lost than to ask for directions too much. Aldous Huxley
Enjoyed reading this article? Share it!