Wingamm Micros motorhome - Volkswagen in Italian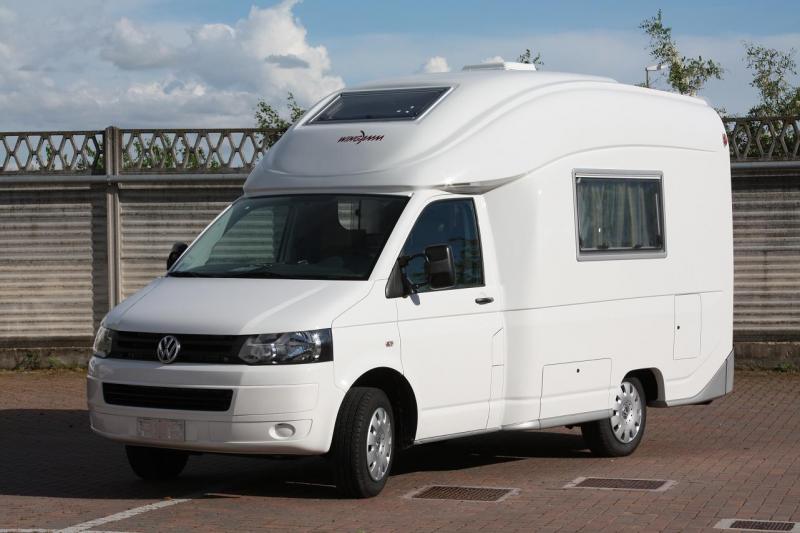 A motorhome with a length of 5.30 meters with full equipment? Wingamm Micros is just such a vehicle - small, well-equipped, and at the same time based on the Volkswagen T5.
Volkswagen T5 is rarely used as a base for motorhomes. It may be even more surprising that while most European companies choose Fiat Ducato, an Italian company has chosen Volkswagen!
In one piece
And Italians - you know, aesthetes. Therefore, before we start assessing the functionality of Micros, we must admit that the car looks quite attractive. The GFK body is neatly matched to the rest of the vehicle.
The entire camping part of the body is made as one cast , which guarantees tightness and stability. For this, polyurethane foam insulation was used. The doors leading to the seating area are equipped with original Volkswagen handles and locks - thanks to this, the central locking allows you to open all doors.
Outside, there is a gas cylinder compartment - the door leading to it also fits very well with the whole; they do not seem to be forcibly attached. Additional storage was placed in ... the rear bumper .
A bit of technique
The Wingamm Micros is offered with a 2.0 liter, 140 HP TDI engine and a DSG dual clutch gearbox. Thanks to this, the car is distinguished by flexibility and dynamics, although unfortunately it can be fuel-consuming. Even when driving slowly, you have to take into account fuel consumption of approx. 9.5 l / 100 km.
2, 3 or 4 people can travel in the car. The permissible total weight is 3,200 kg , and the permissible load is 540 kg.
Two hotplates, two beds
Aesthetics is a matter of taste, but in my opinion, the interior of Wingamma Micros is better than many German motorhomes. The combination of smooth, white surfaces with wooden fronts creates an interesting composition.
The sink is made as a hole in the worktop made of GRP. A gas stove is in the form of two - independent burners . We even managed to find a relatively large table top for preparing dishes. The kitchen, taking into account the dimensions of the entire motorhome, is exceptionally large, but the refrigerator itself has only 60 liters of capacity .
The main bed (1970 x 1340 mm) is suspended from the ceiling. In order to lie on it, you have to lower it. In such a situation, moving around the motorhome may be difficult, but you can still use the kitchen or one of the sofas at the table. The dining corner can also be converted into a bed (1900 x 1200 mm).
Although the motorhome is small, there is room for a bathroom with a window . Shower, washbasin, chemical toilet - maybe tight, but everything necessary in a modern motorhome is there.
Much in a small
When buying a Microsa, we can expect that the equipment will include a heated floor, an electronic control panel, a 90-liter heated waste water tank and a 100-liter, also heated, fresh water tank. Large LED lamps on the ceiling can make an impression.
Actually, this motorhome can amaze many people. The space that we managed to find in this seemingly small vehicle is amazing. If we add above-average aesthetics and a well-thought-out interior layout, it turns out that this Italian motorhome really is worth attention. The car costs less than 68,000 in Germany. euro .
Sometimes it is better to get lost than to ask for directions too much. Aldous Huxley
Enjoyed reading this article? Share it!