ZENEC Z-E3766 - media station and navigation for a motorhome (TEST)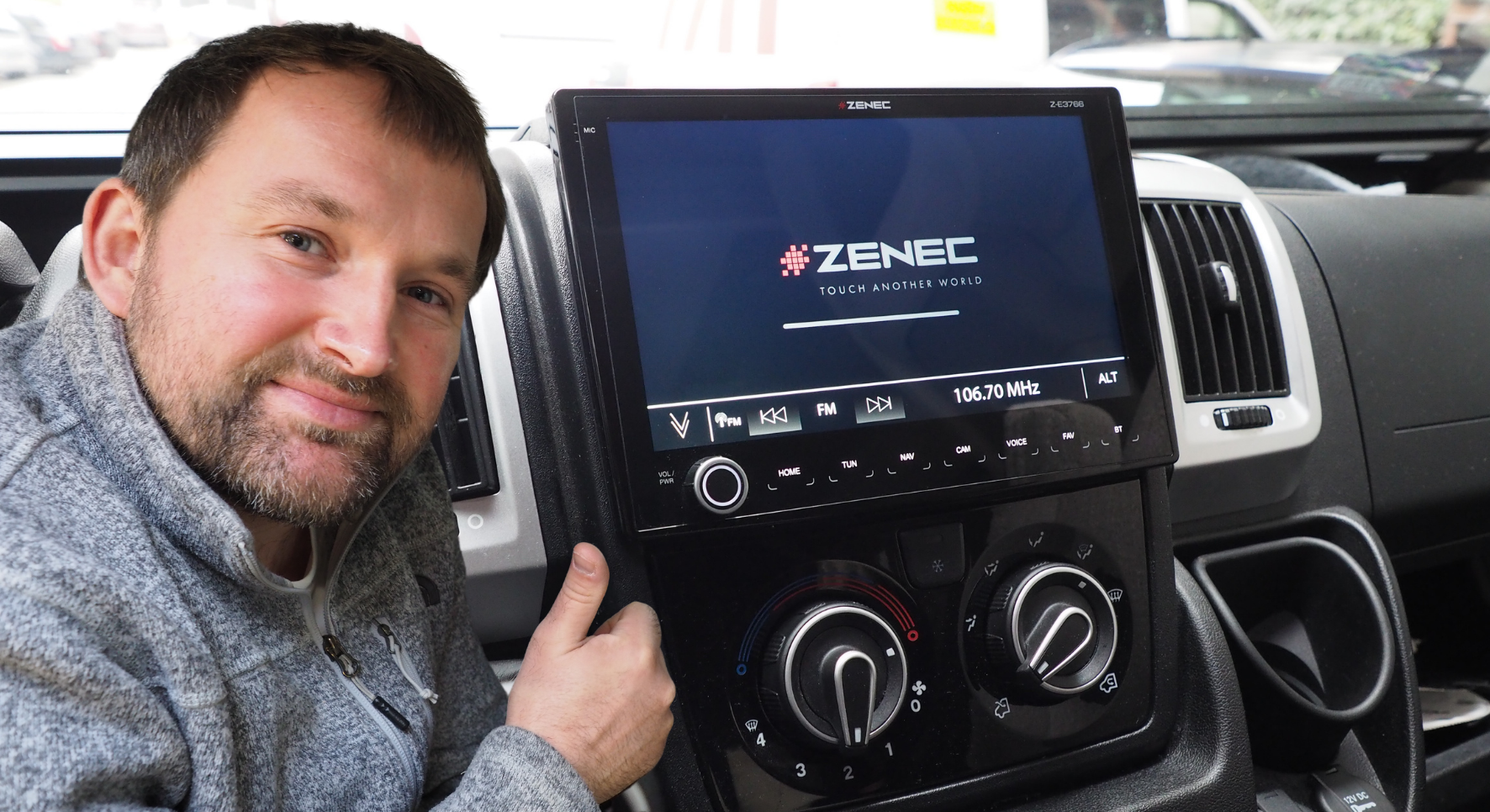 For half a year in our editorial, test motorhome Pilote based on Fiat Ducato, we have been testing the ZENEC device with perfectly matched accessories. In this material, it's time to talk about the possibilities of the equipment and our impressions related to its use.
The Z-E3766 model from the E> GO PRIME series is a device designed especially for Fiat Ducato III, Citroen Jumper II and Peugeot Boxer II vehicles. It fits perfectly into the dashboard of the car and is operated via a sensitive 9 "/ 22.9 cm real glass touchscreen . Considering that the above-mentioned models of delivery vans are old, rustic structures, the use of a combine with a large screen and wide communication, navigation and multimedia possibilities will certainly make the cockpit more attractive.
Android Auto and Apple CarPlay
The Z-E3766 guarantees simple and safe use of a smartphone in the car. Via the USB port, it is possible to connect the phone directly to the media station - the device is fully compliant with the Apple CarPlay and Google Android Auto standards.
Making calls, navigating, sending and receiving messages or simply playing multimedia - all supported functions are controlled via Apple Siri, Google's voice assistant or the touchscreen. Of course, the device is also equipped with a Bluetooth hands-free mode with an echo cancellation system and DSP filters. In addition, even with wireless communication with the phone, we can easily navigate through contacts, create favorite lists and view the phone status on the screen.
You do not need a remote control for the Zenec station - we can regulate everything from the phone. The screen shows the volume level, name of the song or the current radio station. This solution is especially useful for remote volume control or switching the sound source between zones, e.g. when we are at the rear of the vehicle.
Radio all over Europe, multimedia without limits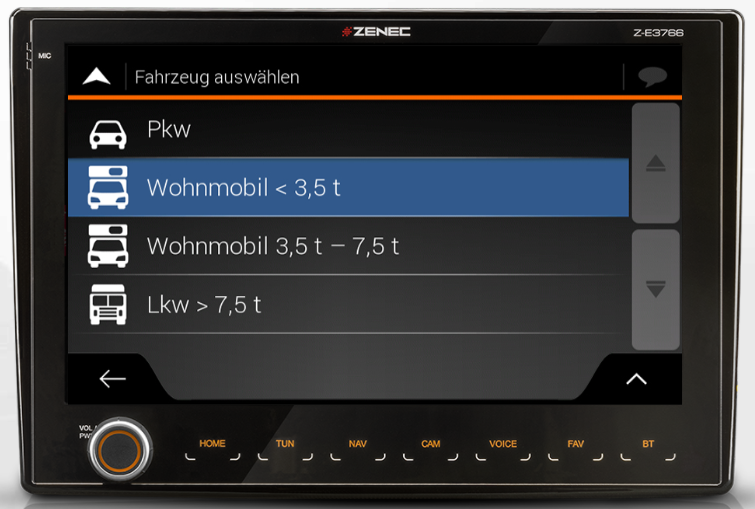 The integrated dual-band DAB + tuner convinces with crystal clear sound and a dynamic station list, and is also equipped with convenient functions such as MOT slide show, DLS-Text as well as automatic switching from DAB to FM and vice versa. A powerful radio receiver with RDS will ensure proper reception of the signal wherever the DAB + network does not have adequate coverage.
The device supports the playback of the most recent audio and video formats from a USB source via USB 2.0. A convenient and worth emphasizing functionality is the ability to connect and control up to 3 camera systems, including adjustable auxiliary lines and support for a microphone associated with the camera.
The Source mode allows for wireless transmission from the Z-E3766 device to external Bluetooth speakers or headphones - this way you can listen to music, e.g. outside the vehicle. Another important feature is the M-ZONE mode , which allows you to simultaneously play multimedia from different sources in different zones of the vehicle (e.g. TV picture and sound in the front, and FM / DAB + radio in the rear). It should be emphasized that few media stations have such extensive functions in this area.
Of course, the device can be connected to multifunctional steering wheels and individual buttons can be programmed.
Device and navigation available separately

Important from the point of view of the potential customer and user is the concept of the package itself - when buying a device, we can choose 2 types of navigation software packages (it is NOT supplied with the device). Two navigation software packages are available for the Z-E3766. The Z-EMAP66-MH3 map variant offers a 3-year free map update period, while the Z-EMAP66-MH7 has a 7-year update period. Both navigation packages include maps of 47 countries, an integrated database of 20,000 campsites and motorhome parking spaces, and an additional 6.5 million POIs. Thanks to predefined vehicle profiles, regardless of its dimensions, we can effectively plan each route, avoiding too low journeys, tonnage limitations and other surprises.
Plug & Play speakers from Emphaser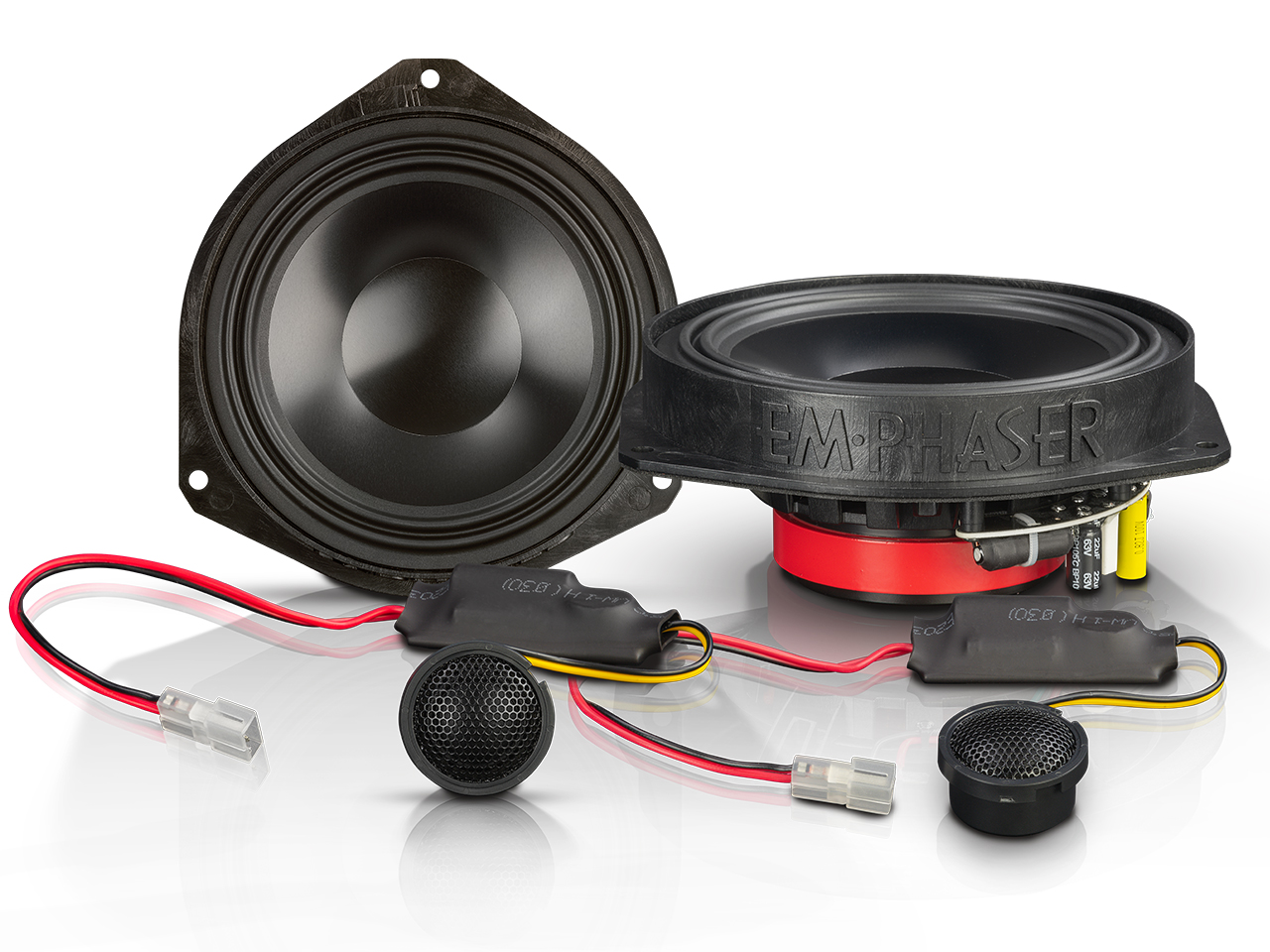 What I am very happy about are the two-way EM-FTF2 speakers from the Emphaser brand . These speakers are distinguished by a very simple Plug & Play assembly, as they are dedicated to Fiat Ducato cars. The sound quality is very good and the system can be extended with an additional subwoofer, which is mounted under the cup holders in the Ducato.
The Emphaser company specializes in the production of loudspeakers for various cars, but most importantly for caravanners - it has ready Plug & Play sets for virtually every chassis used in the construction of motorhomes.
What we like:
Perfect navigation
Great communication with smartphones
Very rich multimedia functions, multimedia playback in different zones
Advanced equalizer allows you to fine-tune the sound to individual preferences AND adjust the sound delay for individual speakers.
Great quality of the screen and the image displayed on it
Easy to install and update maps - just remove the memory card, update on your computer and put it back in the device
During navigation, we are informed about the speed limit applicable on the road section
Remote control via telephone possible
Navigation helps you avoid height and tonnage restrictions based on your vehicle settings
Excellent sound quality - especially in combination with installed Emphaser speakers, which are also available from Zenec distributors - their manufacturer also offers dedicated kits for Fiat Ducato or Ford Transit with an easy-to-install Plug & Play standard http://www.emphaser.com / products / upgrade-systems-for-fiat-and-vw / em-ftf2 /? lang = en
What we like less:
Charges a bit slowly when starting - this is especially important when I want to quickly use the rear view camera after starting the engine and the radio was turned off
Typing addresses into navigation could be faster, but you get used to it
The buttons under the screen - take some getting used to - in our opinion, it would be better if they were mechanical rather than tactile - you need to focus hard to hit the right one while driving, as they are quite small
A Swiss harvester that inspires respect
Zenec is a device developed down to the smallest detail by a Swiss specialist company and is definitely worth recommending. In fact, it is difficult to indicate a worthy competitor in the segment of dedicated devices for motorhomes. Powerful multimedia possibilities convinced us in no time. After completing the combine with navigation maps, we had no doubt that it was the perfect travel assistant. When you add to this the sound quality offered by the device working in tandem with dedicated speakers, no discerning music lover will pass by this beast indifferently. The only shortcomings related to delays are probably the delays in communication and reading data from the memory card. As we mentioned at the beginning, the station looks great in every cockpit. The awards regularly granted to the brand for new devices confirm that Zenec is unbeatable in its category.
Zenec navigation and Emphaser loudspeakers can be found at the leading caravan dealers in Poland, that is:
CarGO! From Poznan
ACK Benimar from Kędzierzyn Koźle
Transa-M from Pszczyna
Elcamp RV from Krakow
I feel best in the form of trade fairs and meetings with enthusiasts. Technical freak. In my life I have dismantled many motorhomes for the first time. Fan of large vehicles, mountain biking and traveling without weight and financial restrictions. At CampRest, I am responsible for all publications on automotive topics.
Enjoyed reading this article? Share it!