Bertram Weiss - a reliable business partner in the caravanning industry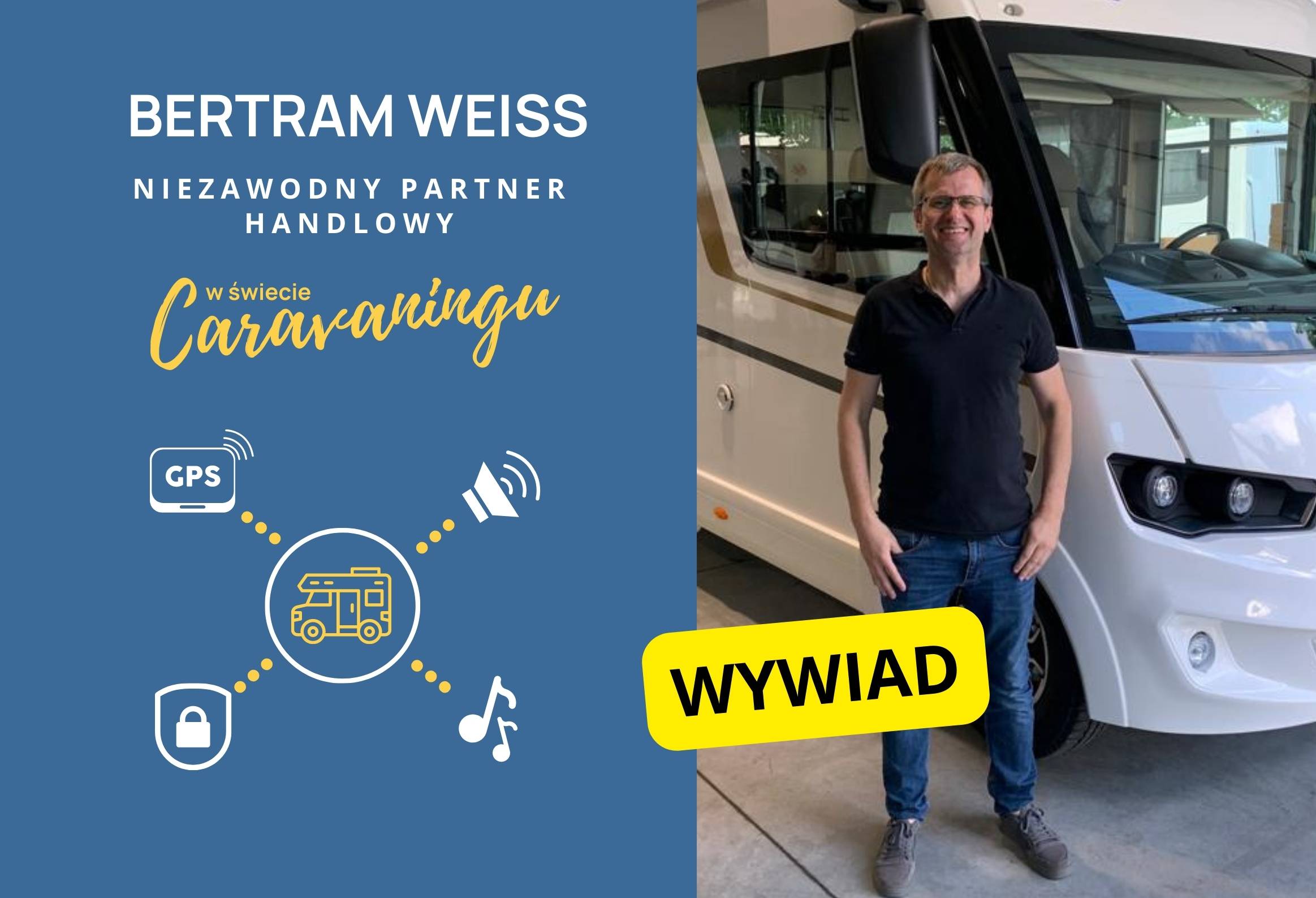 Bertram, we met a few years ago at a camping fair in Poland. You are German, you work in the Czech branch of a Swiss company and you take care of the Polish market... It's a rather unusual combination - can you tell us more about your background and professional experience?
Actually, I am a radio and television technician by education, but I have always been interested in car sound systems. In 1996, I moved to the Czech Republic because of my wife, and that same year I started working for ACR (ACR's brands include Zenec, Xzent, Emphaser, Axton and Eton - editor's note).
We are not a branch, but an independent company that decides about the products distributed. Over the years, we have added more countries and for about 6 years we have also been serving the Polish caravanning market, which we liked.
Your company has a great reputation as a specialist in RV navigation and car audio, and its products are used by discerning customers. Can you tell us more about the range you sell?
Generally speaking, we operate in the car audio and multimedia segment for "ordinary" cars, as well as for motorhomes. The scope of our offer can be divided into three areas: navigation with reversing cameras, sound system and alarm systems. It is very important to us to offer devices with practical functions, for example, in all our RV navigation systems you have the option to specify the dimensions of the RV, such as width, height and length, as well as the weight.
The navigation system then calculates the best route for you based on these parameters. In addition, our Xzent and Zenec products have been developed with specific vehicles in mind. This means that in our offer you can find dedicated models for Fiat Ducato and twin constructions, as well as for Ford Transit. Each of them is to be aesthetically adapted to the dashboard of a given car. We use many of our products ourselves, as we are also enthusiasts of the mobile lifestyle.
What, in your opinion, is a competitive advantage and makes you market leaders?
In fact, we not only know our products in detail, but also the vehicles in which they are installed. So we don't just sell products, we also sell our knowledge and skills so we can provide our dealers and customers with the best possible support. I dare say it's the best.
To answer your question - it almost never happens that we can't solve a problem within a few minutes . As a rule, the dealer calls us, asks a question and receives an answer right away. This is where I see the great difference between us and others.
Anyone can sell devices, but it is important that everything works, and if the dealer has a customer in front of him, he needs a solution right away, let's not say it in a week.
In recent years, there has been a lot of discussion in the motorhome industry about car audio and navigation - in this respect, you know most of the base vehicles like no other expert. Is there room for improvement with each manufacturer?
Yes, it is true that we know each other very well on virtually all platforms, we visit dealers, we attend every industry event, but we also help customers directly.
It is not easy to answer your question - unfortunately, we are aware that even the most expensive vehicles can have surprises. Regardless of the brand of motorhome, you should pay close attention to what multimedia/navigation devices and cameras are included and how they work.
We often travel 8 or more hours in a motorhome without a break and we don't want to be nervous that something will not work. Unfortunately, many manufacturers install budget, average quality speakers, and this does not have a positive effect on the acoustic experience when listening to music.
I must admit that even my own wife was quite skeptical about the plans to replace the speakers in our RV. The effect, however, was so convincing that more and more often she asks me to "turn up" the potentiometer. We even sing together… <laughs>
Buying a car audio system for a motorhome - what kind of expenses should you count on and what can you expect from it?
Improving sound quality doesn't have to be associated with a large investment. If, for example, you own a Fiat Ducato 7 or 8 in VAN or semi-integrated versions, then a special plug & play system from Emphaser for around 270 Euro will work great, and the difference will be simply phenomenal.
We also often have customers who do not accept compromises and are looking for an "all inclusive" option. Such a complete set with small special Eton digital amplifiers, subwoofers under the cup holder etc. is about 1200 €, but we can expect great, even impressive sound in the motorhome.
Navigation has become an inseparable equipment of motorhomes. How do your products differ from other models on the market?
Our products are primarily focused on practical aspects. Not only me, but also colleagues-distributors from other countries are caravanning enthusiasts. We stay in constant contact and pass on our ideas and insights to the development department in Switzerland.
In this way, a new way of processing and transferring data was created - complete routes with many waypoints can be prepared on a computer, tablet or mobile phone, and then transferred from a mobile device to the Zenec navigation system with a single button.
The user no longer has to manually enter everything on the screen in the vehicle. Thanks to such facilities, planning routes and the journey itself can be fun, not a challenge.
How is the network of specialist dealers and garages developing in Poland and what can new partners expect from you?
The Polish market has really grown a lot in recent years and is now much larger than the Czech one – not necessarily so before. The dealer network is also developing very well and I can say that most of our resellers can also offer a decent level of service.
We are in very close contact with our dealers and support them so that they can offer their customers the best possible service. From the very beginning of cooperation, we give new partners access to our knowledge and necessary training.
We even check their orders for compliance. For example - if I notice components in the list that I know will not work together or will not bring the intended effect in a given configuration, then instead of sending the goods thoughtlessly, we will contact the customer, discuss the topic and modify the order together to make it make sense. After all, we want the installation to go smoothly.
Safety in the motorhome is a topical topic like never before. In your experience - what is the absolute minimum level of security equipment and what should be considered when choosing a campervan alarm ?
In my opinion, the absolute minimum is a gas alarm in the motorhome . Our entry-level model from Thitronik includes propane/butane and anesthetic gases, is inexpensive and easy to install. Thitronik is a German brand that actually still produces in Germany and gives a 3-year warranty on its products.
There is often a misconception that the subject of protection is a vehicle. I think you need to look at it differently. Regardless of what alarm system is installed - if the alarm goes off because someone is tampering with the vehicle, but there is no one around the camper at the moment, the alarm is unlikely to help us with anything, and the thief will leave with what he is looking.
Much more important should be the protection of people staying in the vehicle and staying overnight. There is probably no worse feeling than waking up in the morning and realizing that we had uninvited guests.
The scenario is mostly the same. First, narcotic gas is sprayed, and when it works - the robbers have a free hand. Therefore, the basic element should always be a gas alarm for a motorhome .
Of course - if you want the system to be more complex, you can also secure all doors, windows and service hatches around the vehicle - an alarm will be triggered when you try to open it. This significantly increases the sense of security for the driver and passengers. The operation of the entire system is very simple and does not require complicated configuration and technical knowledge related to operation.
Both Thitronik and Zenec products have proven themselves in recent years and it is clear that more and more customers are choosing them. What are your bestsellers in Poland and what innovations can we expect in the latest collections?
I don't want to go into details here, but in general I can say that RV navigation systems and car alarm systems sell very well. RV sound systems are still a relatively new area for us, but we are also seeing growing interest here.
Several new products will be launched over the next year. The Zenec company will present a new, multi-purpose media station with the possibility of connecting multiple cameras, a camera model adapted to it, as well as a Thitronik NFC module for contactless opening and closing of the vehicle.
There will also be a simplified version of the alarm system for caravans, also intended for self-assembly. I don't want to reveal details yet.
You have been an active traveler for some time. In the past, a motorhome did not seem to be "your fairy tale". What made you change your mindset or how did you convince yourself?
I didn't need much convincing. We just wanted to enjoy the all inclusive luxury of different hotels, but over time it was not enough for us and we wanted to see more of this world and experience it in a different way. The choice of a motorhome was natural due to the nature of my work.
Do you have any special memories related to Poland?
Of course. When asked a question like this, I immediately think about the fair in Poznań about 2 years ago. My motorhome was then parked among others in front of one of the halls, and one evening I was "jumping" from one motorhome to the next doing map updates and answering various questions.
Although I hardly speak Polish, we were able to communicate well mostly in Czech-Polish. I explained the useful functions of our devices to the rally participants and it was a very cheerful (but also drunk) evening. Probably more than one companion will recall this situation when he reads the above description.
What language do you use to communicate with your customers from Poland and how can you establish cooperation if you are still looking for business partners in our country?
I am fluent in German, Czech and English. And this is one of the reasons why I only work with companies that take care of individual customers. Usually, in every company, there is someone who speaks one of the above-mentioned languages, so there are no major problems with communication and training.
When it comes to searching for new business partners, I am of course always open to new contacts. If you are interested in working with me, please visit my website www.caravaningowieeksperci.pl , where you will find contact information.
The website is currently under construction, but soon there will be information about the products offered and direct contacts to all companies where the end customer can purchase and install all products from our distribution.
Bertram, thank you for the interview and one last question at the end: in which farthest country is the client you regularly serve?
Also thank you for the interview. The farthest company from the Czech Republic that I supply and support in technical matters is in New Zealand. We met about 5 years ago at a trade fair in Dusseldorf and we have been cooperating continuously to this day.
I feel best in the form of trade fairs and meetings with enthusiasts. Technical freak. In my life I have dismantled many motorhomes for the first time. Fan of large vehicles, mountain biking and traveling without weight and financial restrictions. At CampRest, I am responsible for all publications on automotive topics.
Enjoyed reading this article? Share it!