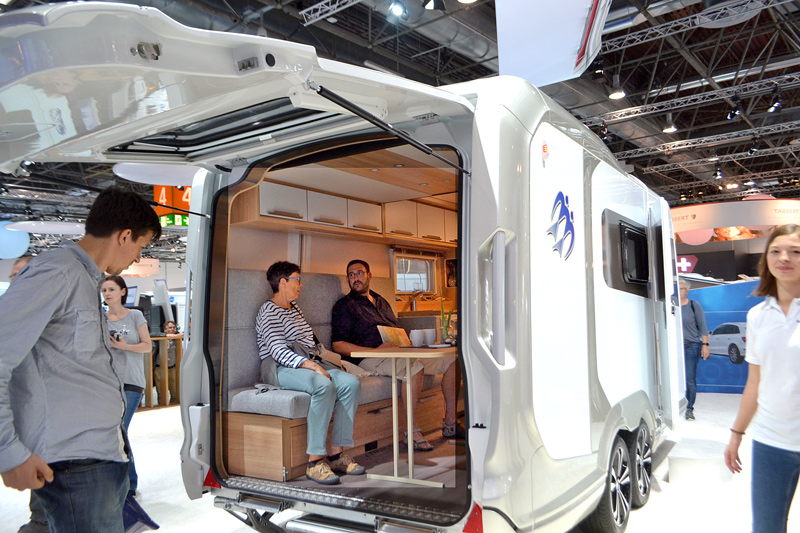 Caravan Salon 2017 is behind us - the fair in Düsseldorf, during which you could see almost the entire caravanning offer available on the German market. Although the number of motorhomes and accessories could make you dizzy, we managed to pick out a few trends that combined the proposals of various exhibitors.
1. Return of the alcove
A year or two ago, while browsing catalogs and manufacturers' websites, you could notice a retreat from camper vans with an alcove. But vehicles that have an added recess for a mattress above the driver's cab are now making a comeback again, with the alcove itself changing its shape . Its front can be rounded, flattened, finely trimmed, which makes the alcove itself a distinguishing feature or even a decoration for a vehicle of a given brand.
The cheapest campers are often equipped with an alcove. A camper with an alcove at the fair could be bought for less than 35 thousand. Euro , which turns out to be a low price, if we take into account that even much smaller camper vans, as well as semi-integrated campers with a low roof were available at prices from 40 thousand. euro up. The alcove remains a reasonable proposition for people who want to have as much space as possible at the lowest possible price. And who do not mind the higher vehicle height.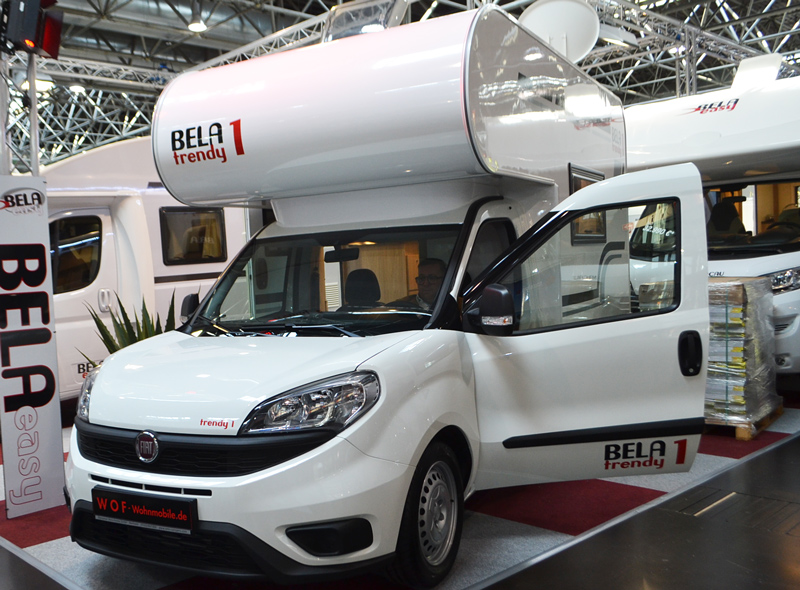 2. Sliding walls
Imagine a motorhome that is small and compact while driving, but becomes big and spacious when parked. Or, don't imagine. Just look at motorhomes like the Adria Compact - with a retractable rear wall, or at an expedition motorhome like the Protec . Even a huge liner like the Concorde can be enlarged even further thanks to retractable walls. For example, Lunar suggested the rear sliding wall in the van!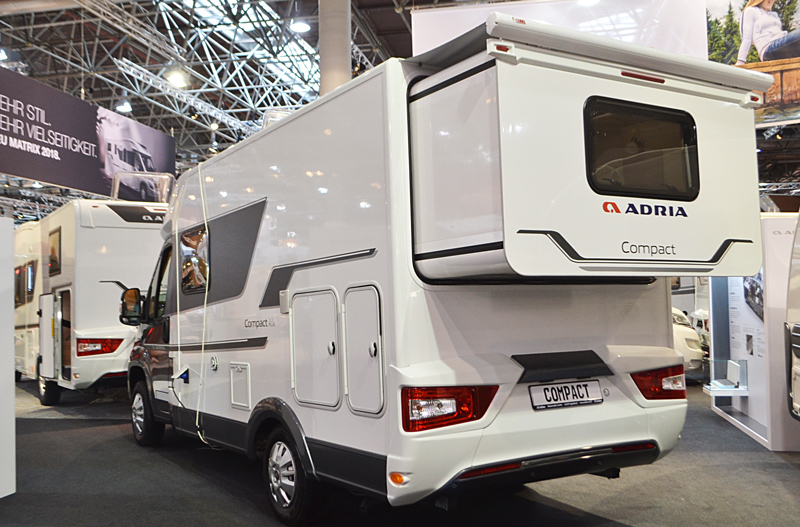 3. Bunk beds
The enthusiasm of the youngest visitors, as well as their parents, was aroused by campers with bunk beds . Bunk beds have found their way to the offers of many manufacturers. This solution can be found both in the smallest motorhomes and all other types of motorhomes and caravans.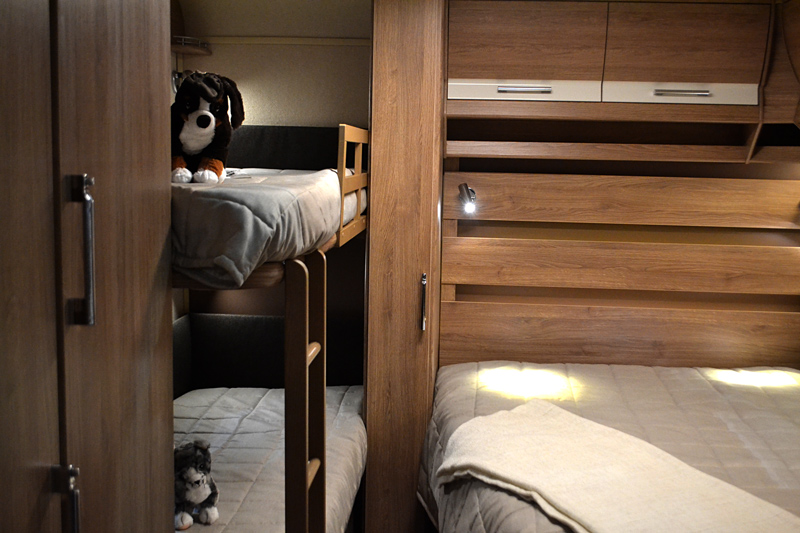 4. Trailers for young people
Knaus refreshed the Travelino and Deseo caravans, Dethfless showed the Coco caravan, Sprite - the Basecamp model, and the lightweight and universal caravans were also presented at the stands of other brands. Structures made of glass fibers, XPS insulation, GRP reinforcements ... - thanks to the innovative construction, the trailers are lighter and more durable than those made with the use of wood. For example, in the Travelino caravan, the cabinets are made of a material resembling polystyrene - despite its very low weight, it is, however, relatively resistant to damage.
But these small and modern caravans are distinguished not only by weight, but also design. Their interiors can evoke associations with the style of Ikea furniture, and against them, traditional caravans and campers seem simply rustic. In Coco or Deseo , the decor is simple and minimalist , and a characteristic feature of this type of caravans are also very large windows, especially on the tailgate. This new style is especially tempting for young people, for whom good design can be an important argument when choosing the first caravan in their life.
In the photo: Sprite Basecamp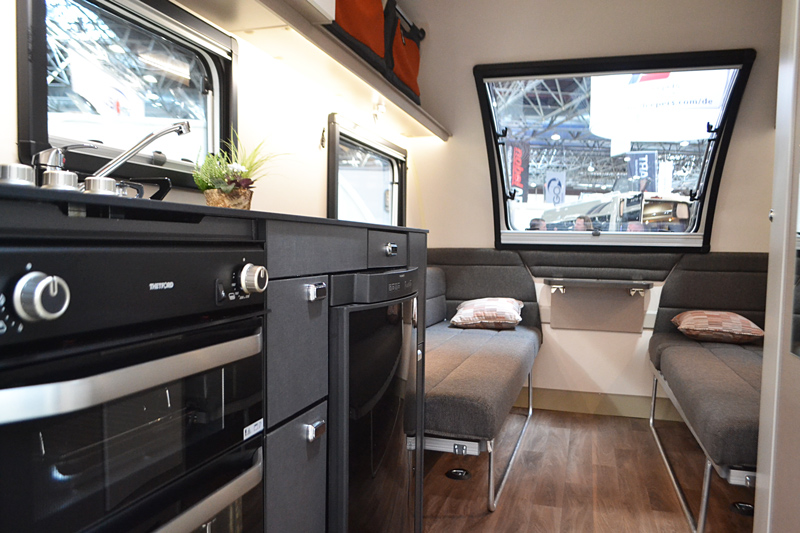 5. Campers for active people
But also among motorhomes, there are plenty of vehicles that are relatively light, versatile, with loads of modular, foldable parts. Thanks to this, in many camping vehicles we can sleep comfortably at night, even if the dimensions of the caravan or motorhome are small, and when we are not sleeping, we can transport large purchases, bicycles, a motorcycle or even a quad bike.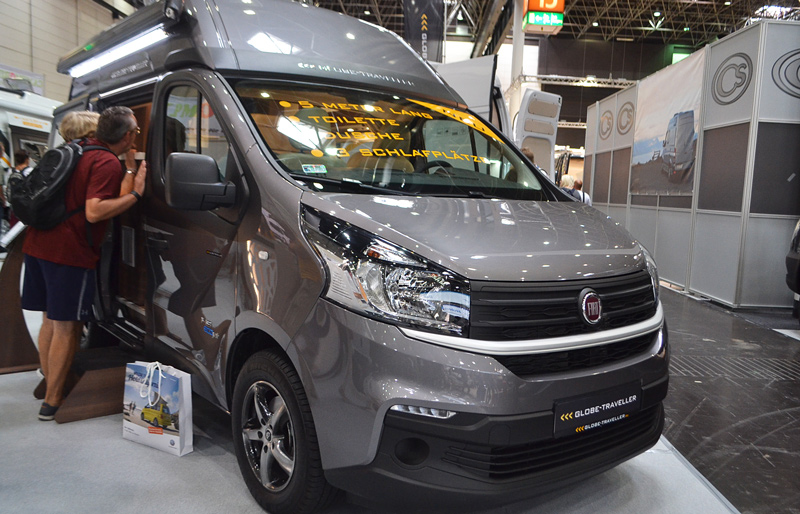 The number of all-rounders has risen sharply, and many new manufacturers in this group have entered the market. Among the companies with this type of offer, there were also two from Poland. Globe-Traveler unveiled the Swift in Düsseldorf, which, despite being only 500 cm long, has 3 single beds on board (they can be stowed away during the day), a kitchen and a bathroom with toilet and shower . With such a length it is a real revelation, not to say - a revolution.
The second Polish manufacturer specialized in camper vans was the Wavecamper brand (known in Poland as EasyCamper ), thanks to which a small car can be used every day as a van or delivery van, and during a longer trip it becomes a practical motorhome with a kitchen area and a compact toilet. Most of the vehicles are built on a Volkswagen chassis.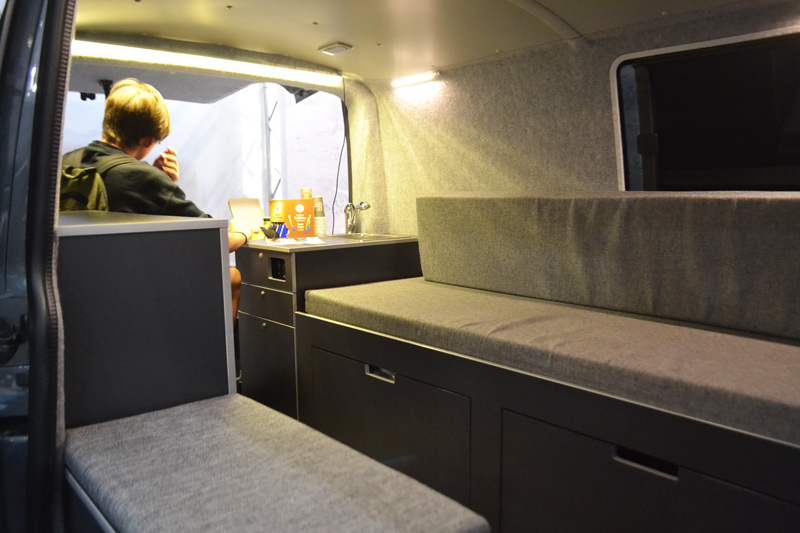 Among the Polish companies in Düsseldorf, Balcamp also presented itself, which makes camping arrangements on individual orders, treating mostly Mercedes models as a base.
6. In the color of natural wood
On the one hand, we have campers and caravans, the producers of which are proud of the lack of any wooden elements, on the other, a very clear trend is to return to natural wood. In a huge number of motorhomes this year you could see furniture made in one color, reminiscent of solid wood, usually light, with graining .
Regardless of whether in a given case it was veneer, plywood or authentic wood, the impression has always been similar - such campers refer to ecology, naturalness and want to attract customers for whom caravanning is a way to escape from the city.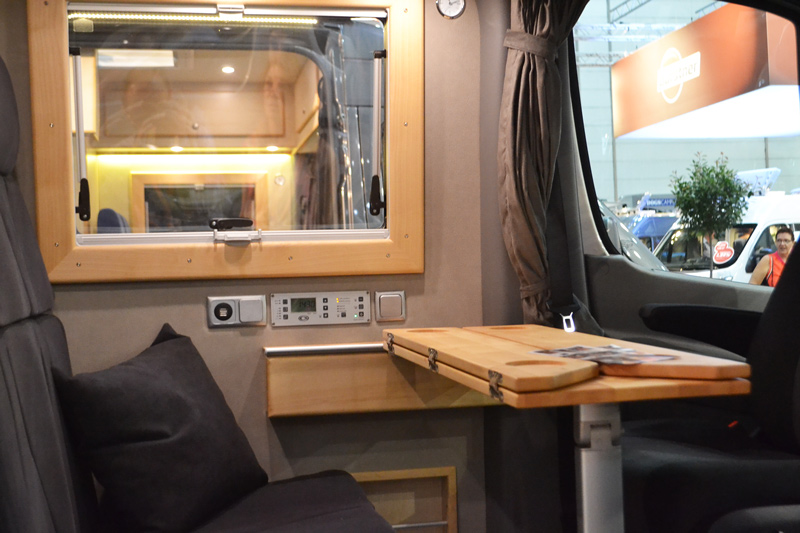 7. With solar energy
Increasingly, customers want to use natural materials as well as natural energy. Among the exhibitors there were sellers of solar panels or solar powered accessories. However, Dethleffs stood out the most, showing a motorhome powered by an electric motor and enclosed from almost all sides with solar panels.
As the brand representatives argued, such an arrangement not only allows the sun to supply all on-board devices , but also reduces the temperature range inside. The motorhome heats up less during the day, but cools down slower at night. Time will tell whether the e.home model will remain a seasonal novelty or whether it will actually pave a new path for the caravanning industry.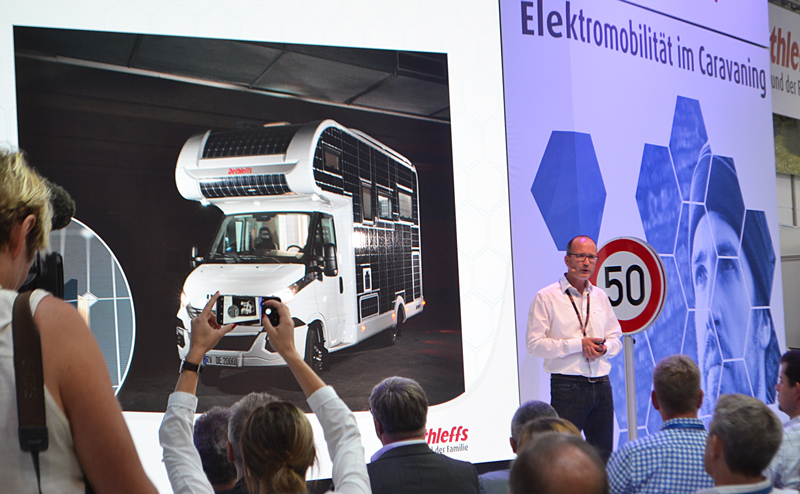 8. Motorhomes for dogs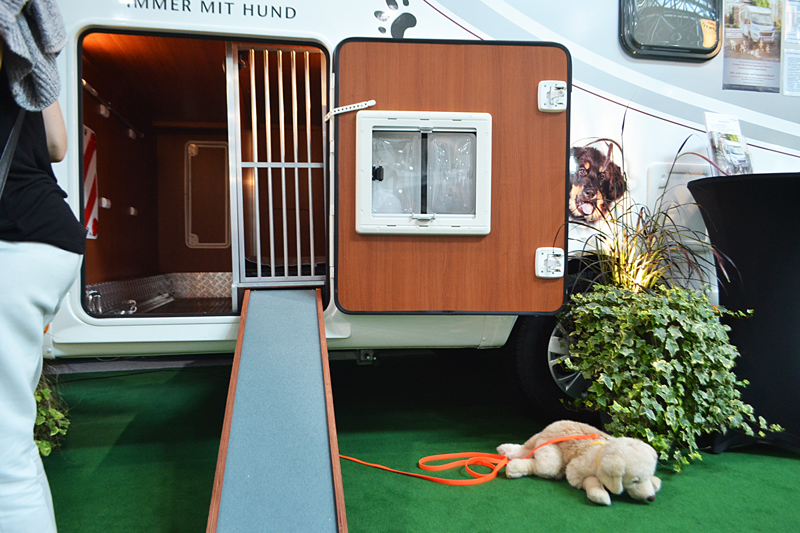 9. Fitness style accessories
The lighter the motorhome, trailer and equipment, the more we can take on board. You could meet the obsession with losing weight at almost every step. We could find its reflection, for example, in inflatable camping sofas , or in ... a small cargo trailer with an inflated residential tent attached to it! If it goes on like this, we'll probably see a pumped motorhome next year;). It's just a joke at the moment, but who knows ...
So far, on the wave of the trend of fighting overweight camping equipment, various tents, extra beds and lifting roofs made of light fabrics are gaining popularity.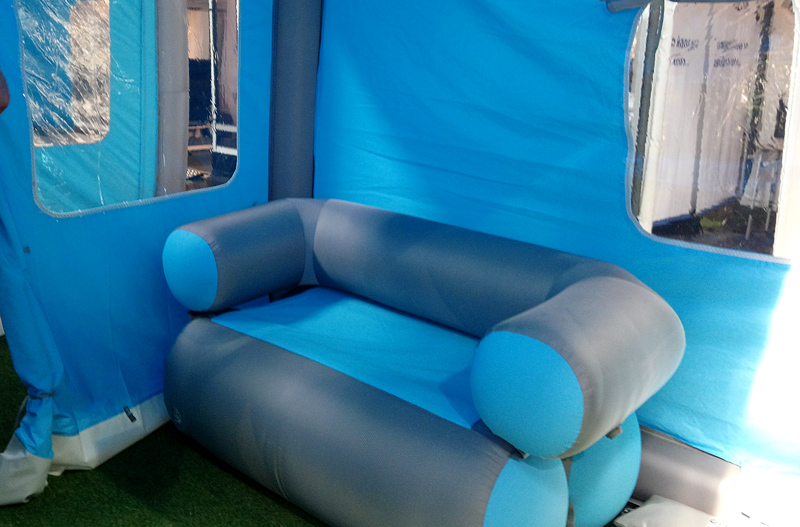 10. A camper or trailer for 150 installments
This trend is just a curiosity for us - at least for now. During the fair, one of the banks promoted a loan enabling the purchase of a camping vehicle to spread over 150 installments . As a result, even an expensive motorhome can be purchased, paying it back for 12.5 years and paying 300-500 euros per month.
In Poland, there is no similar possibility yet (correct us if we are wrong), but if someone would like to negotiate with the bank financing a similar purchase, now he can refer, for example, from Germany. Perhaps the fact that such loans are already available from our western neighbors will turn out to be an important bargaining argument during talks with bankers.
Sometimes it is better to get lost than to ask for directions too much. Aldous Huxley
Enjoyed reading this article? Share it!