A new store with camping accessories is now on the web!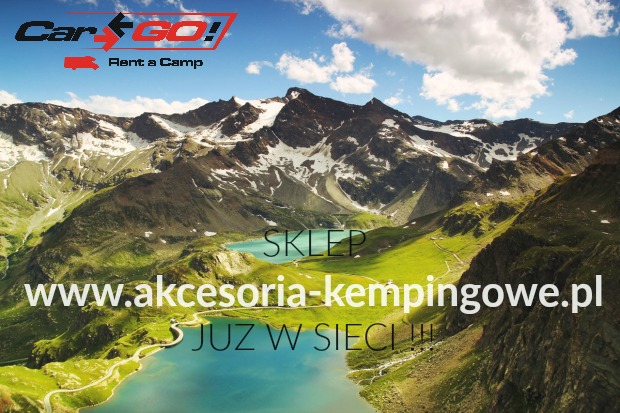 Appropriate preparation for a closer or further trip with a camper or a caravan is the basis for a successful trip. It is worth completing the devices, gadgets and accessories that will make each trip comfortable and safe. Right now, all caravanning enthusiasts are invited to take advantage of the wide range of camping accessories available in the newly opened CarGo online store !
7 years of experience
CarGo! from Poznań was created out of a true passion for campers . It has been operating on the caravanning market continuously since 2009. From the beginning, it has been involved in the rental of motorhomes , passenger cars and vans, as well as the sale of new and used motorhomes and caravans. It is also the general distributor of Pilote, Bavaria and Dethleffs vehicles in Poland. In 2016, in response to the growing requirements and needs of motorhome owners, the brand launched an online store. Its offer includes several hundred accessories for motorhomes and caravans . We invite people looking for a comprehensive offer gathered in one place on the web.

Rich offer
In the online store, motorhome and caravan users will find an extremely wide range of camping accessories from industry-leading companies such as Dometic, Alden, Thule, Fiamma, Thetford, Linnepe and Truma . The store's offer has been clearly and conveniently divided into thematic categories. You can find there, among others, parts for electrical installations - batteries , generators or inverters , guaranteeing constant access to electricity and water, in the form of pumps and toilets. There is also a variety of air conditioners that provide comfortable conditions during travel and parking, as well as caravanning multimedia for entertainment. For people traveling with bicycles and scooters, there are functional racks and hooks . There are also waterproof awnings and vestibules waiting for travelers, providing privacy and shade on hot days. Professional chemicals for toilets and tanks available in the store will help in the perfect organization of your stay on site. Thanks to them, the motorhome will shine clean and smell fresh throughout the trip. Cooling and heating systems will also make your time in the field more enjoyable. Reversing cameras will help you maneuver the vehicle efficiently, and gas detectors will ensure safety when using equipment for heating motorhomes. Fans of outdoor meals will find handy gas grills in the store.

Nice service
The new store in camping accessories focuses on a professional and individual approach to each client. In case of questions and doubts, it is possible to contact the qualified and committed team members by phone, who provide expert advice in the selection of equipment for a motorhome . In the absence of the desired goods in stock, the store can download them at the customer's request. To ensure maximum convenience of shopping, the store accepts payments by bank transfer and PayU system and allows for personal collection and support during assembly.
Are you looking for high-quality equipment for your motorhome or caravan? From now on you will find them in the CarGO! Camping accessories store. We enjoy your shopping!
We have created the CampRest portal for people who value freedom and travel on their own.
Enjoyed reading this article? Share it!