Caravan Salon in Düsseldorf - what awaits us?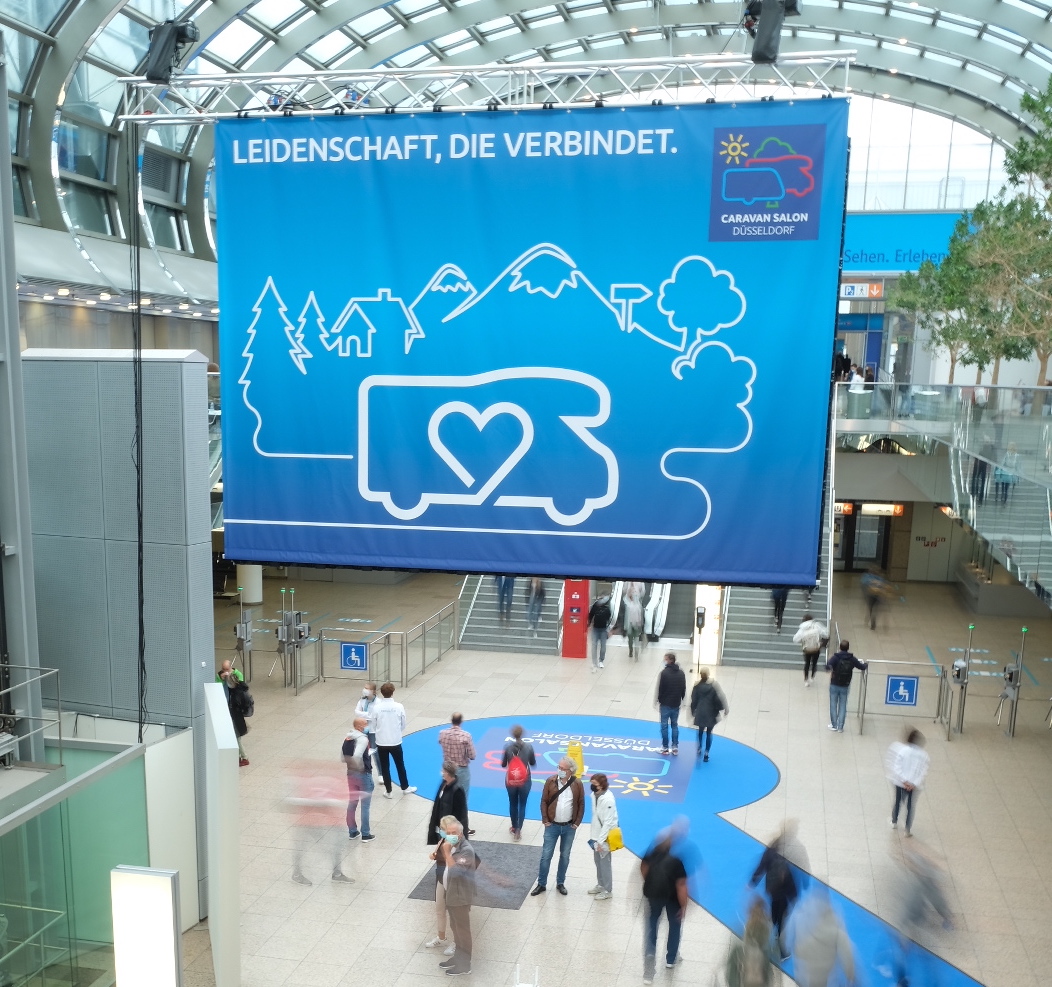 In just over a week, the Caravan Salon in Düsseldorf will open its doors. Every year it is a long-awaited event for the entire caravanning market. What awaits us this time?
After a long absence, the Erwin Hymer Group returns to the showrooms, bringing together many recognized and important brands. Other absent companies also decided to attend and show their offers. And so, from 590 exhibitors last year, the number of exhibitors increased to a phenomenal 700 brands. The exhibition will be located in a total of 16 exhibition halls and in the open area around them.

We have already got used to the fact that the German trade fair is the most important point in the calendar. It is here that news is presented, contracts for new vehicles are made and the condition and future of the industry are discussed.

How has the economic and geopolitical situation influenced and will continue to affect the development of the industry? Will the boom continue? Will the caravanning infrastructure in Europe keep pace with the number of new vehicle registrations? These (and other questions) concern not only our editorial colleagues, but also many big heads in the industry. In addition to hardware novelties, such existential issues will be discussed during backstage talks. It may be a breakthrough fair also due to the fact that the companies will present consolidated financial results for the last quarters. The numbers do not lie and will be the best barometer, providing answers to many issues that bother us.
Deficiencies, deficiencies, deficiencies
The old folk saying "need is the mother of invention" is exceptionally accurate when it comes to what is happening on the market. The problems with the availability of base cars and components, cited boringly by everyone, are still an important factor determining the philosophies and strategies of many brands after more than two years from the start of the pandemic. Two seasons ago, no one would have thought that Fiat Ducato, used in over 80% of motorhomes, would be dethroned, and its place would be taken not only by twin structures from Stellantis (Citroen, Peugeot), but also by Ford Transit and MB Sprinter. The statistics for the recent king of the market, however, seem to be inexorable - even seemingly budget brands such as Weinsberg (belonging to the Knaus-Tabbert group) reach for a star base in their half-integrateds in 2023. Similarly, the Swedish brand KABE is being changed to Mercedes entirely.
Ford Transit, on the other hand, will no longer be associated only with southern European producers from the "for the masses" segment. Its qualities were appreciated by the group Erwin Hymer and it was quickly warmly received both by Dethleffs' designers and fans, as well as by Hymer himself. Chausson is currently experiencing serious problems, having only unveiled the new X550 concept last year and sold over 1,200 units of it, and now has to deal with a serious body deficit and inform customers about cosmically extended waiting times.

Another phenomenon that cannot be ignored when getting acquainted with the novelties for 2023 is that many manufacturers limit the number of models (i.e. systems) on offer. It is worth noting that many manufacturers have made this diversity and freedom of choice their marketing advantage. Significant cuts are noticeable basically everywhere - even in the lush offerings of Challenger and Rapido.

The uncertainty surrounding the fate of the ongoing legislative battle in Europe to increase the tonnage to the "B" license category means that manufacturers continue to slim down their constructions within the technically available possibilities. And so at this year's fair in Düsseldorf you will be able to see, for example, the Frankia NEO in the integra version (the curb weight of the vehicle in running order will be 3070 kg) - it will be another curiosity after Niesmann Bischoff i-Smove, which we can not wait to see.
Fashion for compactness
Compact motorhomes - both minivans, vans, and the larger "tin cars" have enjoyed unflagging popularity for several years. The potential cost of buying and maintaining a full-size motorhome often frightens buyers, and therefore they are increasingly looking for a universal multi-purpose car for everyday use and for holidays. This segment is growing in strength and virtually every self-respecting manufacturer already has such vehicles in its model portfolio. Laika Cosmo Tourer, Wavecamper based on Renault, new (still secretly) compact van from Globe Traveler, Knaus Tourer CUV, Bürstner Copa or Karmann Dexter are just some interesting offers, the latest versions of which are worth seeing at the Caravans Salon.
What? Where? When? - the trade fair in a nutshell
Date: August 27 - September 4, 2023 (August 26 is a day for the press and invited industry guests)
Place: Düsseldorf Messe fair
Event website: www.caravan-salon.com

Below you will find a description of the exhibitions in individual exhibition halls:
• Hall 1 and 4: This is where the brands of the Knaus-Tabbert Group are exhibited
• Hall 3: Here we can see accessories, tents, foldable trailers, as well as a special exhibition Travel & Nature-Connected
• Hall 5: Here, as usual, you can see large premium motorhomes and large off-road motorhomes
• Halls 6 and 7a: Halls presenting the exhibition of the Hymer group
• Hall 7: Area for caravanning beginners
• Hall 9: Caravans and motorhomes from Hobby, Kabe and Fendt
• Halls 10 and 11: Motorhomes, campervans and caravans of various brands
• Halls 12 and 15: Compact motorhomes and campervans
• Halls 13 and 14: Numerous exhibitors' displays in the field of vehicle technology, parts and components
• Hall 16: Divided into exhibitions of vehicle manufacturers, as well as stands of Rapido group and Carthago group brands
• Hall 17: Campers of the Pilote group.
The situational plan can be downloaded HERE
I feel best in the form of trade fairs and meetings with enthusiasts. Technical freak. In my life I have dismantled many motorhomes for the first time. Fan of large vehicles, mountain biking and traveling without weight and financial restrictions. At CampRest, I am responsible for all publications on automotive topics.
Enjoyed reading this article? Share it!