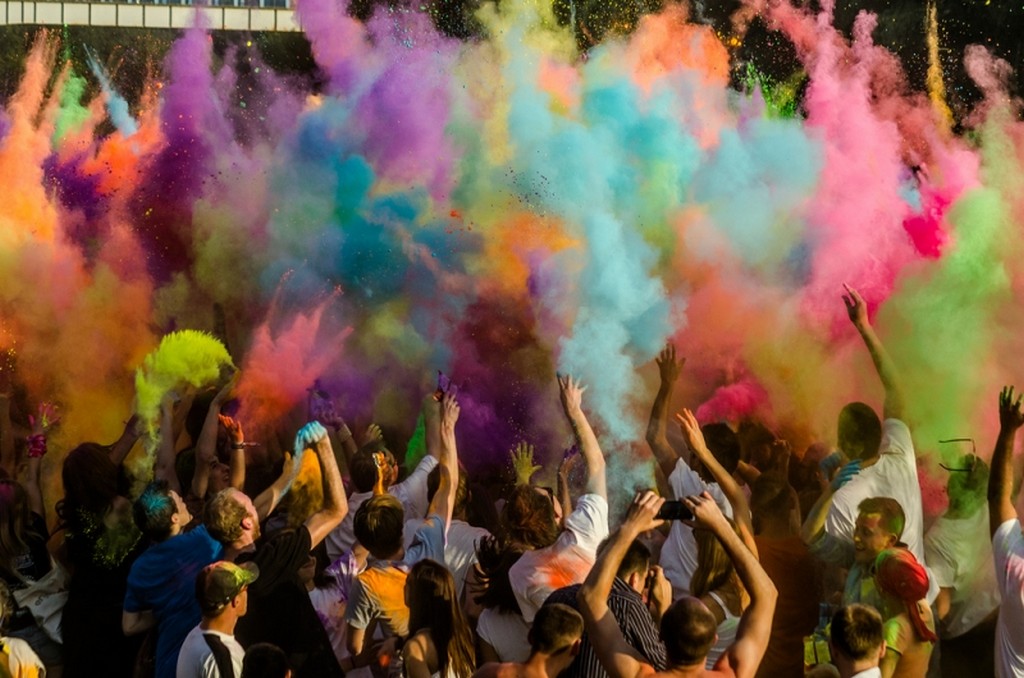 A cloud of colors is moving through Poland. A colorful storm mercilessly absorbs more cities, leaving behind the memories of crazy fun. Nowy Sącz and Warsaw already colored, now the cloud is approaching Krakow.
After drawing on the American tradition of the idea of celebrating Valentine's Day, another "foreign" holiday - Halloween - has settled in Poland. And it is doing quite well, and the sight of youth disguised as ghosts, skeletons or zombies is slowly starting to become commonplace in society. Now is the time for another novelty, which is the celebration of spring and joy. Where did it come from to Poland?
Holi sacred philosophy
I am talking about Holi, a holiday celebrated in India on the occasion of the arrival of spring. It takes place on the full moon day in the month of Phalguna (February-March) and is one of the most joyful and colorful Indian holidays. Colored in a literal sense - during the celebration, participants shower themselves with a mixture of bright, multi-colored powders, which is to symbolize nature awakening to life. Throwing powders during the festival also symbolizes getting rid of negative energy. The festival owes its second name to this tradition - the Festival of Colors .
During the celebration, like on New Year's Eve at midnight, relatives exchange hugs and offer sweets to each other. Holi is a very nice event during which all cultural differences and social divisions disappear. No wonder that Polish youth liked it so much. In our country, the celebration is not strictly celebration, but simply great fun. It takes place later than in India due to the capricious climate - our spring is not warm enough to be able to afford such crazy fun.
Festival of Colors in Krakow
The Polish Festival of Colors has taken the form of a cyclical event to which more cities are gradually joining. In 2013, it was organized at Przystanek Woodstock, in Wrocław and twice in the capital. This year, Nowy Sącz, Warsaw, Lublin, Katowice, Kraków, Łódź and Wrocław are having fun together.
A lot of fun in several cities is behind us. Krakow, or rather Błonia Zabierzowskie near Krakow, is slowly getting ready for the event. The Festival of Colors will start on June 8, at 6:08 PM to be exact, a feast of colors will explode in the air. The Holi colors are available if you come in early. They can also be purchased at stands located at Błonia.
The gates will open at 15:30. The participants of the event are waiting, among others, free hugs, soap bubbles and flash music mob . The bands that will play during the festival include Chameli Group, Coria, Raggabarabanda and Łagodna Pianka. At 21:00 the afterparty will start at the DIVA Music Gallery.
During the festival, a car park will be available at the entrance from ul. Krakowska. Admission to the event is free.
A writer by profession, a passion of a cat. One day he will see what is behind the Urals - good to Vladivostok. So far, when he can, he enjoys the sun of the countries of southern Europe. And it's also fun;)
Enjoyed reading this article? Share it!