The Taste of Travel - 1st Festival for every traveler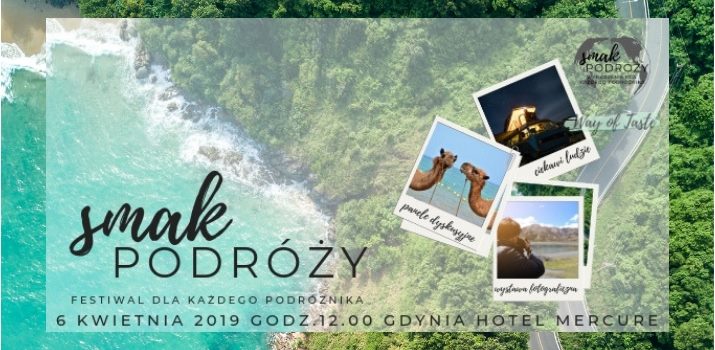 Way of Taste - TASTE OF TRAVEL is a young project, but created with great commitment and faith that it will be possible to inspire as many people as possible and infect them with the desire to seek joy. It is aimed at people who love adventures, regardless of the kilometers traveled and the resources of their wallet. Everyone who likes traveling will find something for themselves. Retired travel, cheap flights, travel agencies, vanlife, camping, local tourism, or hunting for the Northern Lights.
Each Traveler is different, but each has one goal, bring home as much positive memories as possible.
The organizers want to show that you don't have to go around 80 days to become a traveler
world, fun can also be found in your own city, hiding a lot of secrets. The festival was born out of dreams. The entire team and friends of the Taste of Travel project have also decided to make the dreams of others come true. 10% of the income from the sale of tickets will support the pro-animal foundation. All the more so, they count on the greatest possible publicity and support.
Amazing attractions will await the festival guests
3 fantastic travelers will share their own adventure during their presentations. Photos, memories, anecdotes. They will tell about the experience and share their memories.
The entire festival will feature a photo exhibition. Travel memories caught in the lens.
Interesting people, professionals, enthusiasts and even retirees will be seated on armchairs and filled with an avalanche of questions. You will learn about the pros and cons and various forms of travel.
There will also be a children's corner. They will be able to play, paint a map of the dream island. If the parents do not want to go to the festival because there is no baby care, the problem is solved. They take him with them. There will certainly be inspiration for traveling families at the Festival.
The Winestone Restaurant will be open throughout the Festival. During the break, you will be able to buy and enjoy an insane dessert, drink a coffee or satisfy your hunger with a delicious lunch.
Friends of the festival will be answering participants' questions at their stands all the time, you will also be able to do some small purchases.
The organizers of the festival are:
Way of Taste - copywriting and events
KT-Partners Robert Tragier
The Taste of Travel - events for every traveler
The event will be hosted by:
Ilona Klein - Tragier
Tickets can be purchased at:
https://smakpodrozy-1festiwal.evenea.pl/
From PLN 29
You can read about the project and the festival on the website and facebook
https://www.wayoftaste.com/smakpodrozy-festiwalwgdyni
We have created the CampRest portal for people who value freedom and travel on their own.
Enjoyed reading this article? Share it!