Get inspired! Vanlife zone at Caravans Salon Poland 2023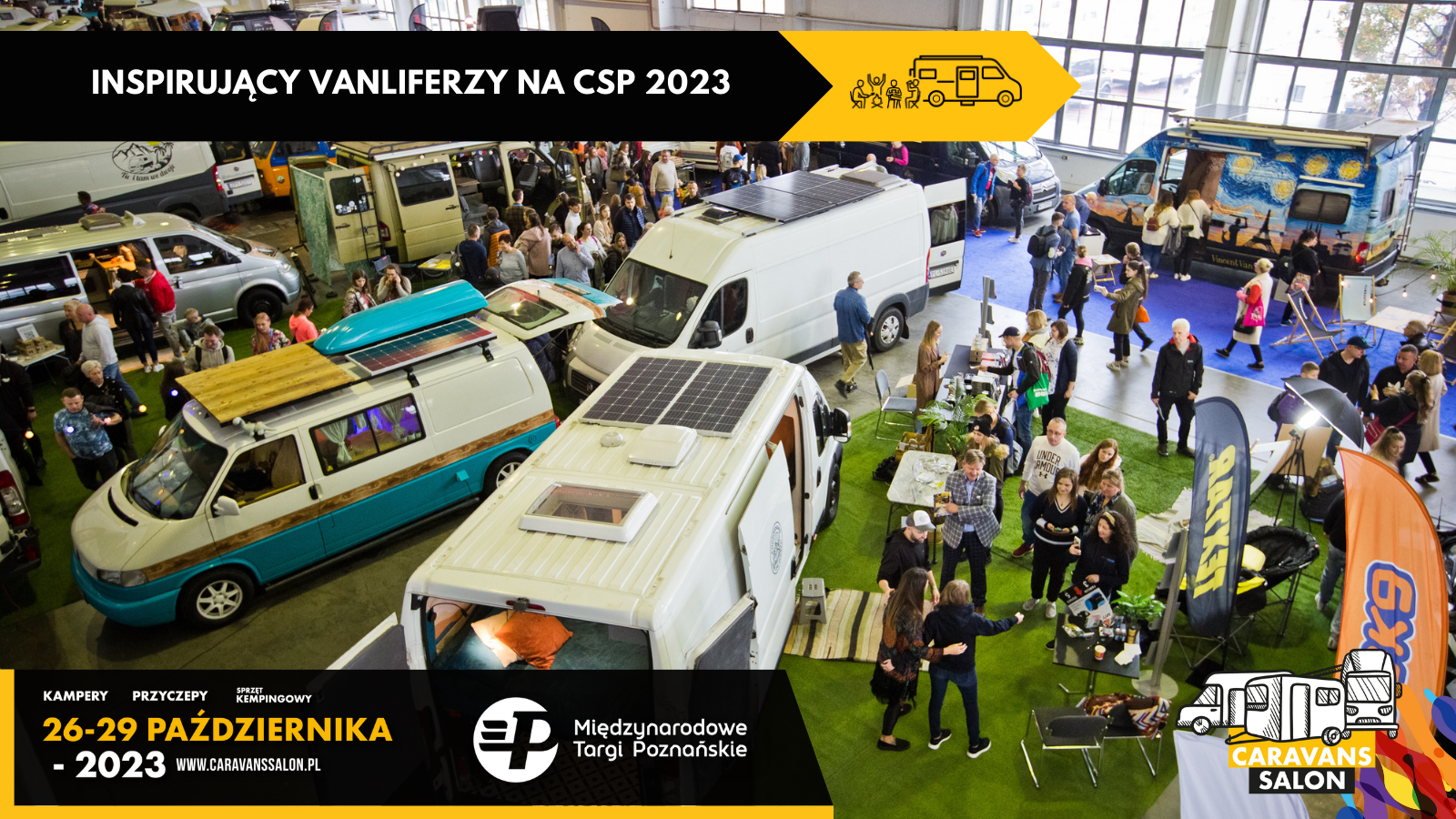 During the Caravans Salon fair in Poznań, one of the most frequently visited Demonstration Zones is the Vanlife Zone in Pavilion 4. There we will meet and learn about travelers, bloggers and YouTubers who connect their lives with the road and their campers, most often built independently, have become their permanent home. or most of each year. Personalities known from the Internet who share their passion for traveling and discovering the world are here at your fingertips. This year, in the Vanlife Zone and at the fair, we will meet over 20 such teams/creators and their cars, where they will be available from Friday to Sunday!
The guests invited to the fair include the most famous camper travelers, such as Kasia and Łukasz from PodróżoVanie, who are also the Ambassadors of the Caravans Salon fair, the Foxes In Eden team, Kapitan Przyczepa and Busem Teraz Świat, whose zone you can meet in Pavilion 8A at the travel fair. Tour Salon. The organizers value diversity, passion and unique stories, which is why in the Vanlife and Retro Zone we will meet many inspiring people full of positive energy.
PodróżoVanie – come by and buy a book, take a photo and listen to stories from Morocco
Kasia and Łukasz will have their stand at the very beginning of the Pavilion and, as always, in addition to talking and taking photos with them, you will be able to buy books, gadgets and great coffee from their partner, the Bagdrip brand.
This year, the most famous vanlife couple in Poland went on a long trip to Morocco, getting to know this country from the inside. They will talk about it both on the Stage in Pavilion 3A (on Saturday) and in talks at their stand.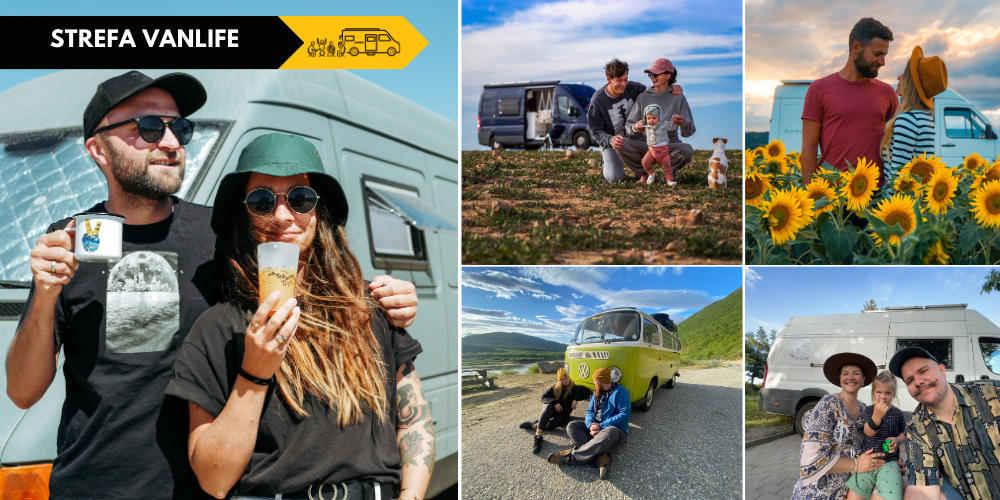 Foxes In Eden
This time, Foxes in Paradise, i.e. Jakub and Zosia, will share with visitors their new experience... Raising a small child in a camper. How parenthood changes Vanlife will be the topic of their lecture on the Stage (on Saturday). Young parents will be happy to talk about their experiences from their first family trips, debunk some myths and tell them how they "come to terms" with life after the birth of a child.
How not to burn your camper? Ask Captain Trailer
In the Vanlife Zone and on the Stage (on Saturday) we will also meet Michał - Captain Przyczepa, who is known for repairing and building trailers and campers, which is what he does professionally. On stage, he will talk about electricity in a camper and advise how to stay safe in this matter. When visiting him, you can count on professional advice sprinkled with a lot of humor and self-irony, for which the Captain is known, for example from his YouTube channel.
Pastel Van Paweł
If you are looking for inspiration on how to finish the interior of a camper, most of our guests have something unique to show you. The camper of Majka and Michał, known as Van Paweł, is a beautiful combination of pastel and terrazzo elements and many clever solutions. You must see it and at the same time hear about Morocco, Spain and Italy and about how to handle Vanlife from a financial perspective - they will prepare a lecture about it!
A cucumber to Iran? Why not! Calluna Trip was already there
A trip in an over 50-year-old VW "Cucumber" to Iran, through Turkey and Georgia, sounds like a murderous challenge! Aga and Bartek Wrzosek completed this trip with smiles on their faces. They will be happy to share what they saw, who they met and what they learned in their green bus. We will also meet them on stage (on Sunday), where they will talk about Iran.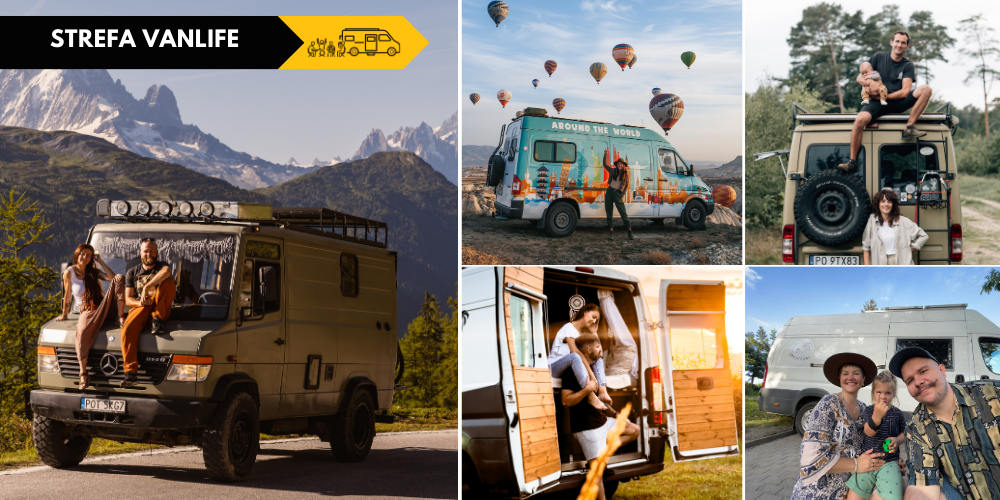 There will also be premieres in the Vanlife zone! Edyta and Krzysiek, known as Tu i Tam We Two, specialists in traveling in various styles, not only in a camper, are just finishing their second home on wheels and they are inviting visitors to the Caravans Salon fair to be the first to visit it.
Specialists in the Northern regions - NordSide.blog, Vryga and Majowanie
Are you thinking about traveling to Norway, Sweden or simply north? Be sure to visit vanlifers who have spent a lot of time in these areas. NordSide.blog , i.e. Aga and Daniel lived in Norway for a long time, also in a camper, they wrote an e-book about it and organize camper trips for everyone who wants to explore the land of trolls. Additionally, they make great coffee!
Paulina – Vryga is an experienced hunter of the Northern Lights and beautiful shots. She is also a photographer, which means you can admire her beautiful photos. She will talk about the search for Zorza on Friday on the Stage, but her adventures are definitely a topic for a longer chat next to her van!
The Majowanie team is fresh from a Scandinavian escapade covering Sweden and Finland. Those interested in stories about Moomins, crabs from the Barents Sea and the beautiful northern wastelands, as well as those who love sourdough bread, are welcome to Patrycja and Andrzej's van.
A vintage team full of imagination: Tripiarz and Gimme That Trip
Vanlife is also youth full of energy and a hint of madness in discovering the world. The Tripiarzy and Gimme That Trip teams earn their lifestyle from the grape harvest every year. And when they are not picking vines, they look for the sun mainly in the south. Tripiaries also have a lot to tell about Morocco and Spain, and their little van is a real work of art!
Vanlife is also described from the perspective of young and dynamic people by Ola and Mati - Vanowe Życie, who built their yellow campervan with a nice ALOHA registration while still studying at the University of Physical Education in Poznań, as part of preparations for the Erasmus program in Portugal. They know hundreds of tricks to make traveling easier and ways to discover new places. Recently they settled in Switzerland for a longer period of time. It's worth getting to know them!
Tireless climbers with a fireplace in their camper - come to Życie Around the Journey
Maja and Krzysiek are not only lovers of traveling in their Mercedes Vario, in which they have a wood-burning fireplace. They really love the mountains! This year, for example, they conquered Mount Blanc, and they have also conquered peaks such as Kazbegi and the highest massifs in Iran. Everyone who likes mountains must visit them in Pavilion 4 and they will talk about their passion and travels on the Stage on Sunday.
Are you building/renovating a camper? We have teams here that will advise you or do it for you!
Avantura Campers , i.e. Hubi and Amanda, combine their passion for camper travel with a passion for building them. At the fair, we will see two of their works - Copenhagen, in which they will come to us, and the Vrygi camper, which they built for her. Krzysiek from Van Garage has similar skills and you can also ask him about all aspects of building a camper. He will present his new project at the fair.
Another team whose members have expanded, Kumaj Podróże , is in the process of building a new camper, so questions about construction or parenting will also find the right address here. Moreover, Kuba and Maja have traveled around the world with backpacks and they like to remember it!
Dietitian on a van! Maks Tomaszewski
Can you work as a dietitian while living in a van? Maks Tomaszewski proves that this is definitely true! Visit Maks and his partner Aga in their van and talk about how to maintain a varied and good diet while traveling.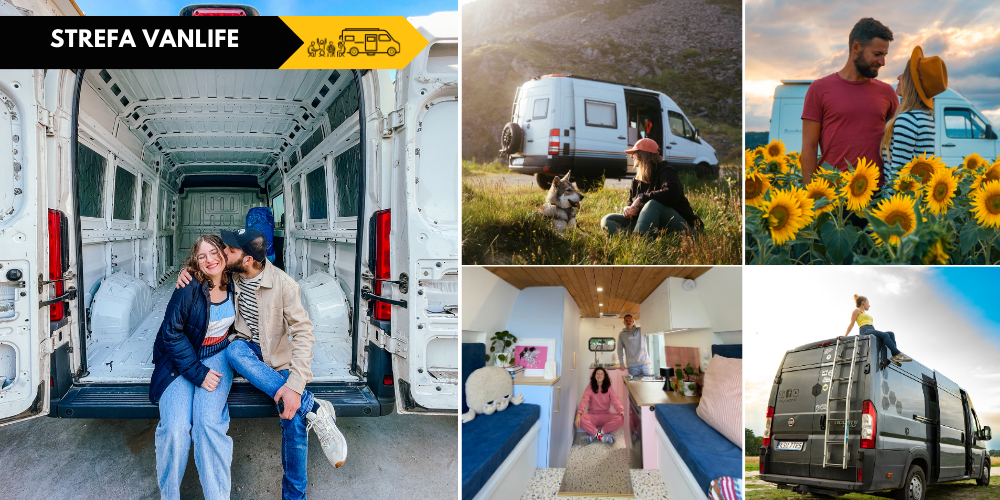 Vanlife from a woman's perspective – Two Mile
Last winter, Emilia and Kamila, i.e. Two Miles , together with their adopted dog Tori, set off on their first journey in a 35-year-old Volkswagen T3 named Vanda. They do life their own way, they travel slowly and without a plan. They built their van themselves and are happy to share their experience and stories from their trips, e.g. to Portugal.
Family vanlife? Zbusovani know how to handle it!
Ania, Krzysztof and Olek, i.e. Zbusovani - A cheerful family that has chosen an unconventional plan for their life. They decided to build a large camper in which they have been living for a year. They prove that traveling with a child is possible and quite cool. In their camper they could fit everything necessary for a full-size apartment, and thanks to the high version of the bus, they even managed to separate a separate zone for a child.
Mini version, i.e. a camper around Latin America!
Marcelina and Paweł, known on YouTube as Minimalsi and on Instagram as Miniversion, traveled a large part of South America in their van. You must hear about it during their lecture on the Stage (on Saturday) and ask during other days of the fair.
Near the Vanlife zone, e.g. in the Retro Zone, you will meet other enthusiasts and travelers, such as campers who recently returned from a camper trip around India, or Bus Podróże Małe i Duże, who traveled a large part of the USA in their VW T3.
We invite all fans of traveling and discovering new adventures to Pavilion 4 during Caravans Salon Poland 2023 - October 26-29, 2023 at the Poznań International Fair.
Tickets for the fair at lower, pre-sale prices are now available online : LINK TO SALE
Caravans Salon Poland will be held at the Poznań International Fair from October 26 to 29. The Stage program is available on the organizer's website: HERE. More about the fair: HERE  
We have created the CampRest portal for people who value freedom and travel on their own.
Enjoyed reading this article? Share it!