Polish Campers & Caravans Conference on November 30!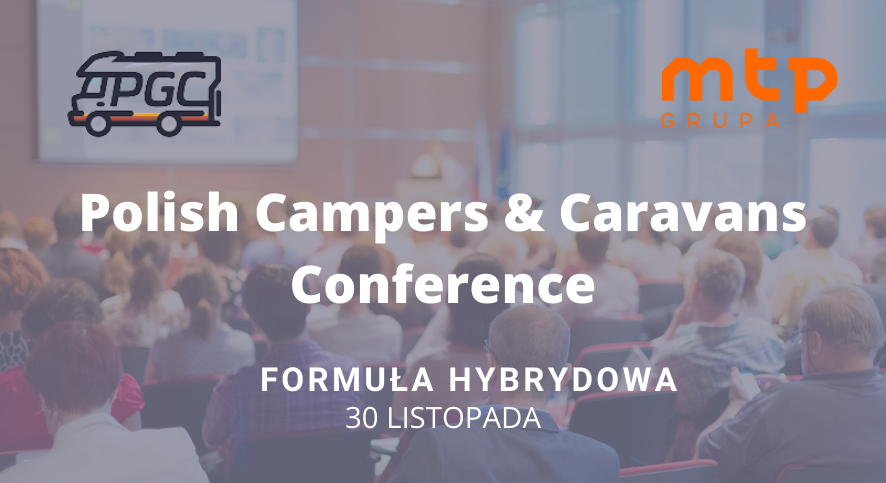 The Polish Caravanning Group invites you to participate in the conference, the aim of which will be to promote the Polish industry of motorhomes and caravans producers, during the Polish Campers & Caravans Conference ".
The event will take place in a hybrid formula - online via the relationship on the FB profile of the association and onsite - at the Poznań Congress Center, i.e. the congress center at the Poznań International Fair.
Experts and, above all, practitioners will talk about the best solutions and tools to support exports, as well as barriers to entering foreign markets, and the whole will be enriched with a presentation of the best Polish productions.
Program of the Polish Campers & Caravans Conference event:
12.30 - Opening of the Congress
12.35 - 13.00 - The export potential of Polish producers of motorhomes, caravans and motorhomes
Main directions of Polish exports
Changes in exports in the last two years
13.00 - 14.00 - Presentation of achievements and solutions of Polish producers
14.00 - 14.20 - Export perspectives for the caravanning industry
Opportunities and threats for the export of Polish motorhomes and caravans
The potential of Polish companies - how to use it abroad?
14.20-14.50 - How to effectively sell Polish products outside Poland?
Expert debate
Is "Polishness" always an asset on foreign markets?
Barriers to entering foreign markets - do they really exist?
14.50-15.00 - Barriers to enter foreign markets
Presentations by Polish exporters - presentation of the process of entering foreign markets through the eyes of practitioners.
15.00-15.30 - Tools and services supporting export and barriers to entering foreign markets
Pro-export activities of governmental and industry organizations.
Co-financing of pro-export activities.
The media patrons of the event were Polski Caravaning, Camprest.com and Rzeczpospolita (automotive websites).
The main partner of Caravans Salon Poland 2022.
The event is co-financed by the Ministry of Development and Technology.
Do you want to take part in the stationary version (number of places is limited)?
Please contact us:
Dariusz Wawrzyniak
Polish Caravanning Group
The Polish Caravanning Group Association was established in 2019 on the initiative of many people from the industry, including vehicle dealers, manufacturers of special camping vehicles, exhibitors, representatives of RV rental companies and the media. Our model for many years are European organizations. It is the largest Polish organization with this profile. The activity focuses on the needs of the caravanning and camping industry in Poland.
We have created the CampRest portal for people who value freedom and travel on their own.
Enjoyed reading this article? Share it!