"Rural" Nationwide Caravanning Globe 2015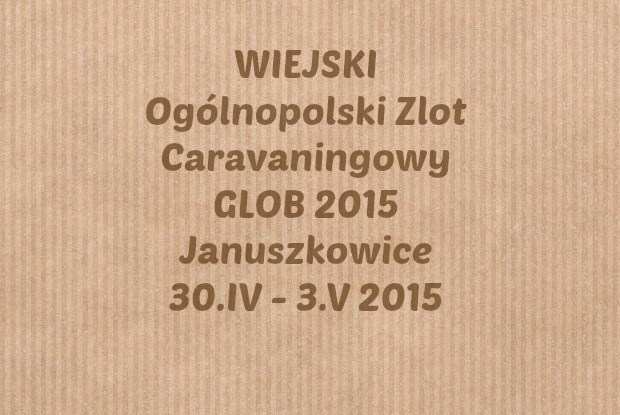 As you can read in the guide of Gliwice Caravanning Club Glob, on April 30-May 3, 2015 there will be a one-of-a-kind event "with a bang", in which only people who know how to have fun will take part. Meeting point - Januszkowice (Krapkowice poviat).
Outdoor enthusiasts have many opportunities this year to celebrate in a larger group. One of them may be a meeting organized by the Glob Caravanning Club in Gliwice. Not just any meeting - the National Caravanning Globe 2015 , known as the "Rural". Its program includes, among others competitions in milking a cow on time, non-visual sorting of vegetables or loading potatoes.
A word about the rally organizer
The Glob Caravanning Club in Gliwice is celebrating its 10th anniversary this year. It continues the traditions of the Caravanning Circle at Auto-Moto-Klub Gliwice, and trailers with its logo have been driving on Polish (and not only) roads for almost three decades. It is a large, friendly family open to new contacts and always willing to help. Many of its members also belong to the Polish Federation of Camping and Caravanning.
For many years GKC Glob has been among the top Polish clubs participating in the Regional Caravanning Competition. In addition, it ranks highest in the club and crew classification in the Polish Caravanning Competition of the Polish Motor Association.
Fastening a cow, or a village competition
The "village" rally will be held at the "Srebrne Lake" Recreation Center in Januszkowice near Kędzierzyn-Koźle. It is a large facility with the largest in the province. a water slide in Opole, a lake with an area of 18 ha, a landing strip for power hang-gliders and small planes, and a motorboat equipment base.
During the rally, the 1st round of the CMP (Polish Caravanning Championship) and the 1st elimination of the MKC (Youth Caravanning Competition) of PZM will be held. The competition in both games is milking a cow - the whole process, starting from getting dressed, fastening the cow and preparing the vessel, squeezing the minimum amount of milk into it, pouring it into a bottle, cleaning and untying the cow, up to the fairer. What matters is efficiency, speed and accuracy, and most of all having fun.
Rally participants will also compete in five competitions of a recreational and sports walking rally . They will prove useful in sorting vegetables at night, putting their speed and memory to the test, laying eggs in trays, portioning seeds, loading potatoes with a basket forks and in precise wheelbarrow driving.
How to have fun is to have fun!
From Thursday to Sunday, the rally participants' time will be filled to the brim. During the day, games (including the VI World Championships in Cymbergaj and a volleyball tournament) and sightseeing (bicycle trip to the hand ferry on the Odra River) await them, and in the evening - dance games.
It sounds inviting? There is still time to apply! More information at www.gkcglob.pl
A writer by profession, a passion of a cat. One day he will see what is behind the Urals - good to Vladivostok. So far, when he can, he enjoys the sun of the countries of southern Europe. And it's also fun;)
Enjoyed reading this article? Share it!