The first stage of exhibitor applications for Caravans Salon Poland is behind us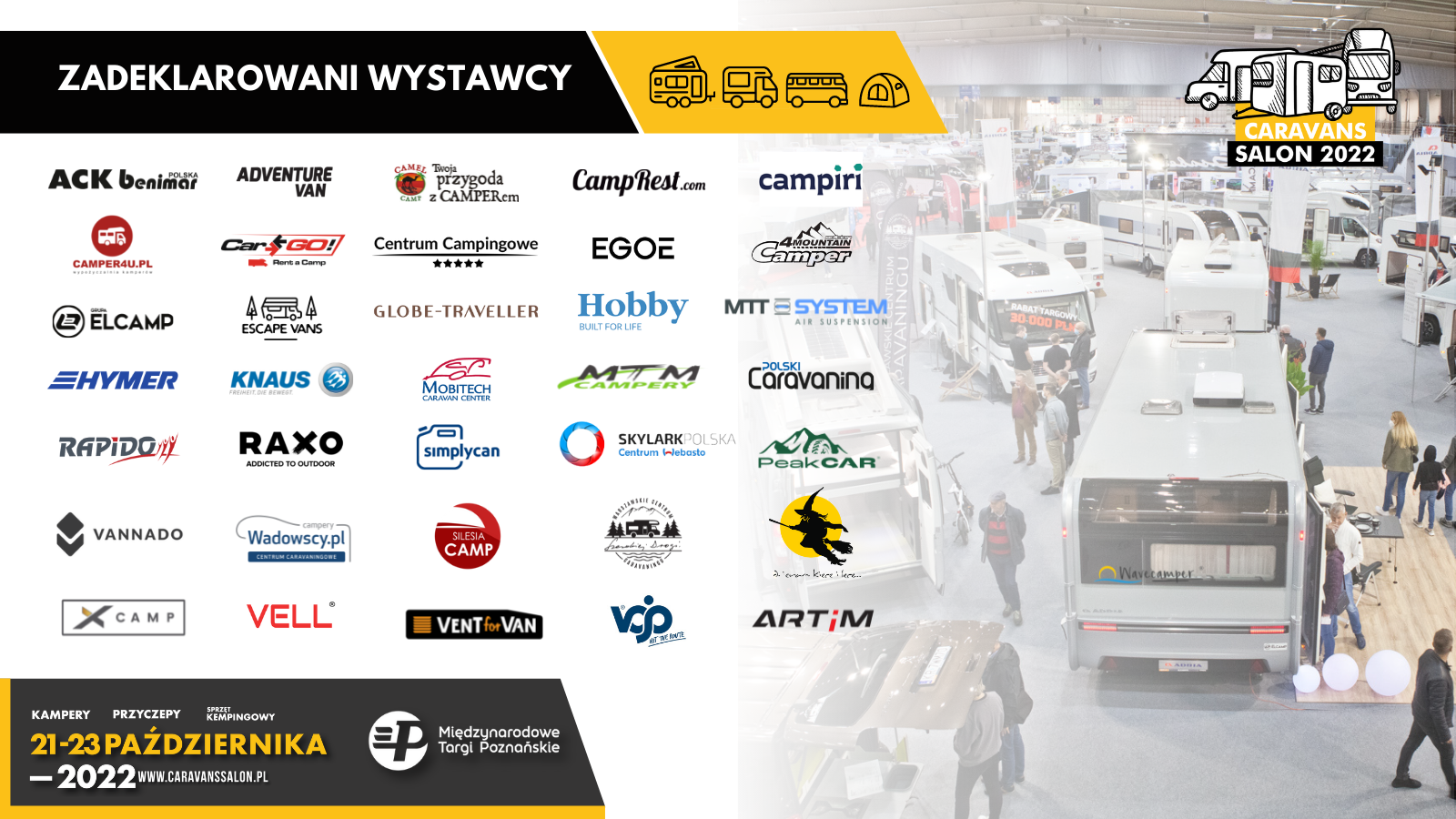 At the end of June, we completed the first stage of exhibitor applications for the Caravans Salon Poland 2022 fair. It is already known today that visitors will see at least a hundred brands from over 40 exhibitors, and this is only the first stage of applications! Such a result more than 3 months before the event is impressive because many exhibitors usually decide to register a few weeks before the fair.
A strong list of Caravans Salon exhibitors in June
The first stage of exhibitors' applications, and thus the lowest prices of exhibition space, ended on June 30. Our list already includes companies representing over 100 caravanning brands. Currently, it is about 40 companies, including most of the market leaders who have several, a dozen or even several dozen brands in their portfolio, such as Benimar, CarGO, Elcamp Group, Centrum Camping or Procamp. There are also many Polish producers and a few debutants at the fair in Poznań.
The list, of course, is still growing and will grow in strength, and such a result in June is a confirmation for us that our ambitious plan to fill 5 pavilions with caravanning and the organization of the largest industry fairs for years is on the way to implementation. Many exhibitors also book stands and confirm their participation in a matter of days or weeks. To better illustrate the scale of interest, let us remind you that our fair will not be held until October 21-23.
Large stands for European measure
It is worth mentioning that at least a dozen stands promise to be really impressive and their size will often exceed 500, 1000 or even 2000 square meters. Already last year, such stands appeared and made an amazing impression. Now there will be more!
Thanks to the efforts of our exhibitors, not only in large, but also in the more atmospheric, perfectly planned spaces, visiting the fair will be an even more pleasant experience and Caravans Salon Poland will gain an even more "European ambience"
We do not forget about the Special Zones and the rally
A large number of applications applies not only to exhibitors, but also in our Special Zones, the image of what they will look like and who the visitors will meet there is starting to take shape.
The Vanlife Zone and the Retro Zone will fill Pavilion 4 of the Poznań International Fair and we have planned a bit more space for both of them. We expect about 30 vintage motorhomes selected by CamperMajstra (partner of the zone) and a dozen Vanlifer in the Vanlife Retro zone, headed by PodróoVanie, which has become the official ambassador of Caravans Salon Poland. Several creators have already confirmed their participation, but we will start publishing information about them from August.
Przystanek_targi, our caravanning rally, is also selling out at a faster pace than last year. Already about 120 plots have found their owners and the number of 220-230 crews assumed by us will probably be reached again a few weeks before Caravans Salon.
Apply to the fair today, buy a plot or a ticket and be with us at Caravans Salon Poland 2022!
The exhibition space is still available, so we encourage interested companies to contact us: HERE
Lots for a rally or tickets at lower, presale prices can be found: HERE
Enjoyed reading this article? Share it!