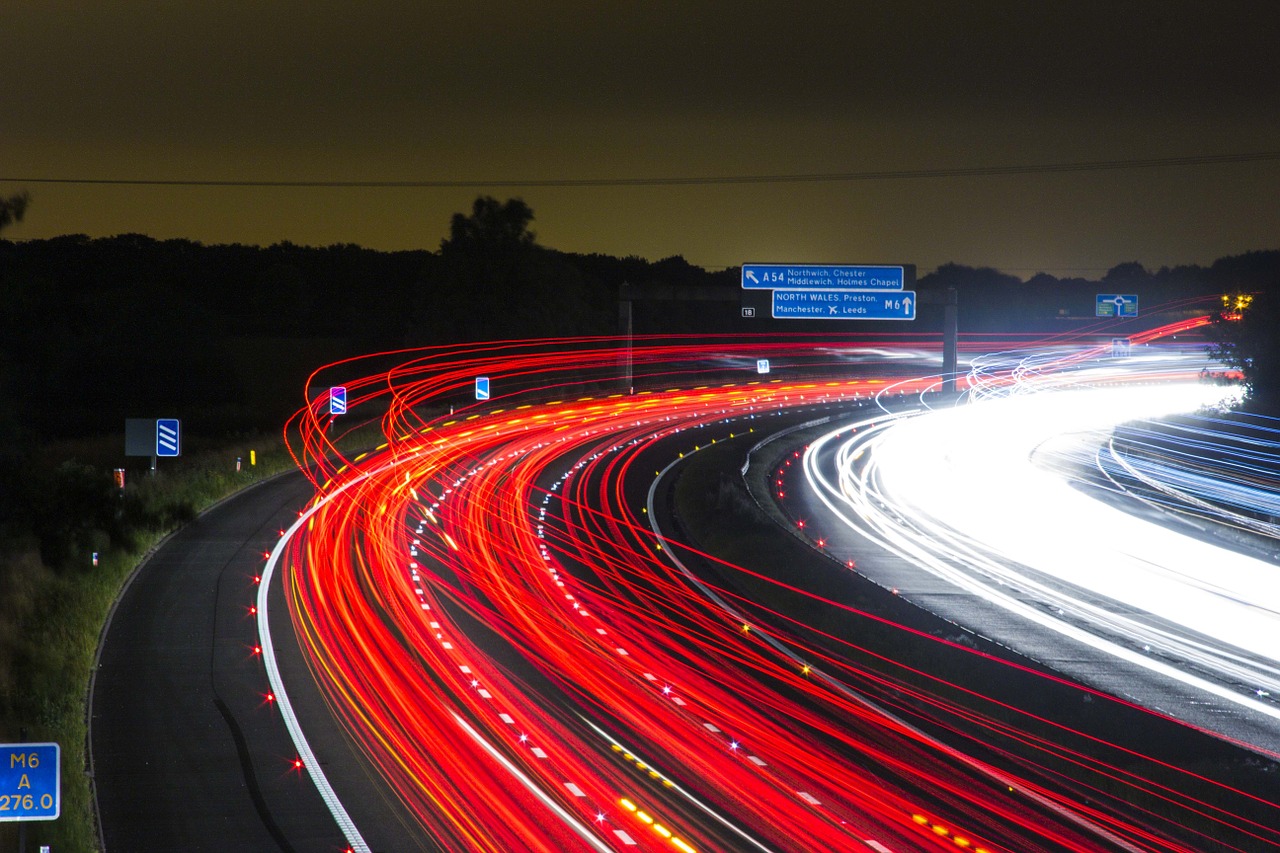 Who among us doesn't like highways? This is the best, most convenient and fastest way to get around the world. Thanks to them, we can visit several countries during one vacation. However, the regulations in force in individual countries and fees may pose a problem. It's worth getting ready for them.
In the past, only those who had to travel, in practice mainly merchants and soldiers. People traveled mainly on foot, then on horseback, often also by carts. It was difficult and dangerous, because there were many criminals - robbers who made robbing travelers a regular source of income. In this situation, the name Yanosik for the popular GPS system sounds a bit funny - the modern "robber" not only does not steal from drivers, but also allows them to save on fines.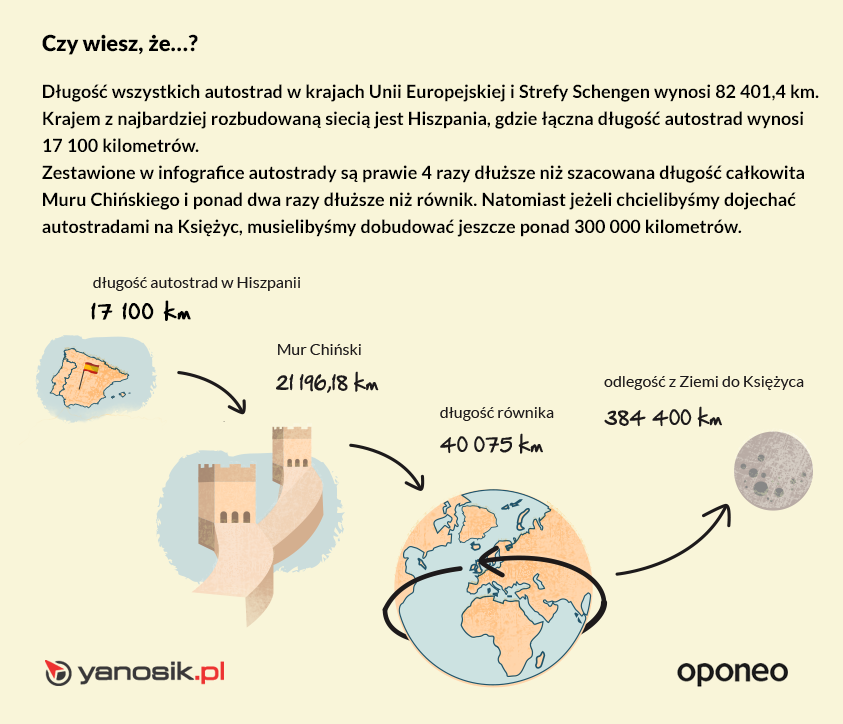 The first motorway was established in Germany in 1921 near Berlin (today's part of the A115), but it was experimental. The first public highway was built by the Italians in 1923 - it ran from Milan to Como (today's A8 and A9).
Highways in Europe
Currently, the motorway network consists of roads connecting many countries. Probably the most famous is the Pan-American Route, which crosses 2 continents, 17 countries, and runs through over 25,000. km.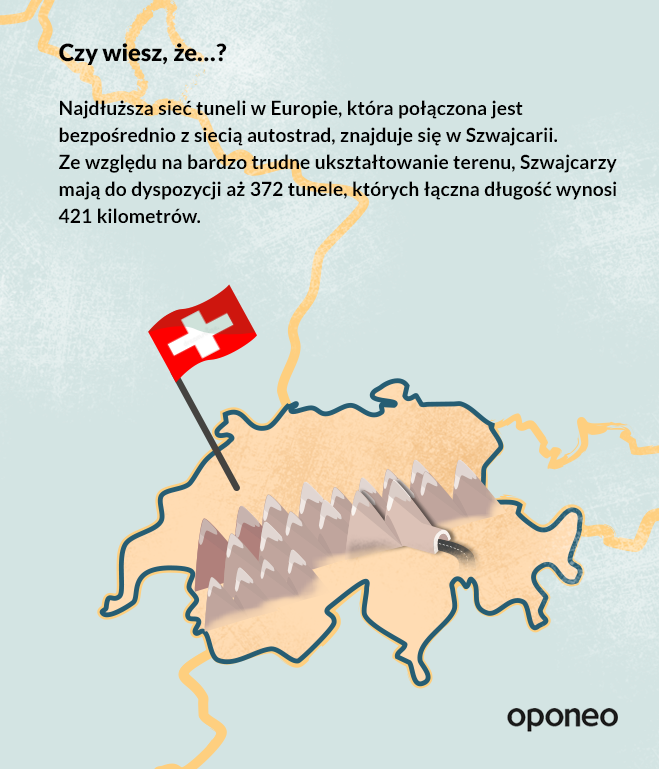 Europe also has a lot to be proud of. The longest highway in the Old Continent is the E40 - we will take it from France to Kazakhstan. As for individual countries, Spain has the longest network - 17,100 km, then Germany - 15,306 km and France - 11,612 km. These are, of course, the largest and most economically developed countries. Behind them, there is Italy - 6,943 km, Great Britain - 3,649 km and tiny Netherlands - 3,070 km. Poland ranks 12th in this ranking, with roads measuring 1,639 km. Cyprus closes the stakes - with 257 km of motorways and Luxembourg in 27th place - 167.
Parking lots and petrol stations on highways
When traveling, we must take into account not only the total number of kilometers that the motorways will allow us to travel, but also the infrastructure that accompanies them. Theoretically, nowadays we can easily cross several countries without having to get out of the car, but none of us are automatic.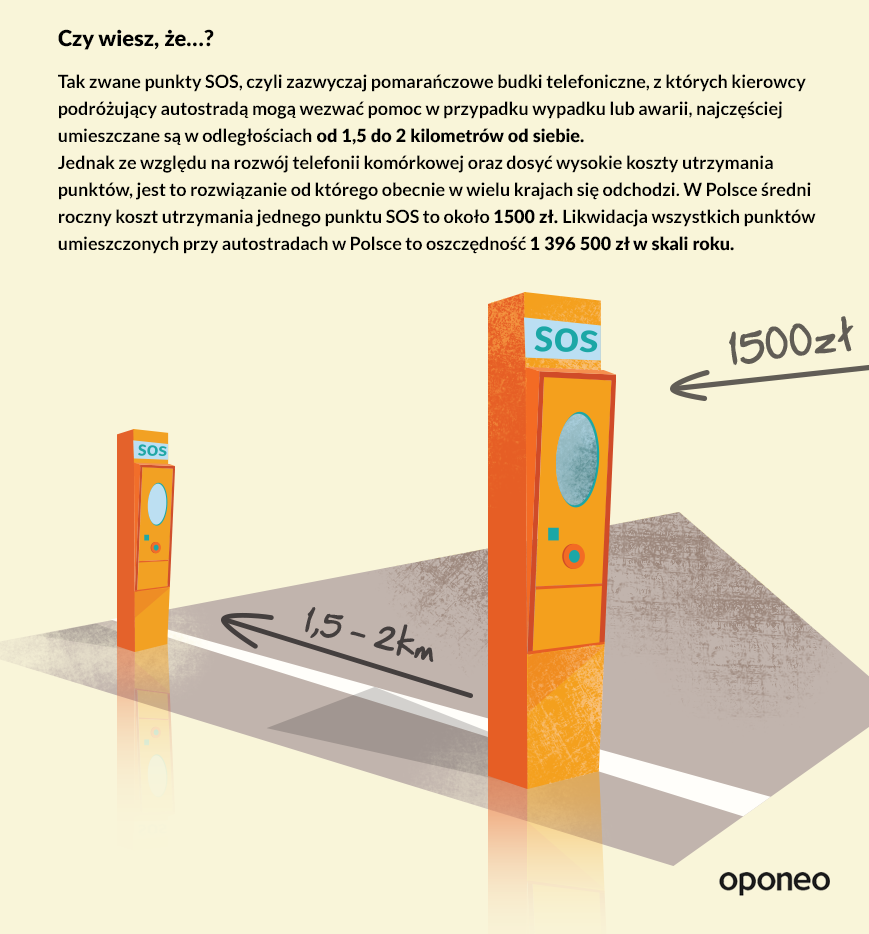 Fatigue, hunger, a flashing fuel lamp or the need to use the toilet will force us to stop every few hours. However, it is not so obvious everywhere. We can be calm in the larger territory of Europe, especially in France, where there are over 600 places to stop and rest. Poland also cares about the good condition of drivers - we have 152 places to relax, so we are 9th in Europe. However, in Finland there are only 51 such places, in Norway 32, and in Cyprus we will not rest on the highway at all.
When it comes to gasoline supplies, Spain is also in the lead. There, on the motorways, we will find 595 petrol stations. Next are Italy - 409 and Germany - 387. Poland has only 65 such facilities, and Cyprus altogether. In many countries, the number of stations does not exceed 100, which may seem a bit strange ...
Highway tolls in Europe
Another thing that we often do not pay attention to when planning a trip is the cost of highways. Meanwhile, the awareness of the fees may lead us to refrain from choosing the fastest route, especially if we travel by car over 3.5 tons.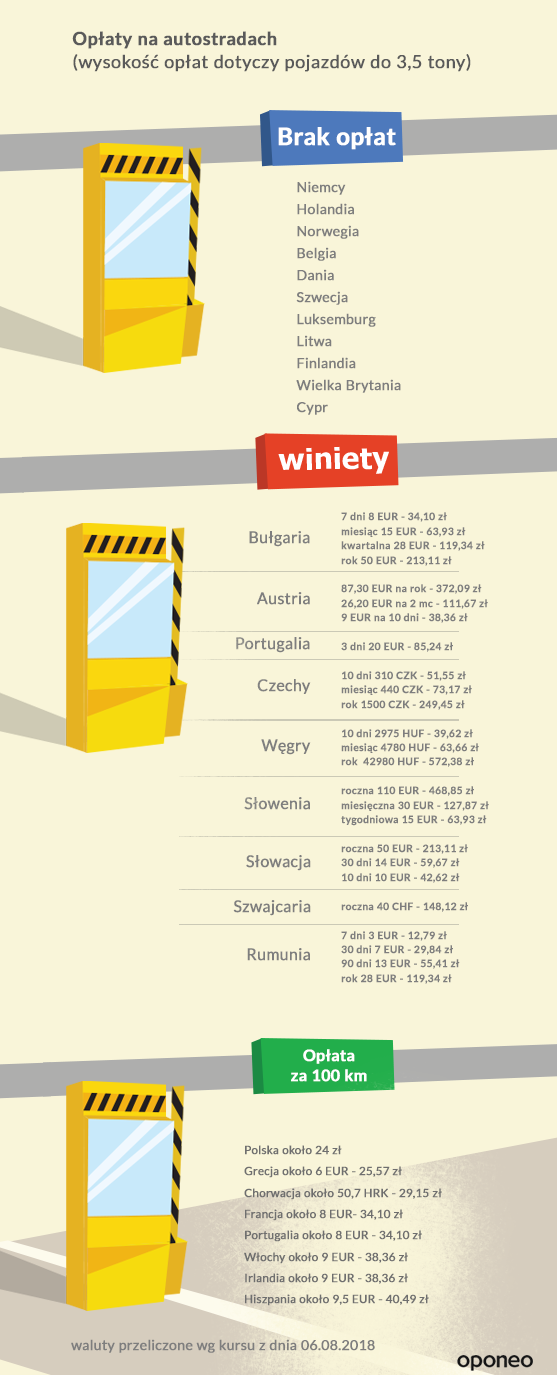 We will travel for free on the roads of: Germany, the Netherlands, Norway, Belgium, Denmark, Sweden, Luxembourg, Lithuania, Finland, Great Britain and Cyprus. Is it completely free? Unfortunately not. Even in countries with a free motorway network, we will come across toll sections. Bridges, tunnels or perimeter routes under private administrators may have their own pricing systems. For example, like the M6 Toll road in Great Britain, which is a special toll section (if someone does not choose the busy public highway).
In other countries, we have to pay for comfortable travel. And here there are payment systems: vignette and sectional. The first one is based on periodic tolls, allowing unlimited use of the motorway system or its specific sections. The vignette, in the form of a sticker on the windshield, is proof of payment of the toll before using the motorway. We can buy it at border crossings, gas stations or in some shops. Most often, it is also possible to purchase a vignette by SMS or via the Internet. When purchased in advance, prices are sometimes lower. We buy vignettes for a few days, several months or the whole year. In some countries, transit or tourist vignettes are also available. This system is used by: Bulgaria, Austria, Portugal, the Czech Republic, Hungary, Slovenia, Slovakia, Switzerland and Romania.
The section system, on the other hand, consists in charging tolls for traveling a certain number of kilometers. We usually pay at the gates. This system is used by Spain, Greece, Italy, Portugal, Croatia, France, Ireland and Poland. Prices vary significantly across Europe. Even in one country they are not the same. The amount of the toll is determined by the owner of the motorway section. Poland fares well compared to other countries. We pay the least, about PLN 24/100 km. Toll motorways are the most expensive in Ireland, Spain and Italy (approximately PLN 38/100 km).
Speed limits on highways
We can also be unpleasantly surprised by the speed camera. It is true that the motorway is used to move quickly, but within the limits of the established standards. Only in Germany can we skip "what the factory gave" (unless the signs say otherwise). We will go the fastest in Bulgaria and Poland. Here the limitation is 140 km / h. In most countries, the maximum permissible speed is 130 km / h. The smallest madness is allowed by: Sweden - 110 km / h, Norway - 100 km / h and Cyprus - 100 km / h.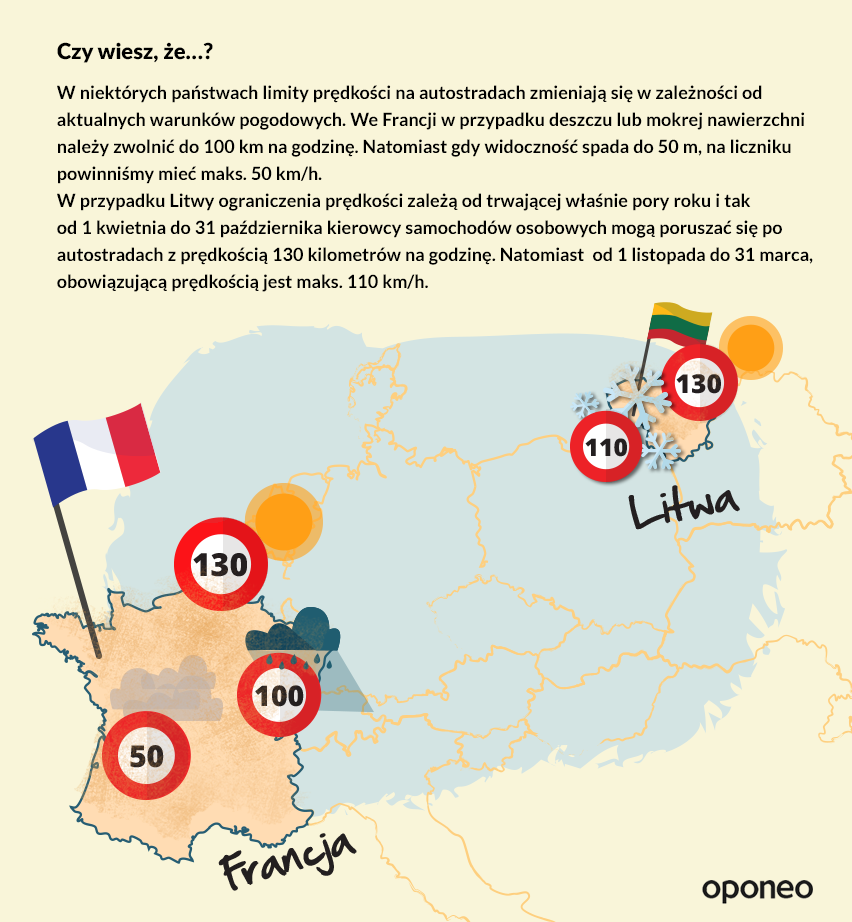 However, we should remember that in some European countries the speed limits are not fixed. They can change depending on weather conditions, topography or the condition of the surface. This is e.g. in Finland (there are limits on different sections: 80 km / h, 100 km / h and 120 km / h) and Luxembourg (130 km / h per hour in dry conditions, 110 km / h in rainfall).
As for speed, so is safety. In general, motorways are considered safe roads, and the number of accidents is directly proportional to the number of users and the length of the motorways. Most accidents occur in Spain - 32,421 per year, in Italy - 23,329 and in France - 21,686. Poland ranks 20th out of 27 with 478 unfortunate events per year.
How to Prepare?
Traveling on highways is a very comfortable, fast and extremely practical solution. Regardless of whether we use road markings, maps or GPS navigation, it is worth being cautious and carefully checking all aspects of our trip before leaving:
determine the applicable speed on the motorway in a given country,
check the prices of highways in Europe on the sections we cover,
verify the current vignette prices in the countries we travel through,
check area and period restrictions,
plan well rest stops and refueling.
Motorways have never been as accessible to drivers as they are today. With a little good planning and time management, we can get anywhere on the continent quickly and without problems. If we have all the information we need, all we need to do is fasten our seat belts, start the car and hit the road.
The text was created in cooperation with the Oponeo store
A lawyer who loves traveling. Always with a book on the go. I collect memories of the color, taste and smell of every place I visit.
Enjoyed reading this article? Share it!