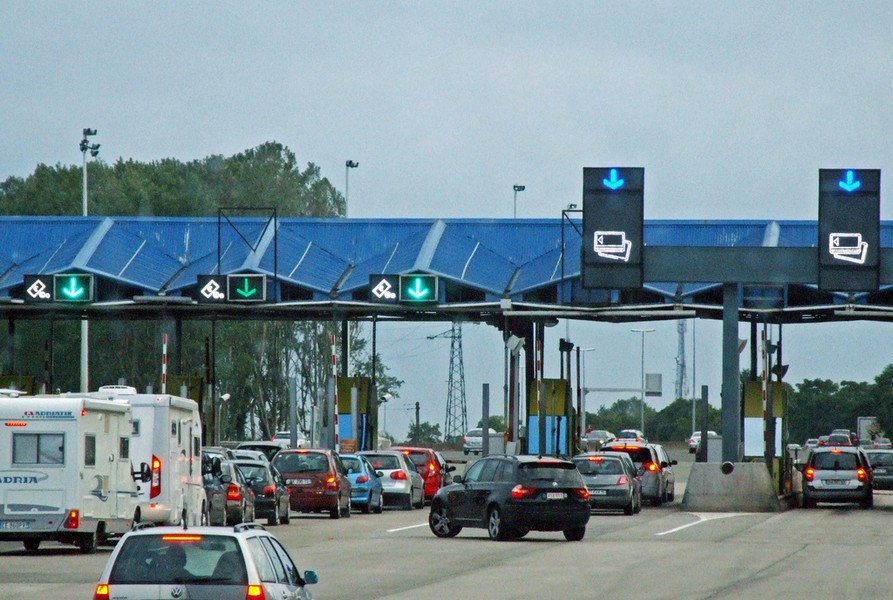 The necessity to pay tolls is the responsibility of drivers in many European countries. Perhaps soon we will also have to pay for driving on roads in Germany.
In many European countries, driving on selected roads by car requires the purchase of a vignette and sticking it to the windshield on the inside. Some of them use electronic vignettes or - as in Poland - the fee is paid at the motorway gates.
In Austria, tourists traveling by car (with or without a trailer) most often choose a 10-day vignette, which costs 8.70 euro. If you intend to stay in Austria longer, it may pay off to purchase a 2-month vignette for EUR 25.00. An annual vignette costs € 84.40. Vignettes are compulsory on highways and expressways. Additional fees are charged for traveling through selected tunnels and high mountain roads.
In the Czech Republic, vignettes are valid on highways and expressways. A 10-day vignette costs CZK 310, a 1-month vignette costs CZK 440, and an annual vignette costs CZK 1,500. Remember to mark the current date on the vignette before sticking it on. The vignette consists of two parts - one is glued to the windshield, the other is kept in the event of a road check.
Vignettes are also valid in Slovakia . They cost 10 euros for 10 days, 14 euros for 30 days and 110 euros for 1 year. But be careful! If you are traveling with a set of vehicles whose total GVM exceeds 3.5t, you need a second vignette - for the trailer (at the same price as for the car). In the case of a motorhome with a permissible total weight of up to 3.5 tons, one vignette for a passenger car is enough.
From 01/01/2016 Slovakia introduced an electronic toll collection system.
There is a motorway toll in Hungary , which must be paid when buying an e-vignette. Instead of a sticker, we will receive a computer printout with the sales number. Keep this printout in the event of a roadside check. A 10-day vignette for a car up to 3.5 tons costs 2,975 forints (about PLN 40). The monthly fee is 4,780 forints (approx. 70 zlotys), and the annual fee is 42,980 forints. It is worth mentioning that buses and campers over 3.5 tons are subject to the HU-GO toll collection system.
Fees in other countries
Vignettes are also valid in Bulgaria, Romania, Slovenia, Switzerland, Turkey and Moldova . An interesting system works in Norway - it requires the driver to register a credit card (e.g. via the Internet), which will be charged for journeys. Charges can also be made at petrol stations and, in some cases, at toll stations (where no electronic system has been introduced).
In most other European countries, journeys with vehicles up to 3.5 tons are either free or paid before entering a given section of the motorway. In some countries, you have to pay for using tunnels or bridges. More information on this subject for each country can be found in the section on road traffic regulations in Europe .
Until now, it was completely free to travel by passenger car around Germany . This may change, however. The weekly "Der Spiegel" reported recently that German parliamentarians are working on the creation of a law aimed at introducing a toll system for the use of motorways. According to preliminary ideas, the fees were to apply only to drivers from abroad. Such a solution could, however, be inconsistent with EU regulations, which prohibit discrimination against residents of other Community countries. One solution may be a legal trick that introduces charges for all drivers, but with the proviso that persons paying road tax (and thus registered in Germany) will be exempt from this charge. The last plan is the introduction of vignettes for everyone, but such an idea raises great opposition among the Germans themselves, who have an exceptionally well-developed network of motorways, and thus the introduction of vignettes would affect almost every household.
However, it can be expected that sooner or later Germany will also join the countries that charge tolls for using the motorways.
Sometimes it is better to get lost than to ask for directions too much. Aldous Huxley
Enjoyed reading this article? Share it!