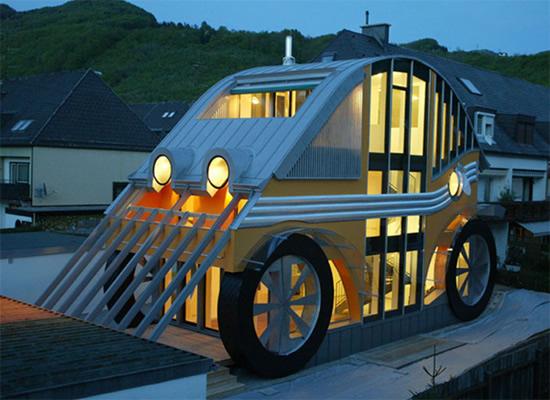 It turns out that the slogan "live in the car" can be understood in many different ways. For Austrian Markus Voglreiter, it did not mean moving to a camper, but building a house that would resemble a car.
Looking at the pictures of this house, you get the impression that it is a funny, colorful toy. Only a look at the buildings in the background makes us realize how big this car is. It is a really large house, divided into two apartments - for parents and their children.
The erection of such a building was not easy for many reasons. First, it was necessary to obtain approval for the implementation of such a bold architectural vision. Secondly, the entire building had to comply with the construction law. Thirdly, the author of this work wanted to create an object not only visually interesting, but also having good insulation and an effective heating system, which is quite a challenge.
However, it is the appearance that makes the house near Salzburg already attracting tourists. Openings that look like car lights are bathroom windows. Where we see an open sunroof, there is a balcony. Car accents can also be found inside - e.g. the columns are shaped like shock absorbers.
Markus Voglreiter runs a website where you can learn about the history of the amazing house-car and his other projects: www.stadtbaumeister.at .
Sometimes it is better to get lost than to ask for directions too much. Aldous Huxley
Enjoyed reading this article? Share it!