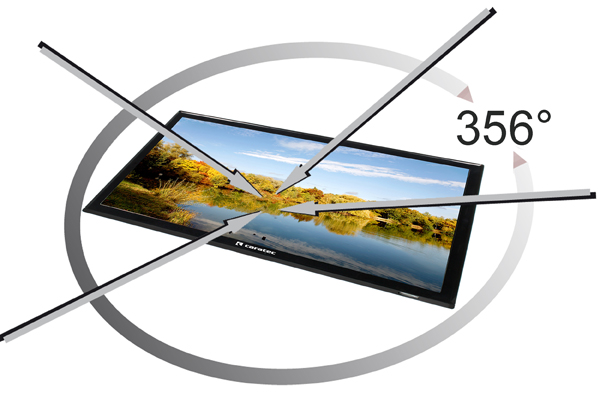 Today, the TV set in the motorhome is no longer considered a whim. Although usually offered for an additional fee, it is offered as an additional element of equipment for almost every motorhome and caravan. Unfortunately, it is not always possible to take full advantage of it ...
Mounting televisions in motorhomes is so obvious today, due to the fact that monitors are becoming flatter and therefore televisions are very thin. Not only that, because the narrow housing accommodates not only various inputs, but also entire DVD systems. To watch a movie, just insert the disc into the slot in the TV casing.
TV on my shoulder
In order to make watching even easier, and to prevent the TV set from becoming a bothersome obstacle in the small area of the camping vehicle, the screens are usually mounted on movable arms. A more expensive, but also possible option is to hide the receivers in the furniture . All you have to do is press a button to make the screen slide out or fold back in.
Unfortunately, no matter what solution we choose, watching TV can sometimes be troublesome. Especially if you are going to watch your favorite series or program not in a big and luxurious motorhome, but in a camper van, a small caravan or a partially integrated motorhome. Setting the boom placed too high or to the side of a piece of furniture may not be enough for all "household members" to see the image equally well.
At a varying angle
The Caratec company, which specializes in the production of TV sets for camping applications, has decided to face this problem. She introduced a wide-angle system in her TV sets. Thanks to the available adjustments, it is possible to set the image so that it is clearly visible at various angles.
The perspective can be expanded both on the right-left axis (178 degrees up or down) and up and down (89 degrees each way). People looking at the screen from different angles will be able to see both the picture and the colors correctly. The only disadvantage is that at a high angle the image may appear slightly darker compared to viewing it fully straight ahead.
It is worth adding that Caratec TV sets have an integrated DVD player, DVB-T and DVB-C tuner and a satellite receiver.
Small antenna - big possibilities
Since we are at the satellites, Megasat recently presented an interesting novelty. During the recent fair in Dusseldorf, it presented a very small antenna . Its height is only 16 cm, which means that it only slightly protrudes beyond the car's outline. At the push of a button, the antenna finds the channels available in a given location within two minutes. Its price is around 1,200 euros .
If we connect a wide-screen TV with such an "intelligent" antenna, watching TV in a motorhome or caravan can take on a completely new dimension.
Sometimes it is better to get lost than to ask for directions too much. Aldous Huxley
Enjoyed reading this article? Share it!