10 summer activities on Lake Garda in the Trentino region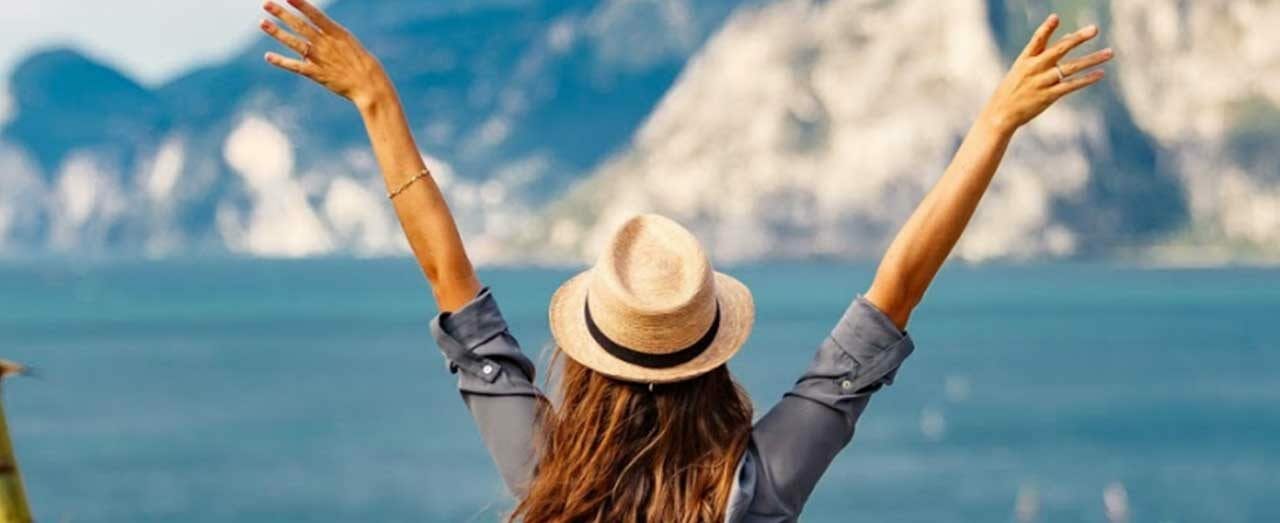 Perhaps 10 activities are not enough, but we decided to present you this summer list from Lake Garda.
Imagine a deep blue lake among tall, lush mountains. Imagine a place full of sunshine with a unique Mediterranean microclimate, even though it is located in the Alpine region. You can find it all during your summer holidays in Garda Trentino .
Below you will find 10 great reasons why you should spend the summer at Italy's largest lake, specifically its northern end, where you can enjoy a summer break full of food and wine, outdoor sports, miles-long beaches and well-equipped campsites . Just a unique holiday.
Excursions on the Ponale path. It is the most famous path in Garda Trentino: easy and wonderful at the same time, with a breathtaking view of the lake. A true classic not to be missed. A trip to the waterfall of the same name, by bike or on foot, is an unforgettable experience.
Sailing at sunset. Here the wind is in the top ... and fortunately, because thanks to it we can partially forget about the stuffiness and go on extraordinary sailing cruises . When is the best? At sunset when everything is golden!
On the saddle! Summer is not summer without bicycles. You can't miss this classic route (even good for less experienced cyclists) that runs along the bike path from Riva to Torbole and then along the Sarca River to the romantic Arco Castle. This fairy-tale background will make you forget about fatigue, and if you want to cool off, you can always take advantage of the hidden beaches by the river.
Canale di Tenno and ... a rustic return to the Middle Ages! Do you feel nostalgic for the period of knights and ladies? Don't worry, time seems to stand still in the village of Canale di Tenno, and every summer there is an event celebrating medieval realities - Rustico Medioevo !
A night trip to Santa Barbara. At night you will see this place as a bright dot visible from Riva del Garda. Anyway, the small church of Santa Barbara must be visited during the summer as part of a long walk (hiking equipment, a flashlight and some caution will be required), so you can enjoy the fantastic view of the lake and the lights twinkling above it to feel ... a bit "smaller" in the face of the vastness of this landscape!
SUP and relaxation It goes without saying that after all this effort, indulging in relaxation on the beach brings indescribable relief! Long beaches wavy with the characteristic ora wind. The only activity that even hard-hitting sandwiches can do? Rowing on the board ! A relaxing sport, perfect for catching a tan right on the lake!
Search for… fresh air! Not all of us like hot weather. This can be properly used by going to one of the nearby mountain huts . There you will find some fresh air, panoramic views and delicious meals!
Fish from the lake for dinner. Eating outdoors tastes best in summer. This is the perfect time for a romantic dinner with your loved one and a lake view. Many local restaurants specialize in preparing fish from the lake. Maybe this is the right opportunity for a proposal ?
A fairytale night. Another summer event not to be missed on Lake Garda Trentino is Notte di Fiaba. Trips to fairy-tale workshops, demonstrations, face paints for kids and fantastic fireworks.
We can create the last point of this summer vacation together. Post in the comments what are your favorite ways to spend the summer in Garda Trentino. Be sure to follow us on Instagram, Twitter and of course Facebook and share your summer moments on Lake Garda with us using the hashtag #GardaTrentino (the best posts will be shared on our social media). We are quite sure that you will find many attractions with us ... certainly more than ten!
Camping on Lake Garda
The campsites on Lake Garda are the perfect solution for everyone, they offer you the opportunity to spend your holidays on Lake Garda at a low price and all season long. The campsites are situated close to Lake Garda. They are surrounded by lush vegetation and a fascinating natural environment. The campsites offer a variety of services, including rental of bicycles, windsurfing equipment, kayaks and pedal boats. They will surely meet all your requirements, regardless of whether you decide on a tent, caravan or motorhome. Many of the campsites on Lake Garda offer entertainment services, bars and restaurants: click here to find out more .
We have created the CampRest portal for people who value freedom and travel on their own.
Enjoyed reading this article? Share it!