12 Austrian campgrounds "on the way" to southern Europe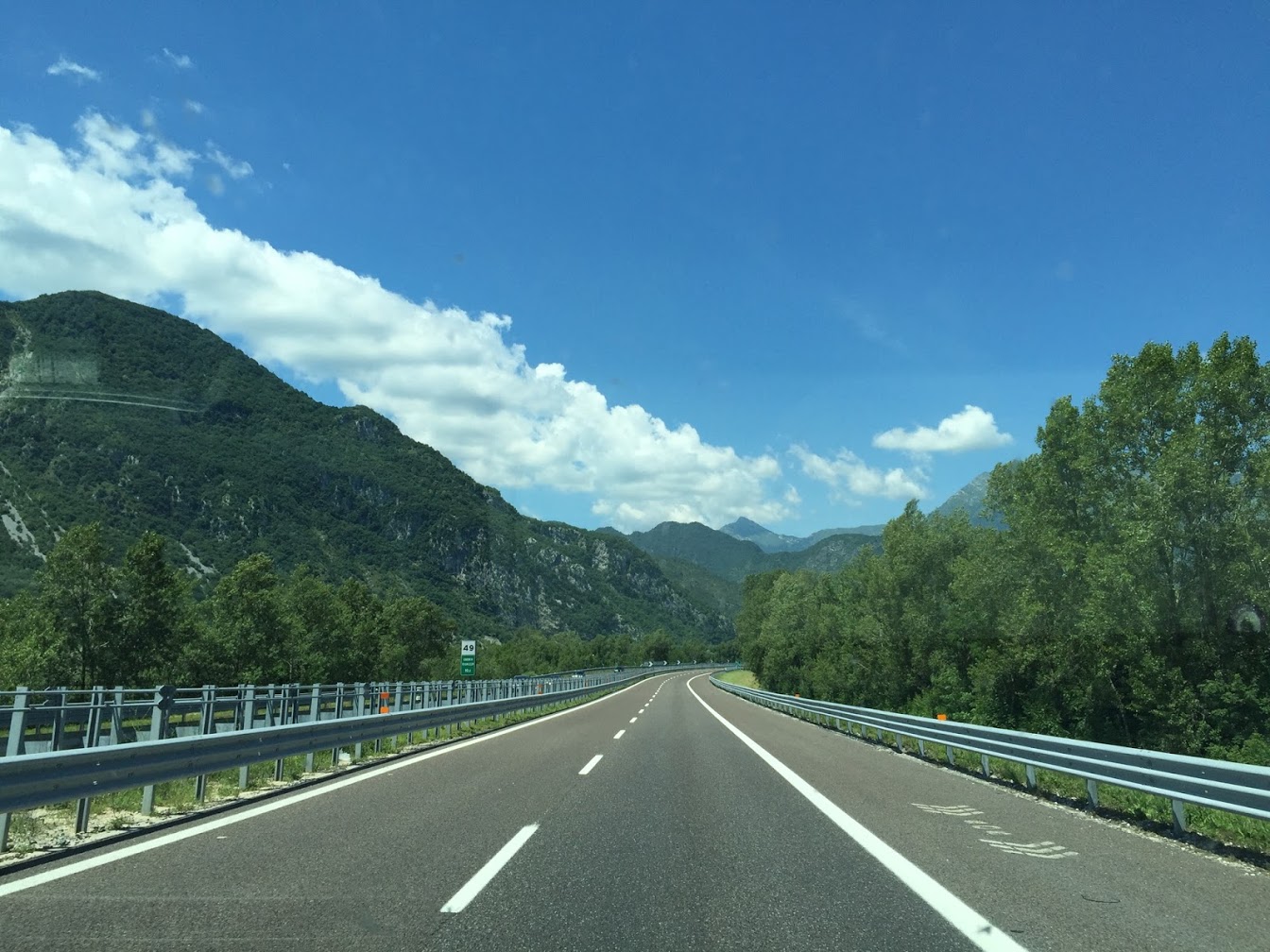 For the comparison, I chose a camping that will work well not only to sleep on them and go further, but may as well be a place where you will stay for longer. Austria is rarely a Polish destination (except in winter, of course). It is a pity, because the campsites have great facilities, they are located in beautiful places, where there is no shortage of great sports infrastructure. So I will describe how far it is from the nearest motorway exit, but I will try to describe these places so as to encourage you to plan an additional few days on these campsites.
Besides, who doesn't love Apfelstrudel? ;)
(After clicking on the name of the campsite in the header or its photo, the page of this campsite will open on Google or in our campsite search engine, where you will find information such as: detailed address data, website, telephone numbers and sample prices, as well as reviews about campsites. you have been to a campsite from our list and you want to share your comments about the campsites, click! Reviews can be added without logging in)
Distance to the nearest motorway exit: 4 km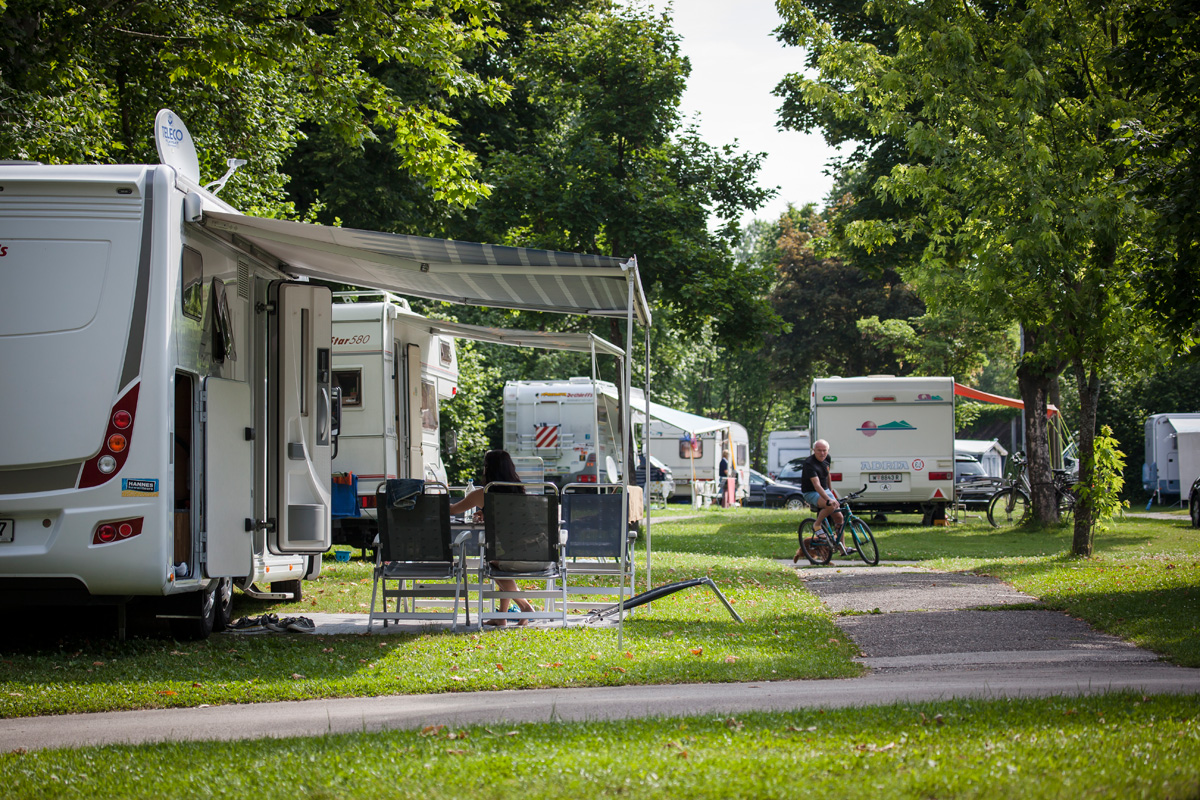 You often choose Klagenfurt as your first stop on your way from Poland. So I have a few campsites from this region for you. The first one is right on the lake shore, but has no direct access to it. In addition, admission to the nearest beach is payable, because it is a municipal, guarded beach. But thanks to this, you get safe access to a clean beach with full infrastructure. There are even slides here.
There is a very large park with a playground next to the campground. You can reach Klagenfurt by bike or public transport.
This is where the Iron Man race starts every year. A lot of participants sleep at the campground then, so it's worth checking available dates and plots in advance.
Camping Plörz - Landskron am Ossiachersee
Distance to the nearest motorway exit: 10 km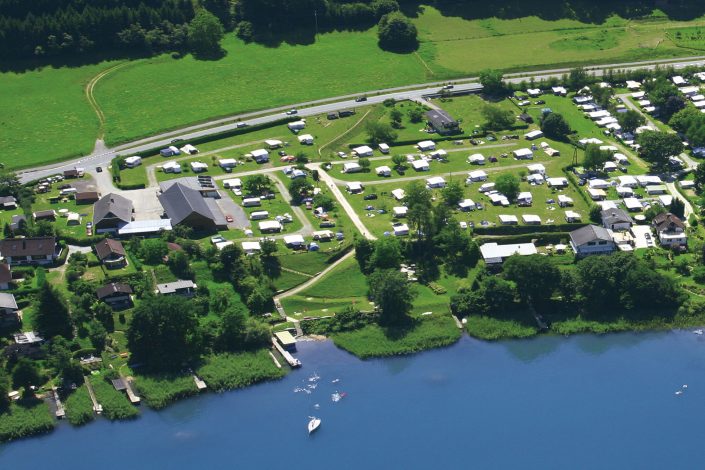 This campground is located directly on Lake Ossiacher. It is family and dog friendly. At the campground, next to the standard beach, there is also a special beach for dogs. There is also a catwalk and a playground for them. It is clean here, but it is also thanks to the owners of the quadrupeds who clean up after them.
You can order bread for the next day at the campsite. The owner is very nice!
Nearby, you can go hiking in the mountains - for example, walk along the trail around the Landskron Castle or take a gondola to the Gipfen Gerlitzen. See the Finsterbach Falls or take a cruise on a cruise ship on the lake.
Distance to the nearest motorway exit: 10 km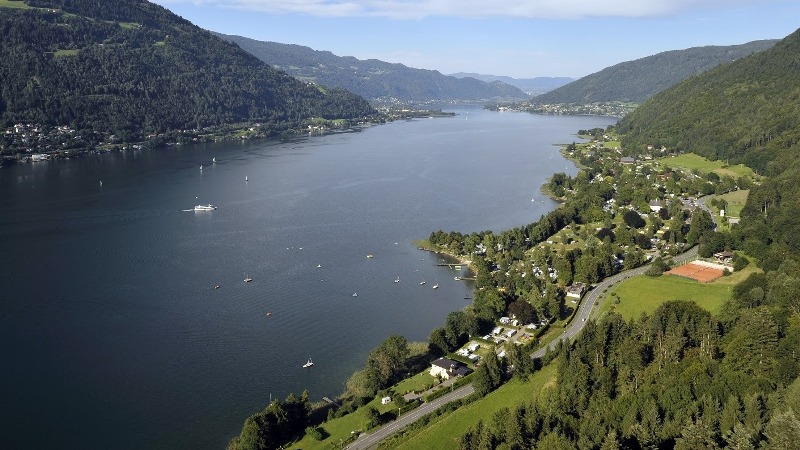 This campground is right next to the previous one and also has direct lake access and beautiful views of the Ossiacher See. There are beautiful new toilets here, also for children and babies.
There are many possibilities for sports on site: tennis courts, beach volleyball, mini golf, and nearby you can go zip-line at the Familywald or go climbing in the Adventurepark Gerlitzen rope park.
Distance to the nearest motorway exit: 4 km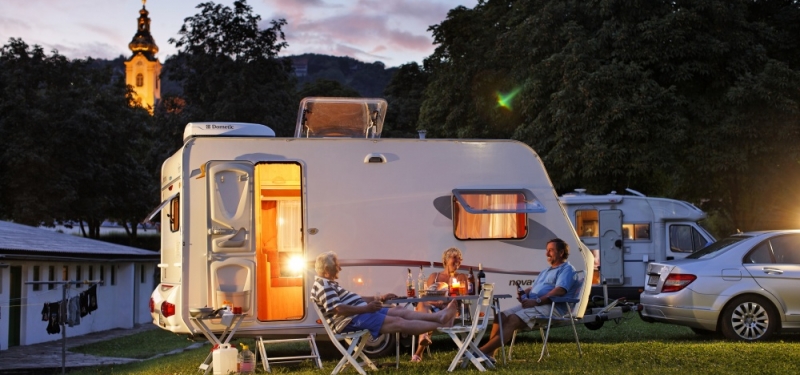 Located in front of Graz, close to the attractive small town of the same name. It is a very small campsite, but there are plenty of opportunities to relax around. Directly next to the campsite there is a complex of indoor and outdoor swimming pools, tennis courts (also indoor), many bicycle paths. Even the eurovelo 9 cycle path runs right here. There are also plenty of hiking opportunities nearby. For example, you can walk directly from the campground for a short walk around the small Gmoos lake. A very interesting, but longer trip is a walk between the castles of Aichberg, Kirchberg and Reitenau (10 km).
There are many thermal baths in this region, eg H2O Therme Sebersdorf or Heiltherme Bad Waltersdorf
Distance to the nearest motorway exit: 55 km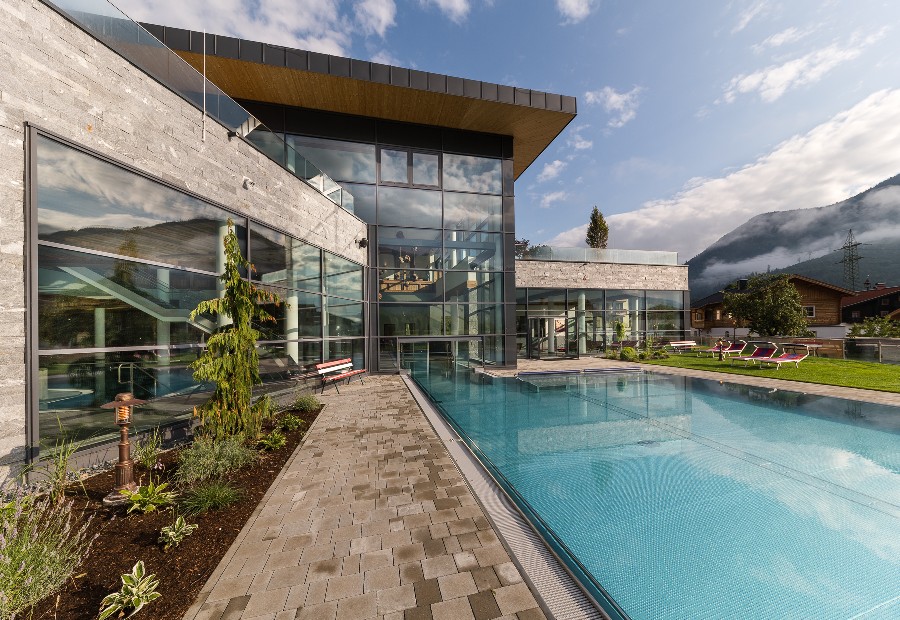 We are now moving to the western part of Austria near Salzburg. This camping may not be a place that I would recommend just for one quick night on the way south, because 50 km from the motorway is quite far, but it is definitely a place where you will want to stay longer. It has a brand new swimming pool complex on its premises, as well as a sauna and bath complex for guests free of charge.
There are plenty of pitches on the campground and we particularly recommend the ones at the swimming pond. They are located a little off the beaten track from the parc's central point with a restaurant, entertainment point and swimming pools, but they have their own charm.
We wrote more about this campground in the article: Camping and hotel with a swimming pool in the mountains - SportCamp Woferlgut in Zell am See .
Distance to the nearest motorway exit: 60 km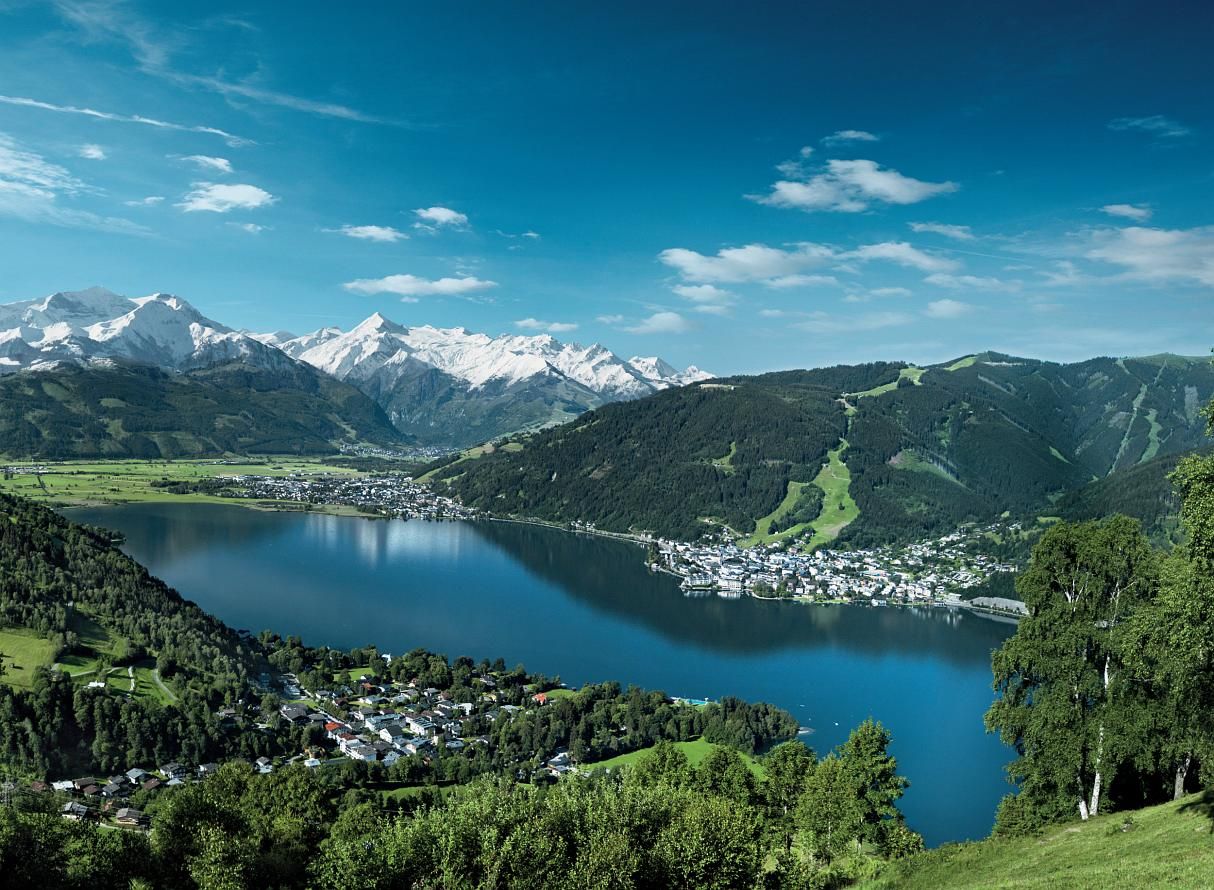 Like the previous camping, Panorama Zell am See is a good place to stay for more than one night due to the large distance from the motorway. Well, unless you want to take a ride along the famous Groβglockner scenic route.
The campsite itself is located about 500 m from Lake Zeller. It does not have as many amenities as its predecessor, but it will certainly be rewarded by the proximity of the lake and the proximity to the city, as well as numerous cycling and walking paths in the area.
Distance to the nearest motorway exit: 30 km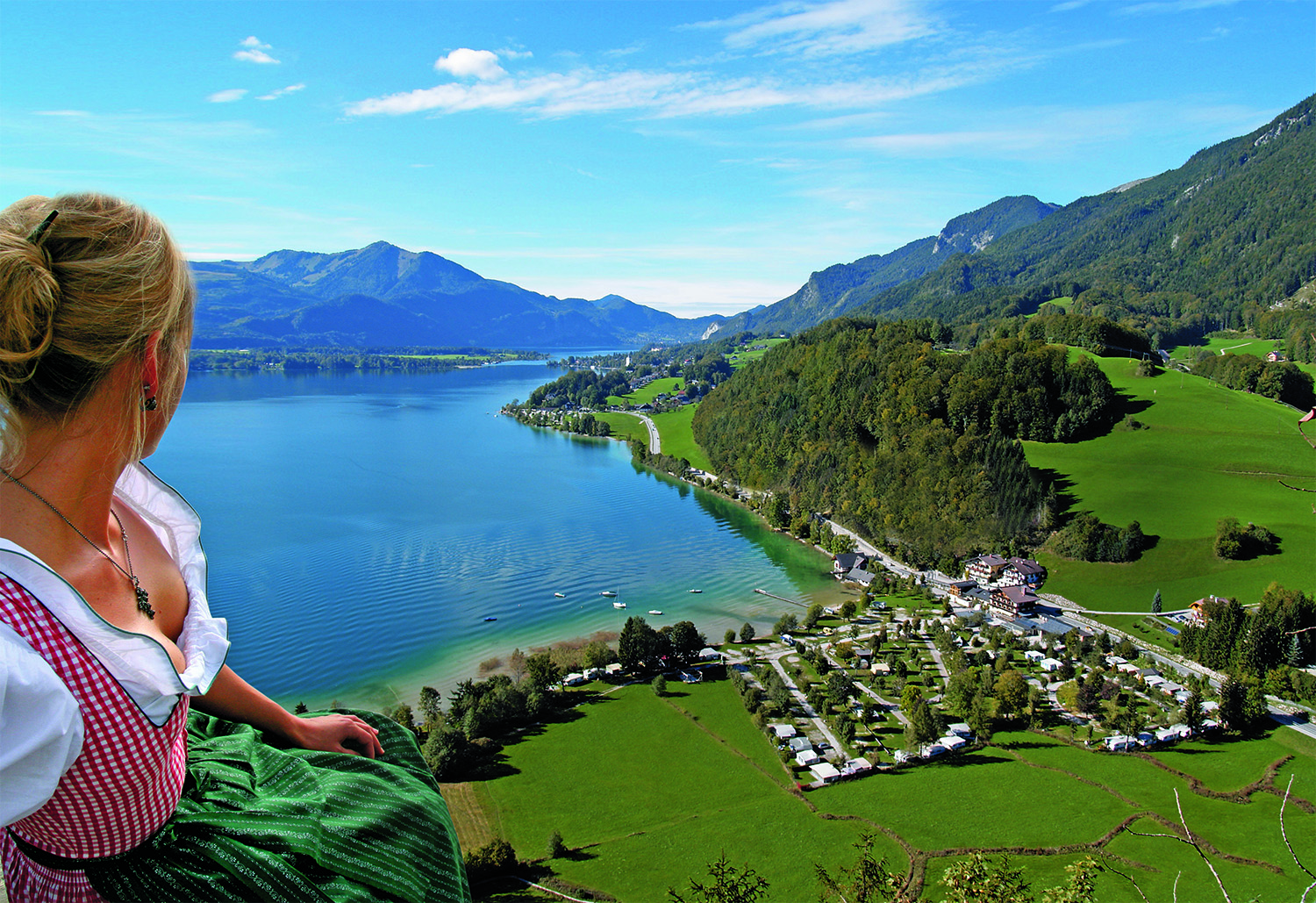 The camping is located quite close to the highway, but because you have to get to it by touring at least 2 lakes, the distance is quite long. However, it is worth straying from the route even for one night - fall in love with this region and come back here for a longer time.
Camping Berau has direct access to the lake, which has a sandy bottom, a long, gentle descent and warm, turquoise water. There are two restaurants on the campground . One is a typical Austrian pub with local cuisine, and the other is more youthful with Italian food and a modern interior, where you can listen to live music in the evenings.
The narrow-gauge Schlafbergbahn, which departs from nearby St. Wolfgang, is especially worth taking. The town itself is also worth seeing.
Distance to the nearest motorway exit: 15 km
This campground is located near the previous one, but on a different lake and closer to the motorway exit. It has all the amenities that are standard on campsites abroad, i.e. modern buildings with sanitary facilities, a place to empty the chemical toilet and the possibility of filling fresh and draining gray water, washing machines and dryers, a playground, free wifi, and in addition free baths.
Fishing is possible on the lake at Inselcamping , and the lake is also extremely popular with divers. It is 170m deep in places and the visibility is up to 20m. The diving center is only 250m from the campground. The lake is perfect for kayaking or SUP . The area also invites to practicing mountain biking. There is also a year-round toboggan run nearby.
On rainy days, you can take advantage of the nearby thermal baths in Bad Ischl, have fun in the water park in Bad Schallerbach, visit numerous museums in the area, such as the Mozart Museum in Salzburg, or take your children to the salt mine museum.
Distance to the nearest motorway exit: 4 km
A year-round family camping in Tyrol with a heated swimming pool and saunas. Close to Camping Stadlerhof is the small lake Reintalersee with several beaches. A ski bus runs directly from the campsite to the ski slopes in winter. You can also rent ski equipment here.
There is a large playground with great attractions. There is also a playroom, a leisure pool and a heated paddling pool. There are toilets for children and special rooms for bathing and changing babies on the campsite . In high season, animations are organized. Older children may enjoy playing geocaching on the campground.
A trip by narrow gauge railway to Lake Achensee is worthwhile. There, it is worth taking a boat trip on the lake. It is also close to Kitzbühel, Mayrhofen and the Hintertux Glacier. Worth a drive to the Swarovski Museum in Wattens.
Distance to the nearest motorway exit: 7 km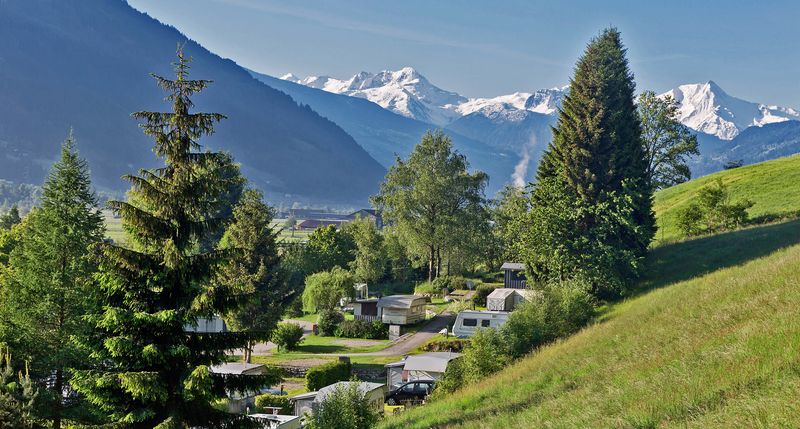 We head even farther west towards Innsbruck to experience the 5 star eco campsite Hell. It is located a stone's throw from the motorway exit.
It has an indoor and outdoor swimming pool (heated, open from May to September), a fitness studio, saunas and a gym. The modern sanitary facilities include 2 family bathrooms, a baby room, bathrooms for people with disabilities and private bathrooms, as well as a laundry room with a drying room.
The campsite offers animations that take place in high season, a large playroom, a football field, you can also rent bikes, bikes for children and bicycle trailers for children.
Only 3 km from the campsite is the Erlebnistherme Zillertal, a large indoor and outdoor pool complex
In Innsbruck itself, a good place for a quick overnight stay is: Camping Innsbruck
Distance to the nearest motorway exit: 40 km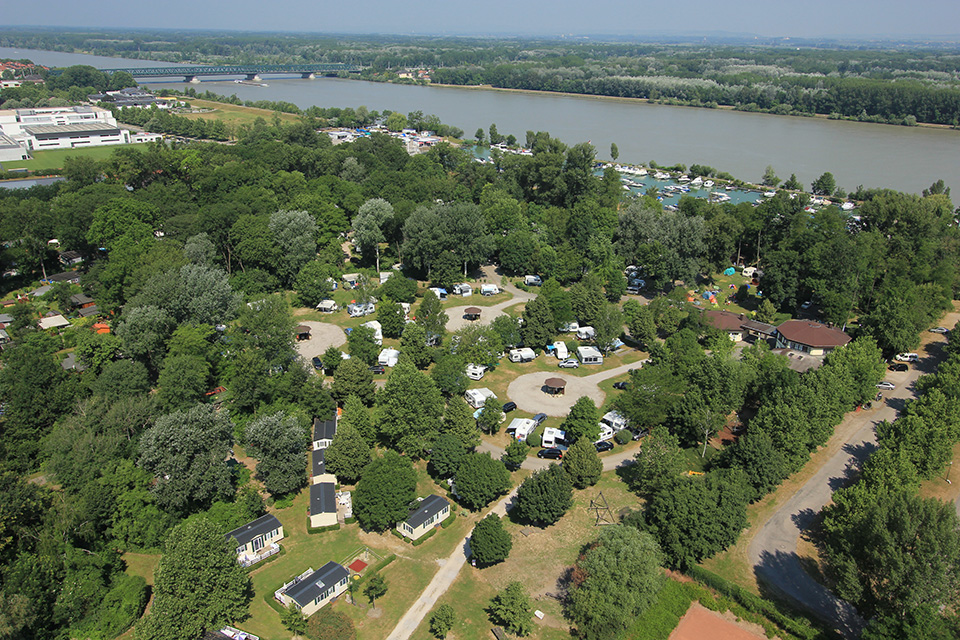 We are going back to central Austria in the vicinity of Vienna .
Bike fans will love this camping. You can go cycling along the Danube and come back ... by bike taxi :) is a service available at the campground.
Next to the campground is the swimming pool complex and the DonauSplash Tulln, the magnificent Garden Tulln and the popular Aubad Bay with a large playground.
Distance to the nearest motorway exit: 5 km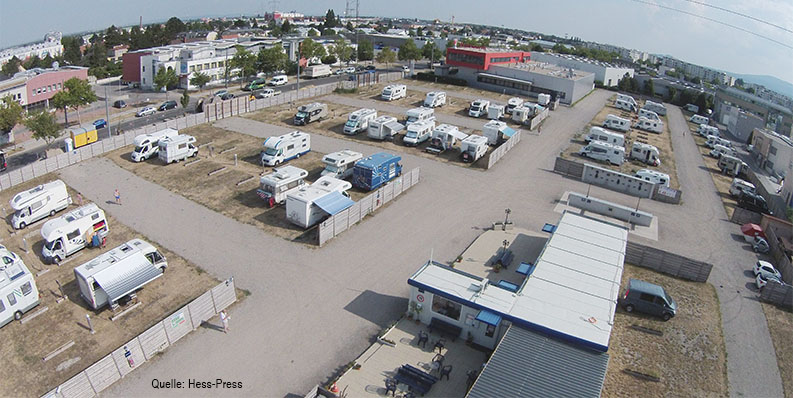 Wait a minute, it's not camping after all! What is so great to do in the "parking lot" more than one night. So let me explain that this is the perfect place to visit Vienna. The nearest metro station is 150 meters from here, and at the same time it is close to the motorway for a quick call from there. There are also clean and heated toilets at the camper-park. Unfortunately, there is one disadvantage: you can only stand here with a camper ...
Map of campgrounds
---
Do you want to know even more?



• Join our Facebook group -

Cool Camping


• Follow our profile on Facebook -

CampRestowy Facebook


• See how we travel as a family on Instagram. During our trips, it is here that we put the most reports from everyday life on the campground or in the camper -

CampRestowy Instagram


• See our YouTube videos, subscribe to our channel and give a thumbs up to the videos you like -

CampRestowy Youtube
An engineer with a passion for traveling. My dream is to drive a motorhome through the USA from coast to coast. I would also like to do a few longer bike trips around Europe, but I have to convince my husband to do that;)
Enjoyed reading this article? Share it!