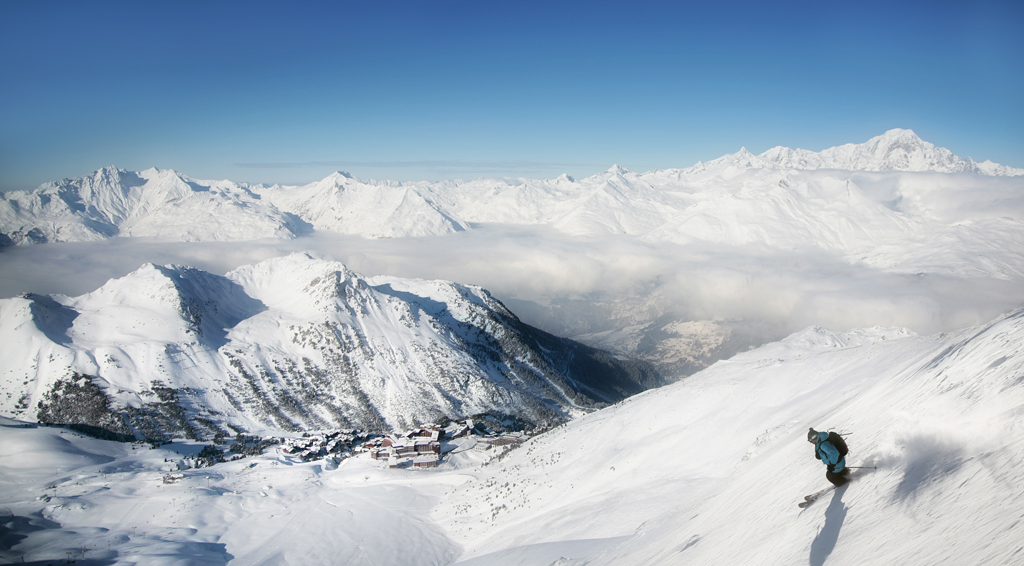 2-in-1 products such as shampoos with conditioner are praised in advertisements, and 3-in-1 products, such as tonics or face lotions, are not uncommon. Meanwhile, nature - although also made by man - there are 4-in-1 products. Certainly one, completely unique. Near the Vanoise National Park, in the French region of Savoie, lies a complex of four ski resorts. At different altitudes, but linked like sisters, there are ski stations: Arc 1600, Arc 1800, Arc 1950 and Arc 2000, which together form Les Arcs.
The complex was created thanks to the idea of Robert Blanc, a skier from the lower town of Bourg St. Maurice. Additionally, it belongs to one of the most diverse ski areas in the world - the Paradiski region. The region has more than 425 km of pistes and, in addition to Les Arcs, also includes La Plagne. In 2003, they were connected by the longest and fastest cableway in the world, able to carry as many as 200 people at the same time, Vanois Express.
Routes in Les Arcs

Les Arcs itself has a total of 200 km of pistes (84 km blue, 77 km red, 39 km black). They are very diverse - lovers of recreational riding will find gentle routes on the lower slopes, and those who like adrenaline will choose higher regions, near the top of the Aiguille Rouge glacier. They require experience, because they have a large angle of inclination - it suffices to say that they are often used to break speed records. There are 64 ski lifts in the resort (29 T-bar lifts, 30 chairs, 5 gondolas).
It is worth spending a few words on each station. The oldest is the Arcs 1600, which developed in 1968 from a small village into a ski resort. This is where the idea of amenities for skiers was born, i.e. access to the slopes from the very door of the hotel. Later, when the idea was liked and, above all, tested in practice, other centers saw it. Arcs 1600 is situated among trees, overlooking the entire valley and the Mont Blanc peak. It is quite quiet here, which is why this station is eagerly chosen by families with children. Thanks to the cable car connecting the station with the town of Bourg St. Maurice, it's easy to get anywhere else.
The second sister, Arc 1800, is the largest of all Les Arcs stations. It is divided into four parts: Les Villages, Le Charvet, Le Chanel and Charmettoger. It is very extensive, dominated by large apartment buildings. It is easy to get to the neighboring resort, La Plagne, as well as the Vanoise Express from here. No one will be bored in Arcs 1800 - it is an ideal place for both beginners and advanced skiers (blue and red runs are waiting for them just above the resort).
The third sister is the youngest - it was established in 2003. Arcs 1950 is a modern station with luxurious apartments for tourists who like comfort, and at the same time having the atmosphere of a mountain village. There are heated swimming pools, jacuzzi, and the location of the resort (in the limb forest) gives it a unique atmosphere. The architectural style of Arcs 1950 combines the old Savoyard atmosphere with the luxury of modern 4-star hotels. This is an exquisite place and, unfortunately, expensive.
The last sister, Arc 2000, is the highest, at the foot of the Aiguille Rouge mountain (3,226 m). There are no such attractions as the other stations, but it fully rewards quick access to the most difficult routes, including those on the Varet Glacier. It is the perfect place for those who are attracted to the Alps by the love of extreme snow skiing. Every year this station hosts the Speed Skiing World Championships on the "Flying Kilometer" route.
Passes at Les Arcs

Well, since snow and skis, it's passes. Their prices for the 2012/2013 season are as follows: if we choose the Paradiski Unlimited pass, we get full access to all routes of the entire region. For 1 day of driving an adult you have to pay EUR 51, for a child - EUR 31, for 7 days - EUR 306.5 and EUR 230, respectively. For a 2-week pass, the price is 611 and 458.5 euros. For the Paradiski Discovery pass (skiing on the Les Arcs / Peisey-Vallandry routes) for a period of 7 days you have to pay EUR 262.5 for an adult and EUR 197 for a child. Additionally, we get one day for the Paradiski route. And if someone just wants to "taste" the Les Arcs / Peisey-Vallandry routes, they can buy one-day tickets for EUR 46 (adult) or EUR 34.50 (child).
Camping in Les Arcs

However, it must be remembered that Les Arcs offer is not only about skiing. For those willing, there are snowshoes, scooters, routes for cross-country skiers and snowboarders. And you can stay overnight in a hotel or at a campsite. Le Versoyen *** (Route des Arcs, Bourg St Maurice) is waiting for caravanning enthusiasts, where you can spend a night for 15.20 euro (2 people, a place for a motorhome or a car with a trailer). You can get an extra blanket or pillow here, and the campsite has electric heating and access to gas.
The campsite Le Reclus ** (La Rosiere Seez) is also worth recommending, where the cost of 2 people with a dog is 14 euro / day. In the nearby village, you can visit the nature museum and take advantage of the indoor swimming pool or fitness club.
As you can see, it is really worth coming here. In Les Arcs you will find varied ski runs, beautiful views, and there is also a rich offer for lovers of entertainment (especially in the case of the Arcs 1800 station) - visitors are tempted by numerous shopping malls, clubs and restaurants. There are also discos, SPA salons, there is even a cinema. No wonder then that there are more and more tourists every year. And it will not change for sure.
A writer by profession, a passion of a cat. One day he will see what is behind the Urals - good to Vladivostok. So far, when he can, he enjoys the sun of the countries of southern Europe. And it's also fun;)
Enjoyed reading this article? Share it!