5 winter campsites with swimming pool in the Alps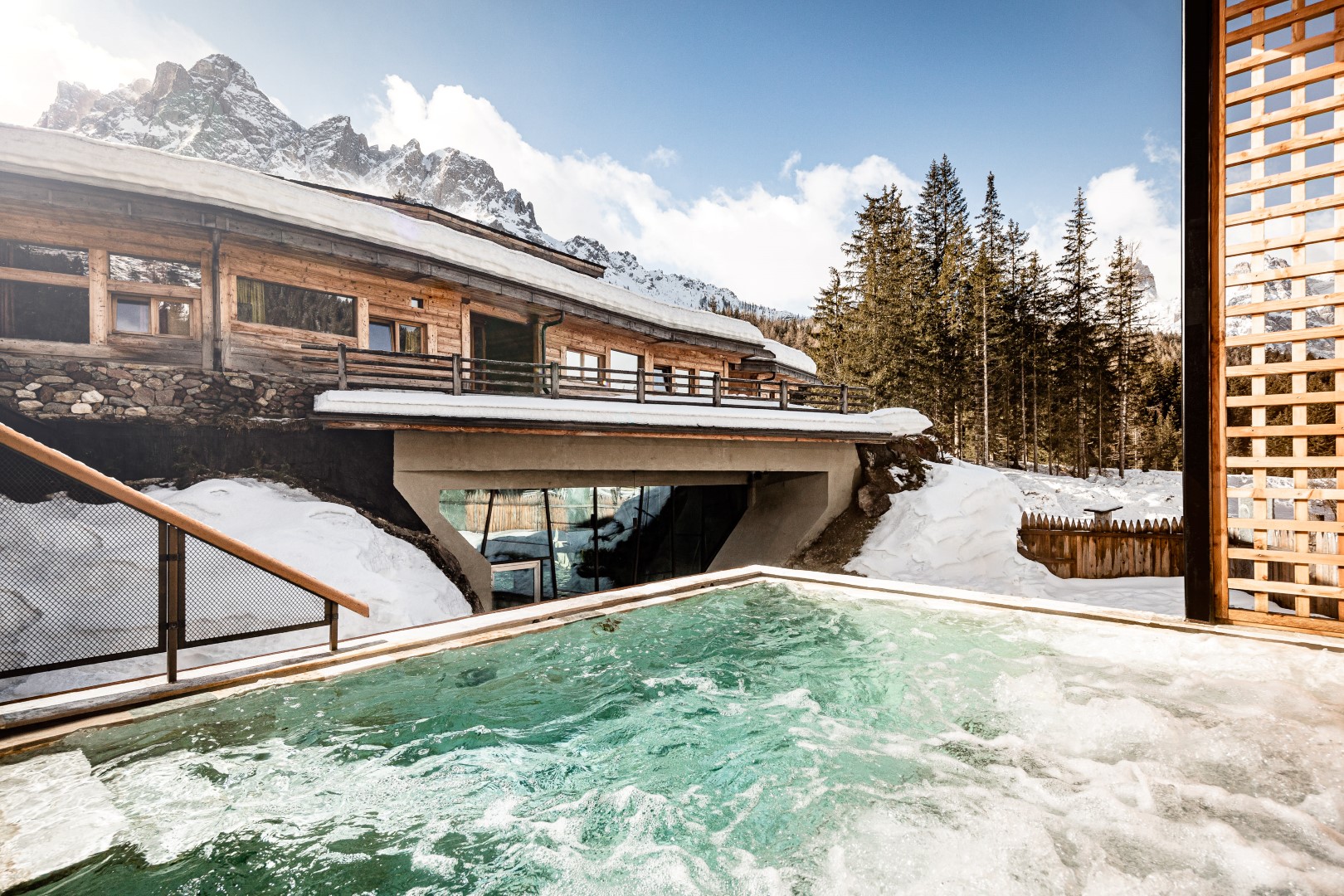 Winter is cold and the snow crunches underfoot. This is the favorite season of skiers and other winter sports enthusiasts. But it can also be a time to relax in the water and admire the mountain peaks - at the same time!
Although baths are more associated with heat than with frost, many people cannot imagine a winter holiday without them. And it's not just about bathing in hot springs. If you want to swim in the pool in winter, you have a good choice of campsites. Among other things, great spots in the Alps are waiting for you - on the Italian or Austrian side. Check it out!
Pools at Caravan Park Sexten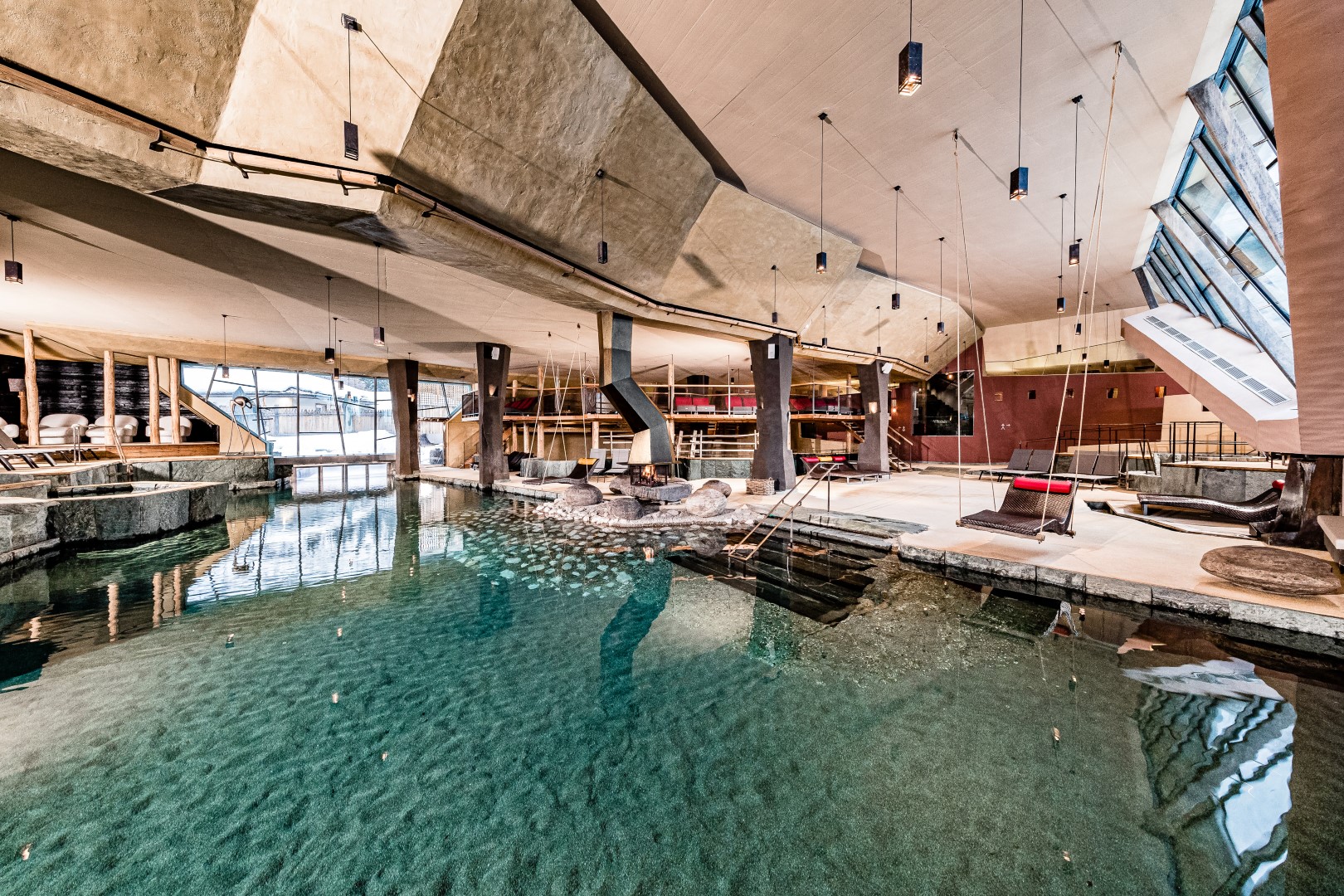 Let's start with a popular winter campsite in South Tyrol. You will find here a campsite , a hotel with comfortably furnished rooms and apartments, as well as an offer for glamping fans. Caravan Park Sexten tempts with its location and views, after all, it is located in the Dolomites. It attracts with many amenities, and the quality of services is confirmed by five stars.
The mentioned five stars really show here. Whatever you say, you can safely add the term "luxury". This also applies to swimming pools. Enthusiasts of relaxation in the water will be delighted. They have at their disposal e.g. indoor and outdoor pools, as well as a heated version. You can enjoy your bath even during a blizzard - you will be looking at the snow and relaxing in the warmth at the same time. There is also a paddling pool for children, a jacuzzi, a steam room, saunas and a spa.
The pools are ideal for families with children. The water is specially heated to 31°C in the main pool and to 34°C in the paddling pool, where there are sand and sand toys for the safety and fun of the little ones! Twice a week, children can enter the sauna at certain times.
Caravan Park Sexten is located at an altitude of 1,500 meters above sea level and is located directly on the slope, which can be reached by the Signaue lift (Drei Zinnen resort). The train station can also be reached with the free ski bus. You don't need a ski pass to use the ski bus, as the bus ticket is added free of charge to your stay at the campsite.
In addition to skiing, snowboarding, cross-country skiing and ski-tours, I recommend going for a walk on one of the many trails that start at the campsite. We recommend, among others trail to the Kreuzberg pass. At the reception you can ask for help in finding a trail suitable for your requirements.
Stadlerhof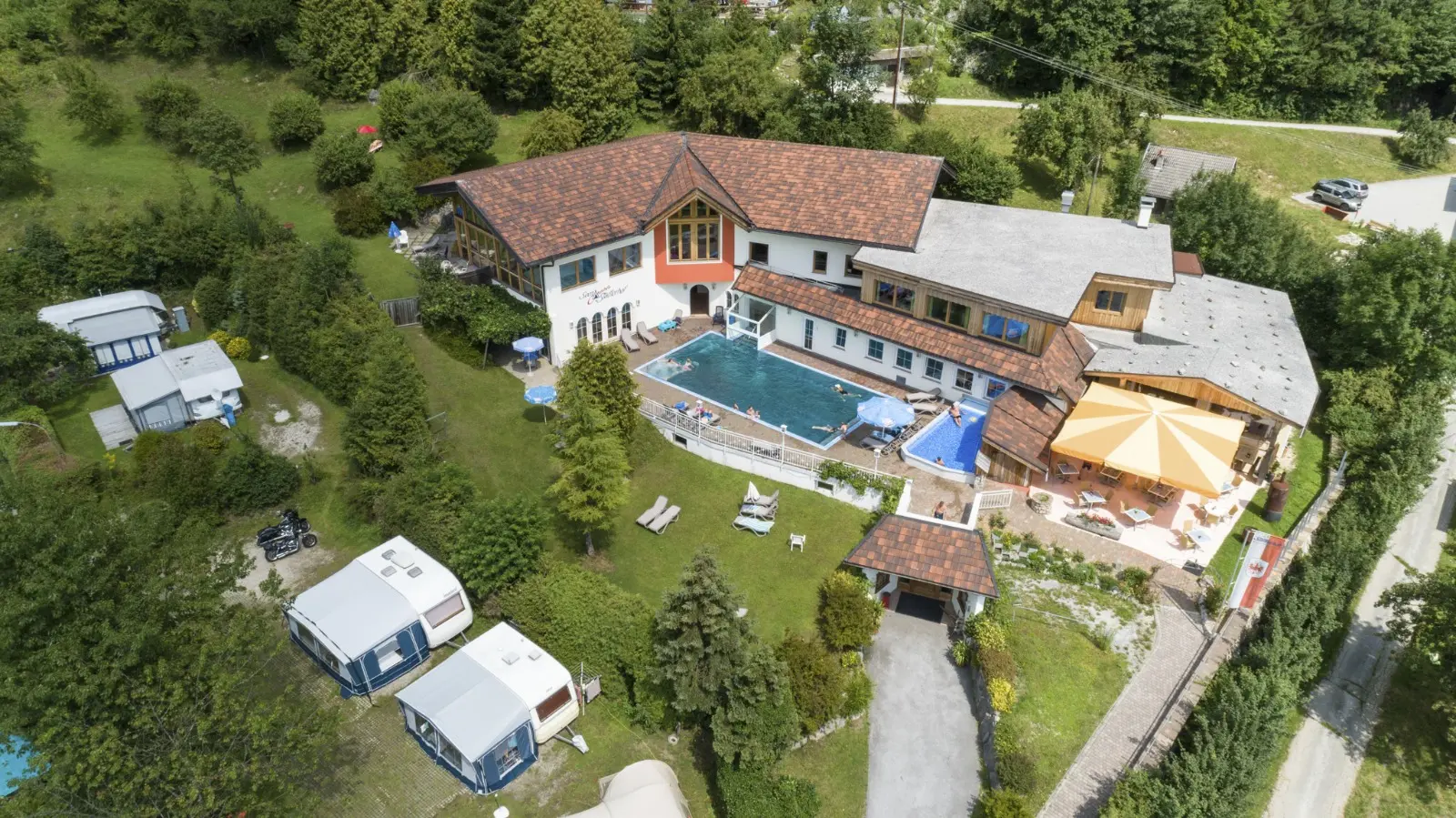 Let's now move from Italy to Austria. Another campsite with a swimming pool awaits us here, smaller than the previous one, but by no means worse. It is located in Tyrol, in the vicinity of the Krummsee lake, famous for its beauty. It is called Stadlerhof and invites its guests to plots, apartments and glamping houses. This place is perfectly organized, in beautiful surroundings and with delicious cuisine. And these are just a few of its many advantages.
As for the swimming pool area, the campsite has outdoor swimming pools. You can use the sauna, and if you think that your tan is too weak - also from the solarium. A number of wellness services will meet the expectations of vacationers who need to recharge their batteries. Returning to the subject of swimming pools, the facility has prepared something for lovers of swimming without textiles. Both in summer and winter you can enjoy naturism from 17:00 to 21:00.
Sportcamp Woferlgut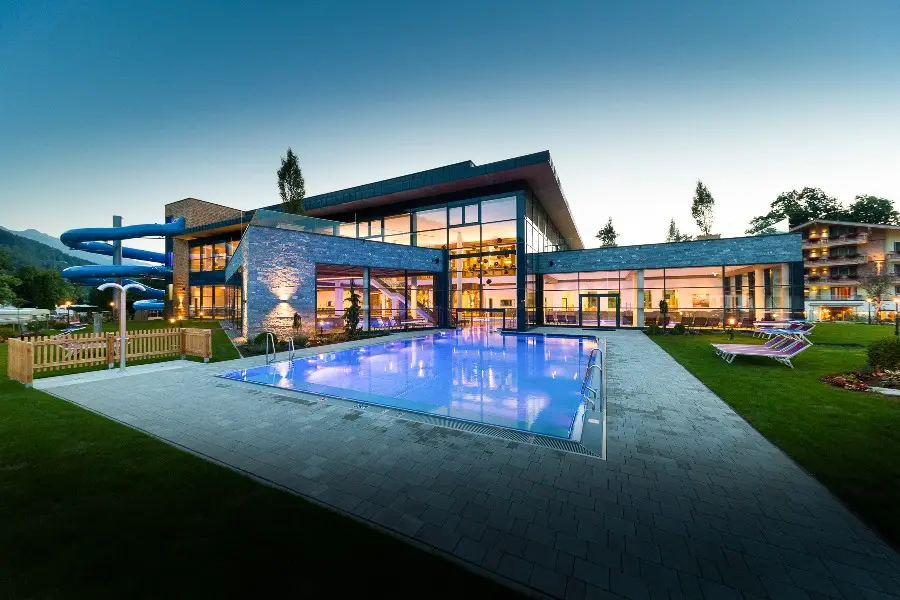 The next tip also applies to Austria. This time we present to you a really large holiday complex that has already charmed many tourists. Like previous campsites, Sportcamp Woferlgut it is open all year round. In the warm months, you can swim in its lake. There is a slackline above the water, and a rope park suspended just above the ground next to the pond. You don't need to be secured to use it and it's available to anyone who wants it at no extra charge.
On the other hand, in winter you will lose track of time indoors. And that's no exaggeration. The campsite has indoor sports pools, a year-round heated swimming pool and an indoor swimming pool full of activities. Want to relax in the water with your family? No problem! You have a zone to yourself where you can have a great time even when your little one is a baby.
The pools at the campsite are adapted to the needs of every camper, including people with disabilities. But it is not everything. This beautiful campsite in the mountains provides access to a wide range of SPA & Wellness services. In addition, it offers treatments that improve not only well-being, but also health. If you suffer from cardiovascular diseases or other ailments, test one of them. The swimming pool complex is paid extra, but it's worth going there, because it's the only campsite in Europe, and maybe even in the world, with an Olympic swimming pool.
The offer of the facility is so attractive that we almost left the accommodation. The campsite has pitches for motorhomes, as well as caravans, rooms and apartments.
The campsite also has a great restaurant. Be sure to eat the Apfelstrudel here!
Alpencamping Nenzing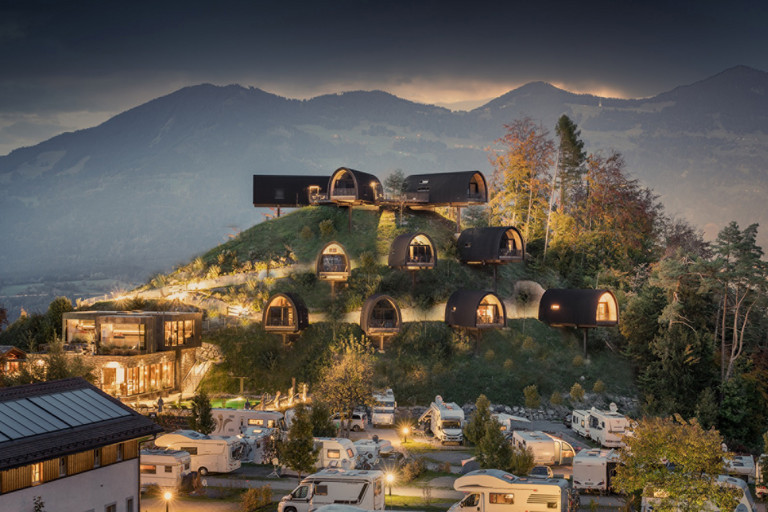 Another proposal that we have prepared for you is an Austrian year-round facility providing spectacular views of the mountains. Alpencamping Nenzing , as it is called, is located in Nenzing, in the state of Vorarlberg. It is unique in every respect, and especially captivates with the offer of glamping houses. Do you dream of unconventional accommodation in exclusive conditions? Do you want to taste sensational regional dishes, and immediately after waking up admire the landscapes that have stuck in your memory? Coming here will be a hit!
The campsite is located quite high in the mountains, accessed by a one-way narrow road among single-family houses. But don't worry, even large motorhomes over 3.5 tons and cars with large trailers leave here. In addition, the inhabitants of the surrounding houses are very understanding. In winter, a ski bus runs from the campsite to the nearby ski area.
The campsite has an enclosed playroom with climbing and sliding elements; there is also a small cinema and a "normal" playground.
This is definitely no ordinary campsite in the Alps . Modern, and at the same time run with heart (for several dozen years by one family), everyone who visits it will like it. It has several swimming pools, a wellness center and a bathhouse. On the pool terrace during the day you can relax on the sun loungers and in the evening there is a bonfire and you can listen to live Tyrolean music
We highly recommend this place!
Vidor family and wellness center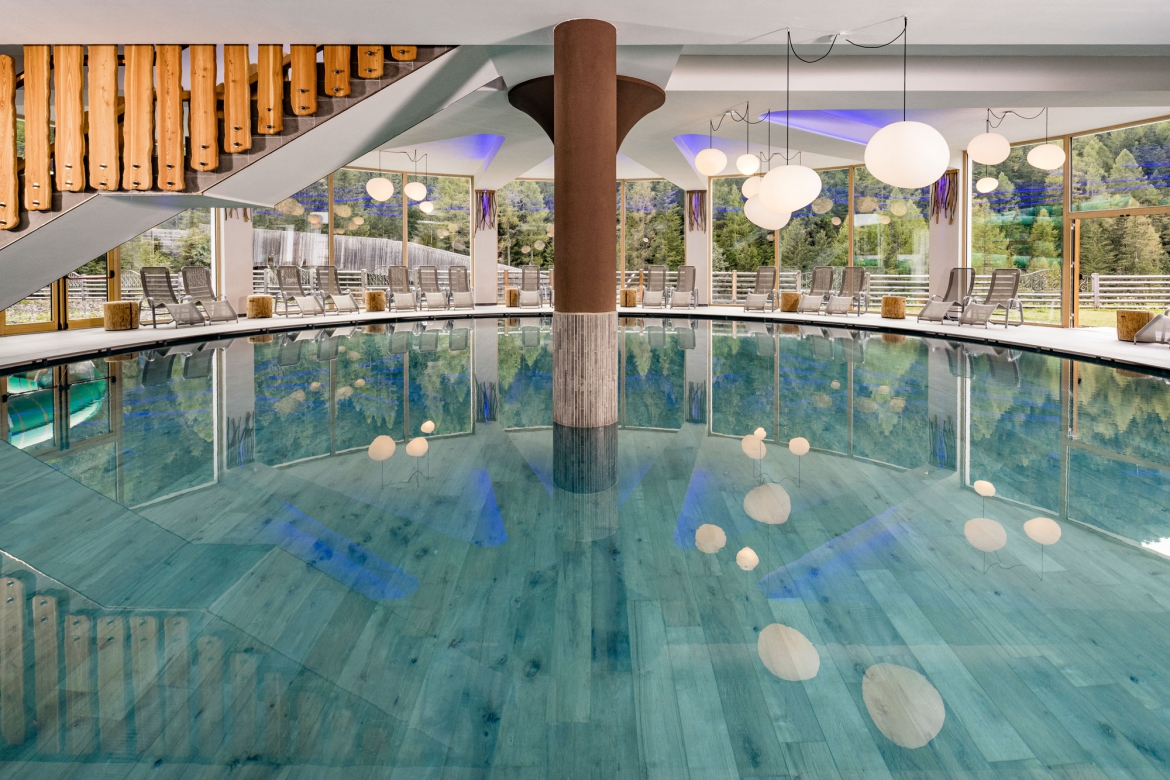 To get to know the last complex, which can also be visited in winter, we have to go back to Italy. Family & Wellness Vidor Resort is located in the heart of the Fassa Valley, in the Dolomites. It doesn't matter if you like caravanning or prefer to stay in a room, apartment or cottage. In the accommodation base you will certainly find the right option for yourself.
If you want to explore the landscapes of Pozza di Fassa, book your place here. It is worth noting that it is not only a campsite with a swimming pool , but also a complex with an aquapark. You can swim as much as you want and admire the mountain landscape through the large windows. At your disposal is e.g. a large swimming pool with a panoramic view, a variant for the youngest (spraypark) and for parents with children, slides and an outdoor swimming pool with a jacuzzi.
Find out why tourists love alpine campsites! Remember that you can use our search engine. Don't have your own vehicle? With us you can find the perfect motorhome for rent or motorhome for sale . As you can see, there is really a lot to choose from.
A writer by profession, a passion of a cat. One day he will see what is behind the Urals - good to Vladivostok. So far, when he can, he enjoys the sun of the countries of southern Europe. And it's also fun;)
Enjoyed reading this article? Share it!