7 vineyards of Lower Silesia that we visited in a motorhome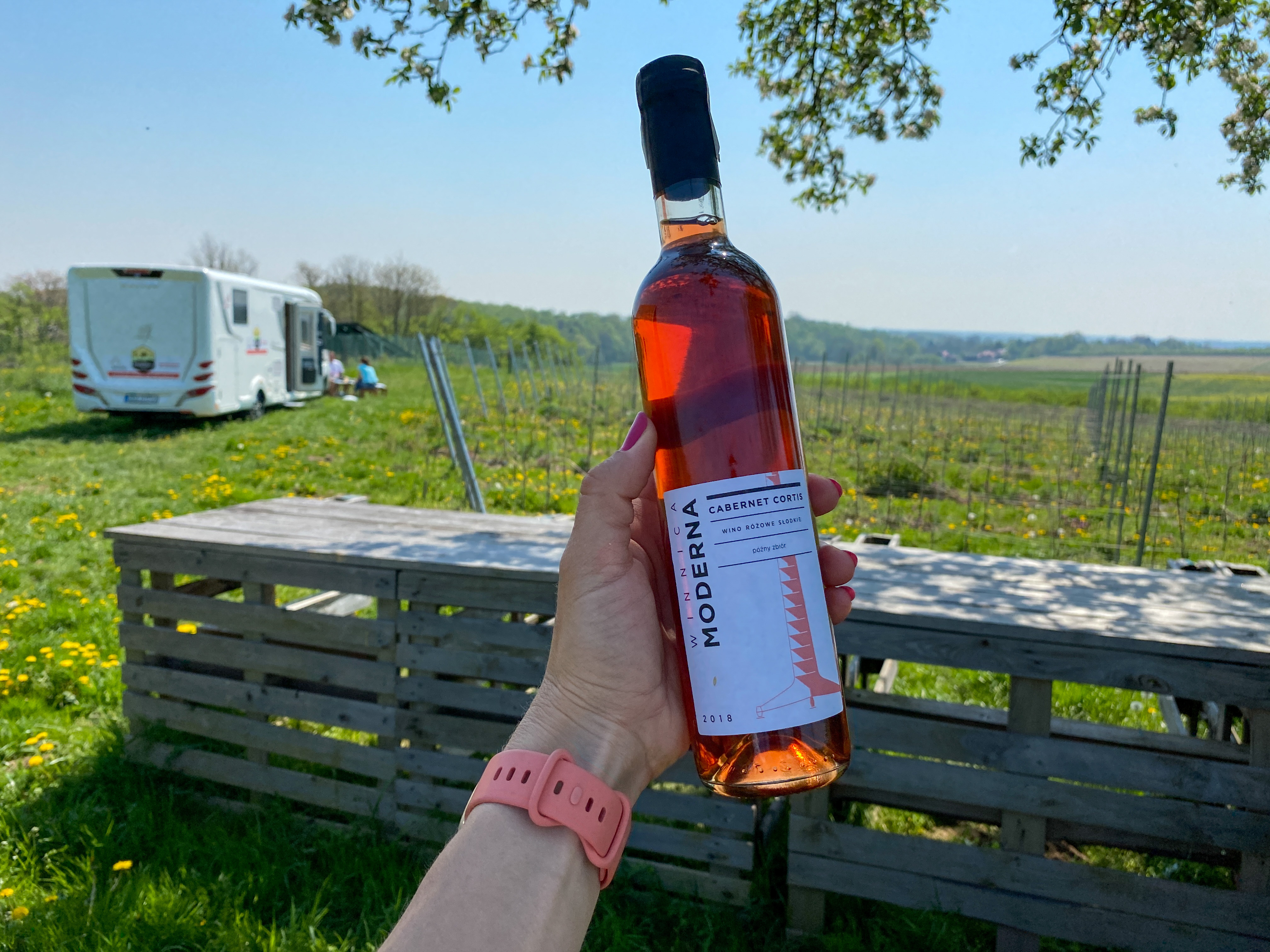 In May, we went in a camper on a tour of the vineyards of Lower Silesia . We have found out that the owners are very willing to accept campers on their premises.
Remember to treat a stop in the vineyards a bit like a safe stop in the wild. This is not camping . There is no 24-hour reception, no shop, toilets or camper-service. Here and there it is possible to refuel with fresh water and connect to electricity, but this is just the beginning of enocaravanning in Poland . The owners still have to agree on the conditions of the staging, but they certainly have to make purchases at the vineyard. In some it will be buying a tasting, in others buying wines, and in other places buying access to a SPA or using a restaurant.
For this trend to develop, winemakers need your support! So the plan for this year is this: you visit the vineyards with camper vines, you buy wines, and next year perhaps the winemakers will put up great amenities for you.
In the meantime, see how you can rest in the vineyards today.
Moderna vineyard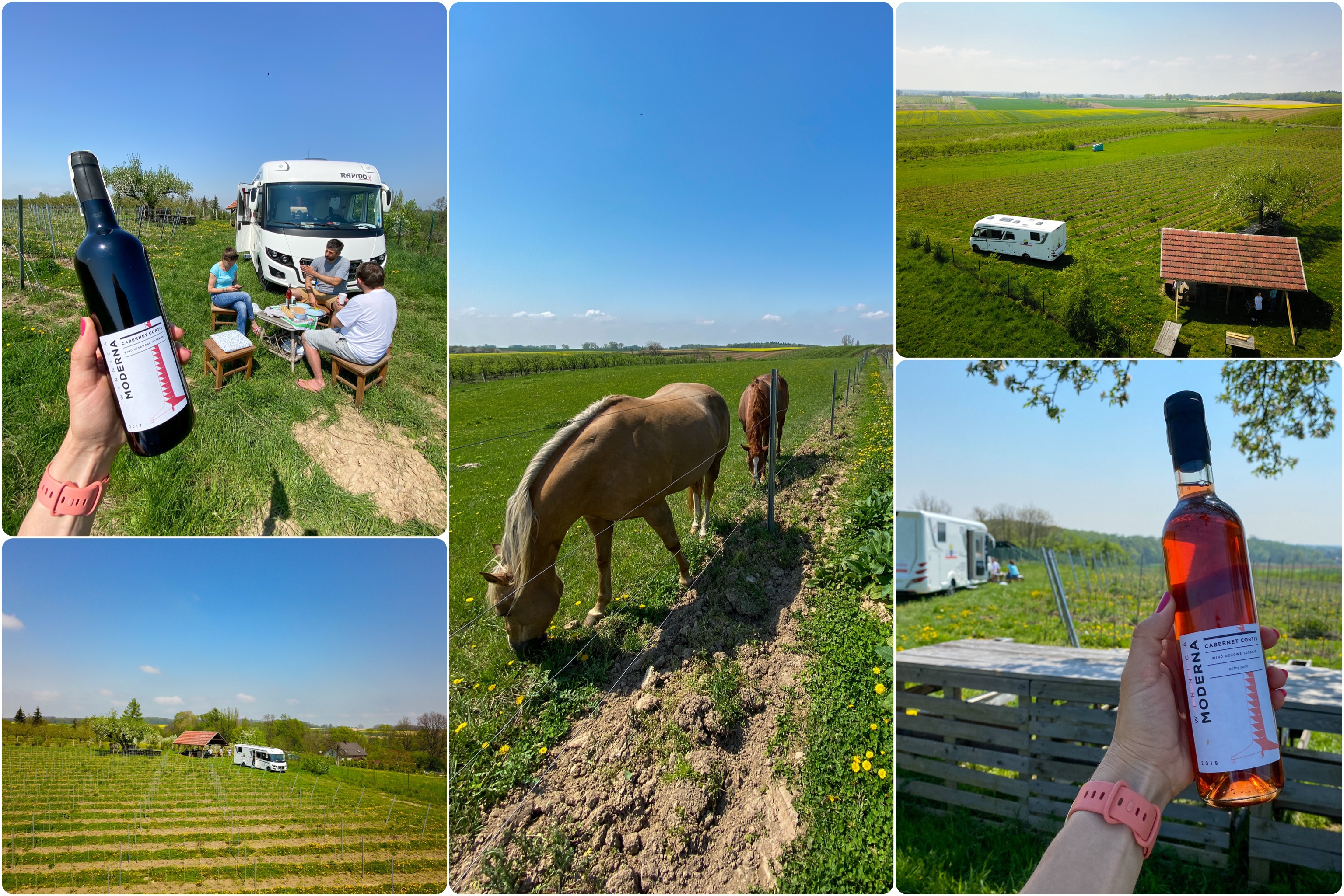 You can stand in a camper in this vineyard on a meadow where horses run slowly, or at the gazebo, which you can see in the pictures. There, horses have no access.
In this gazebo in spring and summer (every two weeks) a meeting with wine and food is organized: HOT WINE . All campers are welcome. Call, book a place, because their number is limited!
During these meetings, food is prepared outdoors. There is one rule. It must be prepared over a living fire: on a campfire, on a grill, on a stove or in a smokehouse. We are infatuated!
Niemczańska Vineyard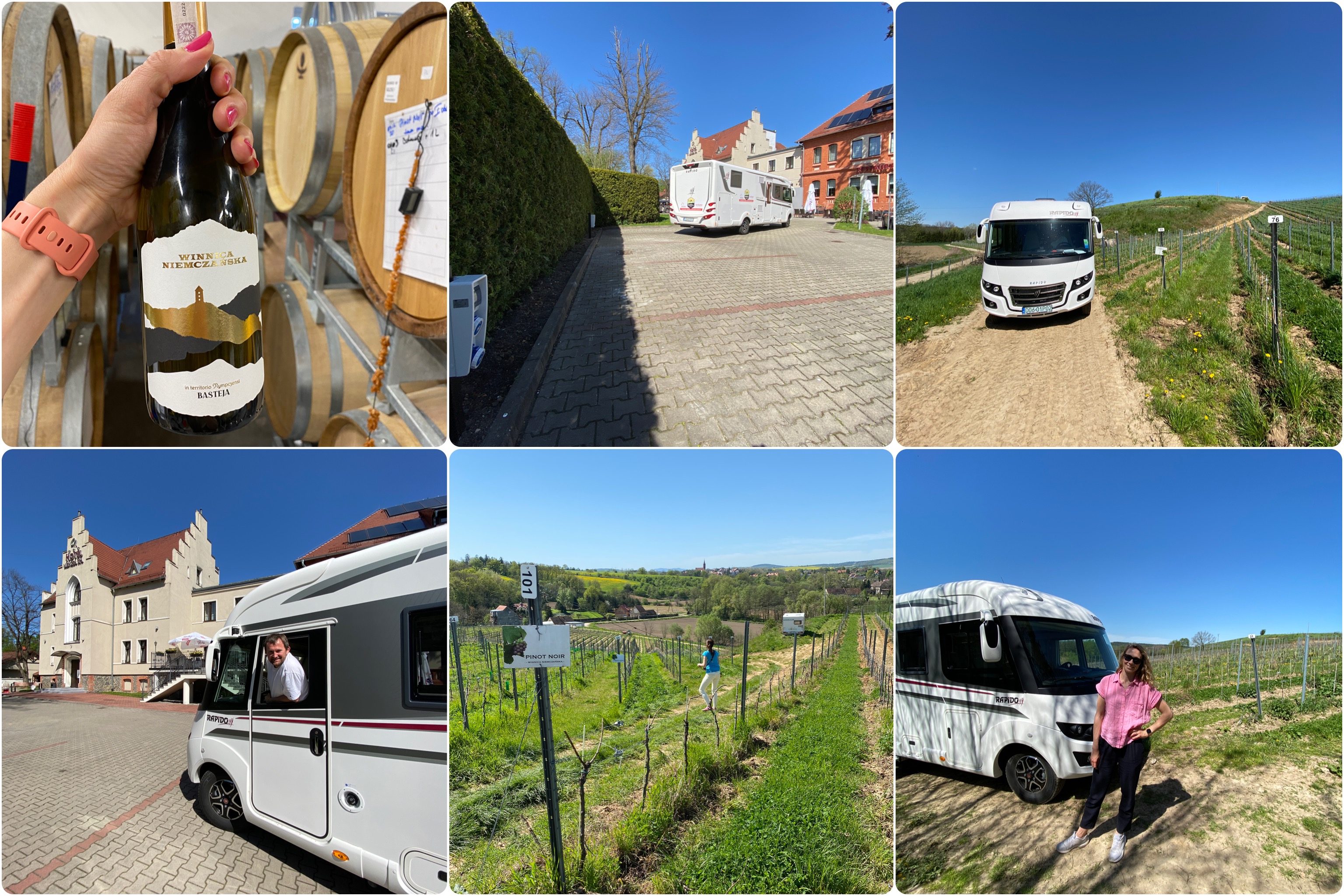 At this point, a stop is possible not in the vineyard itself, but at the winery, which in turn is located at the Hotel Niemcza. When the owner heard a month ago that campers would be happy to come to the vineyard, he immediately put electricity poles up! At the moment, you can connect to the electricity in the parking lot under the hotel, but the area around is large enough that the owner already has an idea where to park motorhomes in this area.
Remember this place, it's already great here, and it will get even better.
Currently, you can also refuel with fresh water and drain the gray water here, but it is not possible to empty the chemical toilet cassette.
The hotel has a great restaurant and you can order breakfast too. You also have a SPA at your disposal.
The hotel itself is situated on the Ślęza River and along it and around the hotel there are plenty of walking paths. 1.5 km from Hotel Niemcza there is the Arboretum in Wojsławice.
Jaworek Vineyards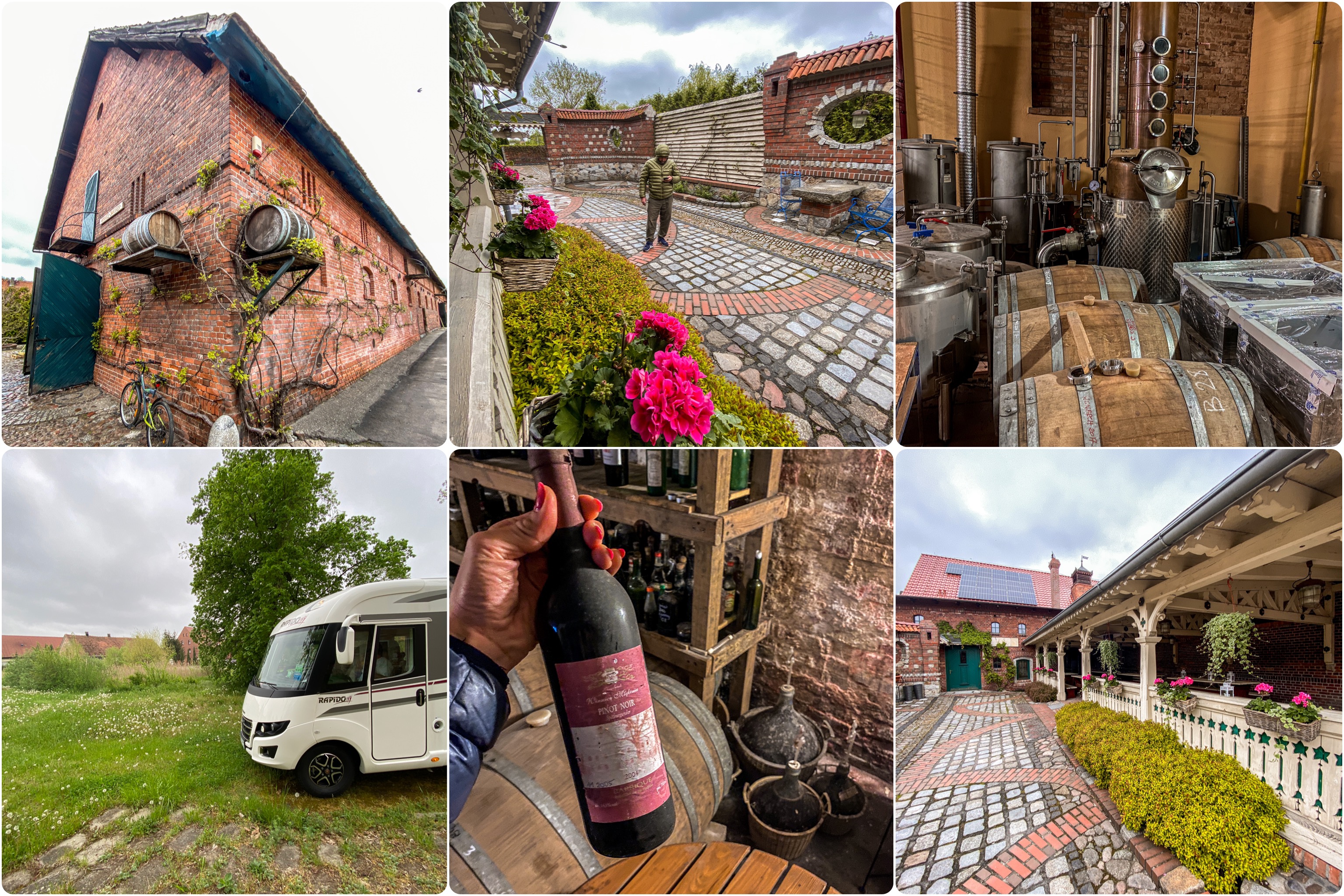 We are moving to Miękinia, where the Jaworek Vineyards are located.
The photos show a meadow where you can safely stand in a camper in exchange for buying wine or tasting at the winery. Jaworek Vineyards is also a hotel with a restaurant, so you can meet friends who do not travel in a cottage on wheels.
When it comes to the vineyard itself, we learned a lot of interesting facts about Polish wines. Including that the Jaworek Vineyards are one of the oldest vineyards in Poland! The first vines were planted here 20 years ago. It is worth taking a look here for a piece of the history of Polish winemaking, great wine and an amazing, almost Tuscan atmosphere.
500m from the winery there is a railway station in Miękinia from which you can catch a train to Wrocław. You can get to the Main Railway Station in Wrocław in 30 minutes.
Vineyards of the Trzebnickie Hills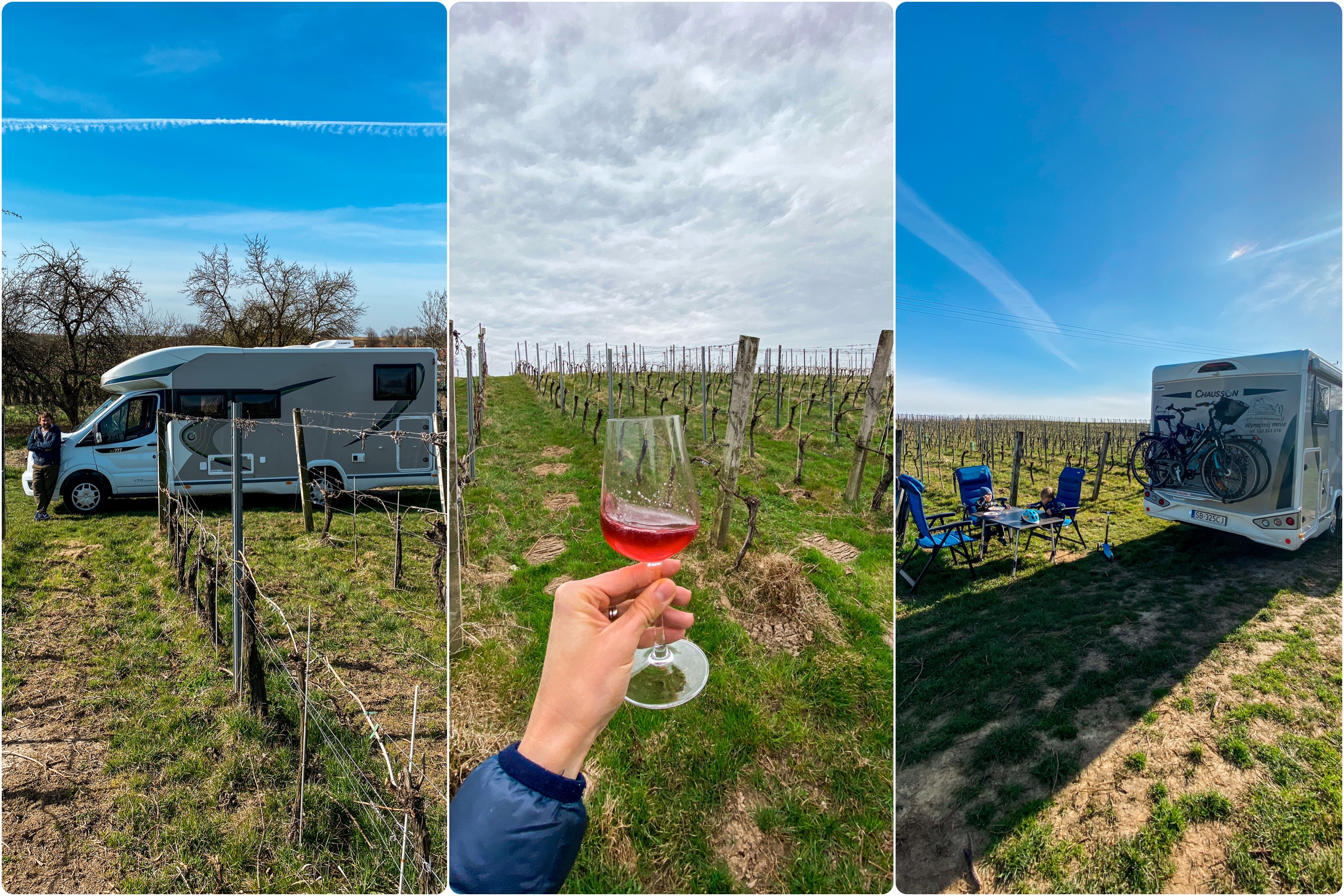 Wines from the Vineyards of Wzgórz Trzebnickie in April at the Wino fair in Poznań won as many as 4 medals!
The vineyard is very open to campers and they have already told us that they are just starting the construction of Camper Park with electricity and sewage connections at each plot.
In addition, a great playground for children and a tasting room - but for official reasons, all this will be ready only in 2022.
We keep our fingers crossed for the quick formalities and we encourage you to visit this magical place.
You can come here now, taste and buy wine, and Rafał (the owner) will show you the way to get to his vineyard to stay overnight in a safe place.
Anna vineyard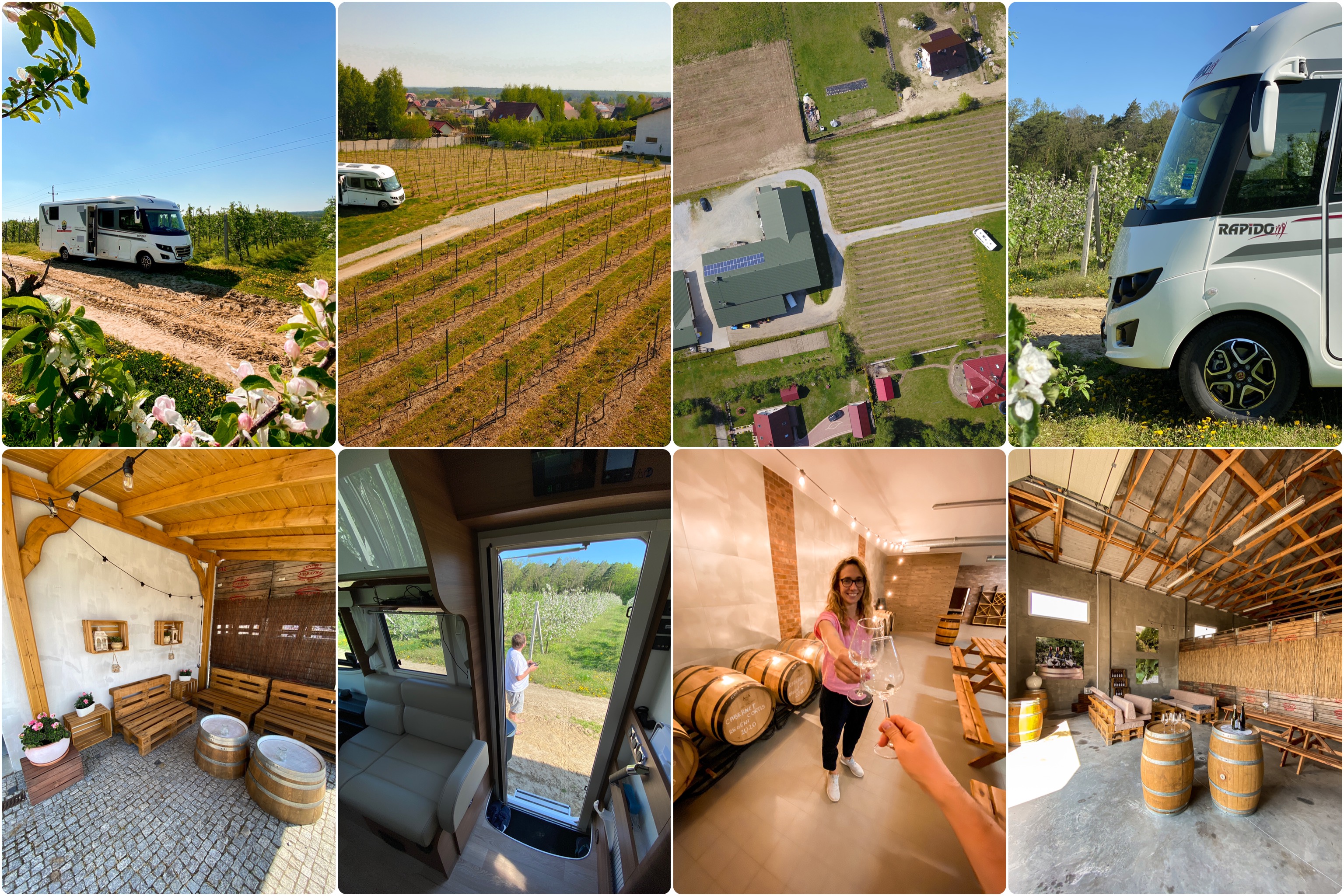 Amazing vineyard with three different pitches for motorhomes . Meet the Anna Vineyard, which is located at the Milicz ponds.
This family vineyard also has orchards, meadows and forests with a total area of almost 50 ha! You can stand in front of the winery, in the vineyard, among the blossoming apple trees, and soon even by the pond and use this space at will, resting, walking or cycling. You can rent several rooms here, so you can take your "non-camper" friends to this place.
Mr. Darek (owner) will prepare a camper-service for you in June and several places with electricity. The stop is possible in exchange for buying a package of selected wines.
We liked the Johanniter wine from 2019 the most, which won the Polish wine competition at the fair in Poznań. So when you are here, be sure to take a few bottles home.
Alvarium vineyard
A camper stop in this vineyard is very intimate. There can be 2 or 3 motorhomes at the same time. You sleep in the owners' garden, basically. You can use the sauna here (after prior arrangement with the owners). Of course, a stopover is possible after purchasing a wine package or tasting. You have to make an appointment for the tasting.
The Alvarium vineyard is located literally at the very Ponds Przemkowskie. In this nature reserve, you can walk on wooden footbridges and forest paths. There are plenty of gravel bike paths here.
The Alvarium vineyard is now growing tenfold!
Jadwiga Vineyard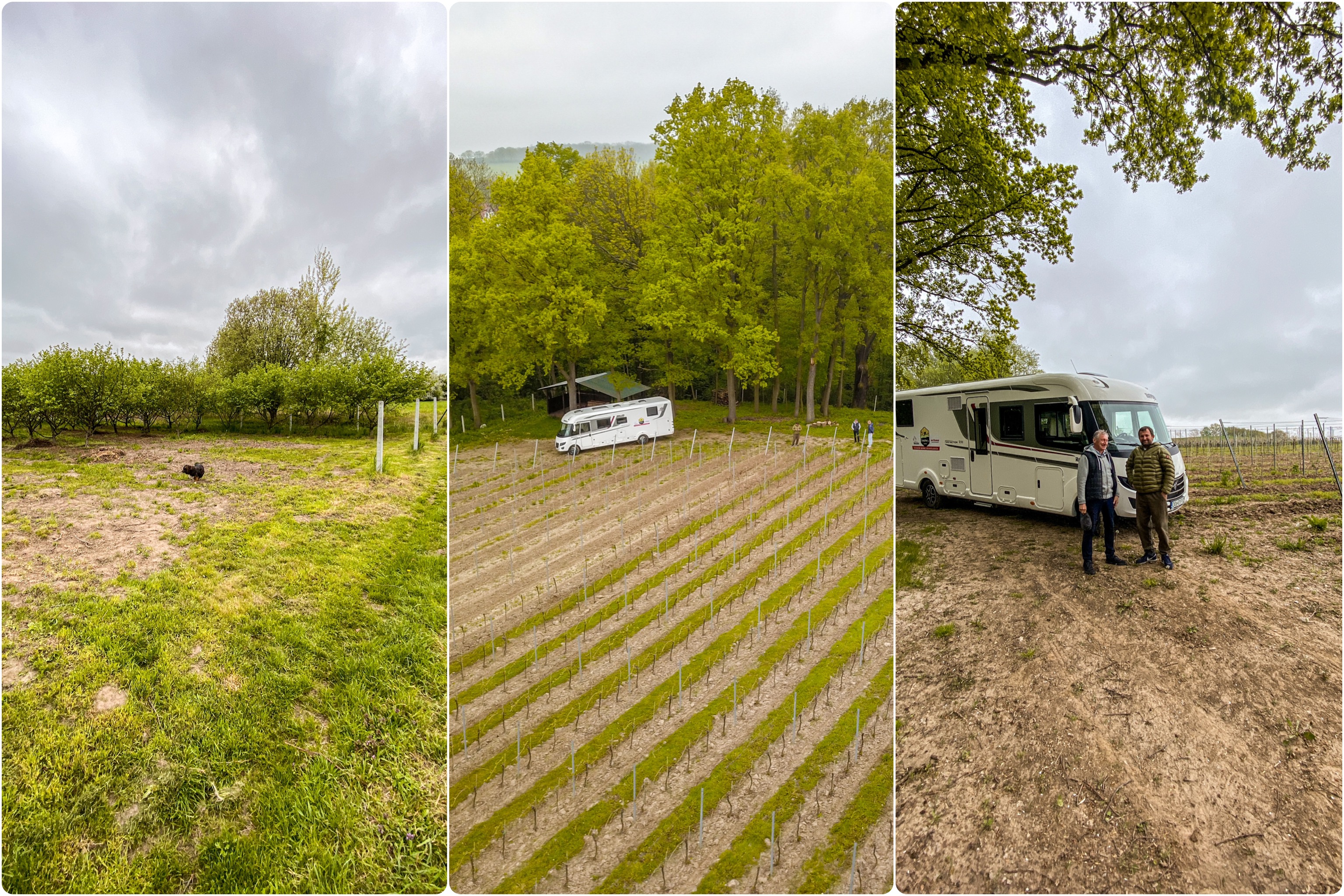 Jadwiga Vineyard has two locations where you can stand with a camper . The first one can be seen in the photo on the left - in a walnut forest and this place is located next to the winery and the owners' house. Here you can also shop and go for a tasting. So far, access to the forest may be difficult, but the owner will try to straighten the road
Another place to stop is a few km away - on the hills of a vineyard next to an old forest. Access here is only possible when it is dry, as the road becomes very slippery after rain.
The view from this hill is beautiful and with a glass of wine in your hand it will be even better.
Other Polish motorhome-friendly vineyards?
Remember that we are creating our tour of the vineyards together with EnoPortal.pl . Before a tour of the vineyards (not only of Lower Silesia), you can read on this website about upcoming events for wine lovers, festivals and, of course, about the wine itself.
Together with Enoportal, we have created a list of Polish motorhome-friendly vineyards, and the entire list with the exact location on the map can be found here: 44 Polish motorhome-friendly vineyards
We have created the CampRest portal for people who value freedom and travel on their own.
Enjoyed reading this article? Share it!