A camping holiday without your own trailer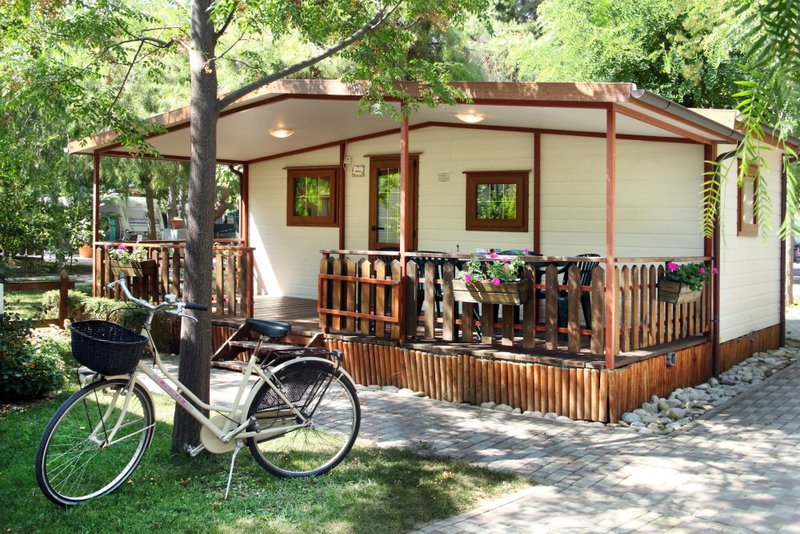 Gone are the days when camping was associated with a tent set up far from civilization and the proverbial dream on pine cones. With a place where you could not count on comfort, but only queues for toilets and the conditions prevailing in them.
Modern campsites are often villages of many hectares with full facilities - not only accommodation, but also catering and sanitary facilities, and a rich offer of entertainment. The largest and most famous ones are located right next to the main attractions of the resort, thanks to which they provide guests with quick and easy access to them.
Caravanning bacillus
Many (if not most) campsites have their own website where you can make reservations . It is advisable especially in the high season, and in crowded towns, such as popular seaside resorts - even necessary.
After reading the threads on tourist forums, you can get the impression that everyone who goes camping should have their own caravan or motorhome. This does not mean, however, that without it there is no chance to join a large caravanning family . Having caught the camping bug, you can think about buying your own house on wheels, but there is nothing to prevent you from renting such a house before.
Camping without a motorhome or caravan?
Those willing to spend a camping holiday can book a place in a caravan, bungalow or fully equipped Dutch houses . In the latter, depending on the model of the cottage, guests have at their disposal a living room with a gas fireplace, a kitchenette with a dining area, gas stove and water heaters, as well as 1 or 2 large bedrooms (often with bunk beds), a toilet and a shower.
Mobile homes offer an equally diverse range of amenities. Depending on the needs and expectations, the landlords can choose a house with a basic package or a luxury option - with air conditioning in all rooms, carefully selected furnishings in spacious interiors, a separate bedroom area and a living room. Many objects of this type have an area where garden furniture can be placed - wooden verandas or special terraces. You can rest there, for example, after lunch, gaining strength before exploring the area.
Mobile home is a great accommodation option for a group of friends or family - even a large one. A cottage suitable for 7-8 people can be found easily not only on the largest camps, located in the most beautiful and crowded resorts.
A cheaper option is to rent a caravan . It is not as spacious as a bungalow or mobile home, but it is enough for someone who intends to sleep in it mainly, and spend the rest of the time actively exploring the attractions - be it the campsite itself or the surrounding area.
Luxurious at the campsite
Those who want to fully enjoy their vacation, while staying in luxurious conditions and surrounded by greenery, have another option to choose from - glamping . The option is a combination of the two words "glamor" and "camping", and this type of accommodation can be found at campsites in many countries. They offer tourists full comfort of stay in air-conditioned interiors, including a large bathroom, a kitchen with a dishwasher and a living room with a plasma TV.
The higher standard of glamping facilities means not only luxury inside - the cottages have the best locations in the campsites . In the most expensive ones, we can even find a jacuzzi on the porch, and the garden furniture is not only practical, but also elegant, matching the entire facility.
A dream at the campsite
Today's campsites have nothing to do with those from a few or a dozen years ago. They are well organized, and guests can choose from among several options for accommodation. If they want, they can just pitch the tent and walk to the shared bathroom each day with a towel slung over their shoulder. If they want more space and intimacy, charming houses with a cozy sleeping area, a fully equipped kitchen or a kitchenette await them.
For someone who knows the benefits of camping, staying here will differ from staying in a hotel room only in that it gives you more opportunities to enjoy your vacation.
A writer by profession, a passion of a cat. One day he will see what is behind the Urals - good to Vladivostok. So far, when he can, he enjoys the sun of the countries of southern Europe. And it's also fun;)
Enjoyed reading this article? Share it!