HandyShower - Polish invention is waiting for support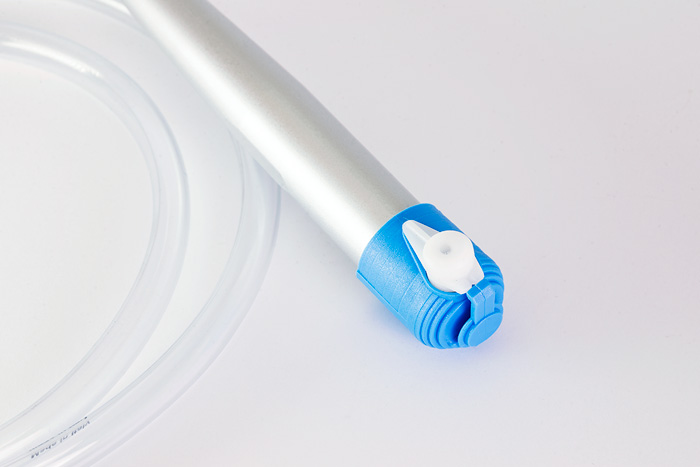 What could be better than a rest in nature? The smell of the forest, breathtaking views, the sound of a brook ... But exactly - what about hygiene in places remote from civilization? HandyShower can come in handy - a device from a Polish engineer whose production depends on the interest in the entire project.
The history of this small device, unique in its simplicity, is surprising. Well, HandyShower was supposed to have a completely different application at first - Zdzisław Iwanejko developed a device called Teemer for quick refilling of fluids in cars. However, when he showed his prototype at the motor show, he heard that a similar device could also be useful in completely different situations. The engineer followed the blow and concentrated on redesigning the structure so that it could serve as… a portable bathroom .
What is HandyShower?
HandyShower is a shower head with a hose and possibly a water tank . The whole set is very small and very light. The valve used ensures that not a single drop of water spills from the device, and thanks to the variable tips, the invention can be used in various ways. HandyShower can be used for washing hands, washing the head or even as a bidet. Replacing the nozzles or starting the device does not require touching the shower head, thanks to which hygiene is maintained.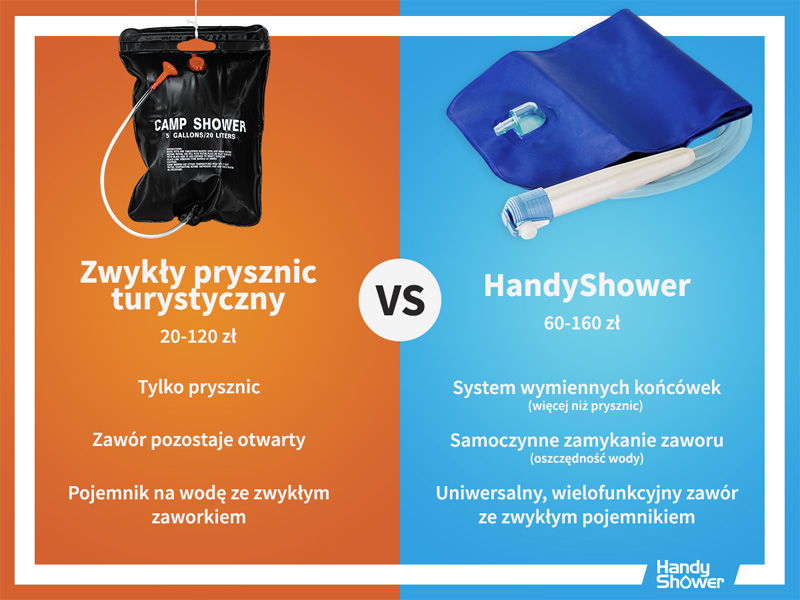 The whole has been designed in such a way as to facilitate the user's access to water, while allowing it to be saved. Instead of a dedicated tank, when setting off into a hard-to-reach area, we can take the tip with the cable with us - the shower can be powered, for example, from a PET bottle or from any other container. However, if we want to take a supply of water with us, a 2-liter PVC bag will work better - it is light, and when it is empty, it can be folded to symbolic dimensions.
The whole, together with the tank, fits in a small sachet and weighs no more than 250g , thanks to which HandyShower will not burden our luggage. The device can work well during mountain hiking, multi-kilometer bicycle routes, or on camping, if you want to rest off the beaten track. It will also be useful for people who travel with motorhomes. The shower holder can be used for everyday baths, and if the car is already equipped with a traditional shower, the HandyShower can come in handy as an additional outdoor shower (to rinse the feet, surf foam or a dog).
By buying, you can help
How to become the owner of this device? Actually, this handheld shower is not yet produced. The Iwanejk family raises funds to launch a larger series through the crowdfounding portal Wspieram.to. However, everyone who joins the fundraiser and pays at least PLN 60 , will reserve a copy for himself and donate another - for humanitarian purposes. Pre-sale is carried out in accordance with the principle of "buy one, give one" , which means that if someone buys a product, the manufacturer will hand over a second copy to a charity organization (the buyer may indicate one of several recipients of the gift).
This is important because HandyShower is a product with a mission to facilitate access to water in those regions of the world where every drop of life-giving fluid is more valuable than gold. The possible success of the device will not only make it easier for many people who like to spend time in nature, but it can also significantly improve the living conditions of Syrian refugees in Jordan or help the inhabitants of Nepal, who suffered in the earthquake, by giving them access to a comfortable, economical and hygienic shower. .
However, in order to be able to produce a trial series of at least 1000 pieces, you need to collect 30,000. PLN . At the time of writing this article, we managed to raise more than half of this amount, and the fundraiser will end at the beginning of August. Will it be successful? It also depends on you. Detailed information can be found at: https://wspieram.to/handyshower .
Sometimes it is better to get lost than to ask for directions too much. Aldous Huxley
Enjoyed reading this article? Share it!