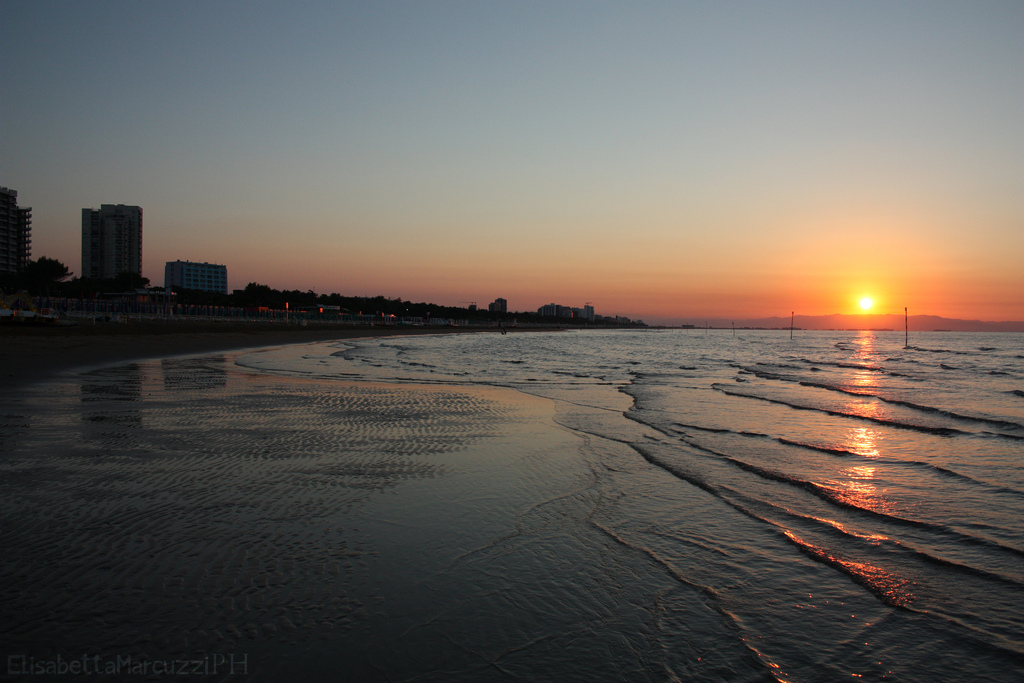 Adriatic coast, an amusement park located in the heart of the resort and very safe beaches - this is what Bibione, a town in Veneto has to offer. The Baseleghe yacht harbor and the square with fountains, i.e. Piazza Fontana, add to its charm.
Less than a hundred kilometers from Venice, there is an Italian resort which is a great starting point for many attractions of the region. This is Bibione, a popular bathing town in Veneto. Tourists come to it, seduced by the purity of the water (beaches awarded with the Blue Flag), the thermal center of Bibione Thermae and the wide and long promenade.
Bibione attracts with its location and very good communication with neighboring cities. Getting to Verona, Trieste, Padua or the pearl of the region, Venice, will not be a problem for anyone. There is also no risk of boredom in the resort itself. In summer, many fairs and concerts are organized here, and numerous bars, shops and restaurants thrive all year round. In addition, there is an amusement park and a lot of discos.
Bibione beach
Vacationers looking for a blissful rest will find it on a beach made of white sand . It is 400 meters wide and 11.5 km long in total, and its southward position guarantees sunshine from early morning until late evening.
Everyone likes the Bibione beach, from families with children (the descent to the sea is very gentle here) and ending with people who can get lost in their own home. Bibione is the first Adriatic seaside resort to offer Customer Service . It is a customer service center where specially trained staff can answer any questions you may have.
Another advantage of the beach is the emphasis on ensuring the safety of vacationers. There is medical help at the first aid center, and there are many lifeguards on the beach with access to lifeboats.
You will find peace in the midst of nature in the Valgrande nature reserve . The ponds and lakes located there, pastures and green spaces of forests will calm everyone down.
Attractions of the area - Lignano
About 7 km from Bibione is Lignano , a resort with 8 km of beach, dozens of shops and tourist equipment rentals. The Aquasplash water park awaits guests, as well as several theme parks, including Gulliverlandia, next to it, Strabilia Luna Park, and I GOMMOSI, where only children pay admission. There is an 18-hole golf course between the two villages.
The thermal center of Terme di Lignano is located in the resort. In addition to bathing in hot springs, it offers relaxing and beauty treatments, aromatherapy, as well as gymnastics, mud wraps and massages.
There is also a huge zoo, Parco Zoo Punta Verde . Its area is crossed by numerous streams and ponds. More than 1,200 animals belonging to 200 species live in over 70 buildings made of wood and stone. The park is one of the best-equipped zoos in Italy.
Camping near Bibione
Lignano is the closest to Bibione - more than 10 km from other resorts. The historic Concordia Sagittaria with its historic town hall and cathedral, and Portogruaro , through which the Lemene River flows right into the center, are among the must-see. The first is about 28 km from Bibione, and the second - 30 km.
Those who have traveled to this area by their own means of transport can spend the night at the Villaggio Turistico Internazionale . We will pay 10.5-35 euro for a parking space for a motorhome (depending on the time of the season and the size of the vehicle). A day of stay of an adult costs from 5.5 to 12 euro.
After relaxing and recharging your strength, head to Venice. It will be a very long and exciting day.
A writer by profession, a passion of a cat. One day he will see what is behind the Urals - good to Vladivostok. So far, when he can, he enjoys the sun of the countries of southern Europe. And it's also fun;)
Enjoyed reading this article? Share it!